"Your Clients will love outdoor dining dome tents"

Pacific Domes, Inc.
Private Dining Dome Tents ‒ Redefining a New Norm
As America begins to open up the economy with a whole new set of parameters meant to slow the spread of Covid-19, restauranteurs are looking for guidance on how to reopen. What the new normal will look like seems to be the biggest question on everyone's minds. Will private outdoor dining dome tents step up to save the day for restaurants?
Outdoor dining dome tents may be among the few safe options available to restaurant-goers who are just emerging out of self-isolation. During good weather, sitting outside in the fresh air, where exposure to the virus is less likely to occur, may provide the solution for restaurant owners who wish to keep businesses open in compliance with social distancing practices. Dome tent covers provide shelter from the elements during inclement weather, as well.
Maximize Your Unused Space!
The good news is that currently, there's no evidence to suggest that handling food or consuming food is associated with Covid-19. Many restaurant owners feel that outdoor dining is safe and plays a role in keeping their businesses alive.
Faced with a round of shut-downs and re-opens, anticipating how future restrictions might affect your restaurant business can keep you up at night, though. It takes flexible thinking to reboot your business during these unprecedented times. Dining Domes are so novel and attractive, that this idea is catching on quickly ‒ allowing couples and small groups to dine in safety with adjustable seating plans that readily expand and contract to accommodate guests.
There's no denying that restaurant design is adapting as a result of Covid-19. Private outdoor dining dome tents allow your clientele to frequent your business in a welcoming environment.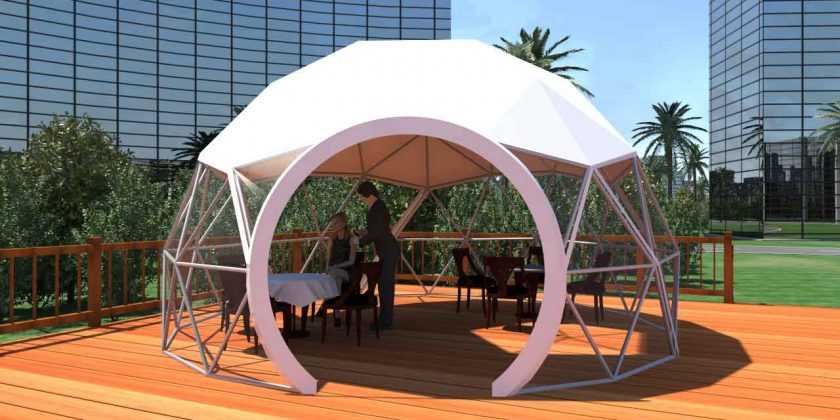 In spite of capacity restrictions and rules for patrons and employees, restauranteurs are rising to face these new challenges and coming up with innovative ways to improve the outdoor dining experience; such as, redefining the boundary between indoors and out.
Covid-compliant outdoor dining dome tents allow guests to rediscover the open-air dining experience. You can now offer your clients a private Zen-like ambiance to dine by taking advantage of your unused outdoor spaces ‒ even expanding to sidewalks and parking lots!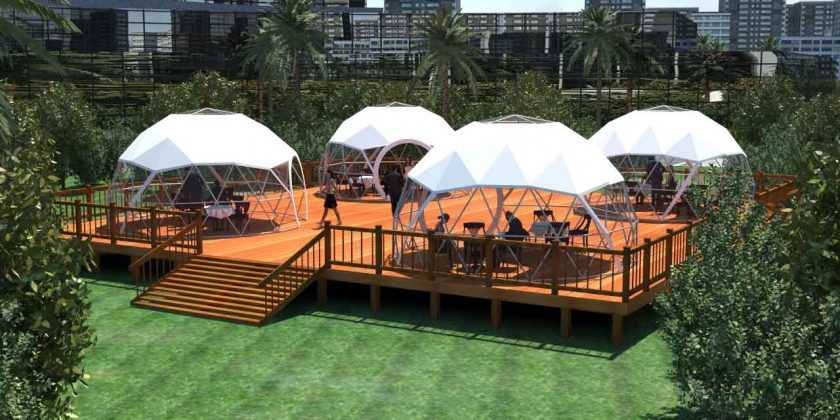 A time to de-stress! At the end of the day, dining-out is supposed to provide an enjoyable experience. Food tastes better when it's freshly made, too! In the evening, the domes glow, creating a romantic ambiance that any guest will appreciate.
Dome Engineering
Our geodesic-engineered domes a designed for both internal and external weight loads to support lighting and sound equipment. Pacific Domes offers an in-house structural analysis upon request.
Design Your Load-Bearing Dining Dome Tent
3D Renderings
Our 3D artists can help your company visualize your custom dome with your graphics to simulate the environment you plan to construct around it. Click here to view more 3D Renderings.
Select Your Dome Size & Color
Select sizes from 16′ to 120′. Choose from a variety of custom powder-coated colors.
Custom Printed Tent Covers
Host your event in style! Deliver a lasting impression with your brand printed on a geodesic dome cover.