Portable Freestanding Outdoor Classroom Dome Kits by Pacific Domes
"Building Nature Smart Communities is our passion." — Pacific Domes Inc.
ScienceWorks Museum, in Ashland, Oregon is a nature smart outdoor classroom that provides a powerful platform to teach young minds bio-diversity and respect for the Earth.
Supporting children's innate curiosity to learn about the natural world, ScienceWorks Museum's outdoor classroom aligns with mounting evidence that natural sunlight and outdoor activities increase memory and learning capacity by up to 20% when compared to artificially lit indoor classrooms. We have only recently begun to take notice of the many benefits of relocating facets of traditional indoor learning to natural sunlit classrooms.
Studies indicate that unnatural biofield (energy body) suppression caused by indoor lighting, as well as technological devices, is on the rise in schools. Nature-deficit disorder, a term coined by Ricard Louv, author of the National Best Seller "Last Child in the Woods," is a must-read for parents and teachers seeking to raise healthy young minds.
Why ScienceWorks Museum Nature Smart Outdoor Classroom?
ScienceWorks Museum's nature smart outdoor classroom provides children of all ages with the chance to explore and learn in ways that encourage interaction within a natural setting. Locally, the people at Science Works Hands-on-Museum are doing great things with a greenhouse dome, showing the world how one dome can make a positive environmental difference.
Children are more apt to engage and deepen their understanding by association through practical hands-on learning. Along with added health benefits and improved learning, the ScienceWorks eco-classroom has become an immersive experiential teaching laboratory.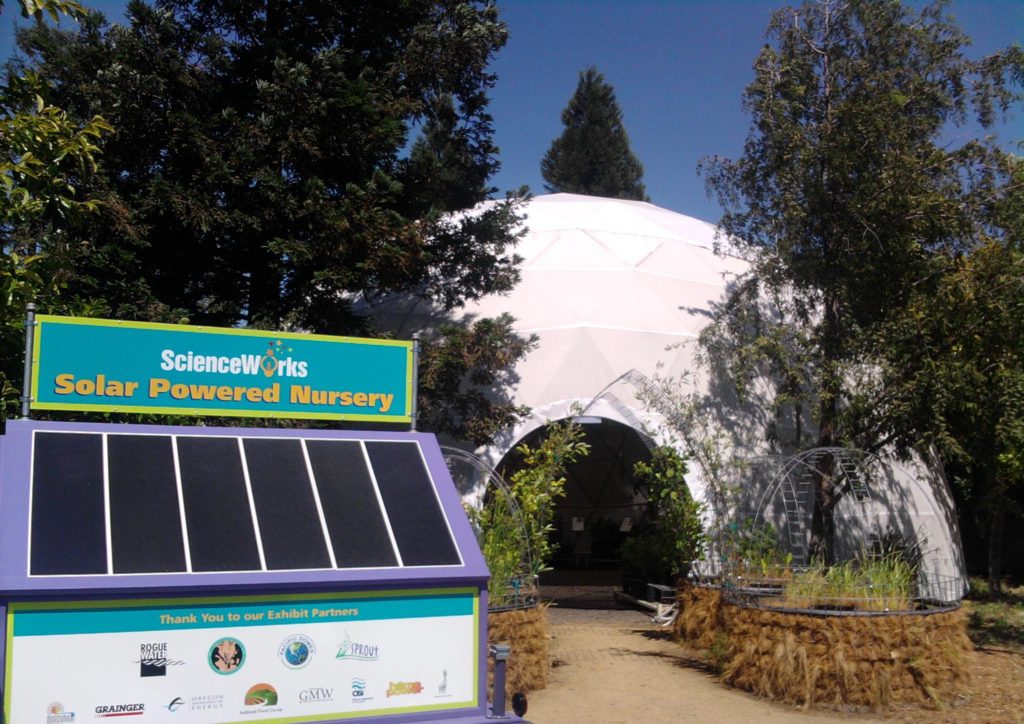 The dome currently serves as a nursery and shade structure for ongoing forest- and stream-side restoration projects throughout the Rogue Valley. However, the shelter is perfect as an enclosed classroom space for visiting students and the community who often participate in these projects.
ScienceWorks Museum, in conjunction with some of its partners, built a solar power irrigation system for the trees and plants inside. The watering system begins with the solar panels outside the dome as sunshine is absorbed and turned into electricity.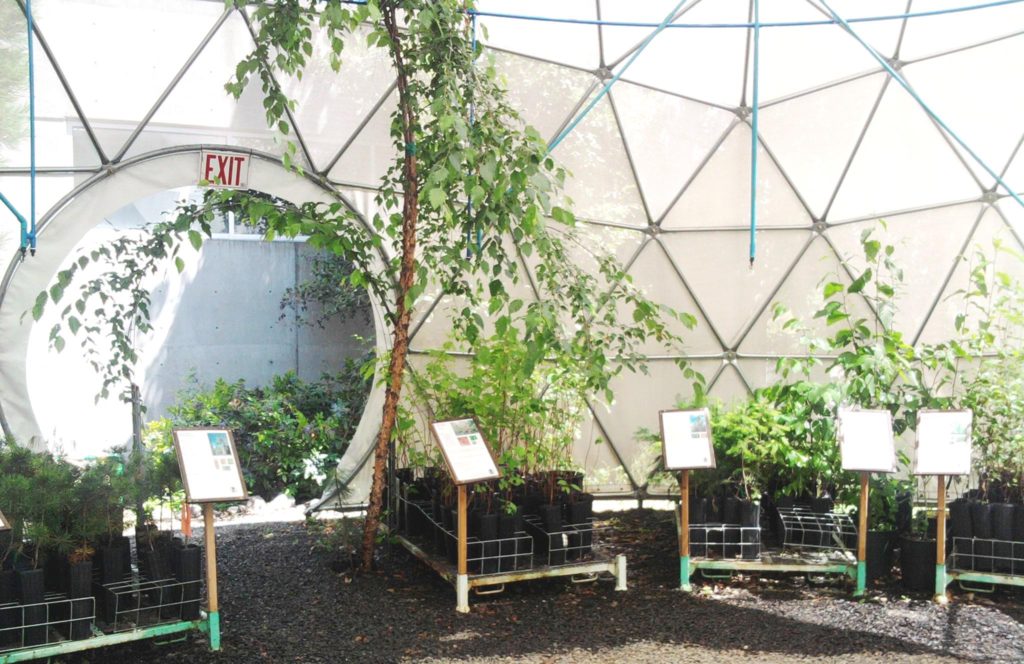 The electricity then powers the system pumps to send water into a barrel at the top of the dome. When the water is released, gravity does its job by pulling the water through the pipes and misting the plants.
The frame of the dome is reliable and sturdy for hanging or attaching plant beds and pots. The ScienceWorks irrigation system shows how pipes, hoses and other equipment find themselves right at home, fastened securely to the structure of the geodesic dome greenhouse.
Pacific Domes of Southern Oregon is a manufacturer of geo-engineered prefab greenhouse kits and free-standing solar greenhouses. Steering the future of nature smart outdoor education in concert with many forward-thinking schools, eco-camps and outdoor enrichment programs, Pacific Domes offers a cost-effective solution for the budgeting issues facing many schools.