Printed Event Tent Domes for Product Branding by PACIFIC DOMES
"Our Live Event Tents Rock!" — Pacific Domes Inc.
Did you know that experiential marketing events shape the future of brands unlike any other platform? Consumer tracking has shown that 95% of consumers who participated in experiential marketing events were more likely to express confidence in purchasing a promoted brand or service! This is Big Industry News!
Can you afford to dismiss the image imprinting profits to be had by hosting an experiential marketing event campaign? Why not shape the future of YOUR brand by harnessing the added power of immersive printed tent dome theaters?
Printed Event domes offer an open 360° theater that speaks to your imagination. Pacific Domes USA, is a global manufacturer of portable geo-engineered domes, specializing in Brand imprinted tents for Product Launches and Marketing Events.
Pacific Domes is proud to have collaborated with some of the biggest brands on the planet in staging experiential marketing events designed to captivate your audience and create a buzz around your brand. The following are just some of the successful experiential marketing campaigns, sure to spark your imagination: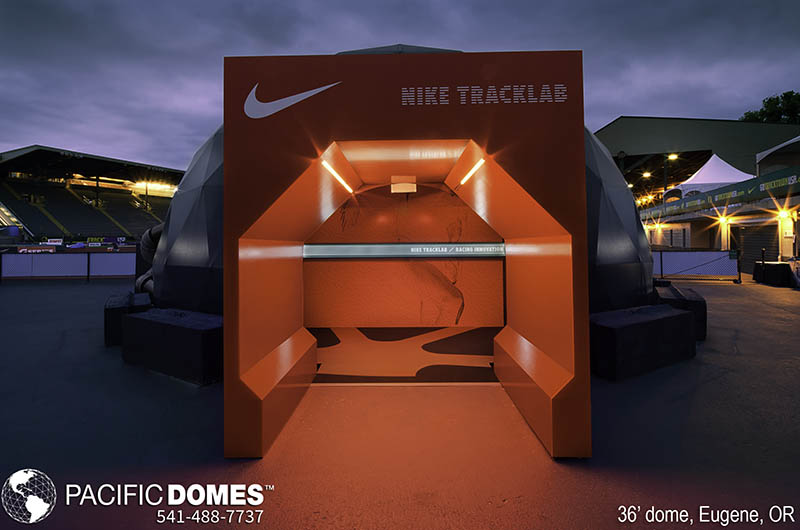 1) Product Launches
From design to installation, Pacific Domes will ensure that your product launch is successful. The Pacific Domes Master Team tends to every detail of your project.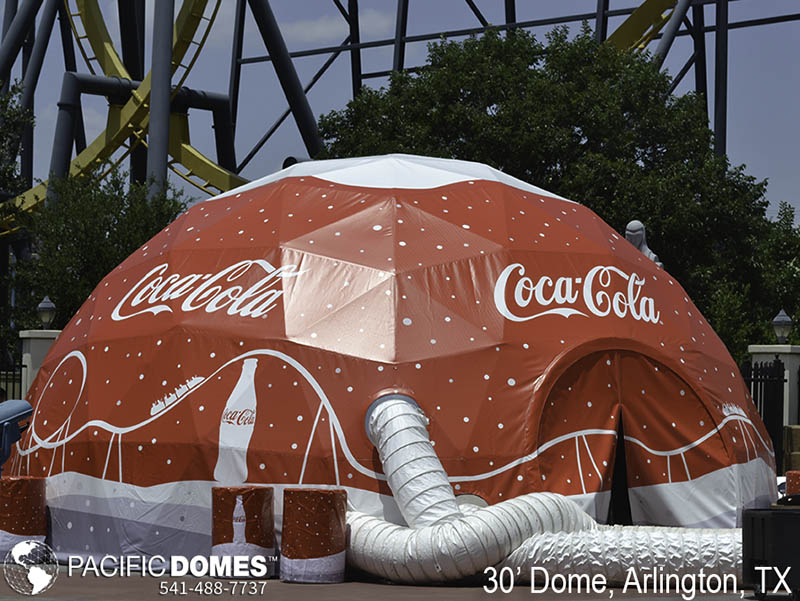 2) Promotional & Mobile Marketing Tours
The portability and quick installation of event tent domes make them a popular choice for promotional and mobile marketing tours. Get ready to create your multimedia work of art that best communicates your Brand message.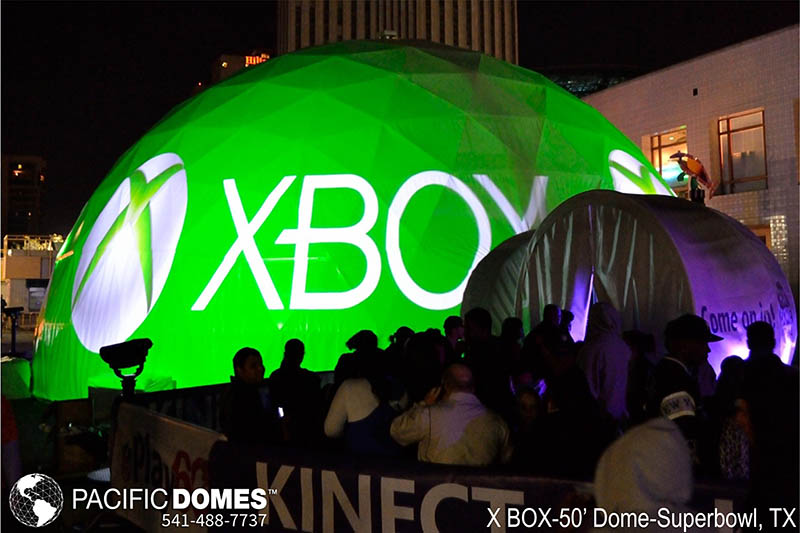 3) Corporate Marketing Events and Conventions
Pacific Domes Event Domes become the hit at every corporate marketing event and convention. With diameters ranging from 16ft – 120ft., your attendees will be mesmerized under an immersive, interactive dome canopy.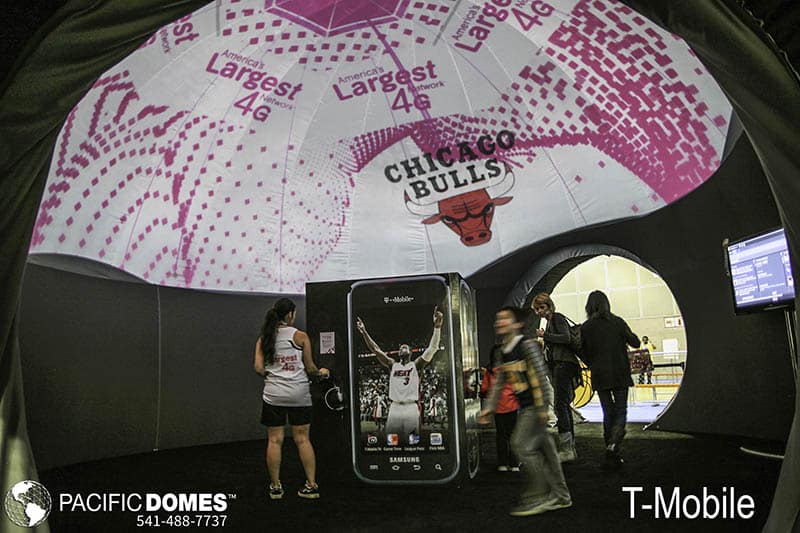 4) Trade Show Booth Domes
Event Domes provide solutions that transcend the ordinary, offering experiential marketing alternatives to conventional tents. The Dome display is visible from all angles, offering creative opportunities for utilizing the latest branding technology.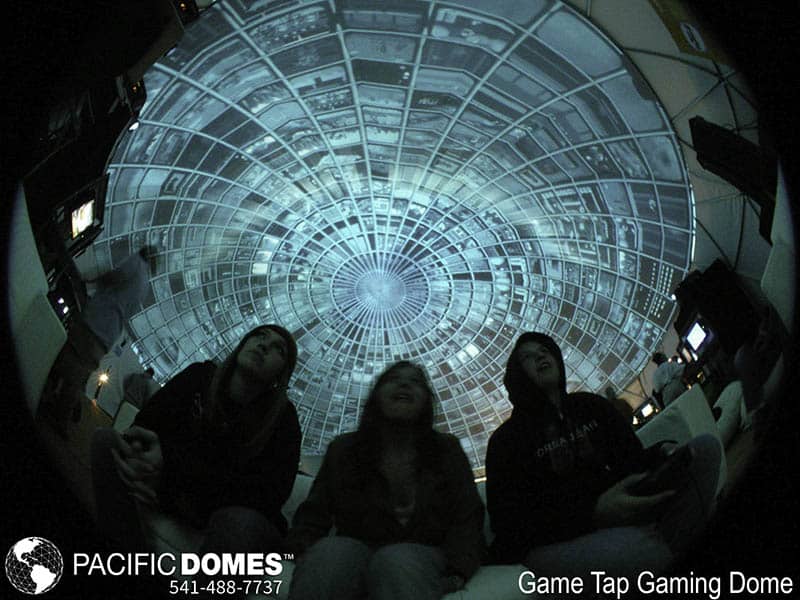 5) Sports Domes & Gaming Domes
Pacific Domes Sports and Gaming Domes create the perfect viewing environment for fully immersive virtual or augmented reality stage. From smaller tournaments to Olympic-size events, Pacific Domes has been an influencer on the Event scene.
Pacific Domes has pioneered the Golden Age of Geodesic Engineering to capture the 360° immersive event market and brings over 35 years of industry expertise.
Advancing the future of Experiential Event Marketing, Pacific Domes builds large format Printed Geodesic Domes, the platform of choice by clients such as Coca-Cola, Toyota, GM and Geico, to name a few!
The Pacific Domes Design and Project Management Team are experts in their field and eager to work closely with your project renderings. Pacific Domes is there to offer expertise with your project design requirements…
Interactive experiences with technology and media include:
3-D camera driven displays
Live streaming displays
Gesture interactive multi-touch displays
Tablets & Smart phone driven interactive devices
Immersive experiences with technology and media include:
Full-dome Immersive programming
3-D projection mapping
Digital Theming
3-D Holographic Displays
Projection Spheres & Immersive LED Video display technologies
When your event depends on a timely delivery, you can sleep easy knowing that Pacific Domes has an outstanding track record. Visit Pacific Domes to find out for yourself why businesses large and small turn to Pacific Domes for their experiential marketing event needs.