"Rewild Yourself – Join the Dome Glamping Craze" — Pacific Domes
Hipcamp has earned the reputation as the Airbnb of camping and glamping (glamorous camping). Anyone with a property that helps connect people with nature can become a Hipcamp Host!

Hipcamp features all types of land that people might be drawn to camp or glamp in – from raw rural pastures to desert landscapes close to natural attractions, like the Grand Canyon – from working farms and ranches to remote nature retreats – and, everything in between.
Hipcamp Hosts Create the Experience
Hipcamp Hosts have popularized geodome glamping as a unique way to experience the outdoors. You'll love exploring and being inspired with how these Hipcamp Hosts (below) created a memorable nature getaway for their guests – meanwhile, reaping the many rewards of sharing their land with others.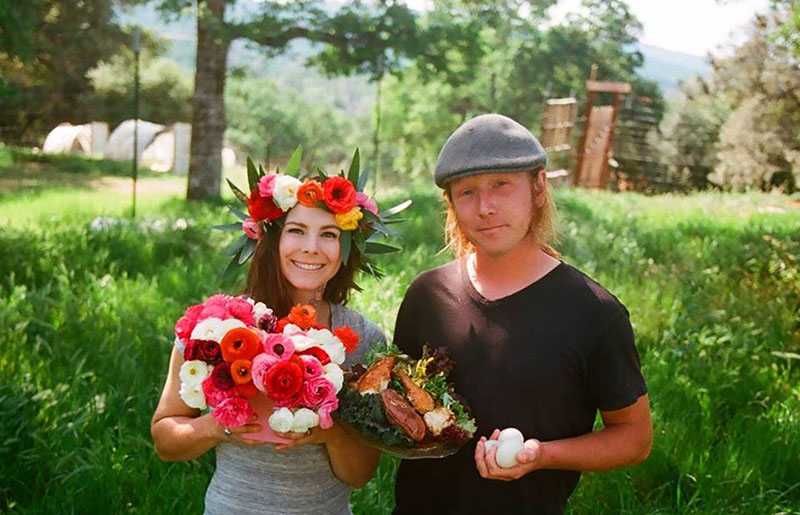 Lycoper-DOME Turkey Tail Farm – California. Nearby: Lake Oroville State Recreation Area, Bidwell Mansion State Historic Park – an unforgettable stay in the surroundings of a working, producing mushroom farm with Boho Wedding Hosts Samantha and Cheetah.
2. Desert Dimension: Tranquility Dome – California. Nearby: Wonderland of Rocks – the first of 11 themed domes, the Tranquility Dome is designed to bring peace, calm and serenity to all who enter.
3. *WONDER DOME Glamping w/ KING BED!* – Joshua Tree, California. Nearby: Wonderland of Rocks – just 19- minutes from the Joshua Tree National Park entrance, it's a WORLD away from the noise and bustle of, well… everywhere else.
4. Our Desert Domestead – California. Nearby: Wonderland of Rocks – the Kosmic Tortoise domes are located in Wonder Valley, 15-mins. from the Twentynine Palms entrance to Joshua Tree National Park.
5, Bohemian Dome Tent w/Panoramic View – Sunvillea, California. Nearby: Boulder Gardens, Joshua Tree National Park – on a 5-acre desert landscape adorned with Joshua trees, you'll find a 16ft. dome tent with a large bay window providing unobstructed panoramic views of the mountains.
6. The Om Dome Experience – California. Nearby: Boulder Gardens, Joshua Tree National Park – experience a little bit of heaven and Zen out in this desert oasis gem!
7. Baby Oaks Geodesic Dome Glamping – California. Nearby: San Onofre State Beach, San Clemente State Beach –Splitrock Farm and Retreat offers guests access to 101 acres of land, which includes beautiful views of the Pacific Ocean to the west and Mount Jacinto to the east.
8. Dome Home – California. Nearby: San Onofre State Beach, San Clemente State Beach – one of the last remaining undeveloped areas of Southern California.
9. Sky Mountain – Sky Dome – Santa Barbara, California. Nearby: Chumash Painted Cave State Historic Park, El Presidio de Santa Barbara State Historic Park – visitors enjoy the simple luxury of the sacred Geodesic Sky Dome. If you love Dance, Yoga, Meditating, Massage, playing Music – then, this is the perfect space for you.
10. Moon Pine Glamping – Unique GEO DOME – Idyllwild, California. Nearby: Mount San Jacinto State Park, Diamond Valley Lake – welcomes guests to a beautiful, unique experience amidst a forest Shangri-la.
11. Home Sweet Dome – Colorado. Nearby: Golden Gate Canyon State Park, Red Rocks Amphitheater – Home Sweet Dome is located just outside of historic Nederland, CO at 9,020 feet above sea level.
12. The Sky Dome at Yale Creek Ranch – Applegate Valley, Oregon. Nearby: Valley of the Rogue State Park, Oregon Caves National Monument & Preserve – in the heart of wine country, lies a unique geodesic dome in the woods, six cabins and a main house, which gives the ranch a community feel, with enough elbowroom to enjoy privacy, as well.
13. Cedar Bloom Farm – Oregon. An unforgettable Southern Oregon camping sanctuary with its own private beach along the banks of the Illinois River.
14. Zia Geo Dome at El Mistico – New Mexico. Nearby: Lincoln National Forest – invites you to unplug from the city and experience a romantic getaway with amazing sunset views.
15. Treetop Dome – Sabi Texas. Nearby: Longhorn Cavern State Park, Inks Lake State Park – Sabi is a Mexican-inspired geodesic dome that will make you feel like you're floating above the treetops.
16. The Ereka – Georgia. Nearby: Panola Mountain State Park, Indian Springs State Park – The Ereka is an escape into the natural woods. It is fully equipped, super friendly and welcoming.
17. Dome 2 at Smoky Mountains Glamping – Tennessee. Nearby: Great Smoky Mountains National Park, Seven Islands State Birding Park – Get back to nature and take in the forest, mountaintop & sky views from the panoramic bay window lookout.
18. Dome on a Lake with Kayaks – Daffodil Hill, Texas. Nearby: Tyler State Park, Lake Bob Sandlin State Park – this stunning Pacific dome at Daffodil Hill is a little bit of home and a little bit of camping.
19. Geodesic Dome at Quarry Brook – Vermont. Nearby: Townshend State Park, Fort Dummer State Park – tucked in a corner of a working homestead and farm, you'll find a space to relax, unwind and reconnect.
20. The Dome at Our Farm – Virginia. Nearby: Cedar Creek & Belle Grove National Historical Park, Shenandoah River State Park – with easy road access and on-site parking, the Dome sits in a large grassy area near the creek. There's ample space to explore the farm and get 'unplugged' – no electricity, no internet or phones!
21. PEBs Glamping Dome on the Ocean – Nova Scotia – Canada. Nearby: Glenwood Provincial Park, Ellenwood Lake Provincial Park – experience gorgeous sunsets and watch deer run wild through the fields. Enjoy the thrill of stand up paddleboarding and kayaking adventures.
22. Hunter's Geodome Grand Manan – New Brunswick, Canada. Nearby: The Anchorage Provincial Park, Hubbards Provincial Park – situated on picturesque Grand Manan Island, this geodesic dome has beautiful ocean views.
23. Dartmoor Domes – Devon, UK. Book a stay at Dartmoor Domes and you'll swap your bedroom ceiling for a canopy of stars.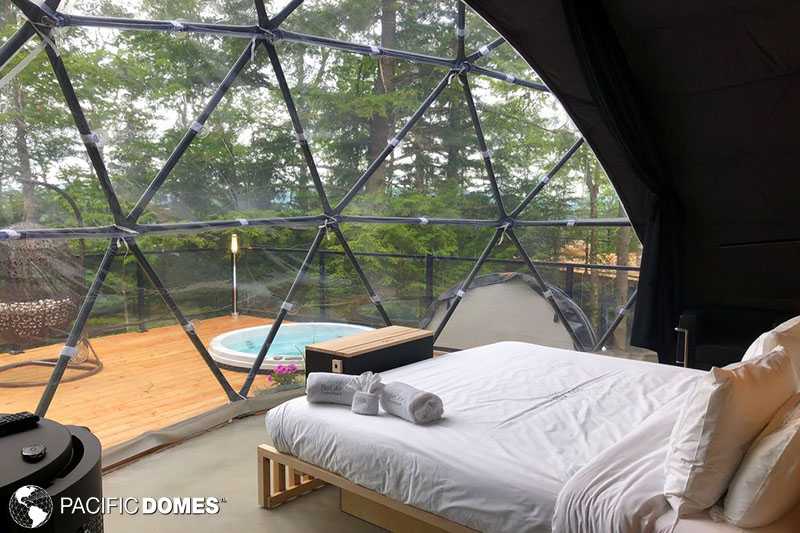 Get Started Hipcamp Hosting with a Free Listing
Hipcamp's mission is to get more people outdoors. To this end, they're always looking for landowners that support this praiseworthy mission by hosting stays on their private land. The good news is that setting up a listing is completely free and easy – and, only takes minutes to publish.
If you're wondering if your land is a good fit, you'll be happy to learn that no matter what type of property you have, there's no need to hesitate in taking that first step towards becoming a Hipcamp Host. Beyond that, people ask, what is Hipcamp looking for in a Host?
Your Hipcamp Dome can pay your mortgage!
Did you know that your dome can pay your mortgage? Booking sites, such as, Airbnb and Hipcamp have popularized Dome glamping as a unique way to experience the outdoors through homestays and landsharing – hosts often choose to host with both booking sites.
For additional inspiration, take a map tour of Pacific Domes' glamping domes and eco-resorts around the globe – it's where you'll find everything from private home stays, farm stays and glamping to remote basecamps, yoga retreats and chic eco-resorts.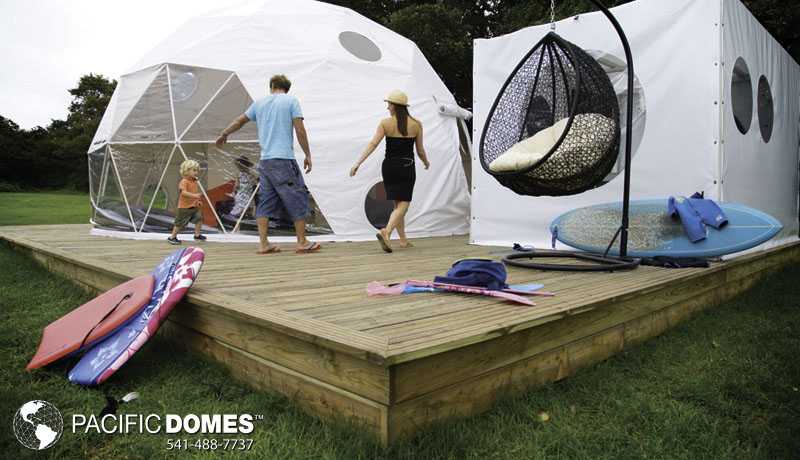 ---