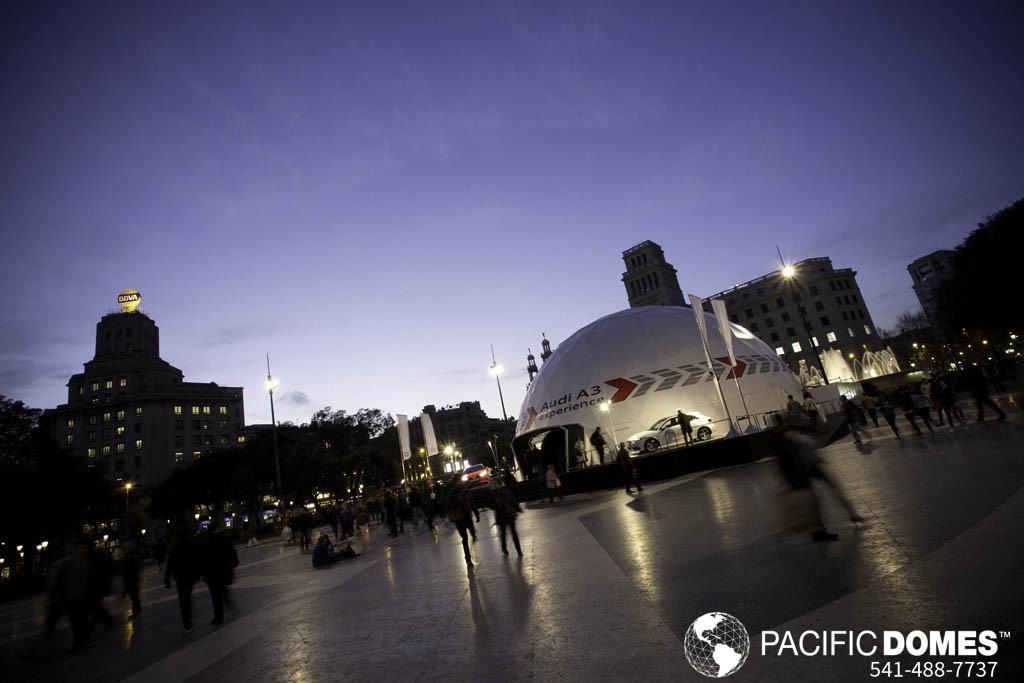 The Future of VR has a Home with the Event Industry by Pacific Domes
Virtual Reality Event Projection Domes are rapidly changing the event industry landscape. The emergence of Virtual Reality Theater Domes by Pacific Domes as a venue has been a real game changer for the events industry.
Portable Virtual Reality Theater Domes by Pacific Domes of Southern Oregon, are in high demand proving that the future of Virtual Reality environments is truly here to stay.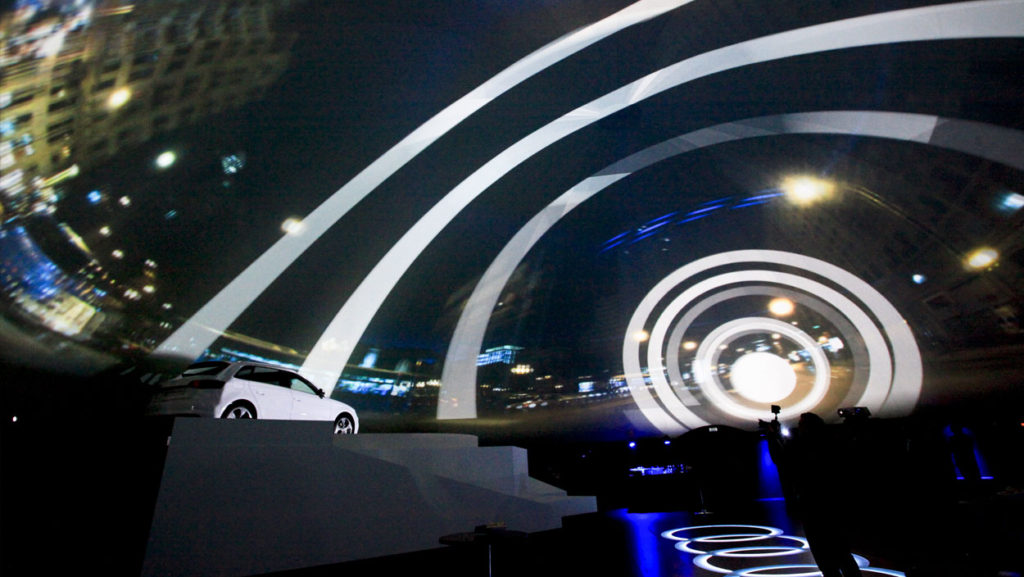 Not to mention, they are raising the bar for the event industry! Event Projection Dome, team partners, Obscura Digital and Vortex Immersion, have an established presence and are experts at teleporting audiences to spectacular immersive audio-visual heights.
Virtual Reality Theater Dome technology is constantly evolving and opening up new frontiers of exploration for Event Projection Domes, challenging us to go where we have never gone before. Your marketing strategy deserves the best when it comes to event planning.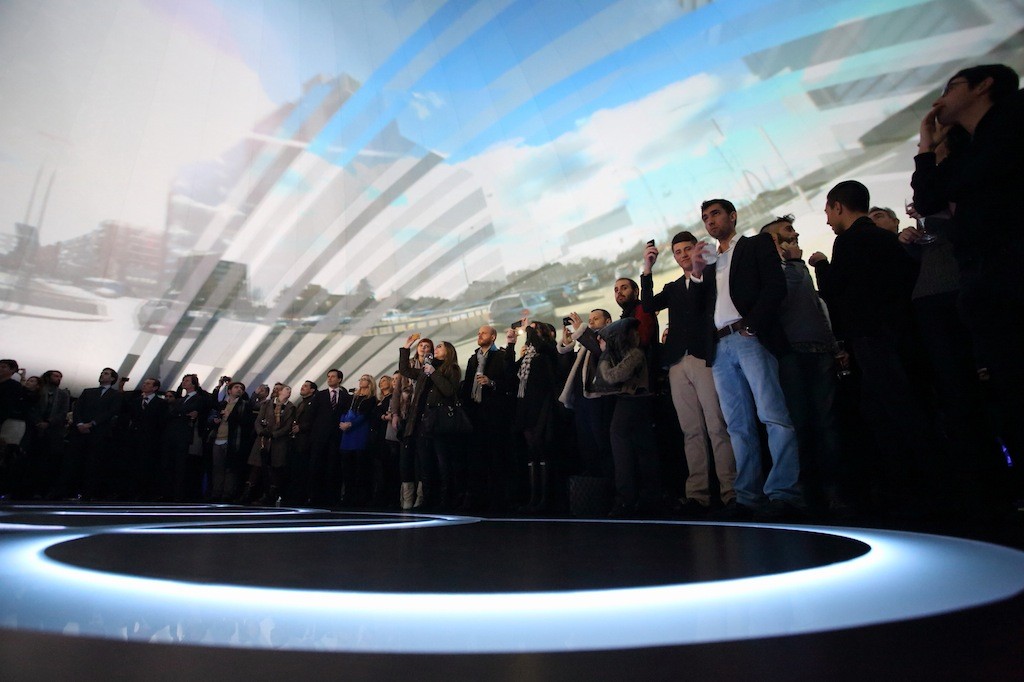 Pacific Domes provides the perfect Virtual Reality Theater Dome environment with its powerful revolutionary interactive technology. The manufacturing company has a commanding presence in developing & delivering award-winning projects around the globe.
Pacific Domes Portable Event Projection Domes are all about the spatial 360° Cinema projection experience in the immersive and interactive world of Virtual Reality Theater Domes. Team partners, Obscura Digital and Vortex Immersion Media recognized industry leaders, provide a fetching complement to Pacific Domes geo-engineered Event Projection Domes.
The show was held in a Pacific Domes Event Projection Dome to publicize its new A3 Sportback… the automobile brand's stunning audiovisual spectacular, combining 360° projections, 3D mapping and Showmaster Control. The event was first staged in Plaza de Colón in Madrid, and later moved to, Plaza de Cataluña in Barcelona. Between Madrid and Barcelona, around 25,000 people were able to participate in the Audi A3 Experience. It was a truly spectacular event, really impressive and never seen before in Spain.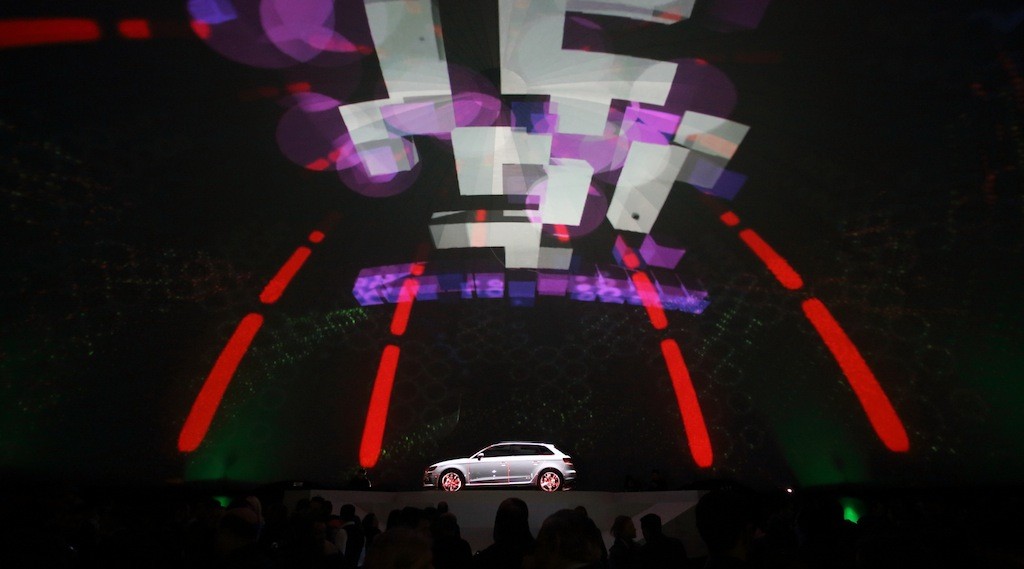 Virtual Reality Theater Domes have a superlative capacity for projection and lighting innovation and the spherical design naturally amplifies sound. Pacific Domes durable translucent dome covers won't leave anyone out in the cold, by making your theme visible from both inside and outside.
Portable Event Projection Domes are much in demand as temporary structures to provide relief from the outdoor elements. The portability, durability and ease of set-up makes Virtual Reality Theater Domes an instant attraction that will leave a memorable impression long after the event is over.
Audi A3 Experience in a spectacular Pacific Domes Event Projection Dome… a stunning panoramic audiovisual show with 360° projection & 3D mapping. Audi always looks for excellence in the events it organizes.
A true landmark of modern geo-engineering, this portable IMAX-size Virtual Reality Theater Dome was designed and created by the US manufacturer, Pacific Domes, using a sophisticated negative pressure system that vanishes the metal structure to create an 800 square meter seamless integration screen.
A 360° Cinema Virtual Reality Theater Dome creates an awesome sense of space that provides an effective venue for your marketing strategy. Your viewers will be surrounded by IMAX size images, lending exceptional creative possibilities to ensure that your Image Branding will remain the focal point of your presentation.
The spherical design of a Virtual Reality Theater Dome encapsulates the largest volume of interior space with the least amount of surface area and is suited to all types of terrains. When the dome's diameter is doubled it will quadruple its square footage and yield eight times the volume, thus saving on materials and cost while ensuring a light eco-footprint.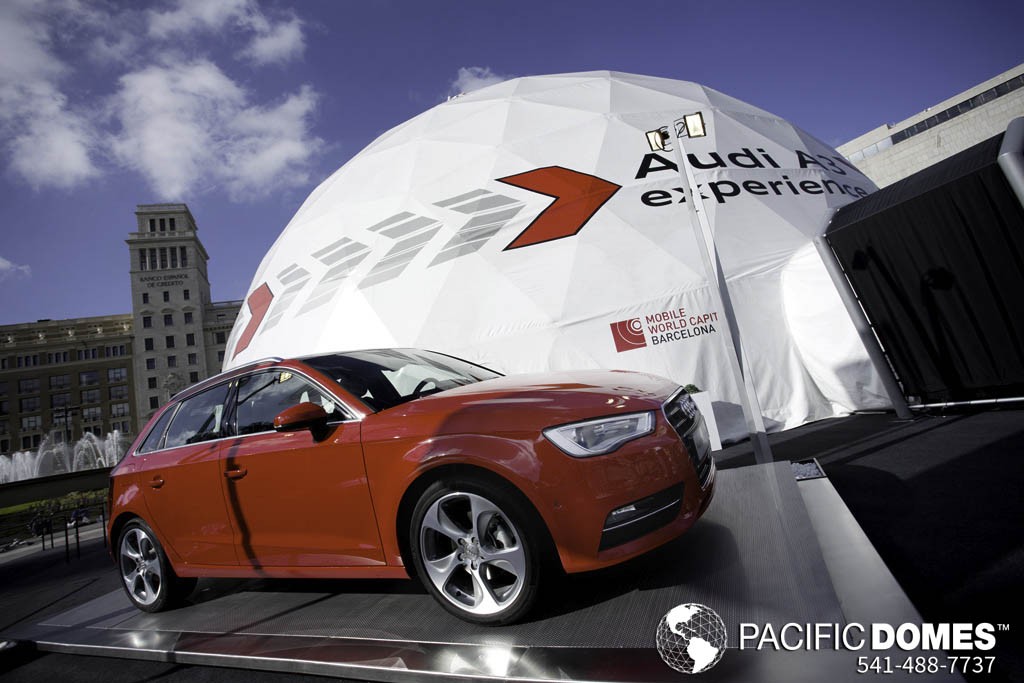 The Experience of Transforming Virtual to Real…
The show opened in pitch darkness before an offstage voice announced the start—at which point the rings of the Audi logo were lit up one by one.
Afterwards various flashes of light appeared using 3D mapping which were gradually connected together to create countless light cubes that formed the first complete image of the stage. Later, fast-moving lines appeared from right to left, drawing the outline of the new Audi A3 Sportback. Next, the panel hiding the Audi A3 Sportback, and on which its silhouette was projected, was slowly withdrawn to reveal the real car. The idea was to create the sensation of virtual reality!
When the car was started, it revolved in a circle and turned to face the audience; the parking lights were turned on to create the idea of movement, in such a way that it seemed as if it were moving forward through an abstract world of lines, spirals and tunnels projected onto the stage.
Once the Audi A3 Sportback emerged from the tunnel, the viewing audience found themselves in the cities of Madrid and Barcelona, filmed in 360°, which were projected on the screen and reflected on the body of the car. The new Audi A3 Sportback was combined with pre-recorded images of the cities to give the sensation of driving around them.
The show itself lasted eight minutes and was screened a minimum of 20 times each day, from 11 in the morning until 9 at night.
The audiences at the event were bowled over by the quality and originality of the show. The impression the public took away with them was that of having been part of an immersive audiovisual experience… a lasting impression.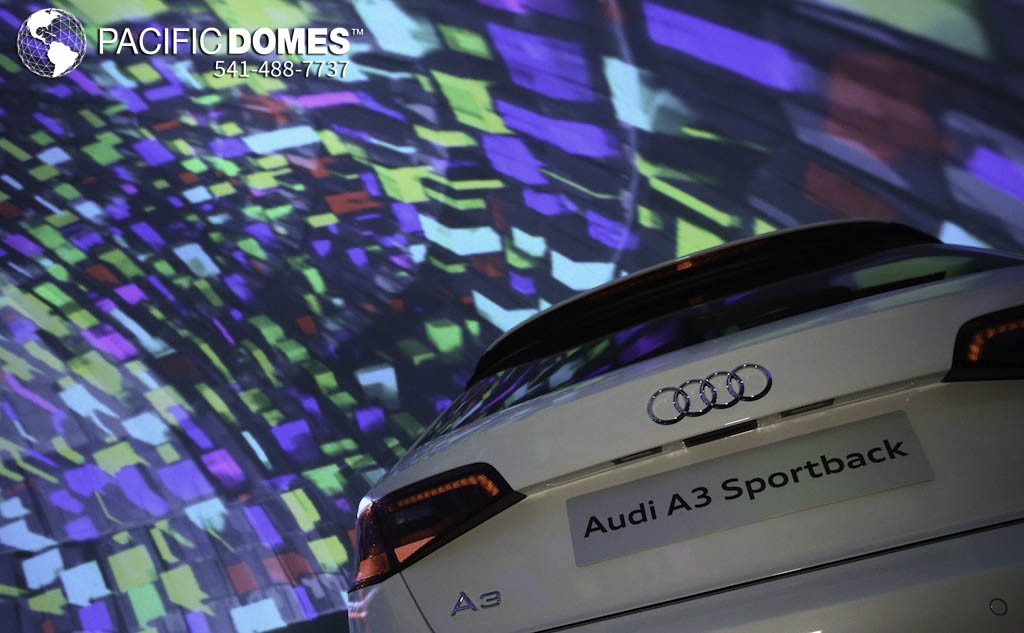 Audi A3 Experience Barcelona (360* digital projection)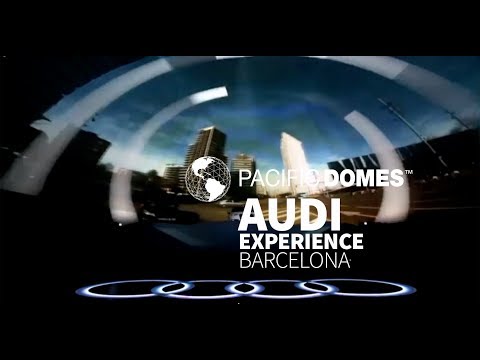 Pacific Domes has pioneered the Golden Age of Geodesic Engineering to capture the 360° VR Cinema event market with 30+ years of industry expertise. When your event depends on a timely delivery, you can sleep easy knowing that quality engineered portable geodesic domes made in the USA by Pacific Domes has an outstanding track record.
The Pacific Domes Design and Project Management Team are experts in their field and work closely with your renderings to create a multimedia work of art that will have a lasting impact.
To name a few of the custom range of interactive experiences & technologies:
3-D camera driven displays
Live streaming displays
Gesture interactive multi-touch displays
Tablets & Smart phone driven interactive devices
Immersive experiences with technology and media include:
Full-dome Immersive programming
3-D projection mapping
Digital Theming
3-D Holographic Displays
Projection Spheres & Immersive LED Video display technologies
Virtual Reality technology along with consumer demand, is advancing at an incredible pace. NFC (Near Field Communication) promises to be a game changer in event technology, taking it to the next level in making events much more interactive and increasing attendee engagement and satisfaction.
Daydream Technology
This fall 2016, Googles Daydream will be introducing an affordable user friendly option that will open up new possibilities to the VR Event Industry landscape. Googles Daydream promises to be a game changer and will be welcomed enthusiastically by small to medium-sized event holders in many venues.