Welcome to the coolest alpine ski resorts ever! Eco-domes lead the way in green travel lodging while offering the best in individual and family ski adventure packages. Demonstrating that hospitality and environmental stewardship walk hand-in-hand to create an extraordinary snow glamping experience, you'll find uncompromising under the canvas resort-style luxury in these award-winning igloos.
Igloo-style eco-dome pods lead the way in green travel lodging while offering the best in individual and family ski adventure packages.
Why Eco-Dome Pods
One of the most thrilling nature experiences you'll ever have is to spend time at a ski resort amidst breath-taking views of the surrounding country-side. To add to this enriching life experience eco-dome pods have become quite-the-thing at ski resorts and remote ski destinations.
Due to their portability, eco-dome pods go just about anywhere on the planet ‒ all this, while exerting a light eco-footprint! Domes enclose more space and require less building materials by using the 'doing more with less' principle. ― credit to Buckminster Fuller, father of the modern geodesic dome.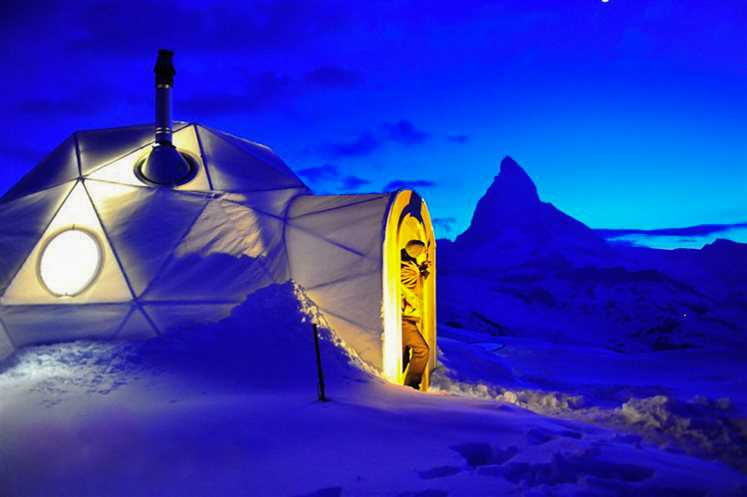 Strewn across the majestic Swiss Alps, each resort's ecological mission is geared towards responsible use and protection of the environment through:
Conservation of energy, water and transportation.
Bio-degradable products and waste recycling
Locally employed staffing
Fresh local cuisine and amenities and, much more
The spherical design of a geodesic pod derives its structural strength from inter-connected triangles that create a free-standing framework. The energy required to heat and cool a dome is approximately 30% less than that of a conventional building. There are no corners to obstruct the ambient airflow within the dome's interior ‒ thus, less energy is needed to circulate air and maintain optimal temperatures.
Coolest Igloo Resorts in Switzerland and Abroad
Come to Iglu-Dorf, where resort-style hospitality meets glamping (glamorous camping) at any one of seven European locations. Whether you're looking for singles, couples, groups; or, an entire family wedding celebration, vacation or re-union, there's resort-style facilities and lodging to please everyone.
Igloo-Villages Made of Snow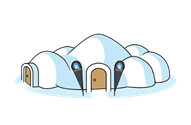 Although the unforgettable snow-white scenery outside, remains fairly consistent from year to year, inside the igloo-villages made of snow, you're sure to be captivated by the ambiance of the gigantic ice sculptures that line the walls and ceilings. A system of tunnels connects the igloo complex, protecting against wind and weather.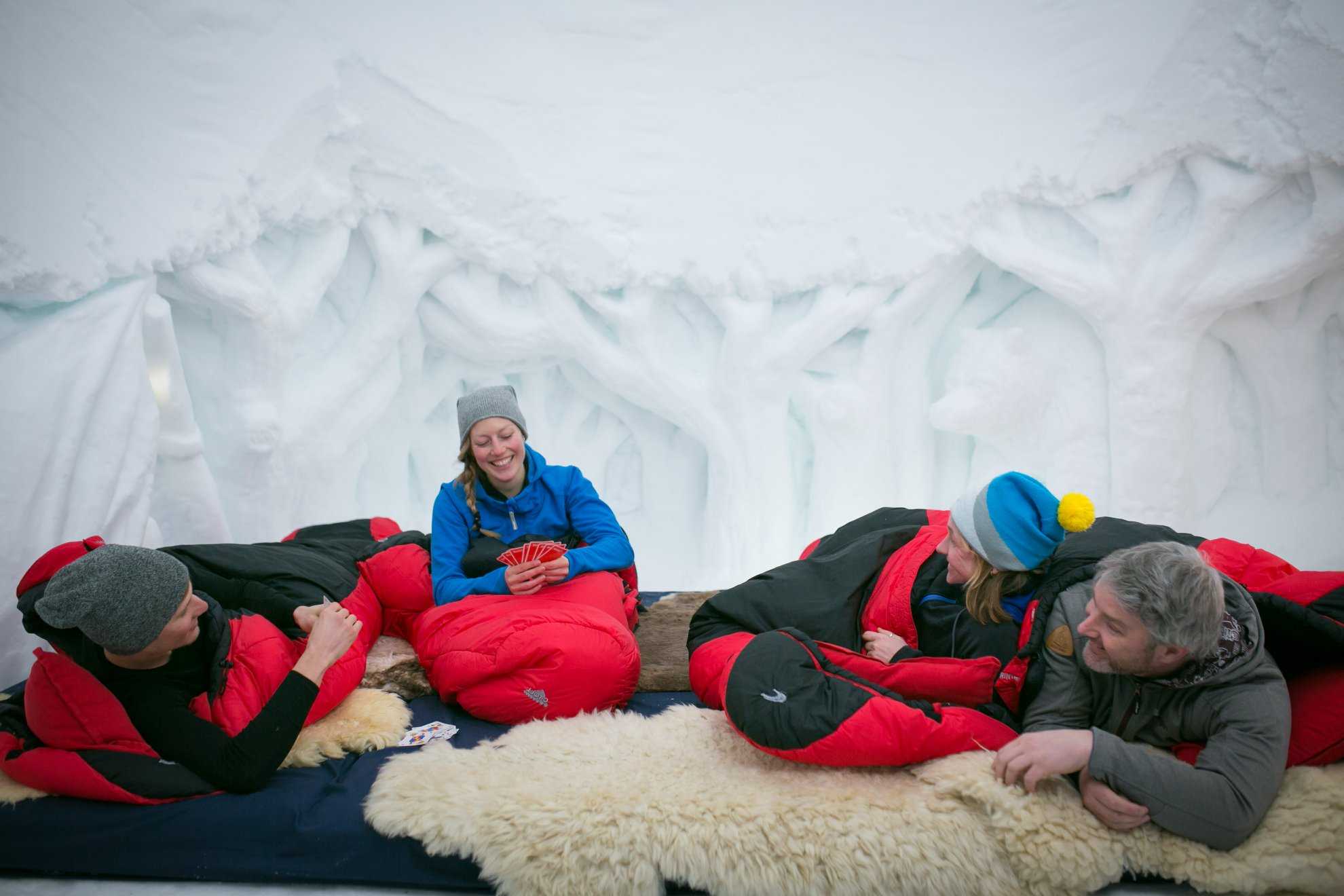 Prior to each winter season the building crews and artists get busy sculpting masterpieces out of ice in a variety of themes that are never boring. Even if you might have visited Iglu-dorf the year before, you can eagerly anticipate a different theme the following year.
Meet You at the Ice Bar
One of the most popular hang-outs after a big day on the slopes, skiers look forward to unwinding and meeting friends for a drink and conversation at the happening bar. Something to look forward to are the company Christmas Parties!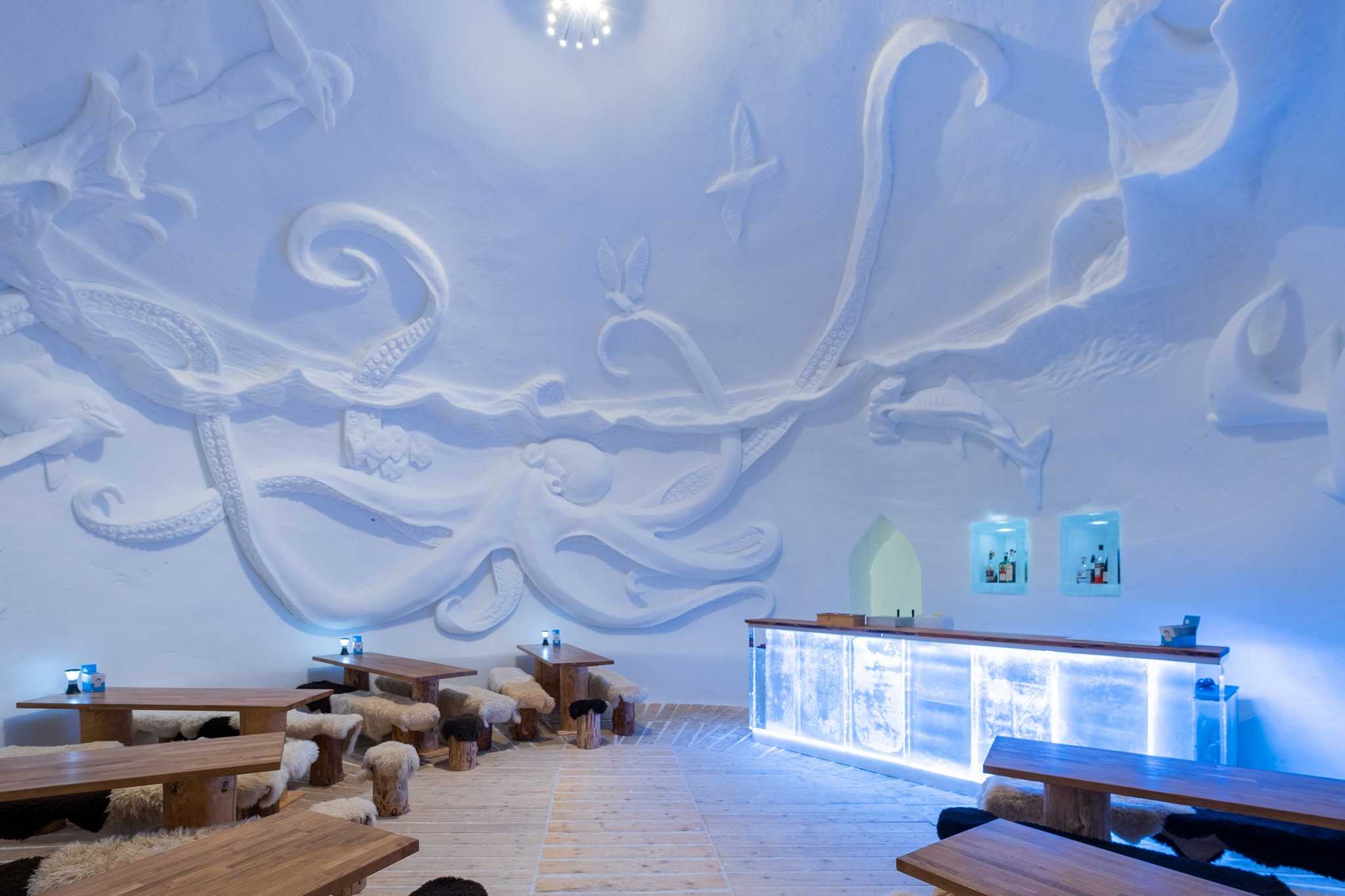 No matter if it's an overnight-stay, a happy holiday outing with friends or a family play-in-the-snow experience, everyone enjoys a lesson in "How to build an igloo". ― a voucher for an adventure in the Igloo Village will surprise everyone and be a treasured memory.
Whitepod, Switzerland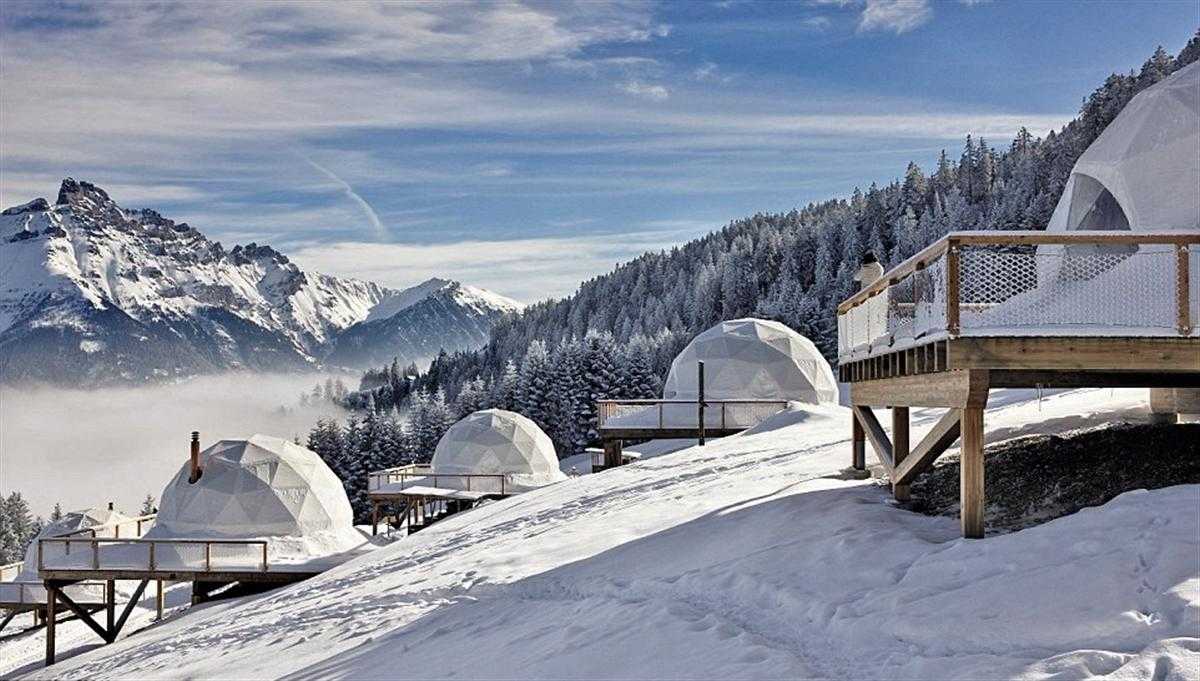 Nestled amidst the deep snows and gentle slopes of the Swiss Alps, visitors to Chalet Les Cerniers come upon iconic Eco-Dome Pods located just a short distance to excellent skiing.  Whitepod is a popular alpine resort, providing the warmth of private pods, an experience that brings ski enthusiasts back season-after- season to experience this extraordinary wilderness ski destination.
After the day's adventures, you'll look forward to your very own private pod, warmed by a wood or pellet stove. Guests love stepping outside their dome after a restful night's sleep to greet the fresh, mountain air, while other delightful smells point them towards the main lodge for a hearty breakfast before tackling the slopes.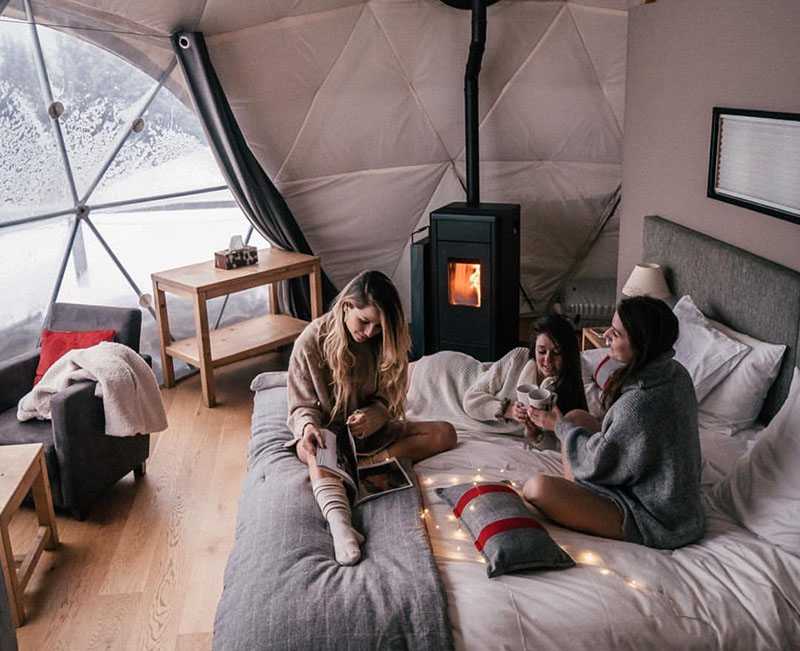 The "Pod Experience Suites"!
Recently added to Whitepod's unique lodging… The ultimate Pod Experience Suites joined the family of fifteen pre-existing pods, The Cosy, the Family and the Deluxe pods.
The "Pod Experience Suites" offer three unique environments, the "Swiss", the "Forest" and the "007" suites. You'll want to jump over to their website and book your stay at one of these unforgettable accommodations.
Backeddy Resort Accommodations
On the stunningly beautiful Sechelt Inlet (just north of Vancouver), Canada, the glamping domes at the Back Eddy Resort & Marina, are close to several winter skiing activities. Located on the Sunshine Coast, near Edgemont Village the guided eco tours at the Backeddy Resort & Marina offer incredible experiences in a pristine wilderness setting.
Stay Warm Inside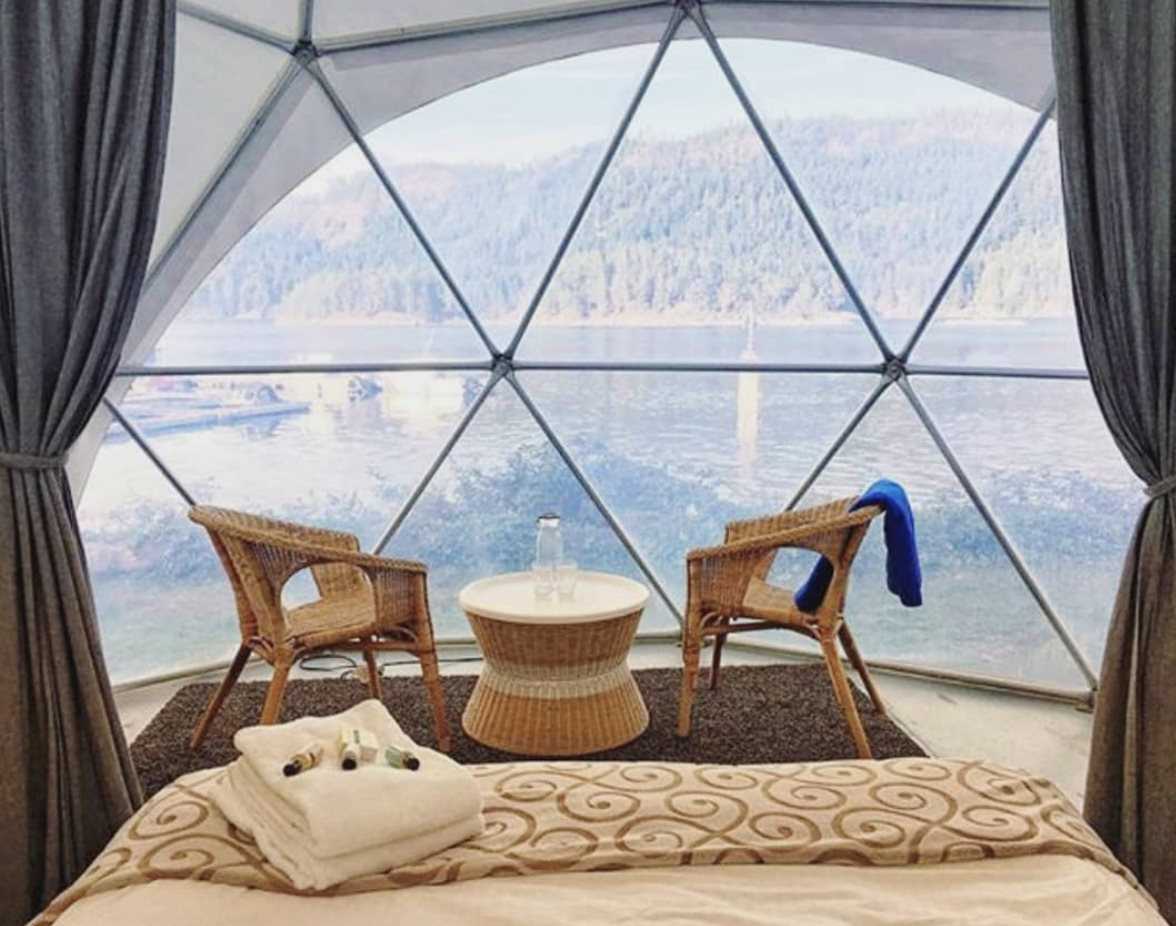 No matter your age, if you're young-at-heart, time spent enjoying a winter wonderland spectacle unfold before your eyes is a thrilling prospect. You'll love the warmth and simple luxury of an eco-pod when you're ready to take refuge inside.
Over the last 40-years, Pacific Domes has perfected the functional beauty of their domes, outfitting them with your choice of insulated wool-lined thermal or Reflectix® insulated covers. Add a wood stove or radiant floor heating, and before long, you'll be melting snow off the dome's outer skin.