BEL AIR RESORT
In Quebec Canada, Mont Tremblant is voted the number one ski resort in North America, and is now featuring glamping domes ensuring endless activities the whole year round. Beautiful Lake Tremblant and Mont Tremblant's forests and friendly pedestrian village at the base of the mountain draw world-class sporting events such as the famous Ironman. In addition to skiing in the winter season, the resort hosts the Canada Mountain Bike Cup , a Ferrari Festival , Wanderlust Yoga Festival as well as a Blues and Jazz Festival.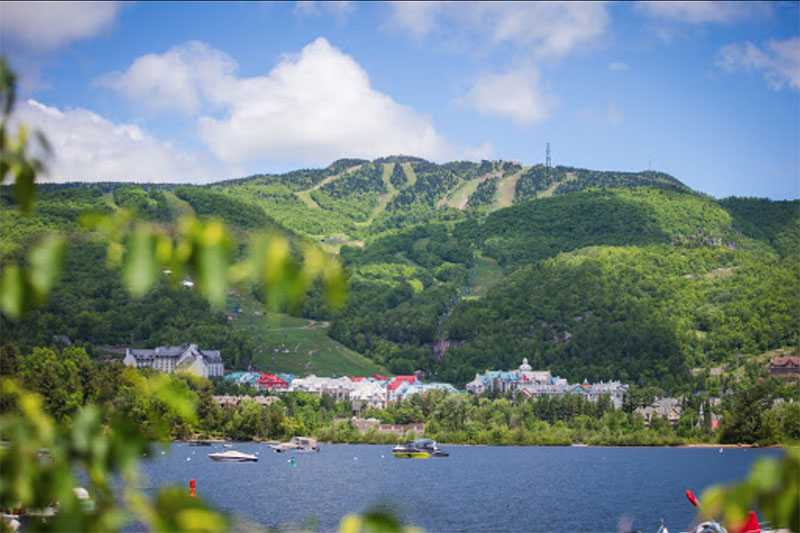 For all those wishing to stay and play, Bel Air offers vacation rentals and hotels, but we will focus on the domes that Mont Tremblant rents out for glamping near Quebec , Canada. All Dome rentals are conveniently located at Bel Air Tremblant (543 acres), just 8 minutes from the ski resort and 5 minutes from the many restaurants & eclectic boutiques located in the Old Village.
Bel Air Tremblant is one of the best reviewed lodging establishments in Mont Tremblant. All vacation home rentals at Bel Air have received a 4-star certification by the CITQ, Quebec's Department of Tourism. The resort's community Clubhouse offers a full range of amenities including a guest reception desk that is open 7 days a week. A complimentary breakfast is served on Saturdays from 8 am to 10 am.
THE "LOVE NEST" MEZZANINE DOME
This unique 'Love Nest' Dome is located just a minute's drive from the Bel Air Tremblant clubhouse.
The dome offers a truly unique lodging experience and the perfect mixture of luxury and nature. Our eco-friendly domes are nestled in the heart of nature and surrounded by crisp mountain air, thick forest and thriving wildlife.
The 'Love Nest' Mezzanine Dome is 450 sf and will sleep two adults and two children. It is equipped with a kitchenette, a sitting area, table and chairs, wood burning fireplace and full bathroom. A king-size bed faces a large bay window that spans from the kitchen to the living room. There is a mezzanine with two single beds for children to sleep.
Outside there is large deck with table and chairs ideal for dining under the stars. Embrace nature while you relax in your own private hot tub after a day of hiking or skiing.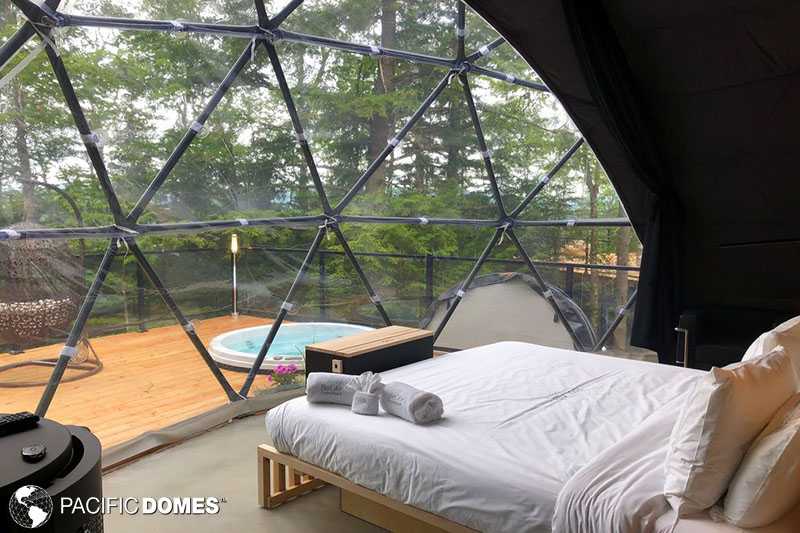 INSIDE
King-size bed
Sitting area
Full bathroom
Flat screen TV
Mezzanine w/2 single beds for children
Panoramic view
Wood burning fireplace
Table & chairs
Kitchenette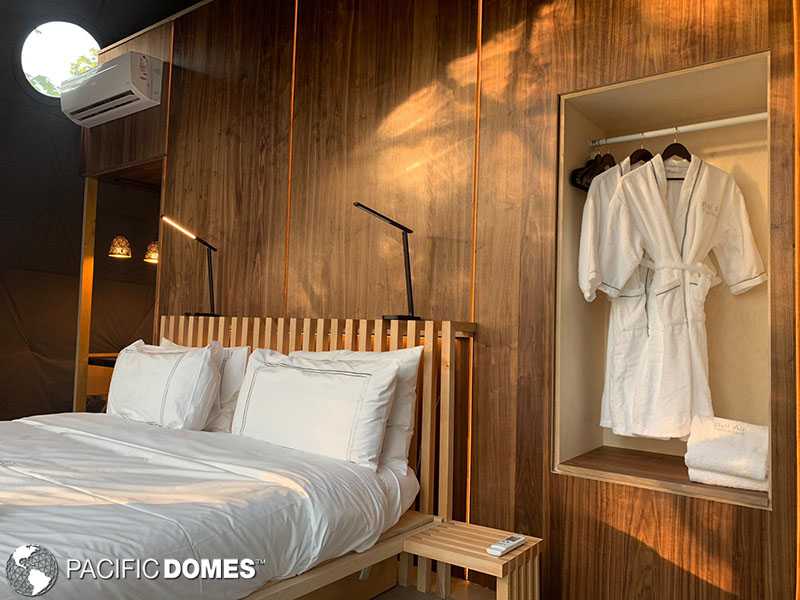 OUTSIDE
Wood deck
Patio seating
Private hot tub
BBQ grill
CLUBHOUSE AND AMENITIES
Bel Air's 9,000 sf² clubhouse features:
Tennis & basketball court
Guest reception desk
Fitness center & yoga studio
Outdoor Jacuzzi
5 luxury massage rooms & sauna
65 ft (20 meters) open only in summer
Health bar & lounge
Kid's room & teen game room
Fat bike & snowshoe rentals*
DOME TOUR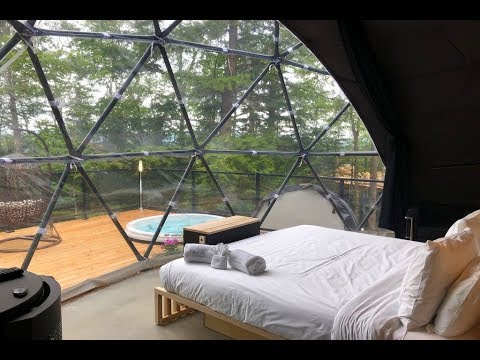 Getting to Mont Tremblant Canada from the United States is easy. Visitors from the US fly to Mont Tremblant from Mont-Tremblant International Airport (YTM) or Montreal-Pierre Elliott Trudeau International Airport (YUL) which are also the closest airports to Tremblant.20 minutes from the resort. Staying in any of the 6 domes, especially the 'Love Nest' Mezzanine Dome will afford you an incredible dome glamping experience of a lifetime.