From Prefab Dome Home Kit to Home Sweet Home
Prefab Dome Home Kits for Sale or Rent by Pacific Domes Inc.
"Our Dome Homes are dedicated to Building Sustainable Communities Through Spontaneous Cooperation."
— Pacific Domes Inc.
---
In our second installment on Dome Home structures, we look at some of the many options that are available and will surely change your dome into an alternative housing Shangri-La!
Why choose a Dome Home?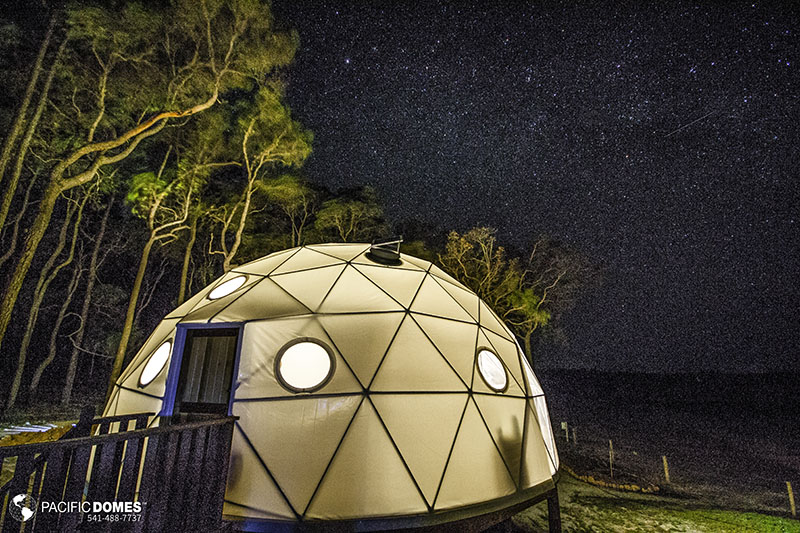 There are many good reasons to choose our modern prefab homes over other alternative or traditional housing options.
Structurally Sound
For starters, Dome Homes are nature's perfect structure and have the competitive edge in non-traditional ecoliving spaces, providing safe shelter from high winds, heavy snows, even earthquakes! When faced with nature's extremes, the geo-engineered strength of our prefab dwell homes have proven time and again to be the strongest shelter known to man.

Energy Efficient


Dome Homes are naturally more energy efficient due to unobstructed circulation of ambient heating and cooling. Designed for optimal ventilation in all types of climates, studies have revealed domes have at least a 30% more heating and cooling efficiency compared to standard housing or other modern prefab homes.

Fully Customizable


Dome Homes are affordable prefab homes that come in comfortable shelter sizes to suit your individual needs from 16ft. to upwards of 44ft, with a typical delivery time of 4-6 weeks.
Larger dome sizes are available, up to 120 ft. Custom packages may take a longer delivery time due to variable logistical considerations. The Pacific Domes team is happy to assist with your questions along your design and construction journey, from beginning to end and beyond.
The Basic Prefab Dome Home Kit includes a frame, cover with bay window, round windows, weather-tight zipper door or pre-hung door opening, zippered base roll-up flaps for ventilation, steel anchor plates; and, a dome care manual with deck plans and assembly instructions. Frames may be purchased separately as well.
Frames
The standard .9" galvanized steel frame with hardware is adequate for normal conditions. In areas where nature's extremes are a factor, your local building department may require heavier steel tubing. Geo-engineered domes have been used in arctic regions and ski resorts where they have been buried in deep snow, and remain structurally sound.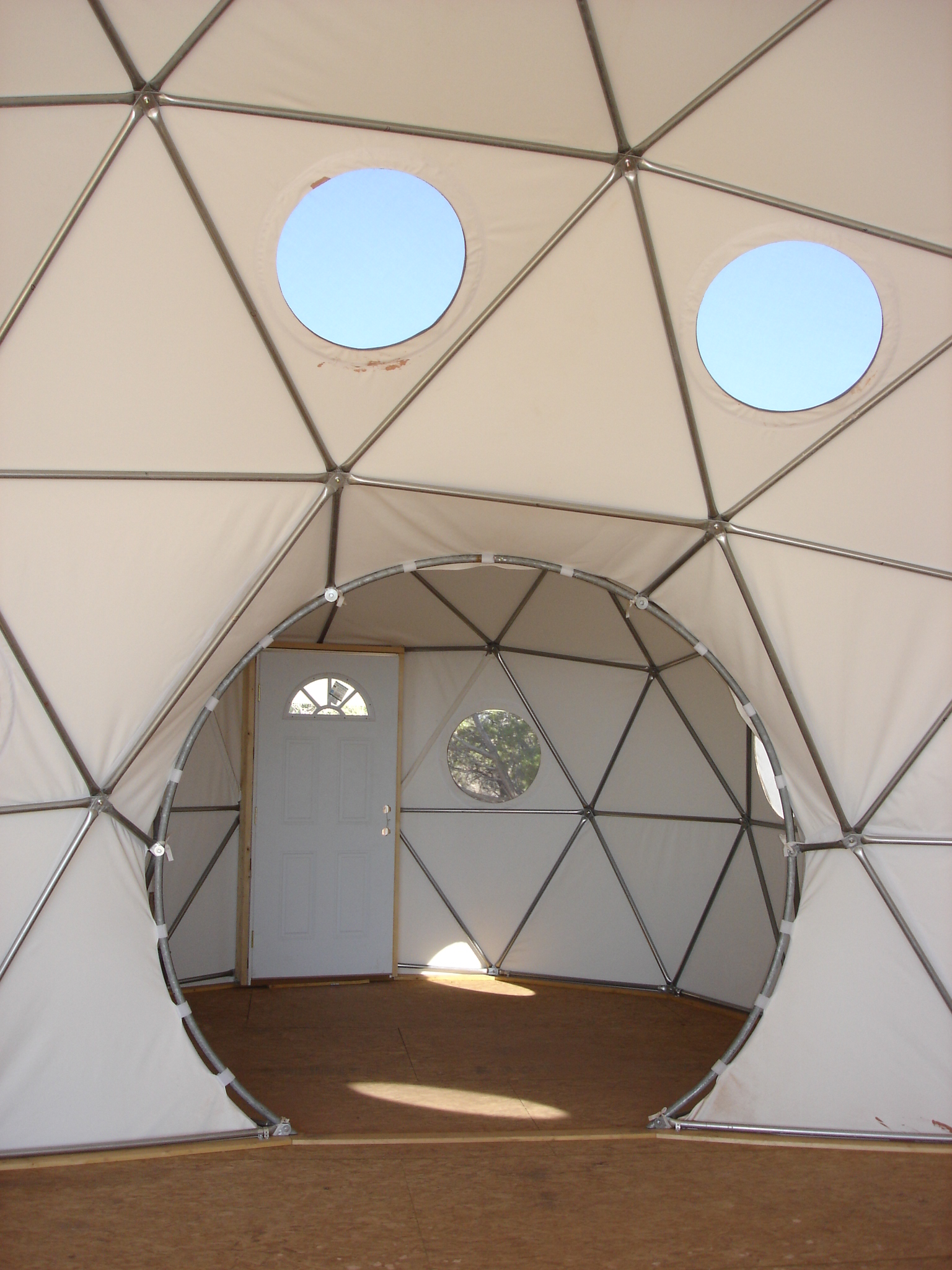 Covers
The basic package includes a durable shelter cover with a bay window. Covers are made of water resistant, mildew resistant, flame-retardant fabrics, which provide lasting shelter in extreme climates from arid, wind-swept deserts to rainforests; from tropical beaches to subfreezing snow-laden mountains.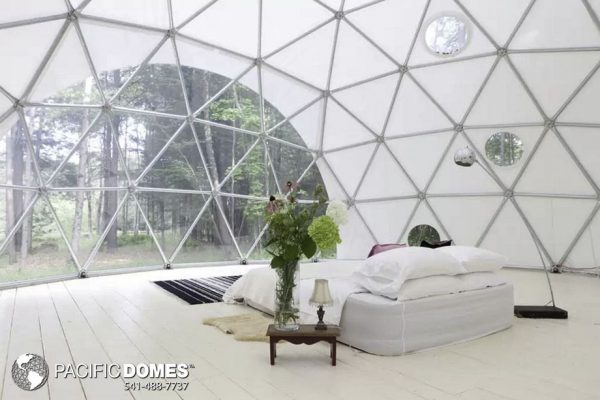 Simple Interior Amenities
Covers with distinct qualities are recommended for the following climates:
Sunlite is ideal for humid climates, and the smooth vinyl-coated, polyester fabric is easy to clean. Sunlite has a life expectancy of up to 12 years with proper care.
Sunshield has extra UV protection to extend life expectancy up to 20 years.
Thinsulate – this material has mold and mildew resistant properties and is fire retardant. The natural white fabric is sewn to an outer shell of durable polyester, and can be painted with Thermoshield.
Thermoshield is a non-toxic elastomeric paint containing ceramic microspheres that can be painted either on the inside or outside, able to adhere to all cover options.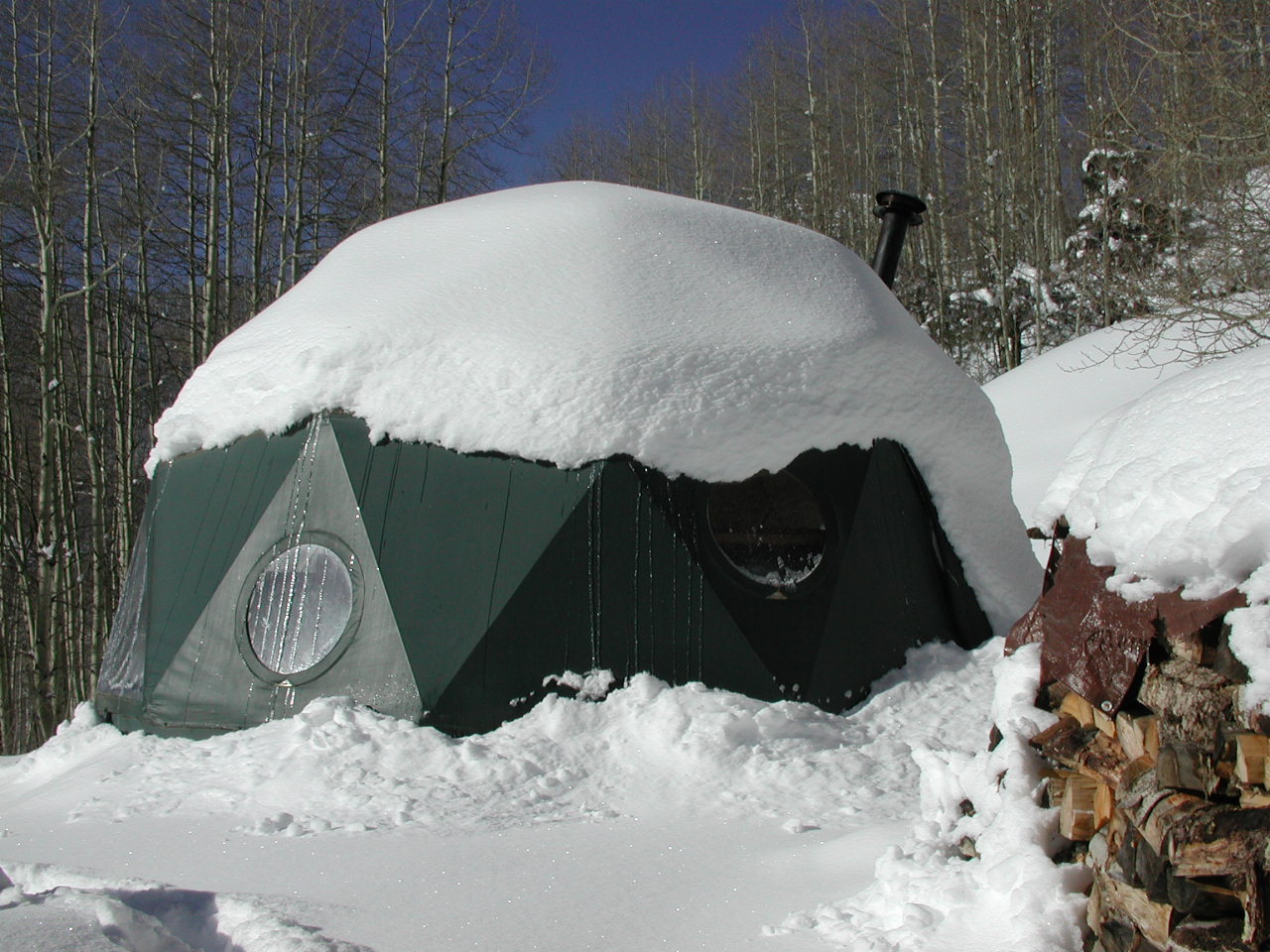 Insulation
Winter liners are flame retardant and resistant to mold and mildew, providing you insulation from the outside world. Windows are velcroed in to match cover.
There are two insulation options:
A liner with Reflectix, which can be purchased 'roof only' or 'complete'.
Thermoshield is used in colder climates, slicing utility costs up to 40%. Thermoshield can be used on the inside of the dome instead of the liner.
Heating & Cooling
The most common method of heating is by wood stove; however, any modern heating method will work in a dome. Radiant heat, solar, electric and gas are all compatible with domes.
Stoves
Each of our Dwell Prefab Houses come with an optional stove vent flashing and cap for wood stove installation. Comfortable temperatures can be maintained inside the dome while snow storms flurry outside.
Ventilation
Dome Homes are designed with ventilation in mind and your dome stays cool with window screens, base screens and a zippered roof screen. If your climate doesn't allow for screens due to excessive rainfall, using a solar fan aids with ventilation.
Solar Fans
Powered by the sun, a solar fan is an eco-friendly solution to regulate ventilation, temperature and humidity. As heat rises, a solar fan aids in removing hot air thru the dome's rooftop.
A solar fan is included in the Deluxe dome package and can be purchased separately. Traditional air conditioning units may be installed, as well.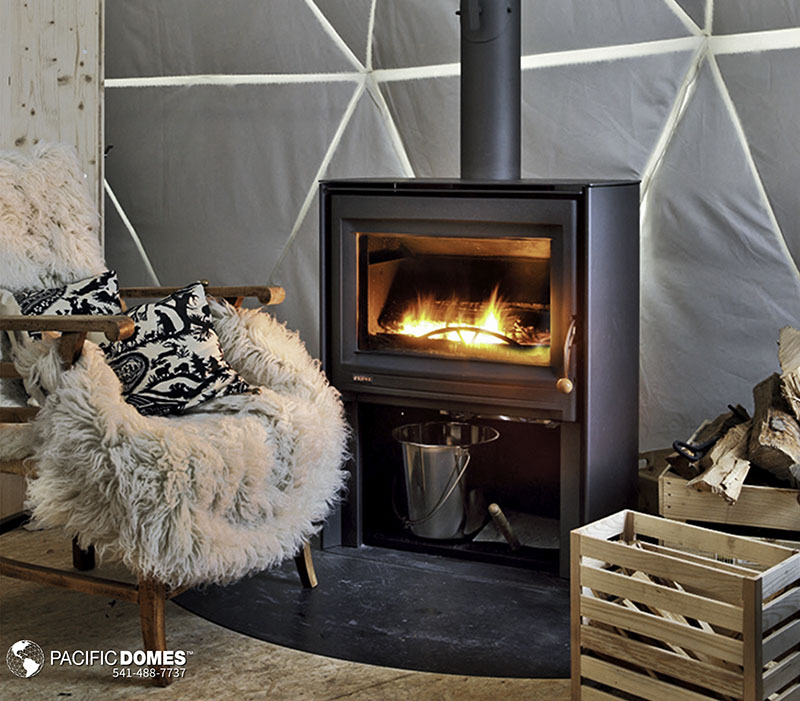 Wood Stove Heat Source
Dome Home Windows, Bay Windows, Screens & Skylights
Sunlit by day and starlit by night, the dome's open design creates a naturally luminous environment. From the dry desert heat to the cool snow-capped mountains, the well-designed removable windows capture a kinship with nature.
Prefab Dome Homes are designed with ventilation in mind. The round windows, bay window, roof, door, and sidewall can be easily replaced with screens.
Round Windows
Removable round windows are made from durable clear marine vinyl. Windows are included with every dome and interchangeable screens can be purchased.
Bay Window
Opening a gigantic view to the beauty of nature, each dome is manufactured with an elegant and extremely durable bay window. The zippered picture window is made from clear marine vinyl, allowing natural lighting to illuminate the dome.
Screens
Each round window can be removed and replaced with screens to permit fresh air. The base of the dome rolls up for cross-ventilation and the roof can, also, be unzipped for just the right amount of air flow.
Skylight
People love to stargaze as they drift off to sleep at night. An optional skylight, allows additional daylight into the dome and moonlight at night. Made of UV resistant clear vinyl, the skylight zips in, replacing the roof in any size dome.
Other Customizable Options
Hoop Doors make nice entrances and are available upon request.
Prehung Door openings allow for either a single or double door.
Awnings can be custom designed to suit your specific needs.
Tunnels between multiple domes are useful in certain environments.
Accessories
Air Chair – the air chair makes a great swing for leisurely enjoyment and comes in several bright colors! Suspended from any dome hub, it is available in either children's or adult sizes and supports up to 350 lbs.
Floating Bed – nestled in a soft memory foam mattress, it feels like floating on a cloud! Its unique 360° pendulum motion creates a super relaxed state. Beds have a UV weather resistant stainless steel collapsible frame. The suspended bed is safe and stable.
Eco Toilets – Sun Mar composting toilets are the ideal solution for cottages, cabins, camps or rural residences. There are toilets to accommodate every situation and are easy to install.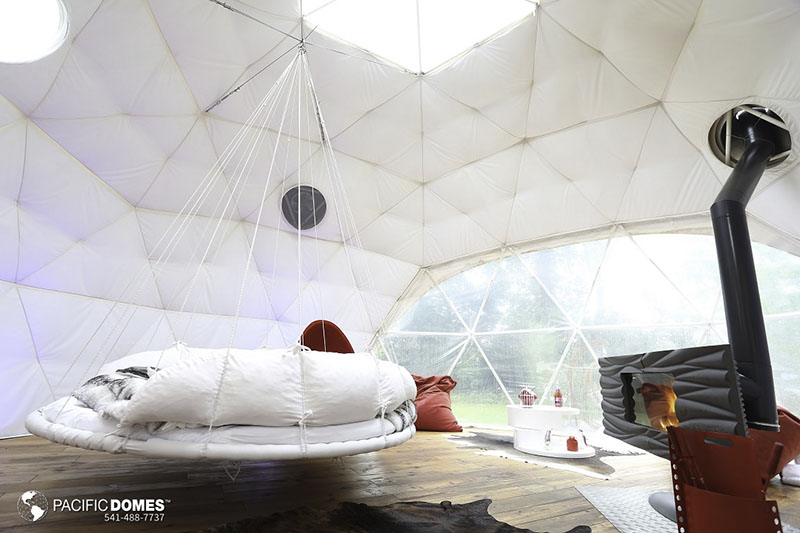 Browsing Pacific Domes gallery of ecoliving shelters for purchase or for rent is your first step towards exploring the benefits and versatility of geo-engineered domes as the strongest, portable structure known to man.