5 Winning Event Hosting Ideas for Your Car Show Extravaganza
"Drive into a New World of Excellence in 2017" ― Pacific Domes Inc.
Whether you are a manufacturer, wholesale distributor or retail outlet, hosting a car show can do wonders to promote your company's image in 2017. Promoting and hosting a car show in a dome can be an exciting adventure with a little help from the experienced award-winning design team at Pacific Domes of Southern Oregon.
Pacific Domes is privileged to have worked with many of the world's top automobile manufacturing companies and their distributors. Here are five automotive events that are sure to spark enthusiasm and innovative ideas for hosting YOUR next car show extravaganza…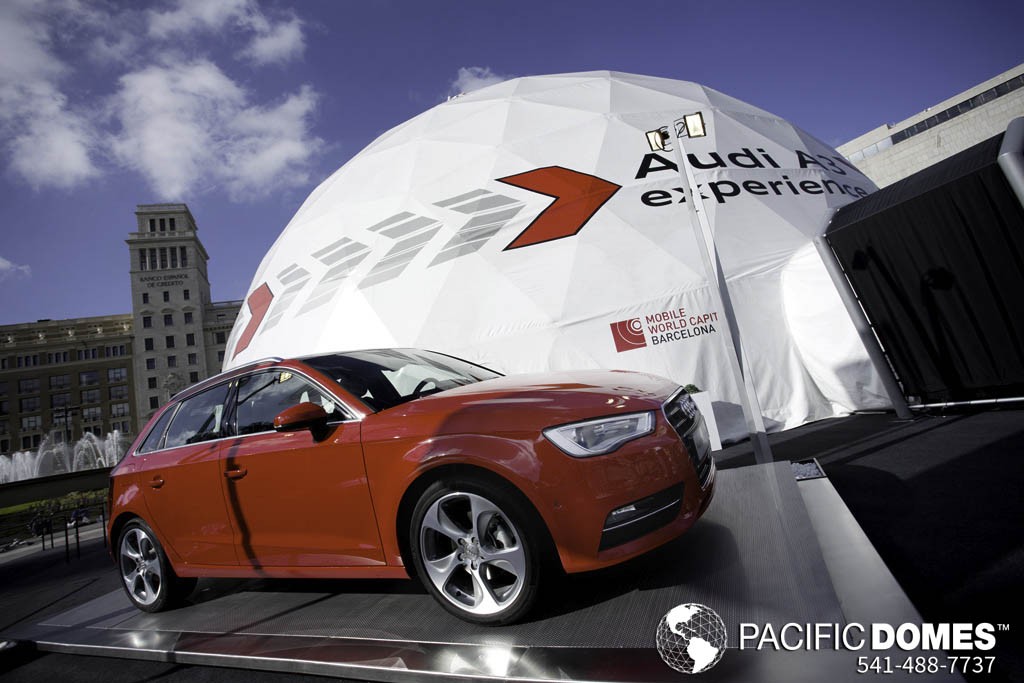 Audi
The Audi A3 Virtual Theater Experience offered a stunning 360° projection and 3D mapping audiovisual performance that took both Madrid and Barcelona by storm.
Designed and manufactured by Pacific Domes, USA, the sleek futuristic dome featured a sophisticated negative pressure system that eliminates the metal structure from view and creates a spectacular seamless domed theater screen.
Opening the show in pitch blackness, the rings of the Audi logo lit up, one by one, tailed by millions of light cubes adorning the entire stage; immediately followed by virtual moving lights that outlined the lustrous Audi A3 Sportback.
The panel onto which the Sportback silhouette was projected was slowly withdrawn, transforming the stage from virtual to reality, revealing the new Audi A3 Sportback.
The engine fired up and the car spun around to face the audience; at which point the parking lights were turned on to create the idea of driving forward through an abstract world of lines, spirals and tunnels projected onto the stage.
Once the Audi A3 Sportback emerged from the tunnel, the audience found themselves driving through Madrid and Barcelona through virtual pre-recorded 360° images projected onto the domed screen, that were then reflected onto the car, giving an dramatic virtual driving experience to Audi's audiences.
See the video here: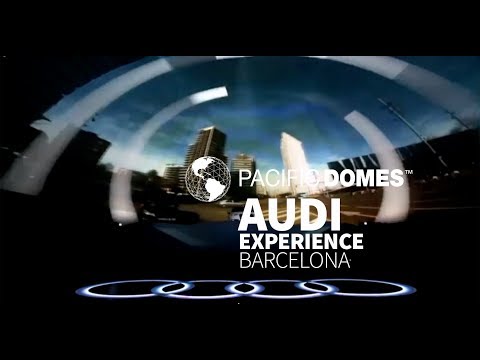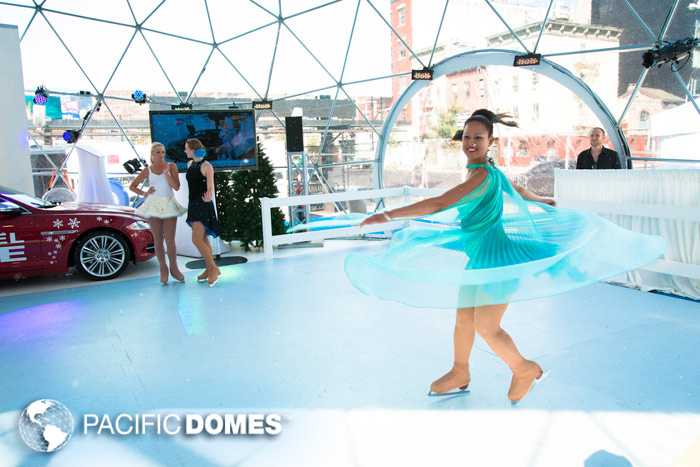 Jaguar
Jaguar Motors engaged Pacific Domes to create a huge 50ft domed 'snow globe' to launch their all-terrain vehicle in New York. The glossy translucent dome cover allowed visitors to view Jaguar's new product line from outside while delighting in the simulated falling snow, while ice-skating inside the winter wonderland.
A true landmark of modern geo-engineering, this eye catching event was dubbed "Chill NY". The 'snow globe' featured an ice-skating rink to the public.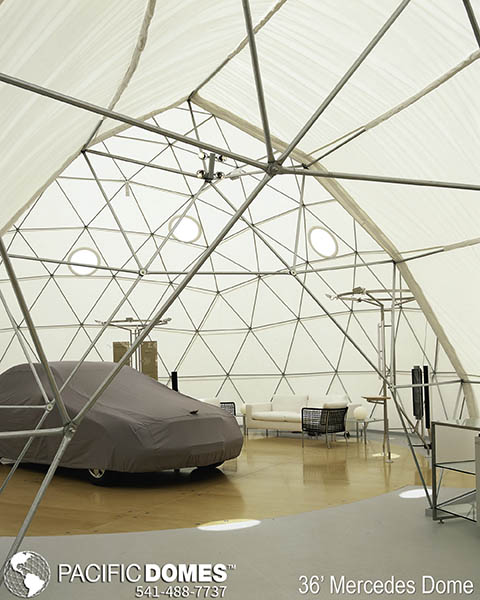 Mercedes
Hosting an elaborate Mercedes corporate event, three sleek zen-like geodomes bridged together to light up downtown Hong Kong. The elegantly decorated domes were a stunning complement that showcased the Mercedes signature line.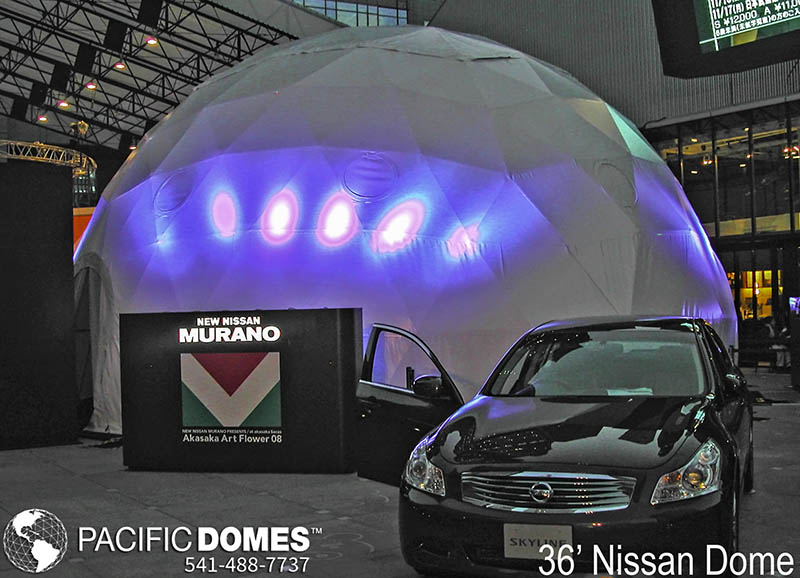 Nissan
This 36ft blackout vinyl dome was erected by Nissan at the entrance of the newly built TBS (Tokyo Broadcast System) skyscraper in Tokyo, Japan, where its futuristic zen-like appearance attracted much attention. Inside was an exclusive showroom featuring Nissan's new crossover SUV, a redesigned version of the Murano.
The Nissan Murano made one of its first official appearances at 'Akasaka Art Flower', an event that transforms one of Tokyo's central business districts into a museum for a few weeks each fall. Akasaka is slated to become Tokyo's new cultural center and is host to numerous exhibits and creative art projects.
Domes offer spacious environments with open truss spans that maximize potential use of vehicle showrooms. The patented blackout cover creates a unique immersive consumer experience to optimize your image and brand.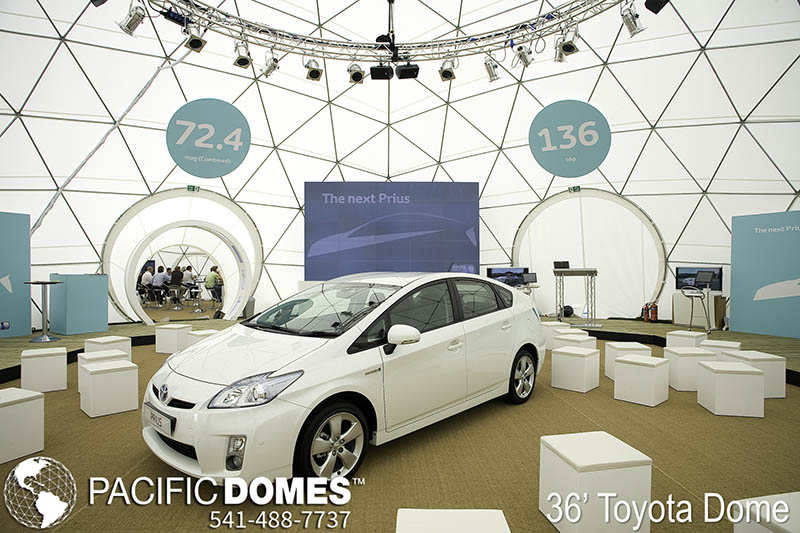 Toyota
The debut of the all new Toyota Prius in the Prius Domeplex was a great success for the UK distributor. Pacific Domes provided a series of interconnected domes consisting of one 60ft, a 20ft and three 36ft domes to create the remarkable space. The Prius Domeplex elegantly showcased the superb Prius and welcomed visitors with refreshments and dedicated spaces to communicate Prius Unique Selling Points.
Pacific Domes Inc. USA is a leading global builder of portable geo-engineered commercial dome tent sales & rentals serving the Event Industry. Team Partners, Obscura Digital and Vortex Immersion Media will work with you from inception to end to ensure that what you envision comes to life.