Printed Event Domes for Environmental Branding & Image Imprinting
" Optimize Your Brand Message with Our Printed Corporate Event Tents!"
— Pacific Domes Inc.
Is there anything resembling a new norm for Corporate Branding-Marketing anymore? With the advancing pace of today's immersive techno-media world, there's never been a better time to re-imagine your corporate brand and discard old paradigms… in today's world it is all about building authentic relationships.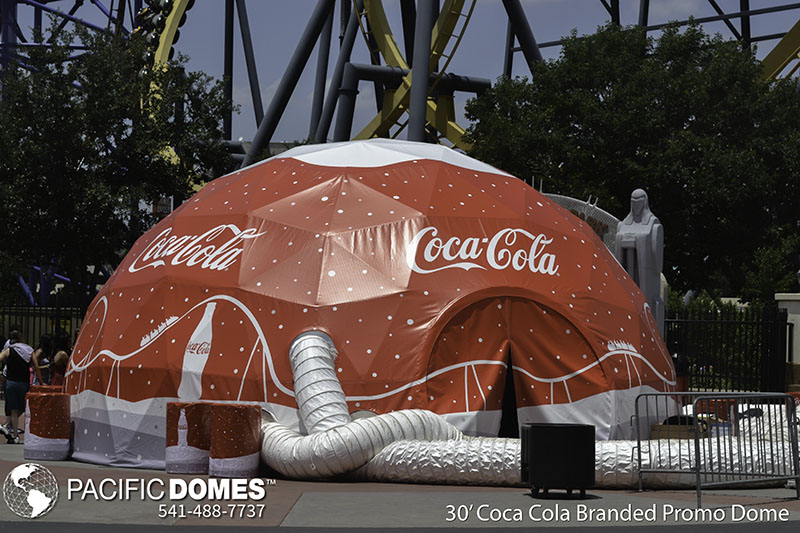 As the number of digital platforms designed to promote brand identity grows, building authentic relationships are more valuable than ever. In the Corporate Branding-Marketing world, Events offer an immersive and interactive platform that engages your audience, builds consumer trust and has them fall-in-love with your brand… all under one big umbrella sky!
Geodesic Corporate Event Tents have now become the latest sensation in Event venues and it's not hard to see why. They are portable, robust, look amazing and offer endless branding opportunities, particularly in relation to 360° projection mapping.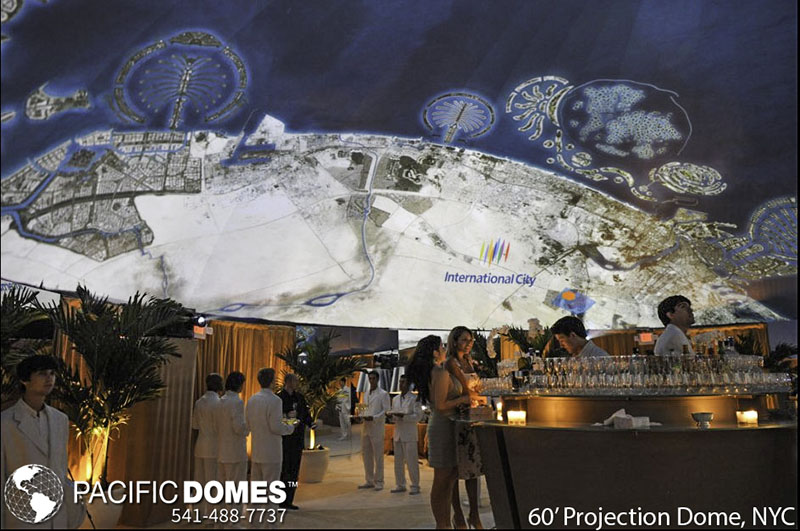 Showcase your image and brand to the world! Welcome to the immersive world of printed Event Domes for Environmental Branding with full-cover projection mapping by Pacific Domes, leading manufacturer of Geo-engineered domes in the USA.
Award-winning Pacific Domes, in partnership with the world's best 360° digital multimedia influencers, specialize in event branding with printed messages that are visible from inside and out. In Projection Mapping, Image Imprinting is mapped onto the dome's surface using state-of-the-art technology to transform 3D objects into interactive displays… truly, a magical, captivating environment.
There's no Event business like the Event dome business for Image Imprinting!
Pacific Domes is proud to have showcased some of the world's most recognized brands. Below is an inspiring gallery of 5 Corporate Events that Rocked!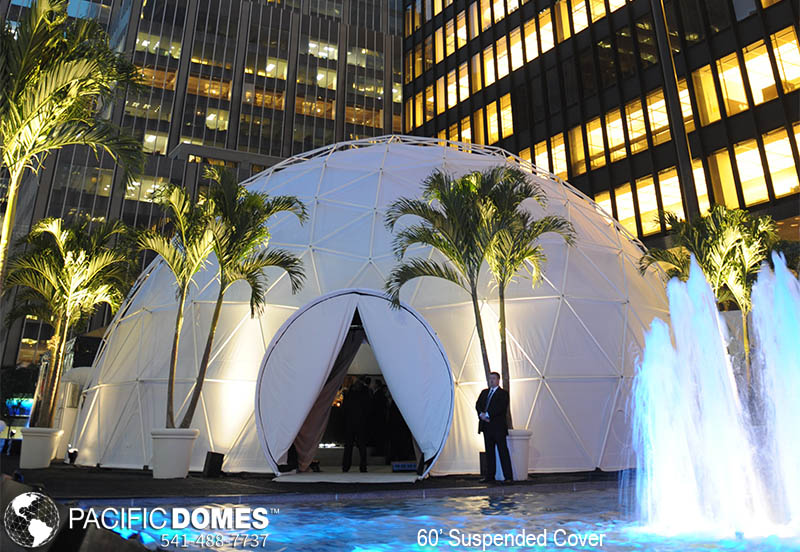 1) Our Dome Goes to Hollywood
A sleek, white 60ft. Pacific Dome went to Hollywood for another lavish Corporate Event Celebration as part of a worldwide tour that began its debut in New York City and ended up on the Palm Jumeirah in Dubai!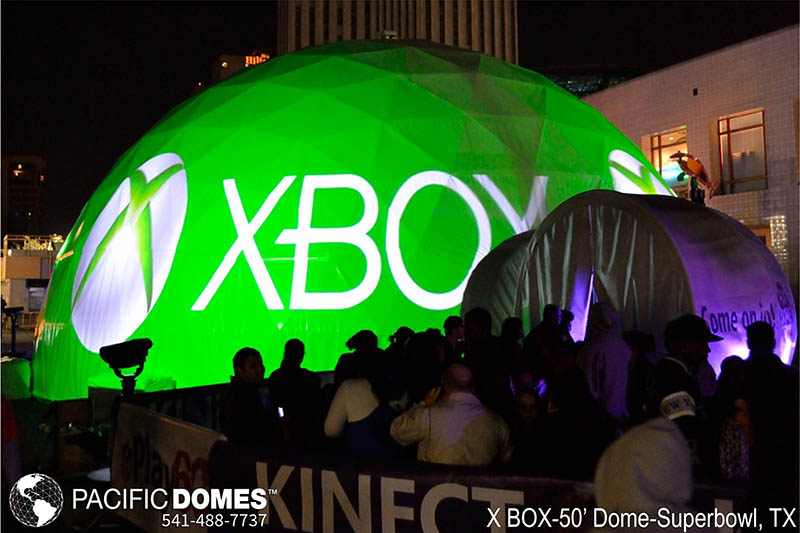 2) Pacific Domes and Sony – Xbox Geodome at Super Bowl XLVI
Pacific Domes and team partner, Vortex Immersion Media, collaborated with Sony Xbox Kinect to bring New Orleans and Super Bowl enthusiasts a specialized immersive experience. Two projection domes [a 50' and a 24'] were erected right along the Mississippi river in front of the Audubon Aquarium. Both domes showcased interactive full-dome projection mapping; guests lined up for hours to have the chance to play and engage with the Kinect motion tracking technology.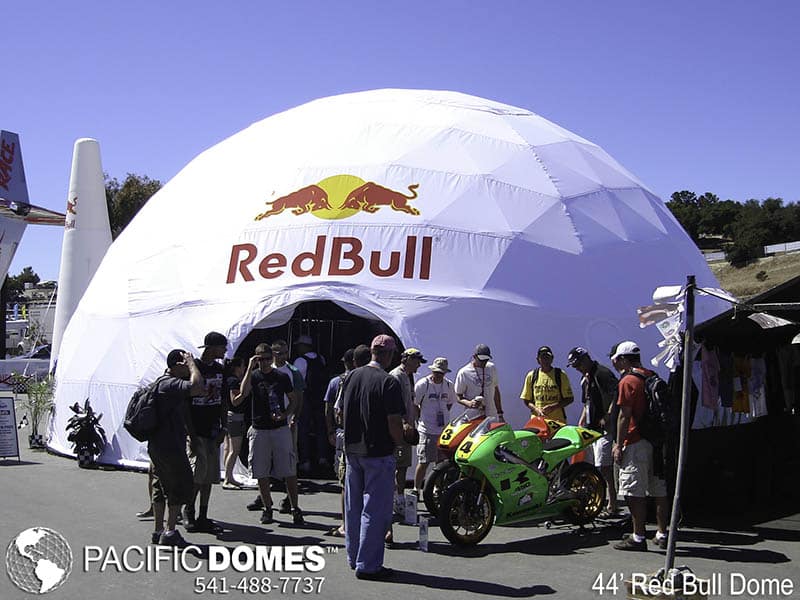 3) The Red Bull Logo Dome
As a corporate sponsor of major sporting events, Red Bull has an aggressive branding-marketing campaign to showcase their brand. The Red Bull Logo Dome was a focal point at this major sporting event. Pacific Domes attract crowds at any size event, with domes ranging in size from 16ft. to 120ft.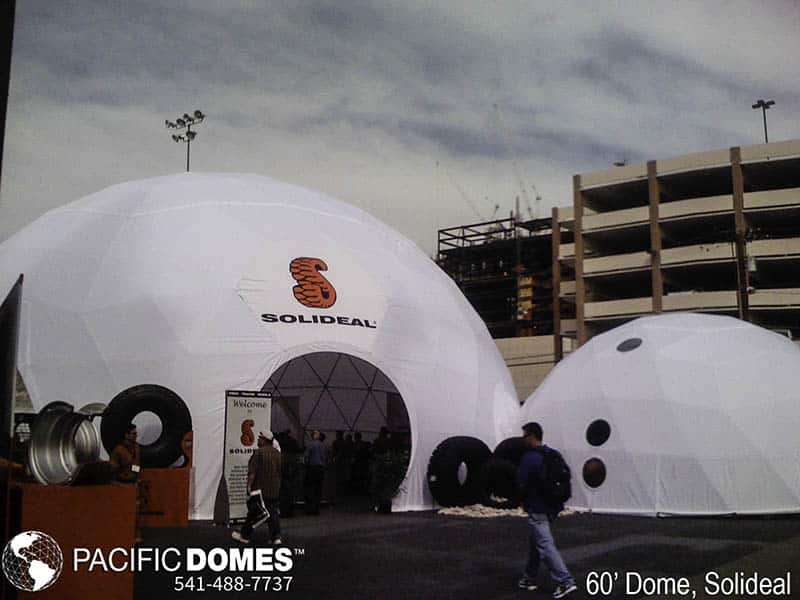 4) Solideal Tires Capture Attention at Conexpo-Con/Agg
Solideal tires was a huge hit, generating a lot of excitement around their brand of tires at the Conexpo-Con/Agg Expo in Las Vegas. Pacific Domes and team partners, used cranes to erect two (30ft. and 60ft.) gutter connected domes that drew an estimated 125,000 pros from all over the planet to this construction industry event.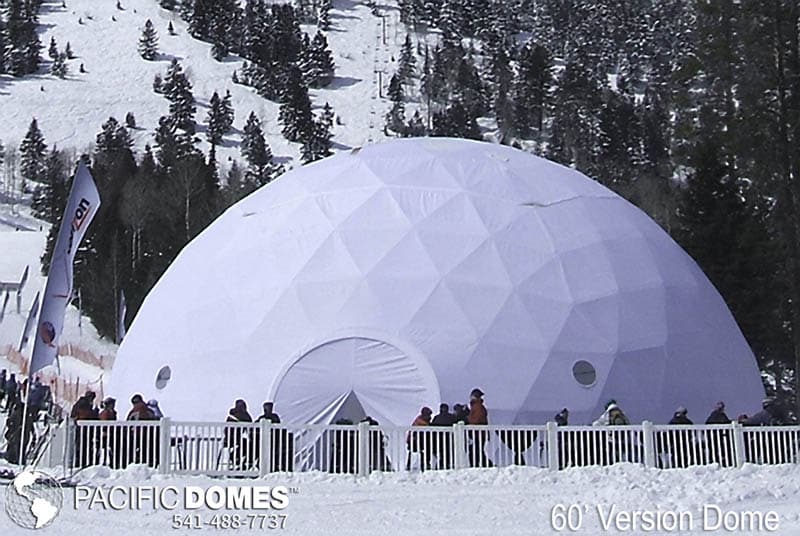 5) The Verizon Slide & Ski Chalet…
Jackson Hole Mountain Resort hosted the Verizon Slide & Ski Weekend (formerly the Verizon Luge Challenge). This event, which took place in an outdoor event tent in conjunction with the third-annual Winter Festival, exposed thousands of people to the sport of luge. Verizon and USA Luge created this opportunity so that the average person could experience the thrill of luge in a safe setting with instruction from the entire 15-member USA Luge World Cup and international team.
Pacific Domes has built trusted relationships with loyal clients over the past 35 plus years and looks forward to celebrating many more experiential marketing events in 2017 and beyond. When your event depends on a timely delivery, you can rest easy knowing that Pacific Domes has an outstanding track record.