---
"Wherever you may wander, there's no place like dome"― Pacific Domes Inc.
---
Remote work has ushered in a new wave of digital nomads and with that, mobile nomadic dome dwellings. Somewhere between economic chaos, collapsing infrastructures and the global pandemic, digital nomads have found an alternative way to embrace change and redefine what it means to live a fully authentic, empowering and enriching lifestyle.
What exactly is the nomadic lifestyle? Being fully nomadic means being able to work remotely where you want on your terms – spending your time and energy on something that lends meaning and passion to your existence. It's a trade-off that may mean leaving the daily commute and grind behind – It's an invitation to wake up to the sweet taste of freedom!
What is the Nomadic Movement?
A better question is, "Who are the new nomads?" According to a recent article, "The New Trend Of Wanderlust, Work-From-Anywhere Digital Nomads", one of the most exciting trends is that remote work has now gone mainstream. This literally means that there's a mass exodus of adventurous urbanites leaving densely populated areas and relocting to more favorable spots around the globe – often, for higher monetary rewards.
The term, Digital Nomad defines a demographic that's able to live and work from anywhere – immersing themselves in new places and experiences that nourish their soul. Once you've tasted the self-styled nomadic lifestyle of a digital nomad, it's hard to go back to the old paradigm.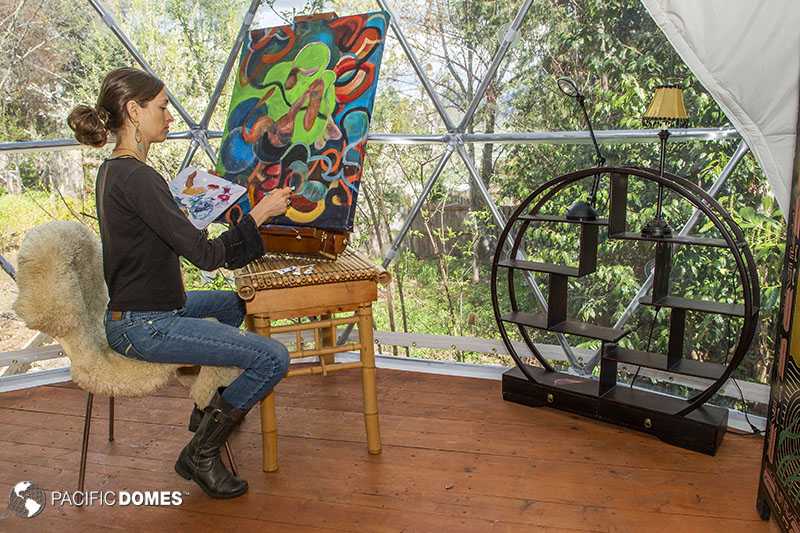 ---

"Born free, as free as the wind blows, as free as the grass grows, born free to follow your heart. Live free and beauty surrounds you, the world still astounds you, each time you look at the stars. Stay free where no walls divide you, you're free as the roaring tide, so there's no need to hide. Born free and life is worth living, but only worth livng – Cause you're born free." ― Don Black & John Barry Classic – Academy Award Winning Theme Song (1966)
---
In praise of a digital-age nomadic lifestyle, nomadic domes empower us to live free. It requires a born free mindset that challenges the need for an expensive home mortgage with a 2-car garage. It's a mindset that weighs-in on the intangible assets of life and finds you asking, "perhaps all those material possessions just no longer hold the attraction they once did?"
What are Nomadic Basecamps?
Nomadic Basecamps are a sustainable approach to integrated eco-camps. Fitting organically into their natural surroundings and consisting of any number of facilities that uptick the nomadic lifestyle, they incorporate geodesic architecture, landscape and interior design.
Nomadic Basecamps serve as a bridge to connect Nature, culture and community while offering the best in luxury glamping, glamorous camping. They can be installed in remote and rugged terrains such as, jungles, mountains, deserts or beaches.
Are you interested in co-buying property with friends? Learn more about How to Buy Property as a Group by registering for this August 3rd, 2021 Webinar.