"Your Airbnb Dome can pay your mortgage."
People have been rediscovering travel lodging and exploring unique Airbnb glamping (glamourous camping) stays near favorite travel destinations for several years, now. That said, backyard makeovers have made it possible for ordinary homeowners, to boost their income by converting unused outdoor space – simply put, with the addition of an Airbnb glamp dome.
If you are among thousands of homeowners, landowners and entrepreneurs excited by the possibility of increasing your income with minimal out-of-pocket investment, why not consider a unique backyard makeover? Please be forewarned that this decision could transform your life – for the better, of course!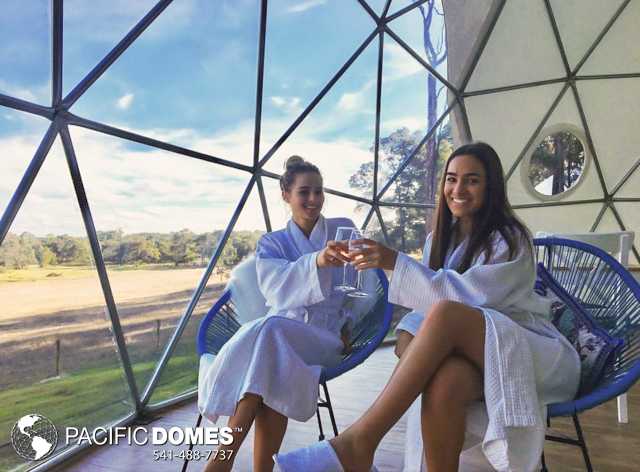 Allow your guests to rediscover the outdoors in the privacy of your backyard setting by designing the perfect leisure and recreation hang-out that inspires all kinds of fun activities!
When the weather is an invitation to be outdoors, you'll love how extending your outdoor space to include a backyard geodome will become an instant attraction for weekenders and vacation getaways. The open design of a geodome backyard oasis creates a warm Zen-like ambiance that provides shelter and energy-efficiency for all-season comfort.
Glamping Accessories and Options
Explore ecoliving dome uses, accessories and options. Here's just a couple of suggestions to get you started:
1) Add some ambiance with glamping resort-style accessories.
Air Chairs and Floating Beds
Composting Toilet
Solar Fans and Stove Cap & Flashing for your woodburning stove
Insulation and Thermoshield
2) By attaching a couple of awnings with hoop-door patio entrances, the dome becomes a welcoming space for leisurely outdoor activities – such as, entertaining, meditating, star-gazing – or simply, viewing spectacular sunrises, sunsets.
Choose from these Custom Options
Removable Roof: Zip-off
Round Windows: 2ft. (.6 meter) diameter
Extra Doors
Round doors & placement choices
Prehung doors & placement choices
Heating & cooling
Connecting 2 or more domes
Dome Features & Services
Pacific Domes has been serving clients for over 40-years. You'll love the range of features and services that they have to offer. For additional inspiration, hop on over to Pacific Domes Knowledge Base of How to Guides and learn about How to Start a Glamping Business.
"Innovation and service and is at the core of everything we do" ― Pacific Domes
---