---
"Celebrate the Magic of the Winter Solstice under starry night skies" — Pacific Domes
---
This year's Winter Solstice celebration under the big dome occurs on Wednesday, December 21, 2022, at 4:48 p.m. EST for the Northern Hemisphere. Also known as the December Solstice, it is hailed globally as the official start of winter – it's when our Earth's tilt, away from the Sun's axis, is at its maximum.
About Winter Solstice Traditions and Celebrations
Winter Solstice traditions and celebrations have played an important role in cultures worldwide since ancient times. Indeed, many of our festive Christmas events – as well as, our customs, lore, symbols and rituals have deep roots in winter solstice celebrations that have been passed down from generation to generation.
As the Sun's shortened daylight hours gradually reverse and become longer, many cultures around the world celebrate winter solstice as a time of "rebirth of the Sun". It's widely recognized as the turning of the sun – a festive time to reflect and envision a bright year ahead, filled with possibilities, while letting go of the past.
---
"At the Winter Solstice, the wind is cold, trees are bare, and all lies in stillness beneath blankets of snow – it's a barren darkness that gives birth to a verdant future beyond imagination." — Gary Zukav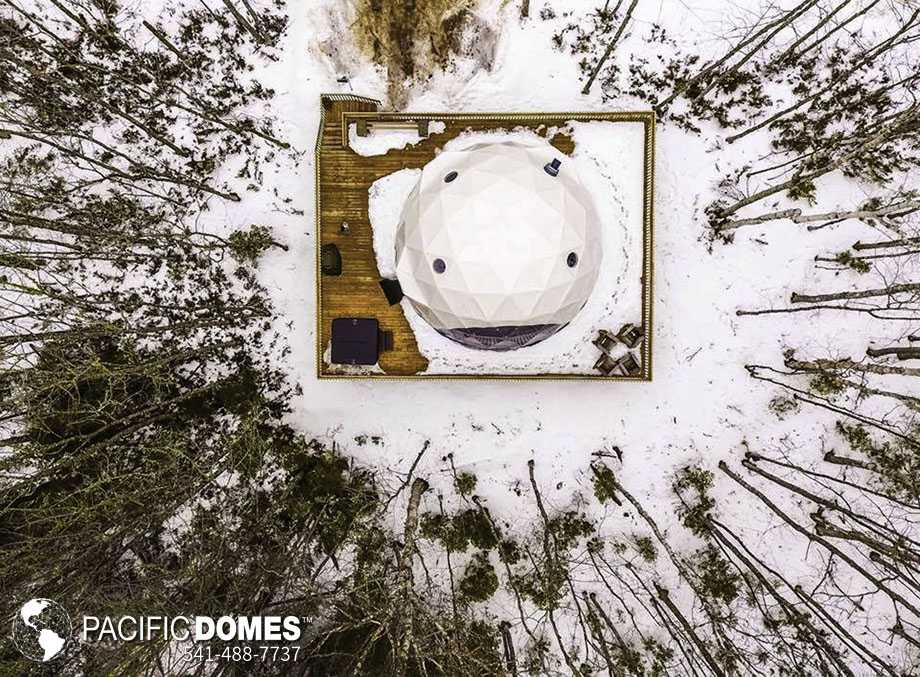 Is Winter Solstice getting longer with each passing year?
Solstice is experienced globally as a universal moment marking the point when the Earth's tilt away from the Sun's axis is at its maximum. But, have you noticed that the shortest day of the year seems to be getting longer?
---
"It all has to do with two things – changes in the tilt of Earth's axis and the orbit of the Moon. The reason for this is that the Earth's tilt is slowly decreasing, as part of a repeating cycle that lasts 40,000 years or so. Eventually, the Earth's tilt will begin increasing once more, and the year's shortest day will start to become shorter again." — Astrophysicist & Science Communicator at Timeanddate.com, Graham Jones.
---
Celebrating the Magic of Winter Solstice Under the Big Dome for more than 40 years!
We, at Pacific Domes, are grateful for the support of our clients from all over the world, who have played a vital role in the growth of our business. As we approach the end of the year, we take time to reflect on our years of service and look ahead to the new opportunities for innovation that the future holds. We are excited to continue building relationships with the clients we serve and to explore new ways to serve our customers even better. Thank you for choosing Pacific Domes, and we look forward to another successful year together!
---