"The best way to predict the future is to design it." – Buckminster Fuller
It's that festive time of year again, when much to the delight of young children everywhere, signs that "Santa Clause is coming to town" begin springing up in public spaces such as, shopping malls and retail centers – and, Holiday Domes for Santa, too! 
During this festive Christmas season, Pacific Domes looks back with pride over the past four decades of service to our amazing worldwide clients, who have brought their holiday geodome projects to life with stunning innovation and creativity. Below, we share just a few of the dazzling holiday displays our clients have created over the years.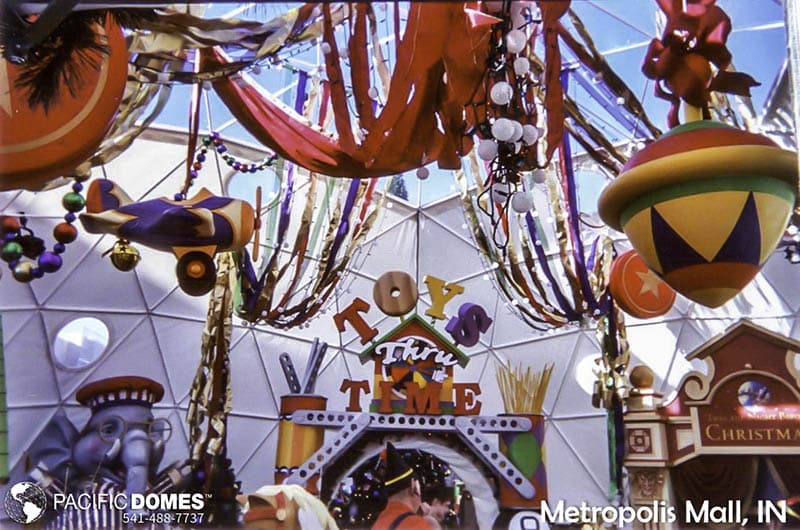 The Santa Domes at Metropolis Mall, Indiana
When Metropolis Mall opened its two Santa domes, excited children came from miles around to meet their favorite elf! The 36-ft. and 44-ft. sphere-shaped geodomes resembled brightly lit Christmas tree bulbs. It was all about spreading the joy and merriment of Christmas far and wide for all to enjoy – the dazzling Santa domes created a truly magical experience for the enjoyment of all ages.
---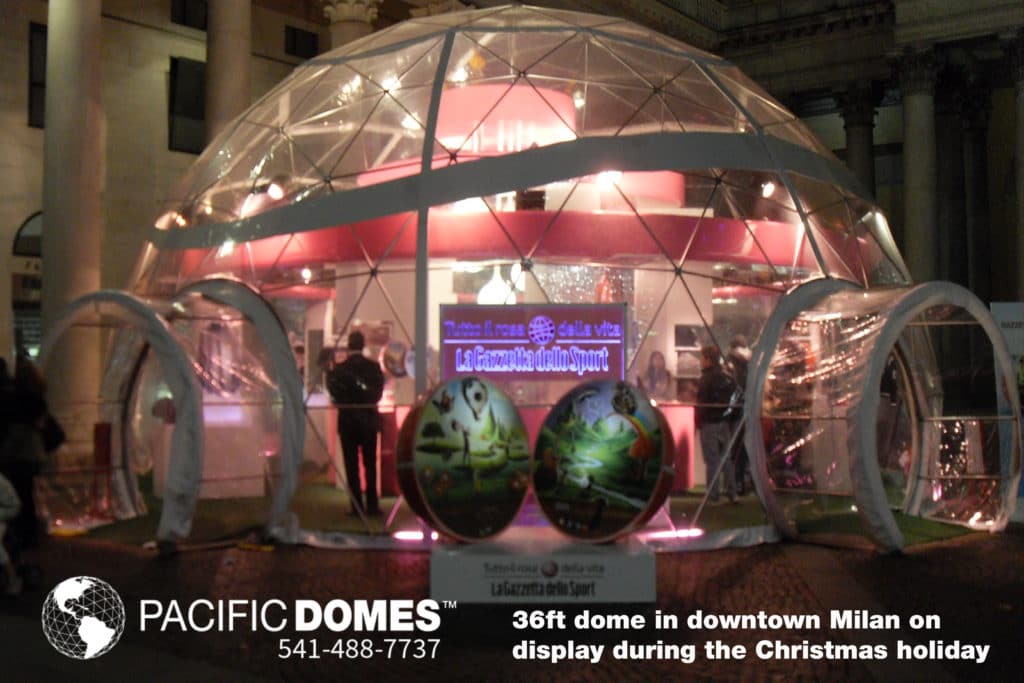 Milan's Pink Snow Globe Tecnodome
Evoking childhood memories of gazing inside a swirling glass snow globe, Tecnodome replicated the holiday miniature snow globe , bringing it to life inside a portable 36-ft. geodome. The translucent Winter Wonderland dome was illumined with many shades of pink dusted snow that perfectly harmonized with the sports magazine's epic Christmas press campaign.
Offering fun-filled activities to entertain young audiences, the geodome's customized hoop tunnel doors opened wide into a Winter Wonderland filled with glittering one-of-a-kind Christmas decorations. Youngsters, accompanied by elves and fairies, had a lot of fun in the Christmas 'playshops' – decorating, playing games and listening to stories.
Inside the snow globe, there was a dance floor and ice skating arena, a puppet theater corner and glistening, simulated piles of snow for kids to slide downhill in an inflatable tube. This is one dome that has now, become a landmark – bringing the warmth of Christmas to the inhabitants and visitors of Milan!
---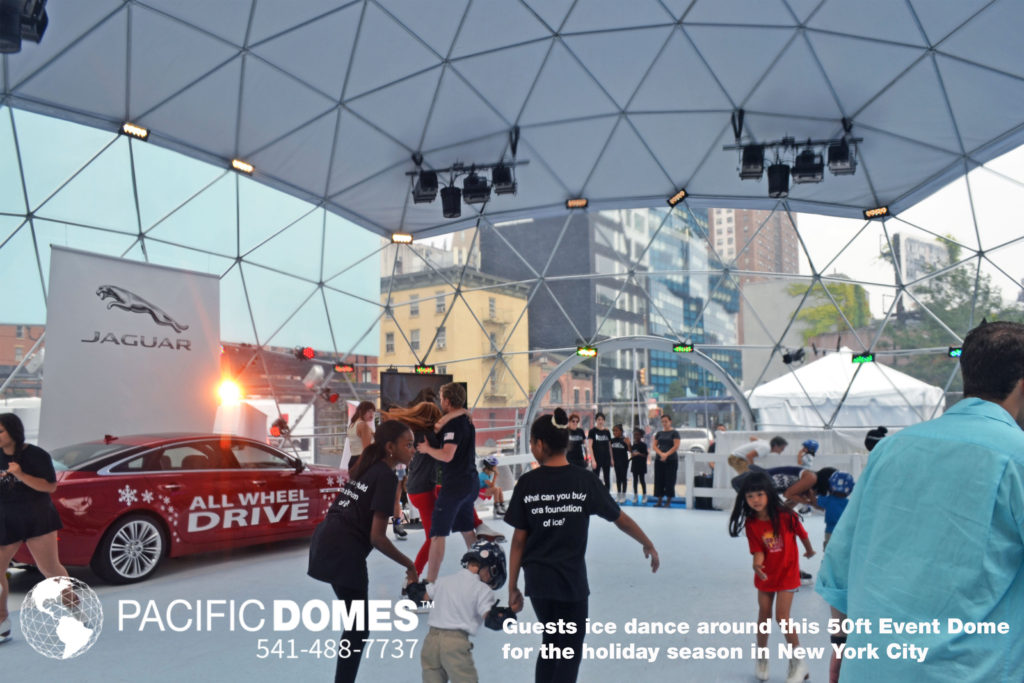 New York's Ice Skating Rink Dome
Looking back over the years, Pacific Domes is fortunate to have worked with many of the world's first-rate companies. Event coordinators at Jaguar Motors in New York, asked our design teams to create a huge snow globe to showcase the launching of their new all-wheel-drive models.
Working closely with our clients at Jaguar from concept to completion, Pacific Domes converted a 50-ft. Geodesic Event Dome into a life-size geodome snow globe. The eye-catching event drew crowds from all around as it included a synthetic ice rink equipped with a snow machine to simulate winter snow fall. The rink was open to the public – and, visitors had the chance to take lessons from professional ice-skating instructors.
---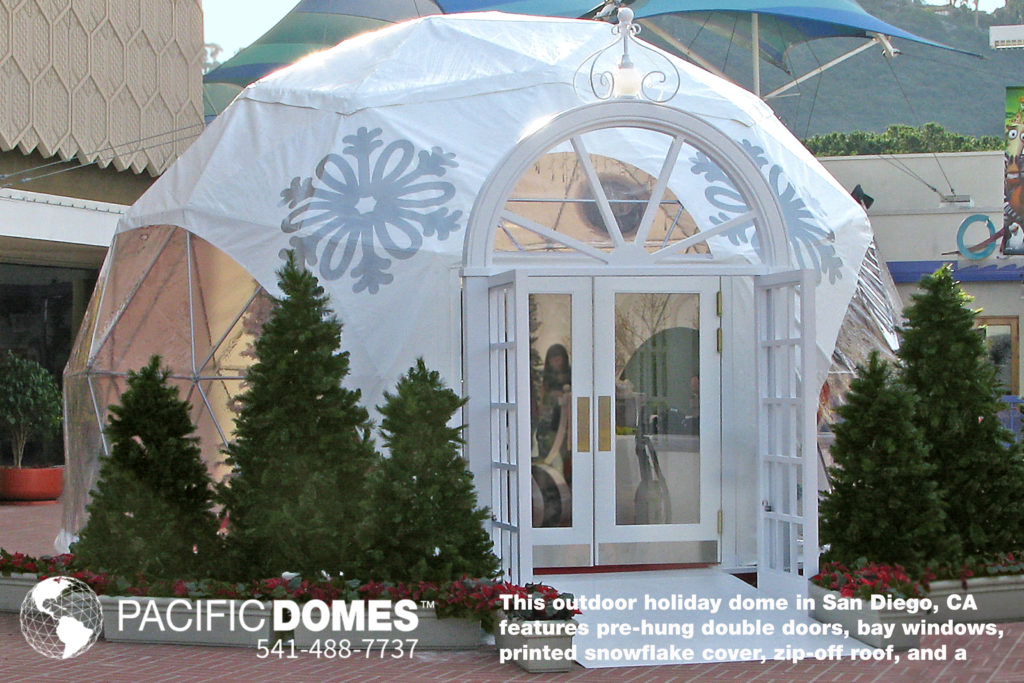 San Diego's Festive Printed Snowflake Dome
for this Holiday Event venue, The Becker Group who asked us to create a winter wonderland structure complete with Santa chair for a display at Westfield Mission Valley Mall in San Diego, California.
This 24ft. geodome featured twin pre-hung double doors, an ornate fabric cover with custom-printed snowflake vinyl-decals, a zip-off roof, solar fan and two impressive bay windows that allowed soft natural light and gave passersby a peek at the holiday merriment within!
---
In Summary
As we reflect on the numerous impressive contributions our clients have made to the holiday season over the years, we at Pacific Domes, are humbled and grateful to have played a part in bringing so many festive dome projects to fruition. We are proud to have worked with such talented clients and look forward to the endless possibilities of a bright future in the New Year.
---
The Merchant Pitch from Pacific Domes …
Vendor Booths and Kiosks for indoor-outdoor Pop-up Shops  ― Pacific Domes Inc.
Coming to a Santa Ho-ho-ho-down Fiesta near you!
If you're an innovative merchant looking to go beyond the ordinary with a crowd-pleasing pop-up shop, you've landed in the right place to explore boosting your holiday sales with a Pacific Domes portable and freestanding geodome vendor booth or kiosk – and, worth mentioning, geodomes make a great Holiday Dome for Santa,too!
Vendors and retail centers looking for Santa thrones and chairs, giant Christmas balls, animated holiday displays, and other commercial Christmas decorations need look no further than the factory-direct design services of Mosca Design. This company is known for their personalized light displays, animated figures and lots more. For holiday decorating ideas, check out their Mall & Lifestyle Center Holiday Décor Catalog.
Geodome Vendor Booths and Kiosks look awesome at any festive celebration! Indoor-outdoor Pop-up Shops are extremely robust and offer endless branding opportunities for retailers looking to go beyond the ordinary and boost their holiday sales.
It's not hard to see why Geodome Event Tents have since become the latest sensation in Christmas Holiday venues. If you've made it to the end of this blog, you may already have guessed that geodomes aren't just for the Christmas Holiday season.
---