Giant Christmas Dome Displays are Coming to a Holiday Event Near You!
It's that time of year again, when every mall, shopping center and corporate event has a Santa Claus Workshop where kids can line up and meet the man himself. Animation Figures, Giant Christmas Domes & Decor make the moments all the more memorable.
So many Christmas events have been featured in domes over the years, it's no wonder why Christmastime and domes go hand-in-hand!
Retail centers looking for Santa chairs, giant Christmas balls, animated holiday displays, Santa thrones and other commercial Christmas decorations buy from Mosca Design. We offer personalized displays with lights, moving figures and much more. For more decorating ideas check out our Mall & Lifestyle Center Holiday Decor Catalog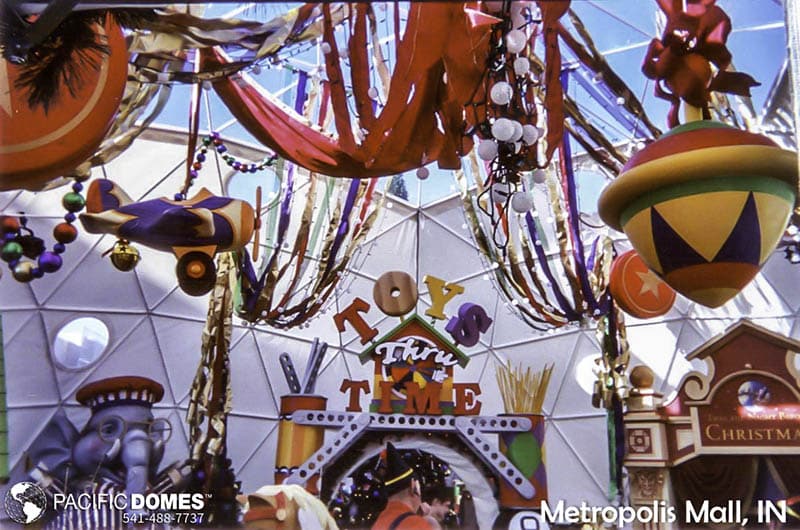 Metropolis Mall – Santa Domes
Metropolis Mall opened their Santa domes to create a unique and magical experience for children to line up and see their favorite elf. These domes helped spread the Christmas spirit for Indiana and are two of our most festive domes to date.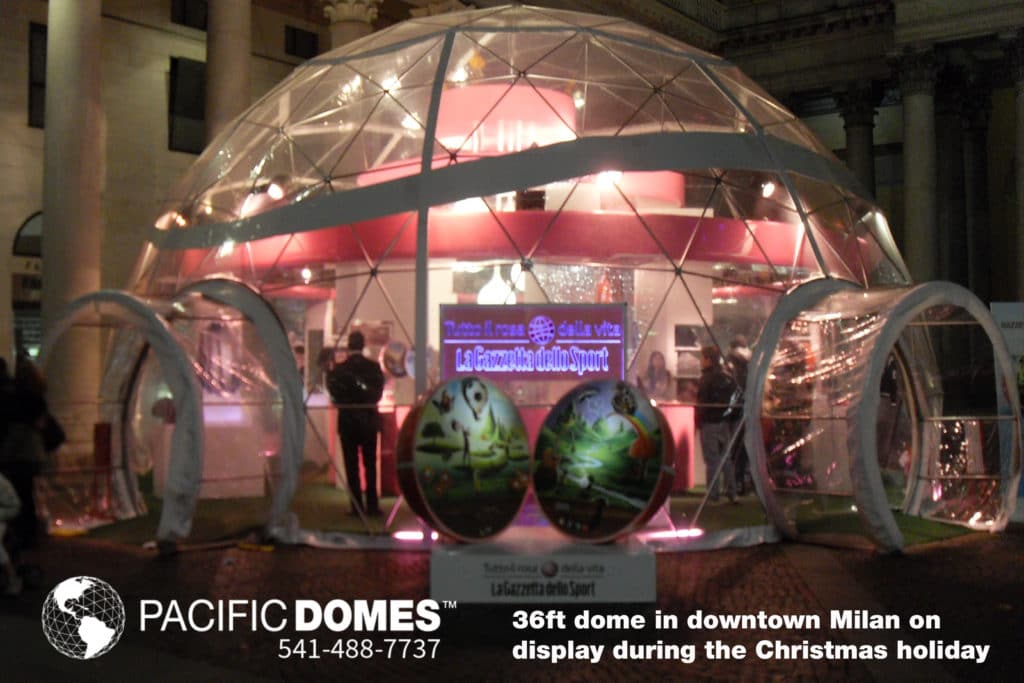 Milan – Tecnodome Pink Snow Globe Dome
Tecnodome, the Italian distributor for Pacific Domes International, brought the world of the miniature snow globe to life in the form of a 36ft. portable geodome, evoking childhood memories of gazing inside the tiny glass swirling snow globe.
The translucent Geodome Winter Wonderland was illumined by many shades of pink dusted snow that perfectly synchronized with the sports magazines epic Christmas press campaign. Perhaps you might recall childhood musings at how amazing it would be to step inside the enchanted world of the tiny snow globe?
The Geodome's custom hoop tunnel doors opened to a Winter Wonderland that was furnished with magical Christmas decorations and exciting activities to entertain young audiences. Youngsters accompanied by elves and fairies, had fun in Christmas 'playshops', decorating, playing games or listening to stories.
Inside the snow globe, there was a dancing and ice skating arena, simulated snow to slide downhill in an inflatable tube and a puppet theater corner. This is one dome that has now become a landmark and brought the warmth of Christmas to the inhabitants and visitors of Milan!
Geodome Tents have now become the latest sensation in Event venues and it's not hard to see why. They look awesome, are extremely robust and offer endless branding opportunities, particularly in relation to immersive 360° environments.
Award-winning Pacific Domes, in partnership with the world's best 360° digital multimedia companies, come together to create a spatially immersive display environment, so you and your attendees can enjoy peace of mind and enjoy!
Whether hosting a corporate holiday party, live event, product launch or special promotion, you, too, will want to harness the power of an immersive Pacific Domes geodome tent to set the stage for your next glamorous event venue.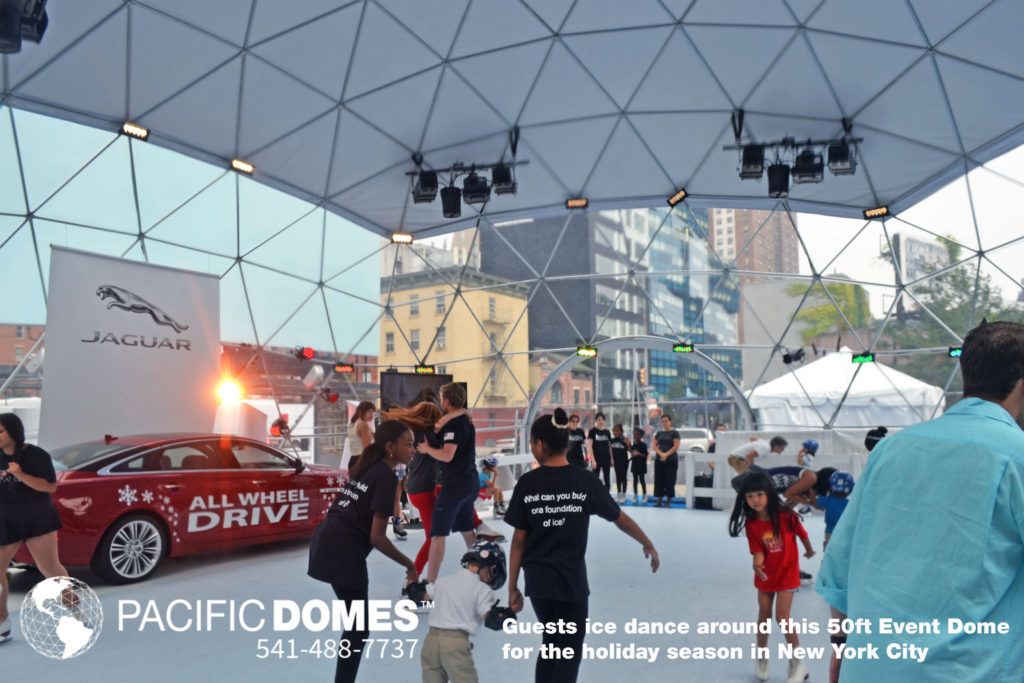 New York – Ice Skating Rink Dome
Pacific Domes of Oregon, leaders in the Geodesic Event Dome space, is fortunate to work with many of the worlds top companies. Including, in this case, Jaguar Motors who asked us to create a huge 'snow globe' demonstration to launch their all terrain vehicle.
With our friends over at Jaguar, we converted a 50ft Geodesic Event Dome into a life-size geodesic snow globe in New York to promote one of their new all-wheel-drive models. The eye catching event included an ice-skating rink open to the public.
The translucent cover allowed visitors to see everything Jaguar had to offer with their new product line. Visitors also had the chance to get ice-skating lessons from professionals on a synthetic ice rink equipped with a snow machine to simulate snow fall.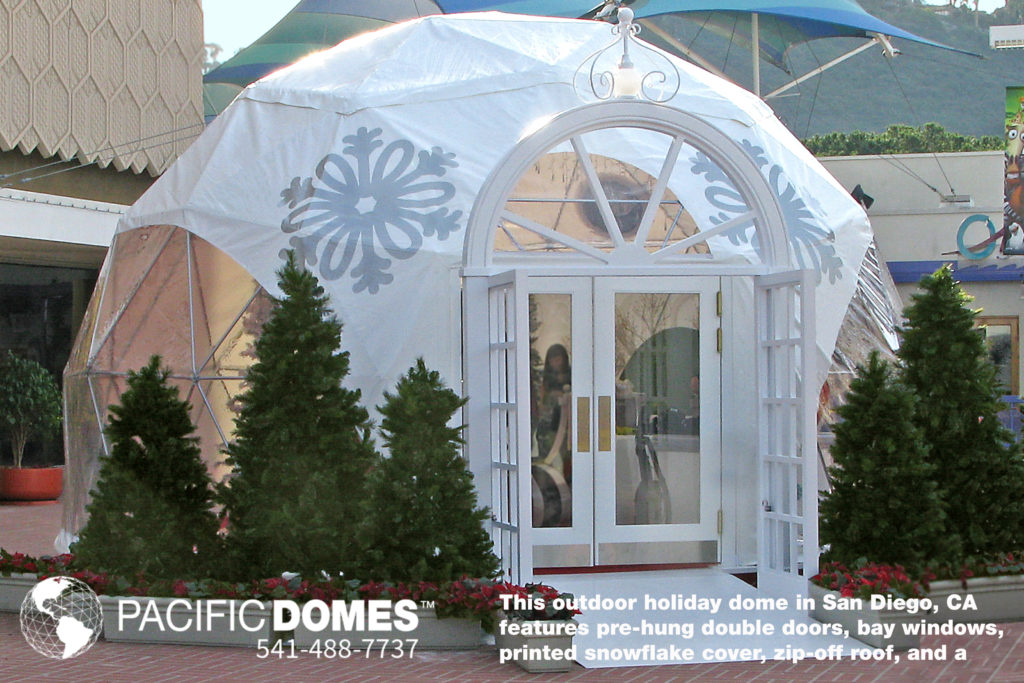 San Diego – Printed Cover Dome
Pacific Domes of Oregon, leaders in the Geodesic Event Dome space, enjoys working with companies for public displays for all to enjoy. This this case, The Becker Group who asked us to create a winter wonderland structure complete with Santa chair for a display at Westfield Mission Valley Mall in San Diego, California.
This 24ft. dome featured twin pre-hung double doors, fabric cover with custom-printed snowflake vinyl decals, zip-off roof, solar fan and two beautiful bay windows to let in lots of natural light, and let outsiders see all the holiday merriment within!