If you're new to the concept of glamping, you've come to the right place to learn more about one of the trendiest eco-lodging camping stays on the planet!  What is Glamping? Glamping (glamourous camping) affords you an unforgettable experience in some of the most breathtaking and off-the-beaten-path Nature escapes.
If you love trekking to remote pristine destinations, glamping is an authentic and organic alternative to the high-priced tourist hotels that often don't even take you to the untamed getaway spots you've been dreaming about. Glamping takes the camping experience up a notch by not asking you to sacrifice the creature comforts you've grown accustomed to. You might say that glamping stays give you the best of both worlds: camping and the luxury of resort-style amenities.
Let's face it, camping is all about 'roughing it in the great outdoors.' But that's not for all of us. It's a lot of trouble… especially when unrehearsed plot twists come along to spoil an otherwise well-planned vacation.
Nature Meets Dome Glamping Under the Stars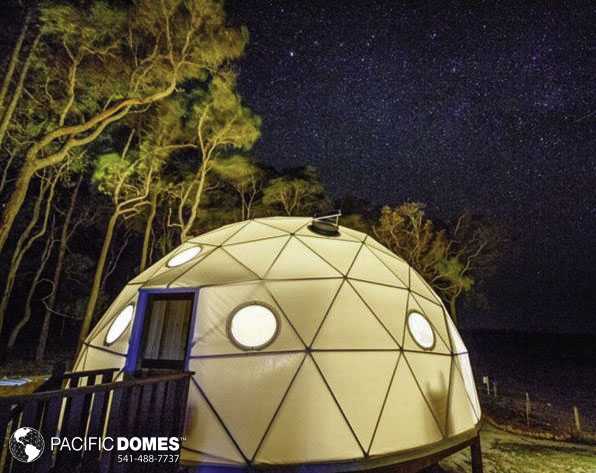 As more and more people seek out Nature experiences through eco-tourism travel, dome glamping has become increasingly popular! It's an opportunity to immerse yourself in the natural beauty of this magnificent and strikingly diverse garden planet.
It's a great way to unwind from the day's adventures too! The lure of an overnight stay in a unique dome glamping camp is sure to meet with your highest expectations. Weary travelers welcome the amenities and creature comforts of a dome where they can view the night skies as they fall asleep under the stars.
Why You'll Love Dome Glamping
Dome Glamping is a completely effortless way to escape to Nature for a couple of days or even longer. It's a 5-star experience under the stars, as you fall asleep beneath the domed ceiling snuggled restfully in your comfortable bed.
If you love the outdoors and the aliveness of being close to nature, you'll appreciate the amenities and high-end camping gear and accessories that open you to a world of eco-adventure travel and even global glamping adventures. With many exotic worldwide destinations to choose from, dome glamping travel packages offer innovative ways to design your next dream vacation.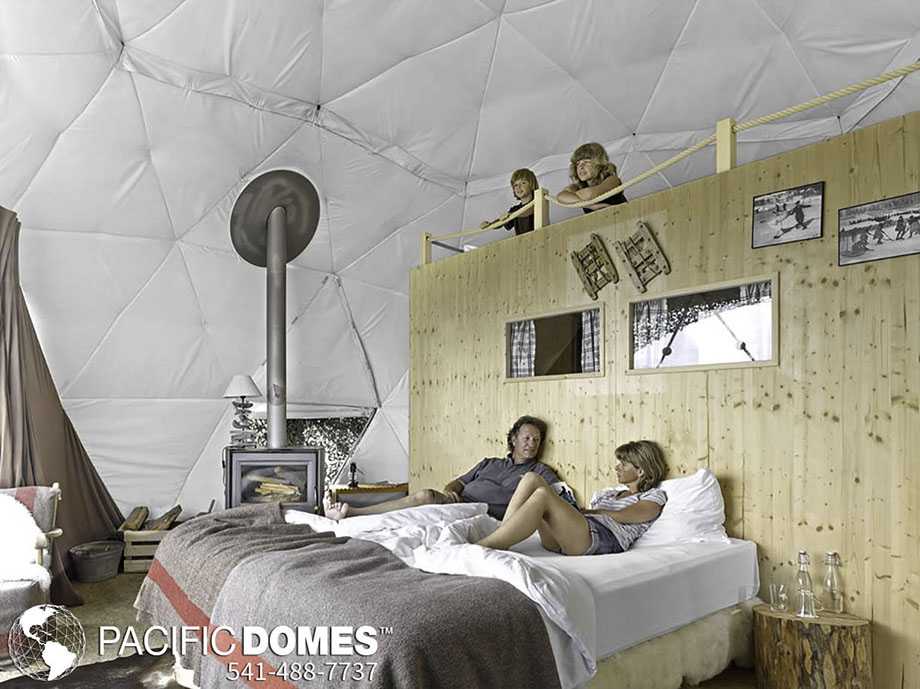 Why Dome Glamping Stays?
Welcome to the world of simple luxury in your own private home-away-from-home ecoliving lodging. Dome glamping set-ups are being used in eco-resorts and retreat centers all over the globe, because they're:
portable, free-standing and self-supporting, which means they don't need internal columns or load-bearing walls ― they typically sit up on decks overlooking awesome views.
structurally engineered to withstand Nature's extremes, from wind-swept deserts to arctic snows and tropical rainforests ― they're often the only structure left standing in the aftermath of natural disasters such as hurricanes, tornadoes and earthquakes.
super energy efficient ― constant air & energy circulate freely.
sun-filled by day and illuminated with natural light― creating a relaxing, healing and blissful Zen-like ambiance that's nurturing to the soul.
Awesome ― contrasting beautifully against any natural landscape.
If you enjoyed this What is Glamping? blog, you'll enjoy watching Building a Luxury Glamping Dome (Below).