What are Vital Domes?
The recent pandemic has affected just about every aspect of modern society giving rise to a new normal in the housing market. In the aftermath of a devastating event, people will still need places to live away from the disaster area or urban sprawl. Due to this uncertain climate, people are looking at alt-housing as an affordable housing option for emergency preparedness ‒ such as, Vital Dome survival shelters that go up quickly in any type of terrain with just a few ratcheting tools.
Pacific Domes, an award-winning USA manufacturer of prefab building systems, offers a variety of new and used domes on sale at discounted prices to fill every need. Our geodesic-engineered domes are made from top-of[-the-line materials and come with excellent warranties. You can also shop at our Online Store for more options.
This year, Pacific Domes celebrated its 40th Anniversary since the geodesic dome manufacturing company first began operations in Ashland, Oregon, USA. Recognized worldwide as the original dome manufacturing company, Pacific Domes has steadfastly pioneered the evolution of prefab geodesic domes and explored its multiple uses since 1980 ‒ to name just a few, geodesic dome alt-shelters, event domes, greenhouses and playground dome kits.
Pacific Domes offers a variety of free-standing alt-shelter dwellings, that are used for personal as well as, eco-hospitality glamping and disaster relief shelters. Ranging in size from 16 ft. to 120 ft, geodesic-engineered Event Domes are among the crowning manufacturing achievements ‒ worth mentioning, is the iconic Projection Dome.
Pacific Domes founder, Asha Deliverance has held to the high standards set by R. Buckminster Fuller's lifelong dedication to finding structural shelter solutions that work for all of humanity. Today, thousands of clients have testified to a dome's geodesic-engineered strength ‒ while thousands more trust Pacific Domes to deliver dome shelters capable of withstanding Nature's extremes.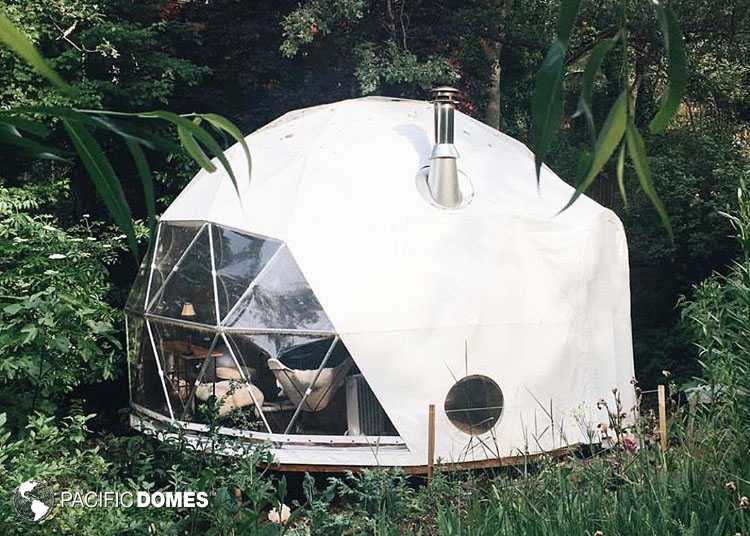 Follow the steps in this instructional DIY video for building your Vital 24' Dome with just a few hand-tools and step-ladder. You'll want to allow at least a 30-foot diameter set-up space. The more the merrier ‒ invite your friends to join in on the fun.
Instructional video to build a Vital 24′ Dome (3:32 minutes)