Collective dreaming is an ancient practice that unleashes the power of cooperative human potential to meet challenges and to reimagine and design a world that you would like to live in. The more recent, digitally networked virtual collective dreaming landscape forges a connection between science, engineering and the arts that invites dialogues about our future – thus, empowering us to envision and co-design an idyllic future of our own choosing.
As we advance into an increasingly decentralized world, we want to invite like-minded people from around the globe to join in the collaborative process. Virtual collective dreaming shows how the emerging design languages of co-creation can extend to virtual spaces, tools and materials for fostering creativity across space and time – spaces where cultural differences bring us together inside the framework of  decentralized collaborative communities.
Since Collective Dreaming in a virtual world uses a digital platform where people participate in a co-design process (i.e., participatory design), the components consist of human agents (the participants) and the tools that human agents use (such as, sets of keywords and icons). Virtual interconnections are the interactions, communications, and negotiations among human agents using the tools available in order to achieve a purpose — to collectively dream and express ideal experiences.

We now have the tools and platforms to create collaborative environments in real, virtual and hybrid spaces. With remote work from anywhere opportunities springing up around the world, it's only a matter of time before we can invite our global community into the collective co-creation of future scenarios and environments.
BAYCREST 'MY VR DREAM INSTALLATION' at TORONTO'S NUIT BLANCHE ART FEST…
A Collaborative "Live Lab" Art & Science Project in an immersive VR Dome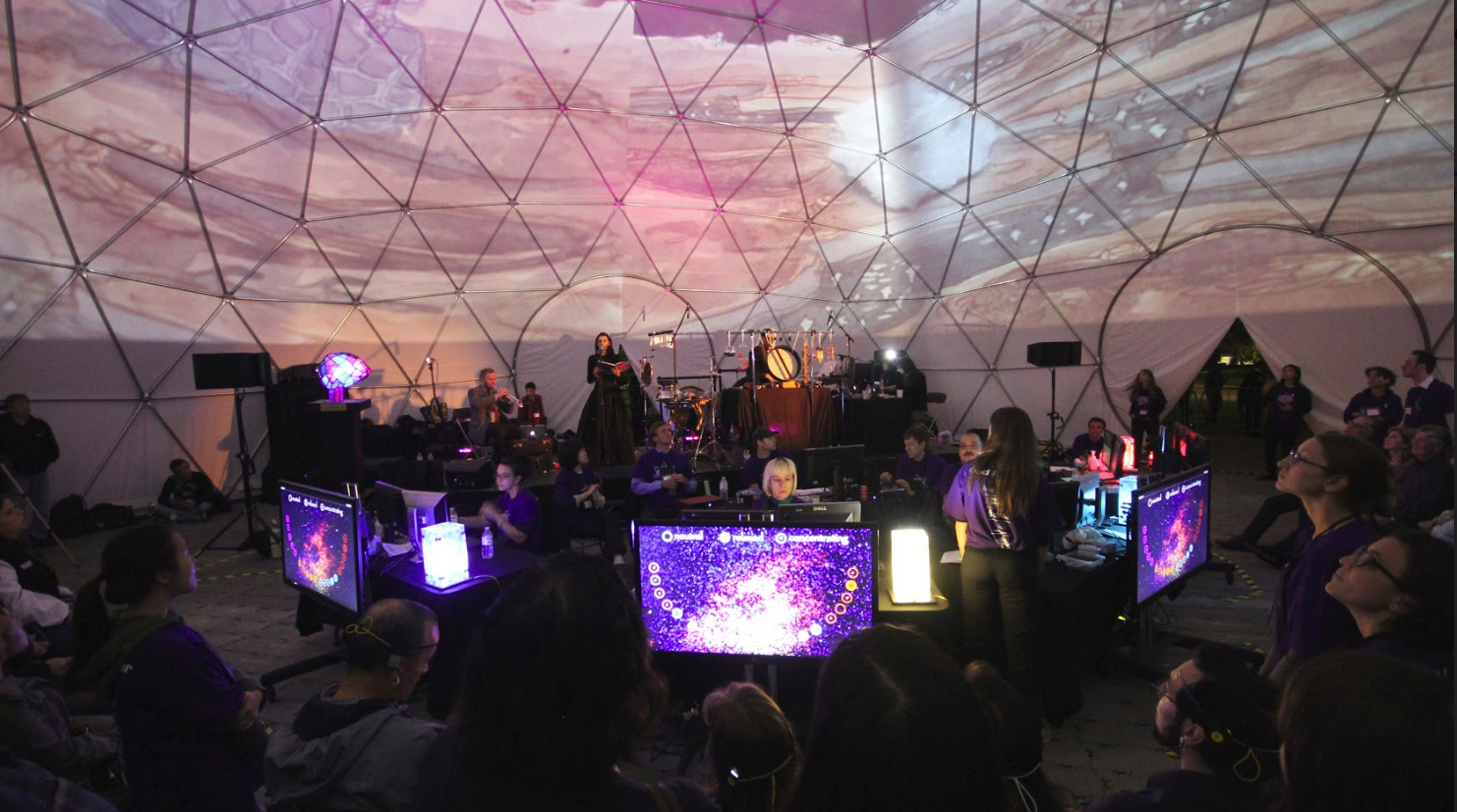 Attendees inside the spectacular Virtual Reality Dome environment created a stunning kaleidoscope of visuals and music projected onto the colossal canvas. The audience was totally, immersed in an interactive dream space, designed to engage, entertain and educate participants in the collective dream experience.
Pacific Domes, an award-winning U.S.A. manufacturer of Event Domes, provided a sixty-foot VR Dome for Baycrest's interactive "My Virtual Dream" Project in Toronto, Canada. A "live lab" audience convened inside the event dome to participate in a two-part collaborative real-time neurofeedback process using only their brain waves to navigate an exploratory concept called virtual collective dreaming.
What this study explored
What this study explored is an open, virtual platform that allowed multiple participants to actively co-create and share ideas in real-time through the use of digital collaging. This study was not intended to evaluate the human-computer interactions of its prototype. Rather, it aimed at demonstrating the collaborative process for co-creative expression inside a virtual space.
At the same time that they were being entertained, guests using this innovative new approach were given the opportunity to explore the mysteries of the brain by observing their brain activity within a virtual framework of Dreamscape and Brain Computer Interface computers – and, based on the reading, modulate their actions to create expressions of an ideal learning experience.
While all this sounds exciting and offers huge potential into many areas of our lives, some researchers would caution that this could potentially complicate our lives – as it also, enables scientific investigators and engineers to gather data sets to further fuel the science that drives "The Virtual A.I. Brain".
Beneficial Outcomes:
Deepen our understanding of how we create, learn and interact.
Contribute to brain health and wellness.
Fuel Neuroscience + multimedia research labs
Support immersive science, engineering & arts events
Impact educational programs and presentations
Cautionary Outcomes:
"My Virtual Dream is powered by The Virtual Brain". VR and your brain is a discussion topic that many health researchers warn may require a deeper dive.
The Virtual Brain is part of a global neuroscience initiative that began in 2009 and serves a broader purpose. It's led by the Rotman Research Institute at Baycrest in Toronto; along with a well-funded consortium of 15-neuroscience research teams spanning 3-continents, 7-countries and 10-universities.
In Summary
In concert with Baycrest's Art & Science "Help us help you learn how the brain works" Toronto's Nuit Blanche Art Festival event proved a tremendous success! Following the initial success of the "My Virtual Dream" immersive environment collaborative venture, scientists scaled-up the experiment and took the project on a world tour kicking-off in Amsterdam and travelling around to San Francisco.
Pacific Domes is thrilled to have provided the Virtual Reality event dome for another successful event. Immersive 360° VR geodesic-engineered VR domes create the perfect augmented reality platform. Pacific Domes patented negative air pressure projection lining system is the perfect viewing platform for 360° surround projection.  The team at Pacific Domes is committed to bringing VR enthusiasts the best virtual reality seat in the house.