"London is one of the world's greatest cities, and we're delighted to be taking this first step towards making it the location for MSG's first international venue." ― James Dolan, CEO of Madison Square Gardens
Taller than St. Paul's Cathedral, and more than twice the height of its neighboring stadium, MSG Projection Sphere London, promises to be a quantum leap forward for the Next Generation of Entertainment Venues! Obscura Digital, world famous for its large-scale projection mapping venues, was recently purchased by Madison Square Gardens (MSG). Obscura's co-founder and CEO, projection mapping visionary Chris Lejeune, says he is "thrilled to begin collaborating on the largest and highest resolution media display on Earth!"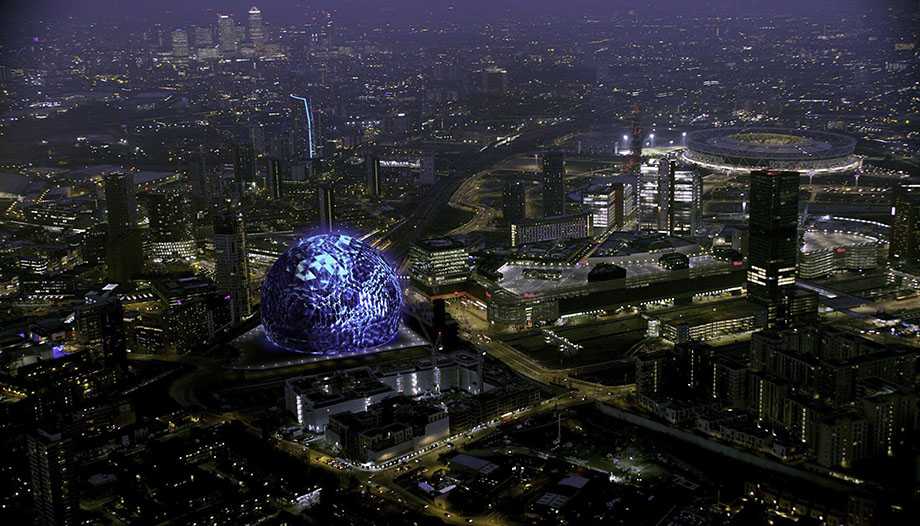 "London is known for many things, but until now, its entertainment options did not include a state-of-of-the-art, large-scale destination created specifically for major concerts and sport events." ― Irving Azoff, Chairman and CEO of Azoff MSG Entertainment
The futuristic 18,000-seating capacity venue, MSG Sphere, London, is scheduled to begin construction in 2020. To accommodate this monumental work of both engineering and art, Madison Square Gardens acquired a 2-hectare parcel (almost 5 acres) in London's Westfield Stratford City Shopping Center.
Transforming an Old Paradigm
Boasting revolutionary game-changing technology, the exterior sphere will be covered in digital screens to promote artistic venues and sports, as well as large-scale musical concerts and corporate branding events. The interior sphere will feature an immersive and interactive screen that encourages audience participation during live video events and competitions.
A natural fit for large events, such as sports, the experiential 360° arena will contain a range of high-tech audio-visual equipment. Significant features include sphere technology and the addition of a custom spherical camera system.
"Re-writing the Rule Book with the Next Generation Sphere Venue" ― CEO David Dibble, MSG Ventures Transforming experiential events and concerts with features that include internet access at each location, bass pumped through floorboards and screens that stretch across the entire domed projection sphere, 'Sphere' technology allows attendees to interact with on-stage performers and presenters, and to share what's happening with social media friends.
Immersive Sphere Technology Gives Audiences the Perfect Sweet Spot
Developed by German tech company Holoplot, sphere technology, also known as 'beamforming audio,' projects adjustable acoustics in whatever desired width or height, by sending sound directly to a specific location. The end result is that rather than hearing sound blasting over stereo speakers (which creates areas of muddiness thanks to what audio engineers call bass traps), audiences experience the perfect sweet spot, no matter where in the venue they are sitting. This is an utter game changer for the live music industry.
During a sporting event, sphere technology allows fans to interact and participate in the competition. As another example, at an international symposium event, a French speaking section will hear content translated into their own language.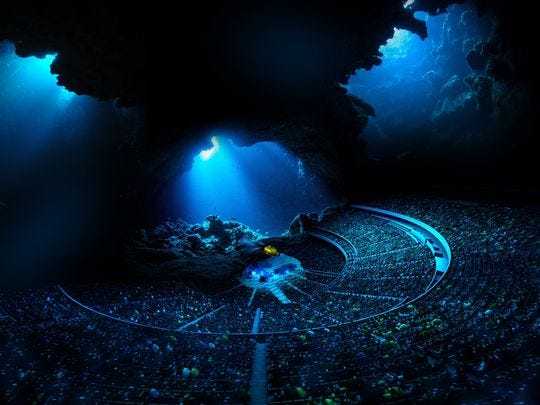 "MSG Sphere, London, represents an important milestone in the company's vision to redefine live entertainment through epic venues that feature game-changing technologies and pioneer the next generation of immersive, transformative and experiential entertainment experiences." ― Chris Lejeune, Obscura Digital
"From intimate grassroots music venues to spectacular arenas, London's buzzing live music scene is world-renowned. It's great to welcome another world-class venue to the capital, to confirm London's position as a music powerhouse and to boost our city's thriving night-time economy." ― London Mayor, Sadiq Khan
Spaces Where People Love to Gather
Geodesic-engineered architecture and sphere technology overcome industry challenges by combining the best of two hi-tech worlds. A geodesic dome sphere is assembled, rather than built, from prefabricated modular triangles that lend it unparalleled strength.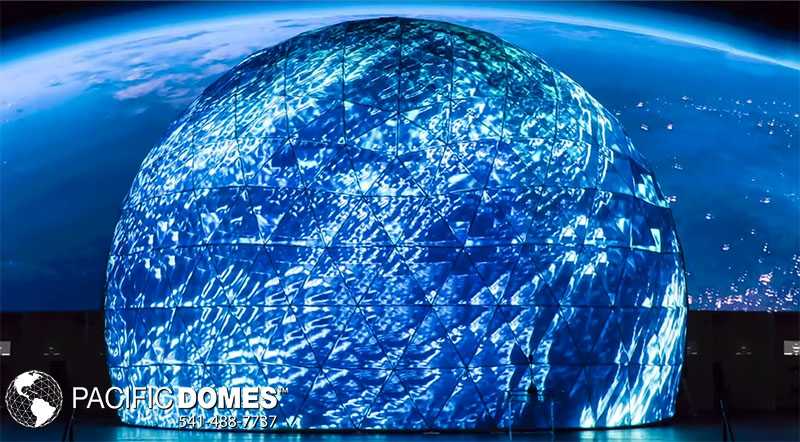 "Immersive and interactive 360° Projection Spheres are revolutionizing how event goers connect with event venues by giving attendees an authentic experience. We manufacture large-scale 360° Projection Spheres for a variety of event venues." ― Pacific Domes, Inc.