---
Heavy-duty Geodome Climbers built to grow with families by Pacific Domes
---
There are numerous health benefits attributed to outdoor play! Playground geodome climbers are a great way for children to get a daily workout. You'll be pleased to know that Pacific Domes geodome climbers can be scaled-up in size to keep up with the different stages of childhood development – from toddlers to young teens.
Pacific Domes has your child's safety in mind. Field-tested to withstand the test of time, Pacific Domes' commercial-grade geodome climbers exceed the highest industry standards. If you're in the market for playground equipment, you'll love that Pacific Domes freestanding climbing domes are proudly manufactured in the USA from premium U.S. galvanized steel.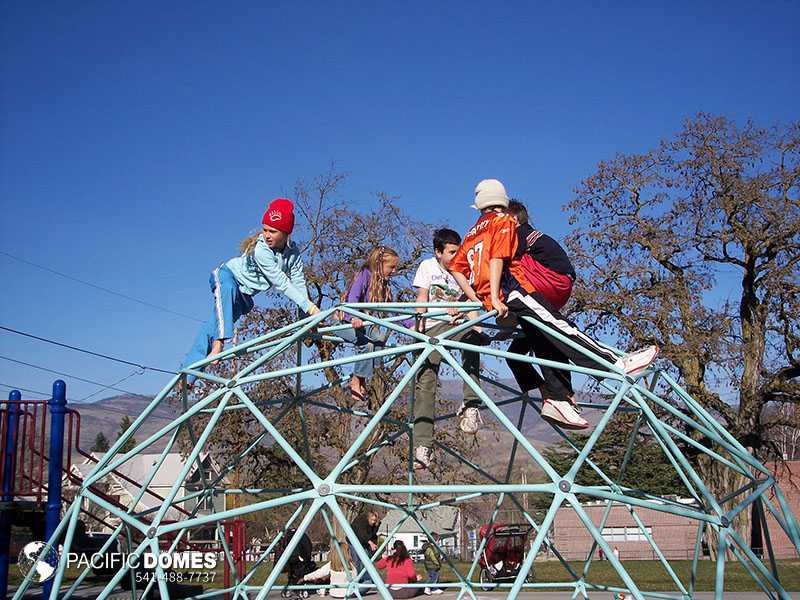 "Geodome Climbers help kids develop hand-eye coordination and improved brain-function."
Outdoor Playground Uses for Geodome Climbers
Pacific Domes' geodome climbers are the equipment of choice for community development projects and recreational outdoor programs. Geodome climbers are a magnet for children and are enjoyed in parks, schoolyards, child-care programs, churches and youth camps.
The uses for geodome climbers is only limited by one's imagination. Sky's the Limit when it comes to creating outdoor playground environments!  Installing a basic ropes course inside a climbing dome will delight children of varying skill levels, helping them develop confidence while building outdoor skills.
The Best Playground Equipment
Formed by inter-connected triangles, geodome climbers remain rigid and stable under the challenge of constant use and abuse. Frames are custom color powder-coated, staying cool to the touch in full sun. Your jungle gym becomes an all-weather play house with optional dome covers, available in an array of colors.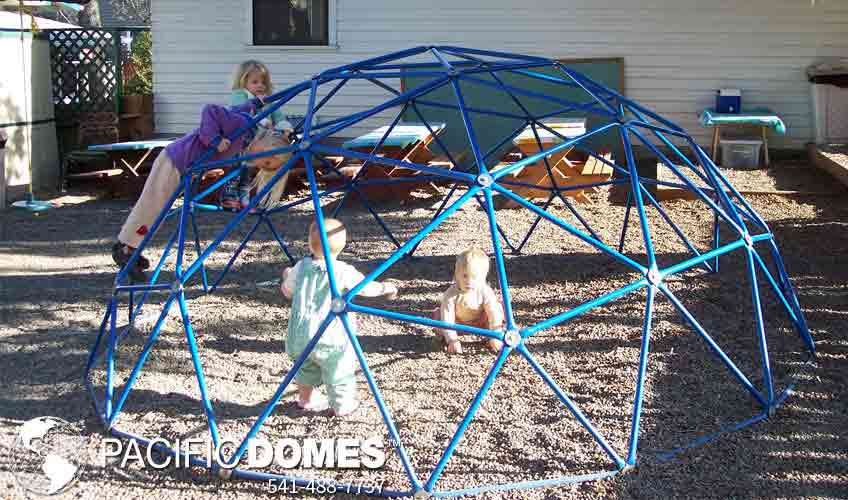 Geodome Sizes
There are three playground sizes to choose from, along with frame color options and optional cover:
Pre-school Dome – 8′ diameter (4′ tall) frame
Kinder Dome– 11′ diameter (6′ tall) frame
Grade School – 15'(8'tall)
Research supports the value of playground exercise
The value of exercise in school-age children promotes that "physical activity before, during and after school can boost brain function, cognition and scholastic performance. The benefits, also, extend to the psychological and social realm. Exercise will clear their heads, help them make friends, and help them feel more confident around their peers, coaches and other adults.
Resources
When exploring setting up your playground, you might find the following resources handy:
Still have questions about geodome climbers? We invite you to chat with a Pacific Domes Customer Support Representatives.
---