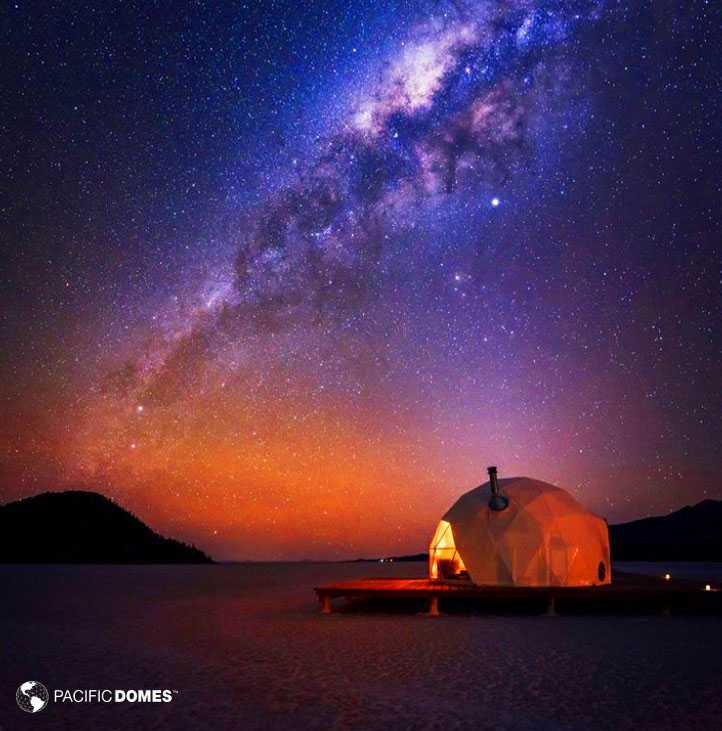 Bringing stargazers closer to a star-studded sky, Amazing Escapes – Kachi 'Stargazer' Lodge sits below the towering Tunupa Volcano at an altitude of 11,811 ft (3'600 m). Comprised of six sleeping domes manufactured by Pacific Domes of Southern Oregon, the new Stargazer Lodge (near Kachi Island), is linked by a boardwalk to a spacious resort-style lounge. It's the first geodesic dome basecamp to be built on the Bolivian Altiplano.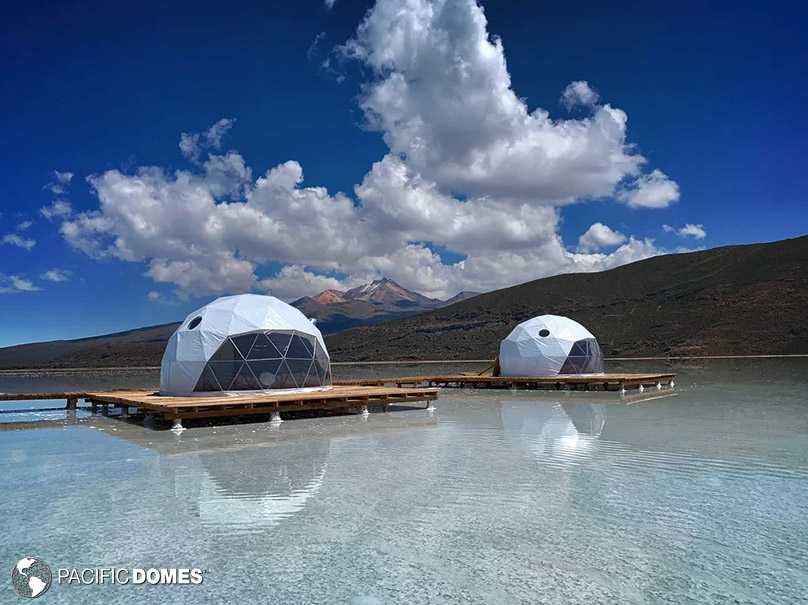 Dome Glamping at the foot of the Tunupa Volcano
The white dome basecamp is somewhat of an observatory, but seen from a distance, the mirage of domes appears like an outer space station or otherworldly camp, perhaps, built for a passionate astrophysicist! Lighting up the night with solar panels placed between domes, Kachi Stargazer Lodge is one of the coolest, and most surrealist viewing stations to be seen in this arid region of the Bolivian Altiplano .
At night, a telescope is at your disposal to observe the starry night skies of the Altiplano ‒ and, to top off your dome glamping experience. Guests, also, make handy use of the lodge's mountain bikes to explore and experience the flatness of the Salar around the camp.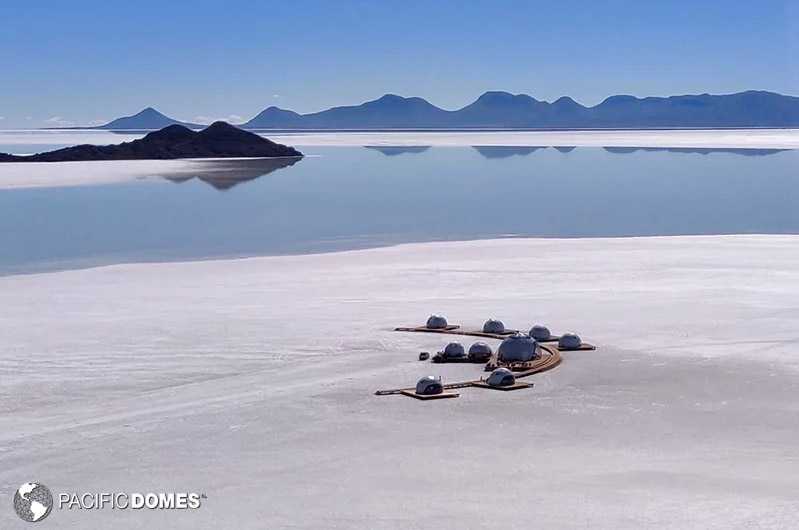 Much to the delight of stargazing guests and avid astronomers, the geodesic dome skylights and bay windows offer unobstructed night views through clear transparent panels, specially designed for optimal stargazing. As an added bonus, professional on-site guides are available to connect travelers with Bolivian culture ‒ and, offer a rich legacy of educational stories on Andean cosmology and ancient theories on the starry heavens.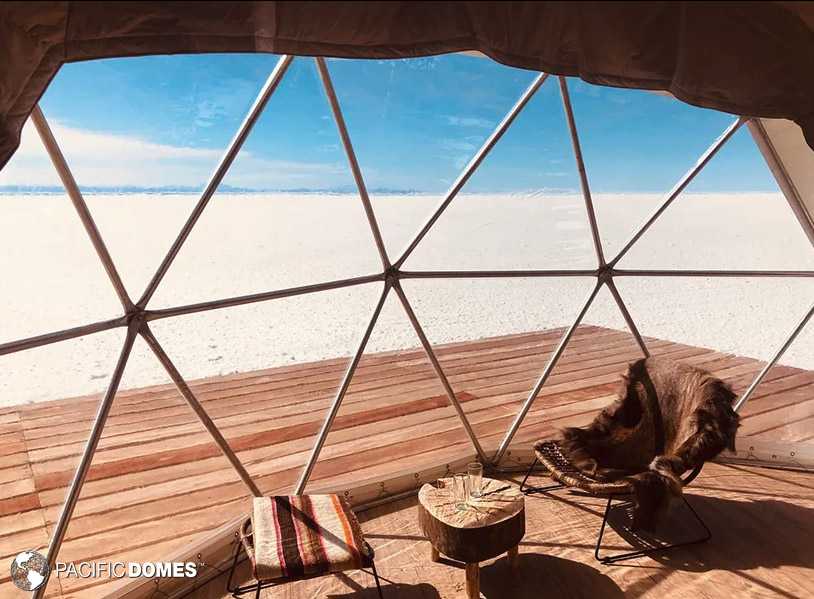 Bolivian Food
Food, even more so than dazzling views, has a way of describing the culture and history of a place. Food is a great way to discover a country and its culture. Here, Amazing Escapes has created an experience that captures the best of both.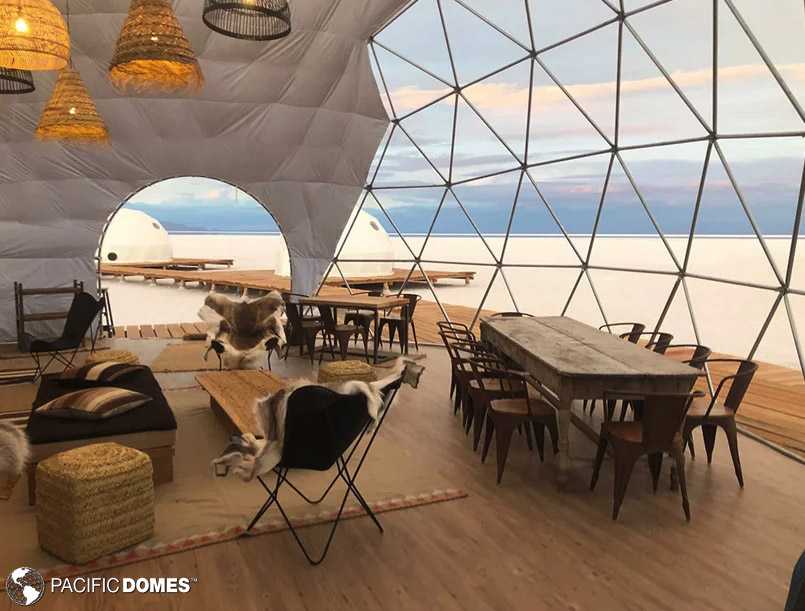 The New Yorker, The Guardian, and Food And Wine, among many others, praise Gustu and the surrounding beauty of the Andes mountains. But Gustu is not only a fine dining restaurant, it's the first project of the Melting Pot Bolivia Foundation , a foundation dedicated to driving gastronomic projects that benefit people from vulnerable backgrounds ‒ providing them with opportunities to improve their life conditions, those of their families and their communities.
Gustu restaurant delivers authentic and inventive cuisine at Kachi Lodge with the dream of making Bolivian gastronomic culture an engine for national development. It aims to become a showcase of the great potential of Bolivia's production, culture and biodiversity.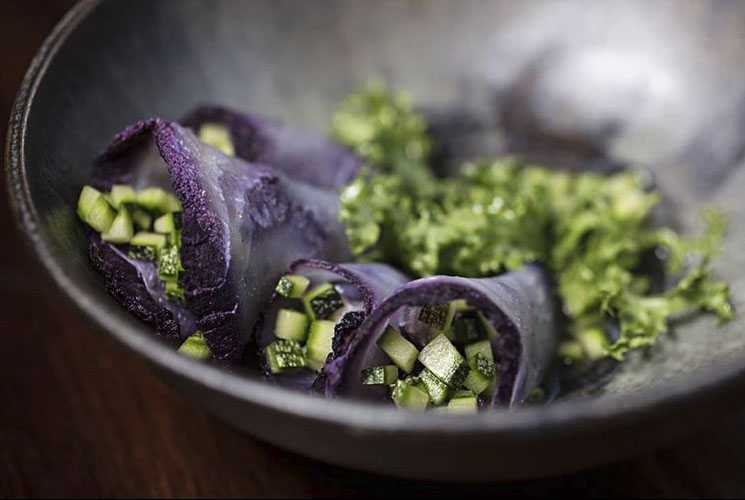 Ecotourism
In general, Amazing Escapes mission at Kachi Stargazer Lodge is to make it a model of sustainable tourism development ‒ both, through its environmental approach and its interaction with local communities. This goal is accomplished through joint development projects, training in tourism-related jobs and exchanges between Kachi Lodge hosts and community members.
Every precaution has been taken while engineering and setting up the domes at Kachi Lodge. The entire lodge is designed to operate on solar energy and a recently added wind turbine to supplement energy.
The entire lodge is secured on a wooden floor whose pillars are simply freestanding on the Salar. No anchoring or excavation has been done in the salt crust.
For water filtration management, a complex system of pumps brings the grey water back into a closed-circuit dirty water tank that ultimately connects to a high-performance purification system. The system efficiently prevents any wastewater discharge into the environment ‒ this ultimately minimizes water consumption.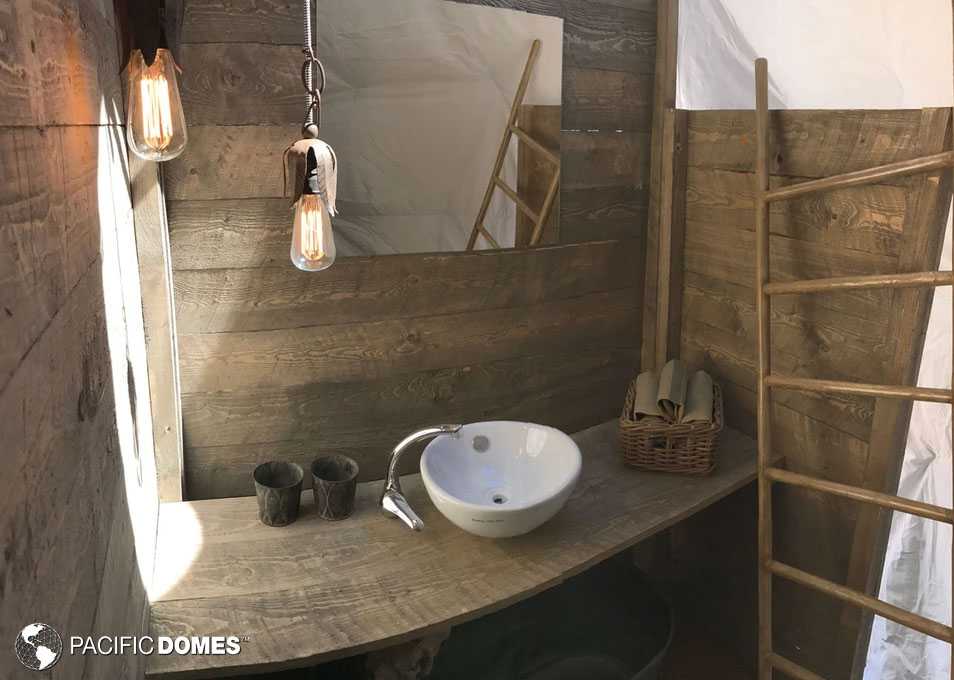 In each room, an incineration toilet instantly burns all organic matter, leaving only a small ash residue after a few days of use ‒ there's no black water to discharge or treat.
Waste management is a priority at Kachi Lodge. Firstly, it's all done upstream by organizing, as much as possible, the packaging of supplies in recyclable packaging ‒ and, by putting pressure on their suppliers to do the same.
There's a strict 0% plastic policy. No plastic bottles or packaging. Even the dome covers are reusable. Waste sorting is the rule ‒ and, they hope to be able to set up their own waste treatment structure in the near future.
For the construction and operation of Kachi Lodge, the owners focused on Bolivian companies to buy, as much as possible, locally. The wood used for the lodge platform is a Bolivian wood with FSC certification.
Artists In Residence
Kachi Stargazer Lodge highlights Bolivian cultural heritage by exhibiting the work of Gaston Ugalde ‒ the most famous contemporary Bolivian artist. This cultural heritage is also discovered through activities and tours offered by Stargazer Lodge in collaboration with the local community.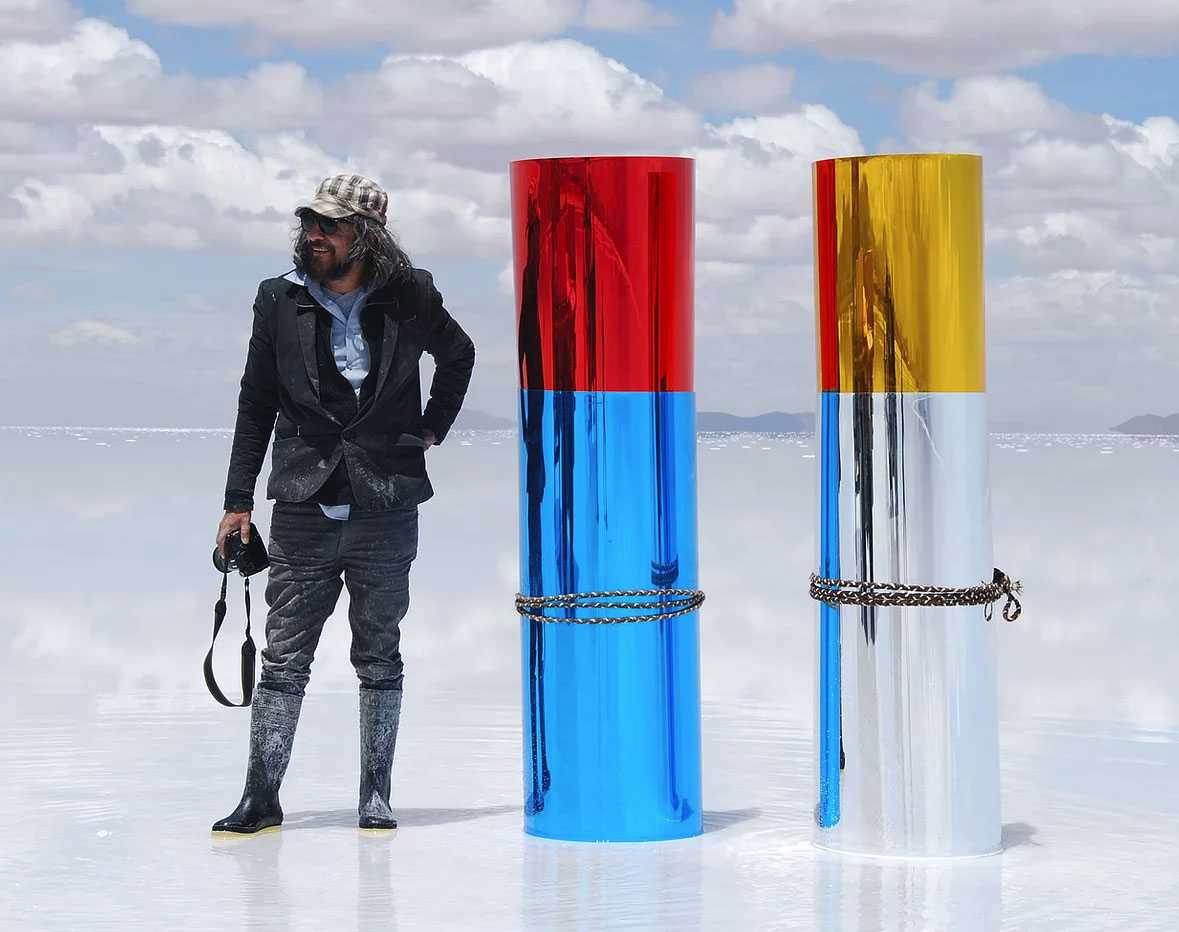 To support their clients, Kachi Lodge hires local guides, whom they train with the help of professionals with years of experience in ecotourism.
For transport, they use drivers from Uyuni ‒ once again, trained to meet the expectations of high-end ecotourism customers.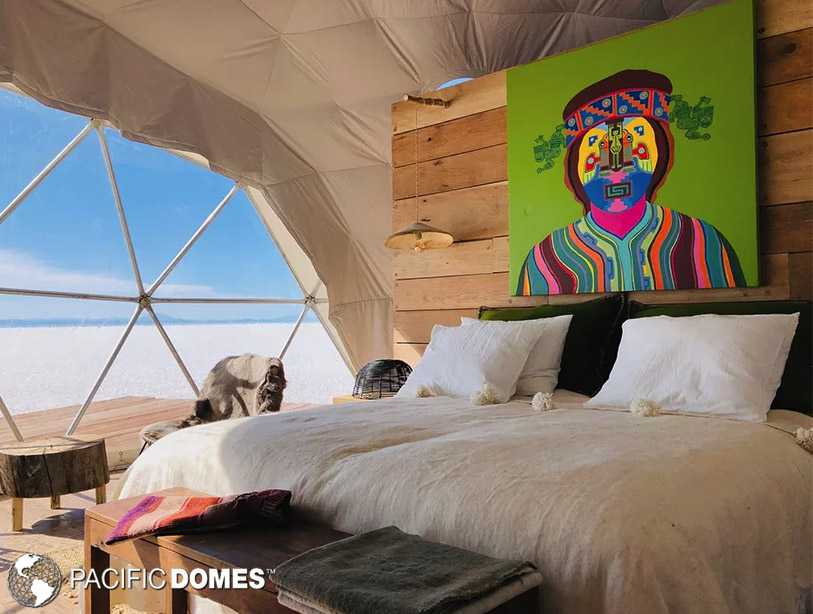 Recreation
Recreation is not to be missed on the Salar. Morning is best for a hike to a nearby «island» covered with giant cactus. The most famous island, the Island of Inca Huasi, lies a short distance from the camp ‒ a very touristy attraction.
Afternoon is best for a visit to the charming village of Coquesa with its cave-sheltered mummies 2000 feet (600 m) above the village ‒ again, with beautiful views on the Salar.
An hour and 15 minute drive from the lodge lies the interesting archeological site of Alcaya, an old pre-Columbian city near Salinas. Yet another activity, is a visit to the Salinas where locals collect the salt from the Salar ‒ this help us understand how locals collect salt from the surface.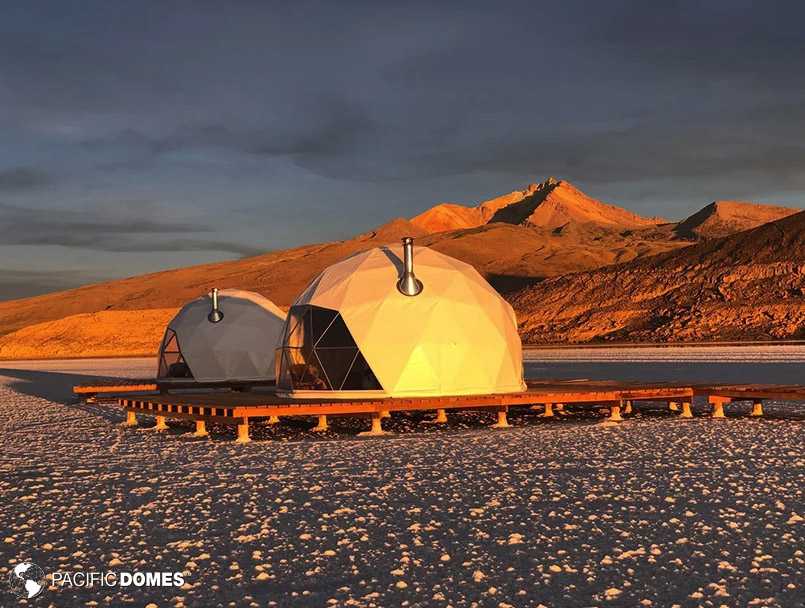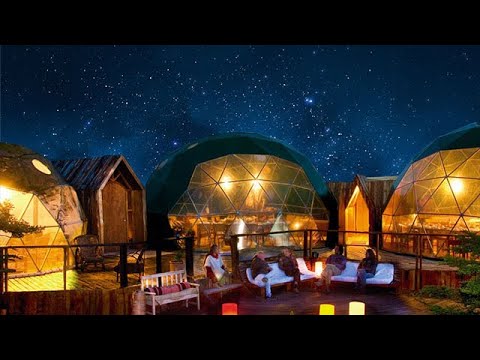 If you enjoyed this blog, be sure to visit Pacific Domes to learn more about how the exciting world of domeglamping is changing the ecotourism industry.