Glamping Domes
If you're unfamiliar with the term tent glamping, it implies glamorous camping. This growing trend appeals to those seeking responsible ecological stewardship while enjoying the comfort and tranquility of their remote natural surroundings.
After first seeing a scenic dome village in a breathtakingly hard-to-reach location, one can understand why the Pacific Domes Glamping Domes have become so popular for adventure outfitters over the past several years. They offer a fabulous alternative experience for an unforgettable holiday close to nature.
---
---
Resort-style Camping Off the Beaten Path
Capture the spirit of tent glamping in a Zen Dome and get ecotourism inspired! If you're wanting an off the beaten path travel adventure without leaving those creature comforts behind, resort-style ecoliving doesn't get much better than this!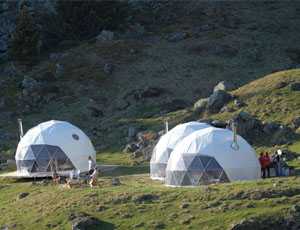 ---
Eco-Adventure Camps & Glamping Resorts
Nature Smart ZenDome tent shelters for Eco-adventure camps are going global, riding the wave of growing popularity in Eco-Hospitality Glamping Resorts (glamorous camping). Eco-adventure camps are getting a 'chic' makeover with portable geo-engineered ZenDome tent shelter kits for sale or rent by Pacific Domes of Oregon.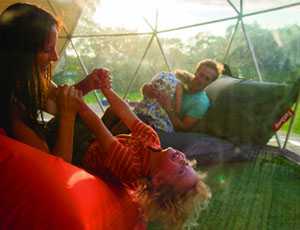 ---
Adventure Glamping with Portable Domes
E-commerce has given rise to many opportunities in nature smart cultural eco-tourism, such as eco adventure glamping (glamourous camping), by connecting smaller innovative industries and empowering them via the Internet. For the first time in hundreds of years, the power to affect positive social and economic change is in the hands of the people through cultural eco-tourism and one of the largest and fastest-growing global tourism markets… eco-adventure glamping.