How To Set Up A Glamping Resort in Mexico PART 4/4
(If you haven't, yet, read How To Set Up A Glamping Resort in Mexico Parts 1-3, click here.)
Congratulations! You've made great strides in setting up your glamping resort in Mexico and now you're about to see your investment begin to pay-off while you enjoy your newfound freedom lifestyle as a Mexican Glamping Entrepreneur.
Looking back over your accomplishments of the past few months, you can relish the fact that you've performed your due diligence and taken advantage of a timely, HOT trend in the glamping industry –purchased your idyllic parcel of land, surrounded by stunning vistas – designed and created your glampsite – outfitted your chic Glamping Domes – and now, you're almost ready to open your doors for business.
Spreading the Word – Your Online Presence
It goes without saying that one of the most important steps in promoting your Glamping Resort is to create a strong online presence. Yes ‒ your best friend is now the internet.
You might be pleasantly surprised that you don't have to go it alone! By doing a bit of online research, you'll uncover a growing number of online booking sites offering to promote your glamping resort for a nominal fee. They do a great job of spreading the word for you. To name a few popular booking sites ‒ Airbnb, Glamping Hub and Tripadvisor.
Photos and Media
Compiling a portfolio of captivating photos and media is a key step in creating your online presence. You may want to consider hiring a professional photographer with a high-grade lens to highlight your Mexico Glamping Resort and capture its vibrant color and depth – its fullest vacation spot potential.
Photos taken at sunrise and sunset are especially appealing. Capture images that stir the imagination and provoke future vacationing guests to dream about your romantic getaway – imagery that elicits a powerful, emotional yearning to connect with Nature.
You want your images to be so inviting that vacation hunters mentally project themselves into the magical scenery. Here's just a few examples:
A couple strolling along the beach, holding hands as the waves lap lazily at their feet – their dog following behind with a trail of footprints awash in sea foam.
A woman or couple relaxing on a luxury glamp dome bed – gazing up at the stars.
Scenes from inside one of your Glamping Domes showcasing the interior design.
Children playing on a climbing dome gym in the play yard.
A backdrop of Glamping Domes popping up from beneath the lush jungle thickets while families engage in a fun game of badminton.
A video set to relaxing Latin music and showcasing your Mexico Resort with inviting glamping domes, nearby attractions, and gorgeous Mexican topography is an essential marketing tool. It is this media that will bring you your very first wave of customers. These people will then become your evangelists, spreading the word and sharing their experiences throughout their social media networks.
Your choice of music is key to spawning an enticing atmosphere. You're looking to create a relaxing, romantic feeling, with a little Mexican flavor thrown in. Whatever you pick, it should stir the soul ‒ too fast a tempo, can relay an ungrounded feeling.
Take advantage of a professional videographer and video editor; as well as, professional fully-mastered sound and audio quality to craft your final product. Don't settle for anything less than the best you can afford; and, budget accordingly ‒ because, the media you create is what's going onto your booking sites, your social media channels and website.
Just like any content that you create going forward, videos should be polished, tightly edited, and emotionally impactful. You want everyone who engages with your content to tangibly absorb some of the magic you feel for your land! Once you've got this media in hand, it's time to put it out there to the world.
Promote on Social Media
You will want to showcase your glamping getaway on some of the more widespread social media (SM) platforms. Social media is a place where you can share great content, engage and connect with others, forge business relationships, drive traffic to your website and attract visitors to your Mexico Glamping Resort.
Here's some preliminary steps for you to consider :
Set up profiles and upload your videos and promotional photos. As long as your main promo images were shot by a pro, you can add photo images that you've captured yourself with a smart phone.
Begin by introducing yourself. Include an entertaining story about something exciting, heart-warming or humorous that you may have experienced as a glampground host.
Post 'snippets' of new content and alluring images every few days. You want people to fall in love with the inviting beauty of the area. In these posts, you want to allow your warmth and hospitality to shine through. When potential guests feel a comfortable connection with you, they are more likely to book your getaway packages.
If properly executed (monitoring and engaging with your audience), social media will yield an immense well of personal connections. An engaged social media crowd is a potential goldmine ‒ and, the best part is that you can manage all your sites in one place with software packages, such as HubSpot or Hootsuite.
What Social Media Platforms Should I Use?
There are a number of Social Media platforms for you to choose from; including, YouTube which is a popular search engine that reaches a vast audience. You're likely to be familiar with a few of the more popular sites; such as, Facebook, Instagram, Twitter, Google+, Pinterest and Linkedin. There's also, Flickr, Google Picasa Digg; and forums, such as, Quora.
Facebook is suited to a broad audience on general topics. Facebook will allow you to grow your audience, share stories and content with more and more people. It's a great space for discussing and debating. Users of this medium are reported to be the most loyal and they tend to spend the most time online interacting with their favorite accounts. With a little expert advice, you can learn how to run promotions and give discounts through your Facebook page. Facebook owns What's App ‒ a great way to communicate with clients.
Instagram is a social platform that's entirely based on photos that tell short stories. It's a great place to showcase your venue and build an audience ‒ allows your images to be shared easily with friends.
Twitter is suited to a younger and more trailblazing crowd who like to move quickly and have access to current news and trends.
Pinterest is currently one of the fastest growing social media platforms. It's an inspirational search engine loaded with visual medium that can successfully sell, engage and significantly drive website traffic. Pinterest has the highest rate of viewing to buying/booking; pin everything from pics to blogs and videos that link to your site or booking platform.
YouTube provides a platform where you can upload videos, promote your unique destination and add footage of your best guest experiences and testimonials. YouTube is owned by Google, which also happens to own the most used search engine in the world. Therefore, linking this medium to your website and products is essential for improving search engine optimization (SEO); as well as, access to audiences who prefer to be social, learn, interact and share through moving images.
LinkedIn provides an optimal platform for engagement with B2B (businesses to business). It's a good stage to set up a business page and interact openly with other business professionals, providing you are willing to engage in an open format. (it comes with a learning curve that some may initially find awkward, when it comes to sharing their business details and contacts).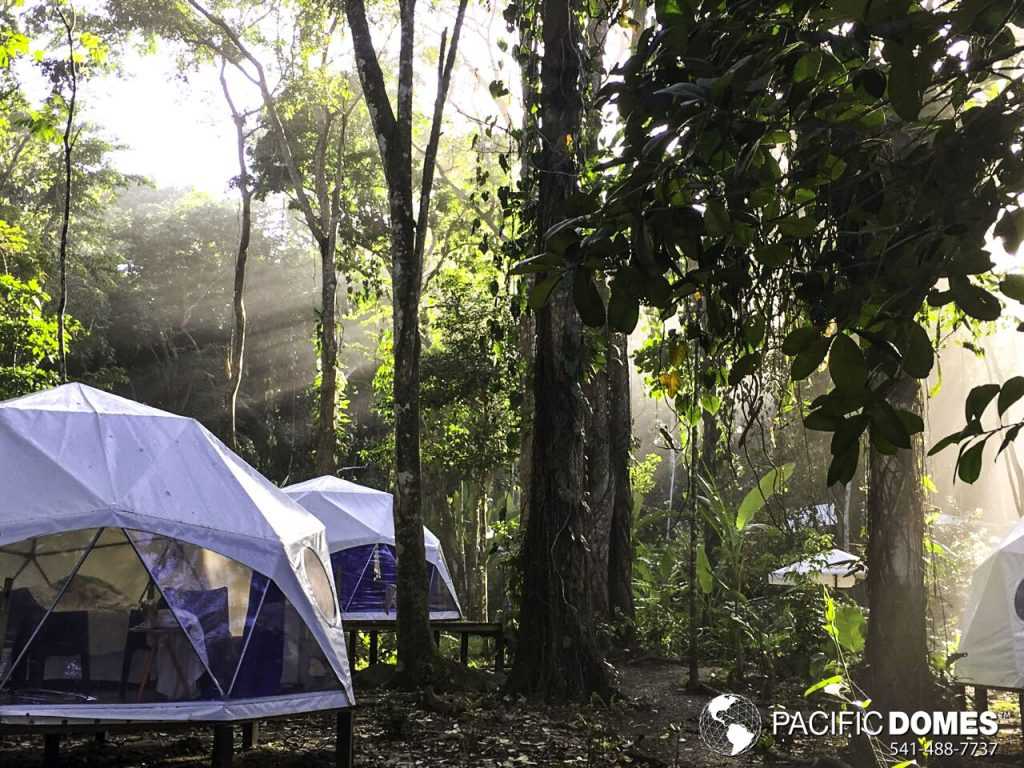 Do I need a Website?
In addition to social media, a website can be an ideal platform to build your online presence. These days, creating a website is simple enough for the average non-techy layperson, but, don't let the lack of one side-track you ‒ you can choose to add a website anytime, or not.
It's a crowded market so spending time optimizing your website for people to quickly find you can be time-consuming. You'll want to spend time putting together vacation packages and meal packages that showcase local Mexican cuisine.
Consider that HubSpot offers a full platform of marketing, sales, customer service, and CRM (customer relations management) software ‒ plus, the methodology, resources, and support to help grow your business.
If you're looking for fast results, you can consider launching an AD campaign. You've likely, seen those ads that display at the top of search results? Google Adwords uses pay per click advertising (linking to your website, booking site or social media platform). Word of caution ‒ there's a learning curve and consulting with experts will save you a bundle in the long-run.
Just keep in mind, that a website requires regular maintenance. Make sure your website is attractive and updated with lots of photos, videos, testimonials Remember to link back to your social media with "share with a friend" buttons.
Guests will expect to check availability and book online ‒ this is where you can link to booking platforms. Once you're well-armed with social media profiles chock-full of gorgeous media, place your listing on one of the aforementioned booking sites.
Relaxing into the Freedom Lifestyle
You'll want to hire and train a caring and attentive staff to tend to your guest's needs. You're in the glamping hospitality industry now, so adding a touch of elegance and overdelivering by going above and beyond your guest's expectations will reward you with glowing reviews.
As you ease into your role as owner of your Mexico Glamping Resort you will want to relegate those duties, that you initially took upon yourself to complete, to your capable staff. It's time to relax into the freedom lifestyle that you've dreamt was possible. It's time to start enjoying the fruits of your labor ‒ and, let your investment pay for itself.
---