A backyard dome can provide shelter for displaced friends and family. Natural Disasters are leaving thousands of evacuees searching for a safe place to stay until it's safe to return to their homes or figure out longer-term arrangements. We can all play an important role in our communities just by offering shelter to displaced friends and families.
As of Monday, August 24th, 2020, there are more than 650 wildfires burning throughout California. NOAA's predictions that the 2020 tropical storm and hurricane season will be the busiest in 22-years is now a real scenario.
Community Support for Displaced Families and Pets
Due to an active wildfire and hurricane season along with the intricacies of COVID-I9, communities across America are needing thousands of volunteers to care for displaced families. It's never been more true that, "this is a marathon ‒ not a sprint". From East Coast to West Coast, including Hawaii, Alaska and Puerto Rico, communities in the midst of disaster are holding hands across America ‒ coming together to support each other.
Volunteers are needed now and in the coming weeks and months to facilitate with disaster response, relief and recovery efforts. Following the unparalleled devastation caused by so many California wildfires, communities are 'thinking outside the box' and coming up with solutions to provide ongoing support and shelter for displaced families impacted in their neighborhoods.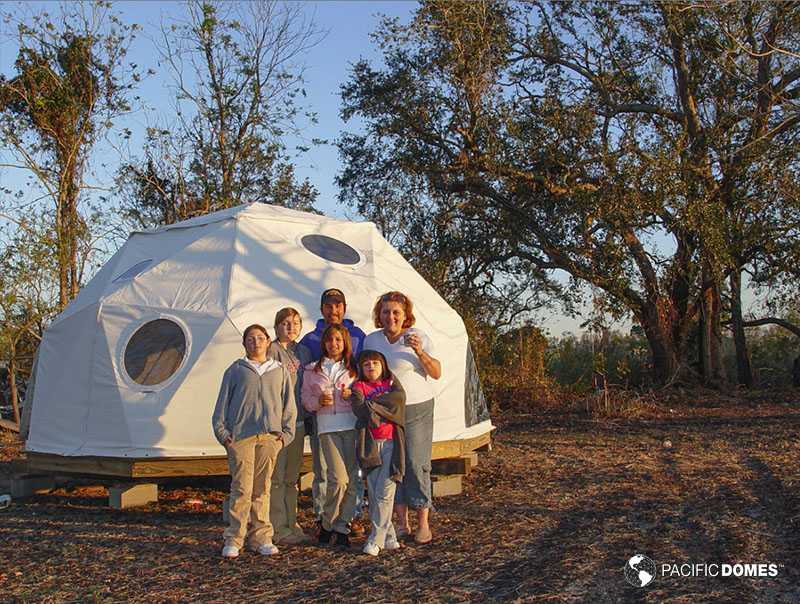 "We're in this perfect storm of uncertainty and we're hunkering down and preparing for a longer-term response to what is happening in our community." — Dr. Jahan Fahimi, Director of UC San Francisco's ER From Los Angeles Times
Open Up Your Land ‒ Volunteers Needed
How can you help? Pacific Domes is encouraging California landowners to open up their lands to wildfire aid workers and evacuees in their respective communities.
However, volunteers are needed all across America to provide shelter to displaced families. If you're looking for ways to help displaced families and their pets, you can be a proactive participant by opening up your land to help families during the recovery process.
In order to lend support during these unprecedented times, many landowners may be positioned to offer short-term shelter. Landowners can positively impact their affected communities by collaborating with nonprofit groups and community organizations in soliciting disaster relief funds, through generous donations, grants and other financial support.
Landowners Host Dome Stays for Displaced Families and Their Pets
Pacific Domes is grateful to landowners who are stepping up in a time of great need to support their communities. We're doing our part to help landowners host dome stays for displaced families and their pets ‒ Take advantage of our Shelter Dome Sale. Talk to one of our Sales Reps to discuss additional discounts that may be available to support your efforts.