You can build it… "Even if you've never built anything before!"
If you've been exploring tiny house living, you'll love the 'living-large' tiny house dome concept! And by the way, yes you can build your very own prefab tiny house dome with just a few tools and a little DIY ingenuity ‒ even, if you've never built anything before!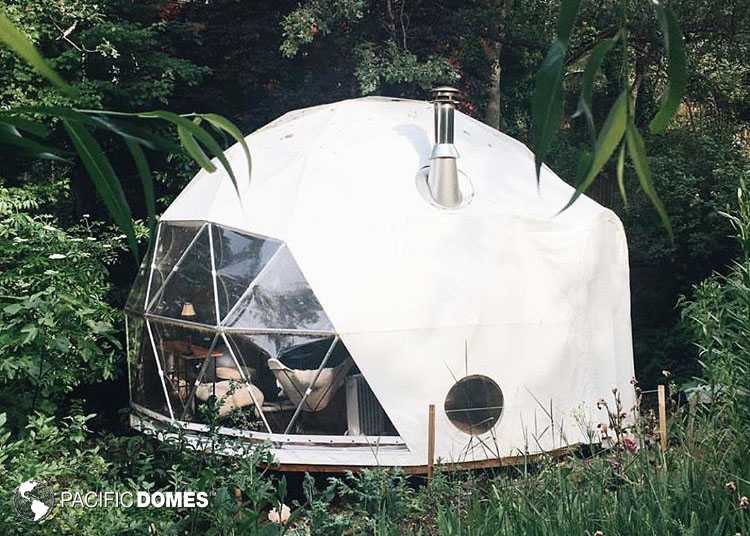 Why Domes?
Why choose a prefab tiny house dome over a box house? Pacific Domes of southern Oregon, has been manufacturing made in the USA dome kits since 1980 and calls them Nature's perfect structure. Kits are portable and perfect for off-grid living. You'll be happy to discover that you needn't sacrifice functionality and creature comforts ‒ and, your personal interior design and décor style will thrive.
When faced with Nature's extremes, a dome's geodesic-engineered strength has proven time and again to be the strongest shelter known to man. The American Institute of Architects has called the geodesic dome, "the strongest, lightest and most efficient means of enclosing space known to man."
Going up just about anywhere on the planet, geodomes have been used in tropical rainforests, high mountainous elevations, hot arid deserts and sub-zero arctic regions ‒ they've also been used in construction of eco-resorts and remote base camps.
Tiny House Dome Features
Ready to get started on your journey towards exploring the awesome features and benefits of ecoliving dome homes? You'll be happy to learn that, in addition to saving you money in construction costs, there's some added benefits such as, energy-efficiency ‒ not to mention, lowering your carbon footprint and reducing harmful toxins to which your family, guests and pets are exposed.
Studies have revealed that, compared to many standard housing options on the market, domes are naturally more energy-efficient. Geodomes have at least a 30% more heating and cooling efficiency due to unobstructed circulation of ambient air and energy flow.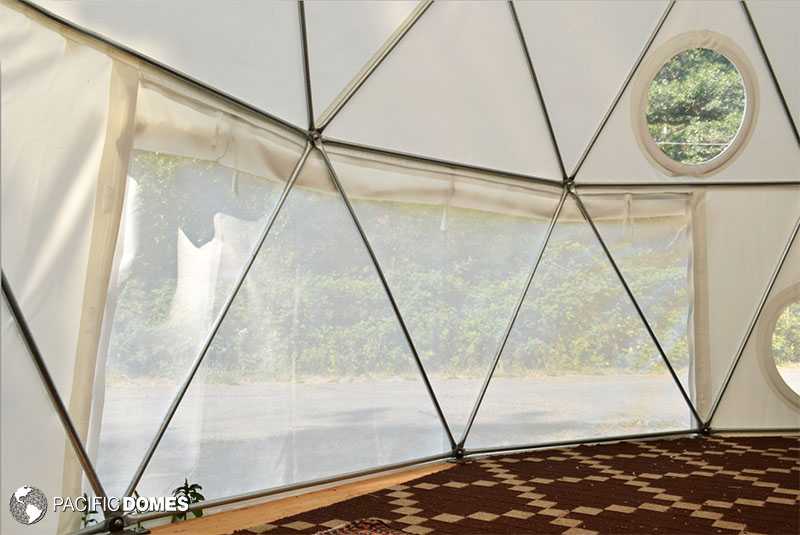 Designed for optimal ventilation, your dome stays cool with window screens, base screens and a zippered roof screen. A solar fan aids with ventilation in areas prone to excessive rain fall.
Passive solar heating keeps your dome home comfortable most of the year. We do a deeper dive into insulation, heating and cooling in the sections below.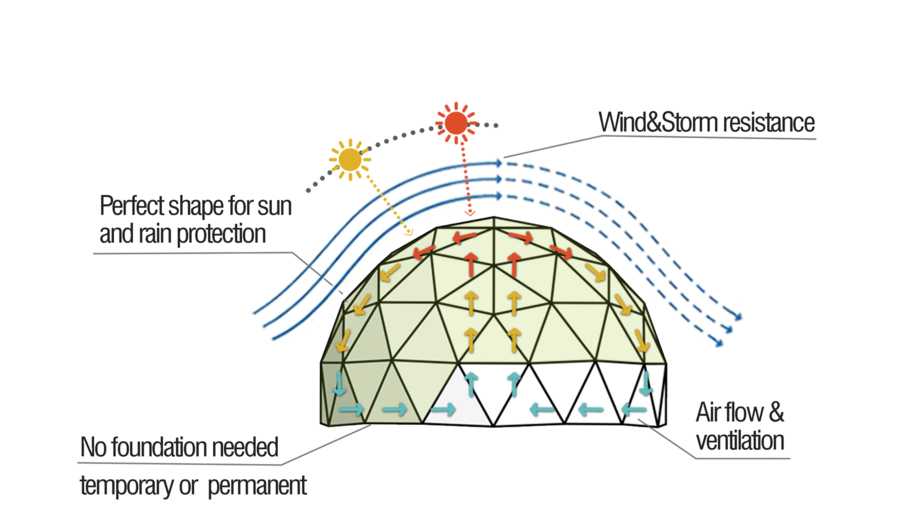 Dome kits come in typical sizes from 16-feet to 44-feet. Larger dome sizes are available, up to 120-feet. Typical delivery time is 4-6 weeks ‒ custom packages take a slightly longer delivery time.
The Basic Pacific Domes Kit includes a frame, cover with bay window, round windows, weather-tight zipper door or pre-hung door opening, zippered base roll-up flaps for ventilation, steel anchor plates; and, a dome care manual with assembly instructions. Frames may be purchased separately, as well.
Dome Frames
The standard .9" galvanized steel frame with hardware is adequate for normal conditions. In areas where nature's extremes are a factor, your local building department may require heavier steel tubing and our expert teams will assist with any engineering needs . Geodesic-engineered domes have been used in artic regions and ski resorts where they have been buried in deep snow.
Dome Covers
The standard package includes a durable, long-lasting cover with a bay window. Covers are made of water resistant, mildew resistant, flame-retardant fabrics, which provide lasting shelter in rugged climates exposed to nature's extremes.
Covers with unique properties are recommended for the following climates:
Sunlite is ideal for humid climates, and the smooth vinyl-coated, polyester fabric is easy to clean. Sunlite has a life expectancy of up to 12 years with proper care.
Sunshield has extra UV protection to extend life expectancy up to 20 years.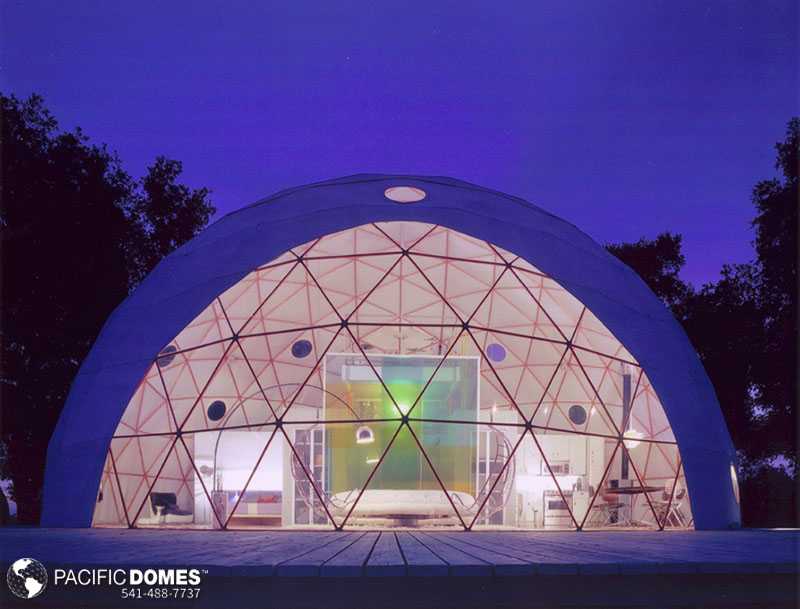 Dome Insulation
Providing insulation from seasonal weather fluxes, matching window covers are easily velcroed-in for convenient operation. Insulated winter liners are flame-retardant and mildew-resistant.
There are several insulation options to choose from:
Thermoshield is recommended for use in colder climates. It has proven to slice utility costs up to 40%. Thermoshield is a non-toxic elastomeric paint containing ceramic microspheres that can be painted either, inside or outside. It can be painted on the inside of the dome to replace a liner ‒ it has excellent adhesion properties to most substrates.
EcoWool has mold and mildew resistant properties; as well as, fire retardants. It is made of 100% organic felted wool and comes in natural white. Sewn to an outer shell of durable polyester, this cover can also be painted with Thermoshield for added insulation.
Thinsulate winter liners are a popular choice because they trap heat to provide added warmth ‒ they are lightweight and have excellent breathability.
Reflectix® liners, not only provide great insulation for added warmth, they offer EMF protection for those who are sensitive to frequencies emitted by modern technology and devices. The product consists of two 96% reflective layers of film bonded to two internal layers of heavy gauge polyethylene bubbles sewn into the liner (total thickness approx.. 5/16").
Summer Cooling & Winter Heating
How do you cool a dome during scorching summer months? When normal ventilation methods aren't enough, many clients have found that solar fans, portable evaporative coolers and room air conditioners are very effective in maintaining comfy temperatures inside.
There are a number of efficient ways to heat your dome. Wood stoves are the most common method of heating. However, any modern heating method will work in a dome ‒ radiant heat, solar, electric and gas are all safe to use in domes.
Each dome comes with optional stove cap and flashing for wood stove installation. Comfortable temperatures can be maintained inside the dome while snow storms flurry outside.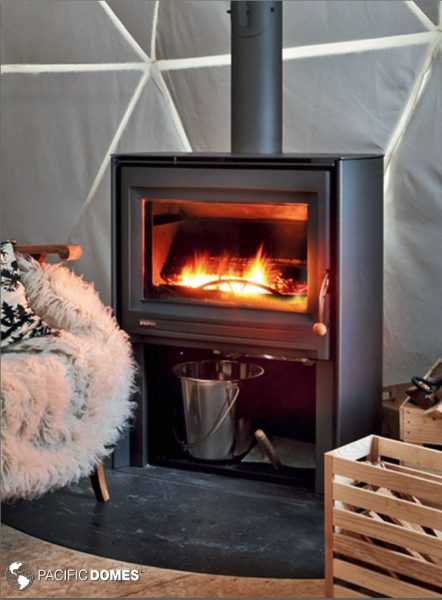 Electric & Plumbing
If you have access to utilities, you'll find that running electric and plumbing below the floor board or decking is accomplished by drilling a suitable hole wherever you wish to bring in your electrical conduit or plumbing. When building a stem wall or below ground Kiva room, you can run trenches for all your electrical and plumbing. Outlets can be neatly tucked away inside a wall, partition or flooring.
---
Over the years, Pacific Domes has discovered that a dome's interior and exterior design is only limited by one's imagination. Whether you're seeking inspiration to transform your existing backyard into a welcoming oasis or wanting to get started in designing and building your prefab tiny house dome from-the-ground-up, we invite you to explore Pacific Domes YouTube channel and Knowledge Base of How to Guides to help you along the way.
We're here to help
Still have burning questions? Spanning decades of combined product knowledge, our team handles all phases of geodesic dome manufacture, construction and installation, so don't hesitate to reach out for solutions to your shelter needs. Chat with a Customer Support Rep today ‒ they love solving your problems and strive to keep your needs at the forefront of every interaction!