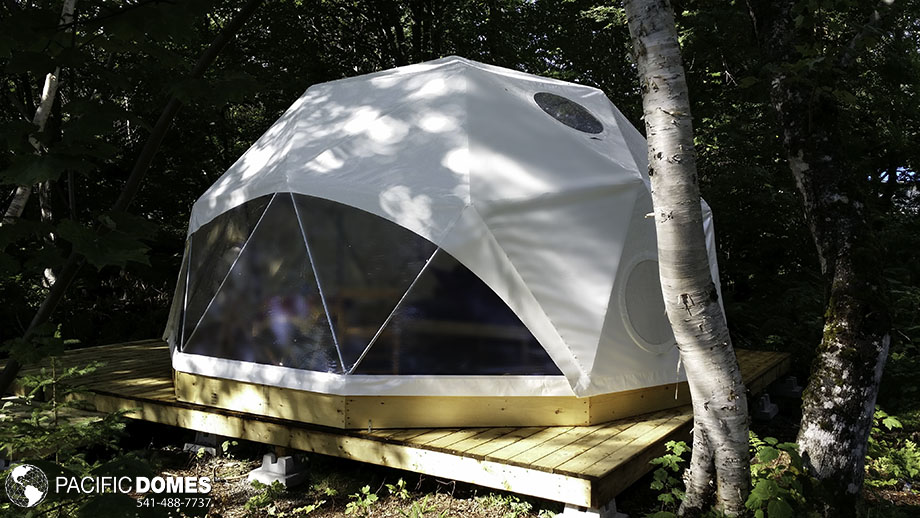 Pacific Domes of Oregon, leading manufacturer of Geodesic Shelter Systems favored by Popular Eco Retreats, Top Glamping Resorts and leading Eco Tourism Sites around the world.
Welcome to Atlantic Canada's first one-of-a-kind treetop 'Lunadome' glamping adventure, on Cape Breton Island, Nova Scotia! Cabot Shores people friendly Eco-Hospitality resort is kid friendly & pet friendly… and, thanks to all the great guests, positive reviews-n-feedback, it has been ranked "Excellent" by FlipKey.com!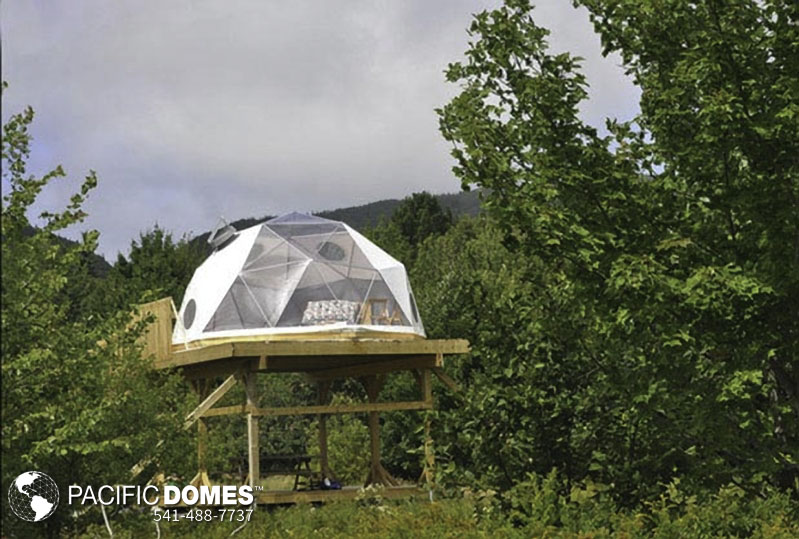 Outdoor enthusiasts will love this unique opportunity to experience a romantic getaway in Cabot Shores 'Lunadome,' a warm, Zen-like geodome nestled high amidst stately apple trees. Be sure to bring a good book to enjoy while relaxing in the zomes-hanging chair… then, snuggle up, while gazing up at millions of stars through an expansive skylight portal while drifting away into dreamland.
Cabot Shores is eco-glamping at its best, with fabulous ocean views and bald eagles gliding high above spectacular views of Kelly's Mountain… there's fresh invigorating air to breathe, hiking, kayaking, canoeing, Yolo boards and loads more! While at Cape Breton, you will want to become familiar with the word 'Ceilidh' (pronounced Kay-lee), a fun-filled Scottish or Irish folk music social event.
Cabot Shores Eco-Hospitality resort can facilitate with restoring balance in your life… Cabot Shores Gate of Life Healing Arts offers personalized therapeutic massages, morning yoga, Qi Gong exercises sessions, Five Element Acupuncture and group meditation. Relax under the stars in a Japanese cedar hot tub or softub after a romantic dinner at Cabot Shores Bistro, featuring a fresh local source of unprocessed food from their organic garden.
Cabot Shores, Cape Breton Island, Nova Scotia, Canada
Pacific Domes Inc. USA is a Leading Global Builder of Geo-Engineered Pre-Fab Building Systems serving the Eco-Hospitality Industry, Eco-Resorts & Eco-Villages.