Pacific Domes of Oregon, builders of the worlds best geodesic structures for use as Dome Shelters, Portable Emergency Shelters, or beautiful Dome Style Houses for Tiny House fans, Glamping enthusiasts and AirBnB rental owners around the world.
Geodome Glamping Tents blaze the trail for the Ultimate Outdoor Adventure
Portable Geodome glamping (glamorous camping) tents are revolutionizing the global eco-hospitality industry, blazing the trail and going where no adventure enthusiast has ever gone before. Due to their portability, ease of set-up and all-around functionality in extreme environments, Eco-retreat Geodome shelters can be erected just about anywhere on the planet amidst breathtaking naturescapes.
Elegantly furnished with basic creature comforts, portable Geodome tents are the preferred choice for eco-resort glamping shelters… creating a warm Zen-like beauty and leaving a light sustainable footprint. Say Hello, to the exciting world of Geodome glamping shelters and check out these eco-retreat escapes today.
Faith Glamping Domes – Costa Rica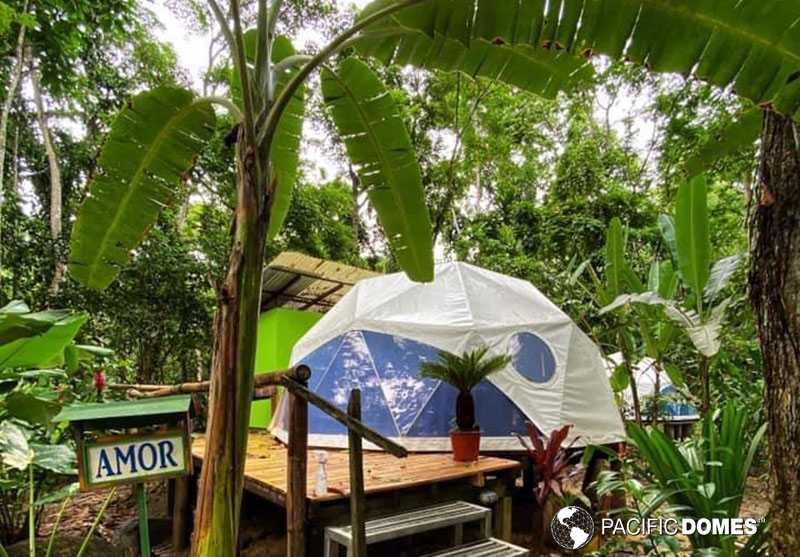 Immersed in the lush biodiversity of the Gandoca-Manzanillo National Wildlife Refuge, Playa Grande, Costa Rica is a romantic spot where one can de-stress and reconnect with Nature's beauty and tranquility. If your heart yearns for an exotic getaway overlooking pristine, white-sandy beaches, you're sure to fall in love with Faith Glamping Domes (FGD), the Costa Rican luxury camping hotel inspired by NASA.
Your hostess, Andrea, will ensure that your stay is a great experience. Bring your camera! You'll enjoy taking short invigorating nature walks or just sitting and soaking up some sunshine.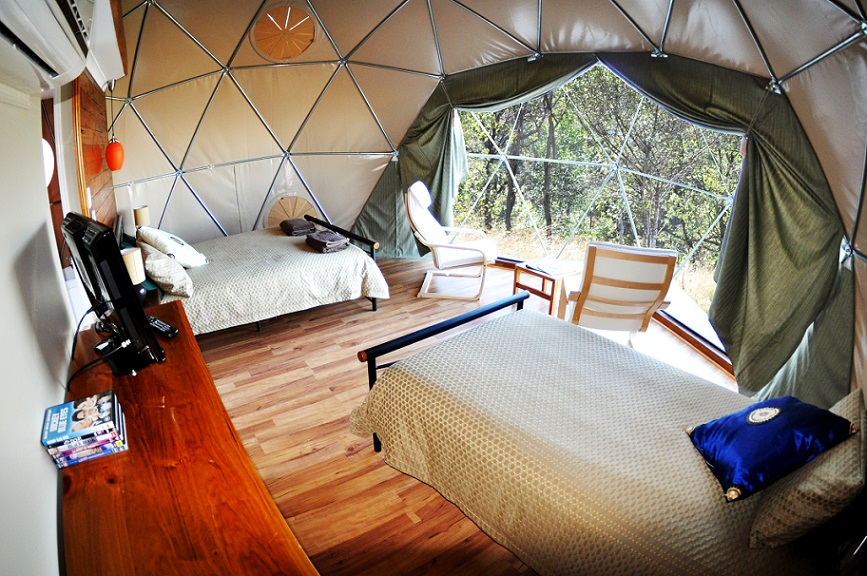 RIDGEBACK LODGE – KINGSTON NEW BRUNSWICK, ATLANTIC CANADA
Ridgeback Lodge with its spectacular scenery, offers romantic getaways amidst the natural beauty of Kingston Peninsula… conveniently located in the heart of Atlantic Canada, between Fredericton, St. John and Moncton New Brunswick.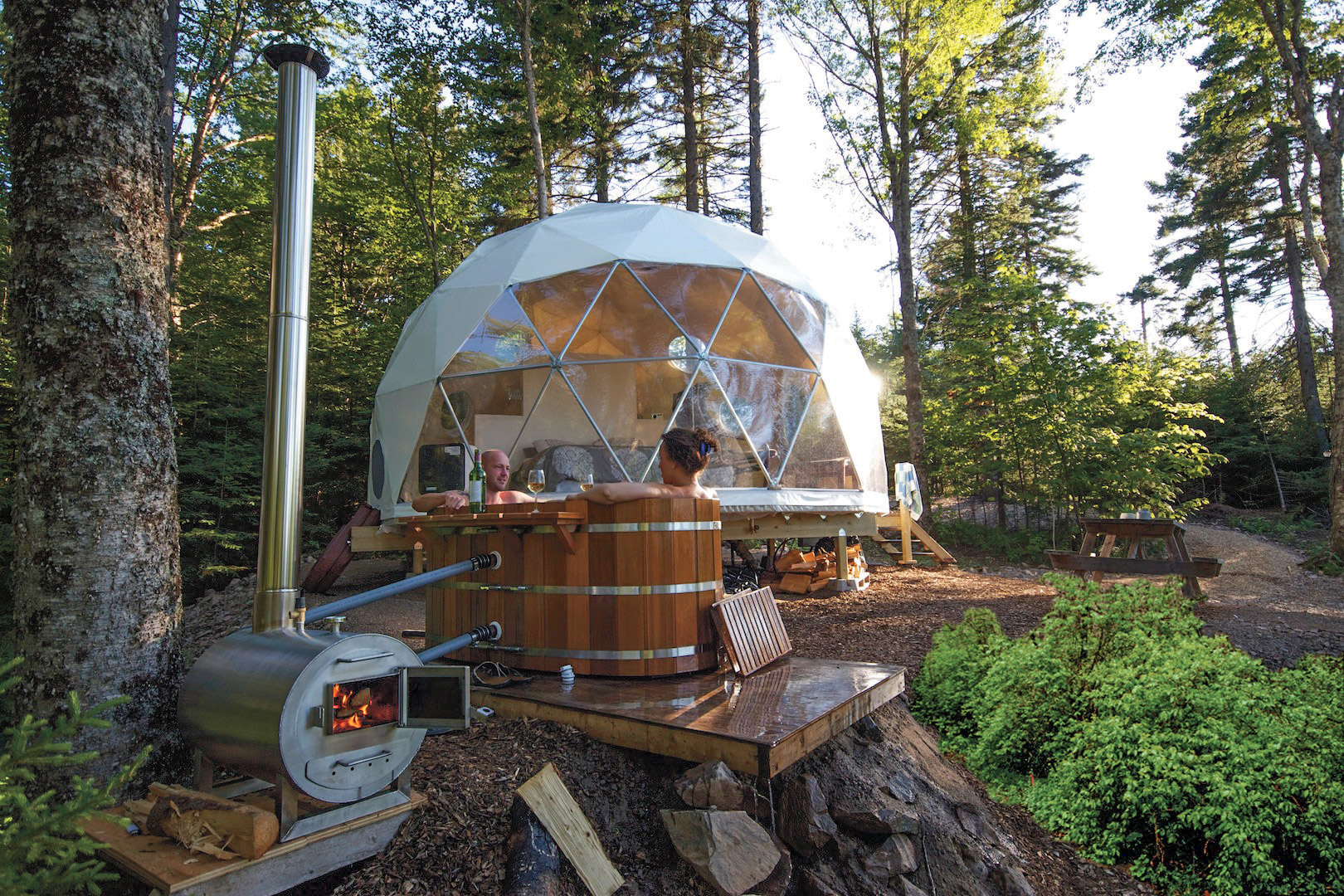 You will want to experience this unique eco-hospitality resort by staying in their highly praised glamping Geodome or choose to relax in a rustic log cabin. You can expect that your Geodome or log cabin will already be warm-n-cozy upon arrival during winter months… wood stoves means starting the fire early in the morning!
You're in good hands with hosts, Robert van de Straat and Christel Postel, who arrived in Kingston from the Netherlands in 2012 to follow their dream passion. Ridgeback Lodge is continually evolving and promises to help you leave the daily routine and get back to what's most important… reconnecting with each other.
Visit: Ridgeback Lodge Glamping
BACKEDDY RESORT AND MARINA –  EGMONT, BC, PACIFIC CANADA
Backeddy Marina welcomes you to the Sunshine Coast, boasting some of the most beautiful pristine natural wonders on the planet! Inviting you to experience exciting journeys within easy reach, Backeddy Marina affords a smorgasbord of sightseeing, sailing, ferrying, hiking-n-biking adventures… plus, entertainment & culinary delights. Places that you will want to visit are Sunshine Coast's Princess Louisa Inlet (Chatterbox Falls) Tours and Skookumchuk Narrows Provincial Park.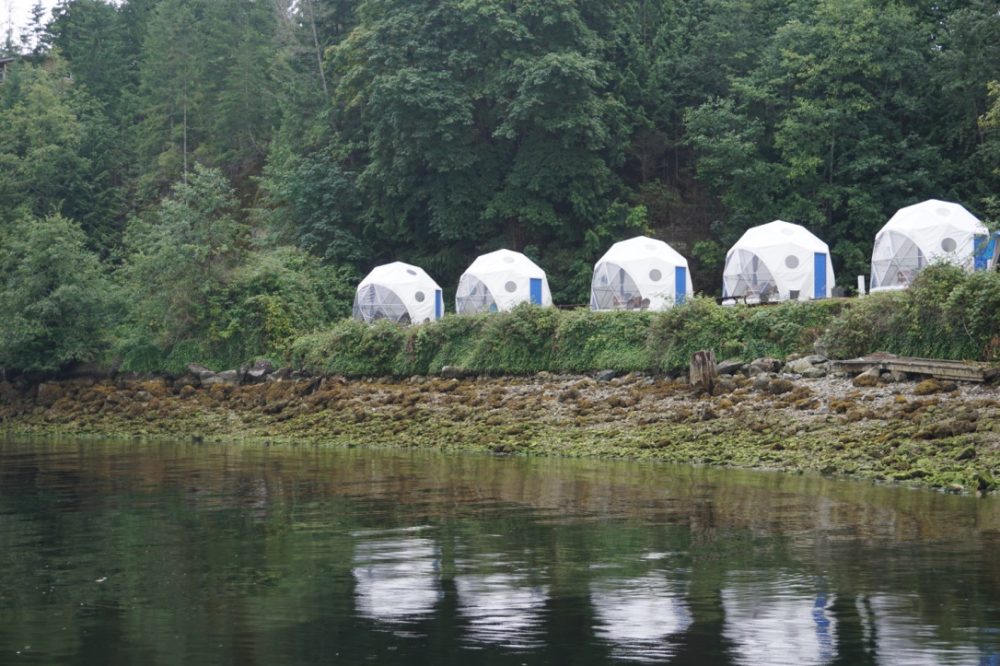 The newest addition to the Backeddy hospitality family, geo-engineered eco-domes with a bay window facing the water, offer a unique glamping experience at the water's edge. You'll love these tasteful, luxuriously simple restorative spaces, furnished with a queen sized bed, duvet and indoor lounging area. Bathroom and shower facilities are just a stone's throw away from the marina wash house.
Visit: Backeddy Resort & Marina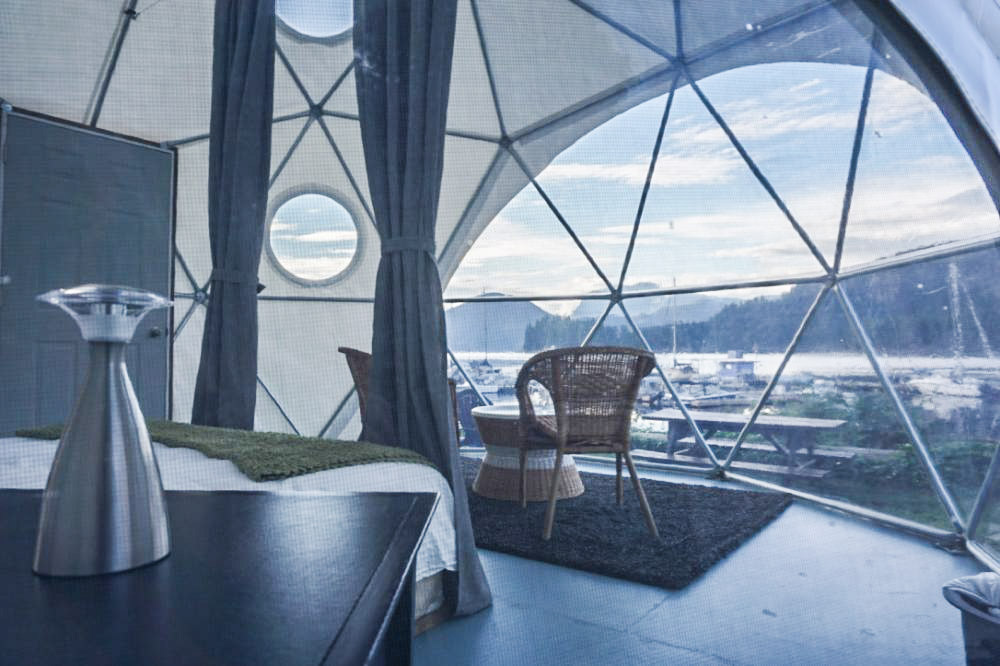 MIRACLE CAMPING AT MIRACLE HOT SPRINGS – BUHL, ID, USA
Miracle Hot Springs Resort, a geothermal oasis in the desert, is located in Idaho, 10 Miles Northwest of Buhl or 9 Miles South of Hagerman on Highway 30.  The resort hosts are super nice and you'll be impressed at how well it is maintained.
Rejuvenate year-round in the best-feeling alkaline water on earth and experience some of its healing benefits. The constant pH of 9.6., chemical-free flow of natural hot spring water is odorless, soft to the touch and so very relaxing.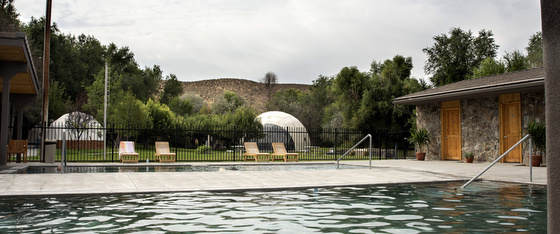 Every member of the family can enjoy the luscious hot water at Miracle Hot Springs. 4 outdoor general admission public pools are kept cooler in the summer and warm in the winter… the perfect temperature to relax, exercise or play.
Soak & Swim in 15 Private Hot Pools with separate dressing rooms… available on a first come, first serve basis. Each private pool features adjustable temperatures; and, pools are drained, cleaned and refilled with fresh water after every use.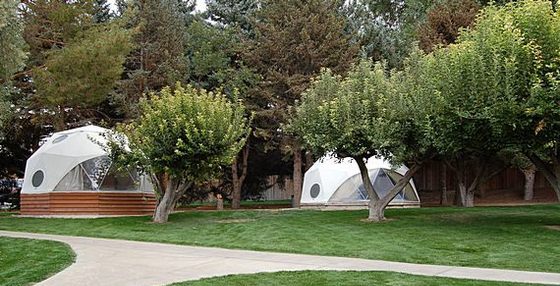 6 VIP pools are designed for larger groups and can be reserved in advance. Each private pool is drained, cleaned and refilled with fresh water after every use.
Like a vacation in one visit! Licensed massage therapists are on site and available during business hours. If you want to loosen tight muscles this is the place… your skin will feel sensational after a nice long soak!
GLAMPING GEODOMES & LOG CABINS
2 family-size Geodome glamping tents create a warm inviting ambiance with light penetrating water-proof skins. For your comfort, domes have 6 sleeping pads, a space heater/ fan and floors are heated by hot water.
The Queen and King Geodomes are fully furnished suites with either a queen or king bed, dresser, seating, a heater and fan. The queen suite is handicap-accessible; the king suite has extra sleeping pads (BYO bedding).
"Yoga in the Dome" is one of the more popular current events at the spacious Geodome Event Tent which is open to overnight sleeping (BYO bedding/padding).
To host your next spectacular gathering, meeting space or performance, reserve the spacious Event Tent, complete with long tables, folding chairs & frige.
Bathrooms are conveniently located close to domes and are rented by the night. Help maintain affordable pricing and bring bedding… no pets or smoking, please.
Creekside, Group Beach and Group Pond are 10 tent sites; plus, 10 RV Sites next to Salmon Falls Creek. Grassy areas, shade trees, fire rings, and picnic tables are included; each site provides 30amp electricity and water hook-ups.
ISLAND LODGE- STOCKHOLM ARCHIPELAGO SWEDEN
Island Lodge, overlooking the beautiful Stockholm Archipelago, is fast gaining recognition among corporate & leisure groups as a gem among eco-hospitality
escapes. Recently opened, this eco-resort is secluded amidst primeval forest & beaches, surrounded by a spectacular, vast fan-shaped maritime world of more than 24,000 sparsely inhabited islands, islets and skerries. Only 40 minutes from Stockholm City Centre's boat transfer, Island Lodge is just 10 minutes from Vaxhom Center, a coastal hub for passenger ships sailing the Archipelago corridor.
Island Lodge offers groups an all-inclusive outdoor eco-hospitality Geodome tent accommodation ensuring a light sustainable footprint and memories that will last a lifetime. Nestled in a forest of birch and fir trees, 7 geo-engineered tents are strategically and gracefully placed on the island, offering expansive 360° views.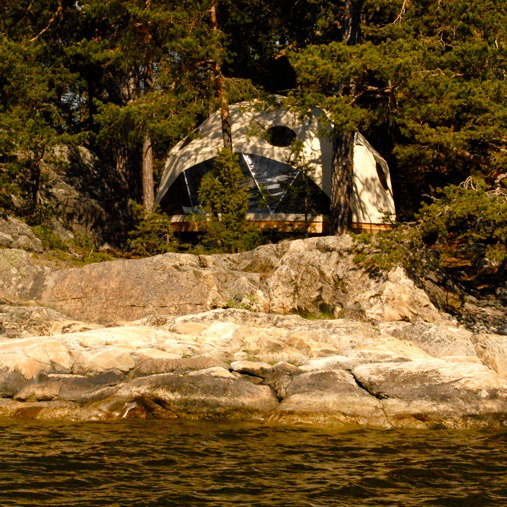 Sail to Island Lodge in a top class 35foot trimaran, accommodating up to 10 passengers. Island Lodge's experienced skipper will be waiting at the dock with all necessary gear to escort you to an unforgettable island escapade.
It gets even better when you land on terra ferma and set your eyes for the first time on one of Island Lodge's 7 Geodomes scattered harmoniously amongst the surrounding natural environment… a stay at Island Lodge's exotic Zen-like tent accommodations will prove to be a cherished chapter in itself!
The lodge hosts seven functional Geodome tents, equipped with a cozy wood fired stove, kerosene lamps and candles that create a romantic glow and light up your tent after sunset. The spacious twin bed tents are furnished with high comfort beds, the finest luxury Mille Notti linen bedding and rugs. Outdoor showers are invigorating and blissful with pinecones strewn at your feet.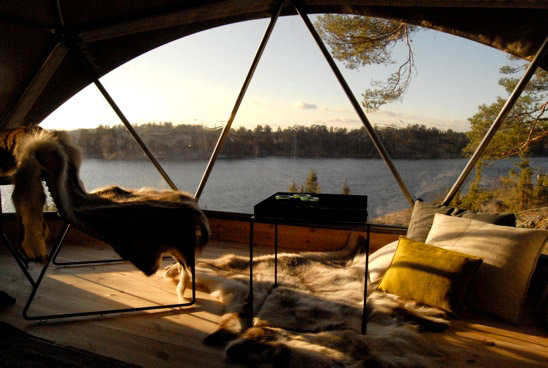 Special geo-engineered twin bed tents combine modern Scandinavian interior design with an outdoor nature experience. Geodome tent covers, made from flame-retardant tent fabrics, are customized with a removable bay window, 6 round removable windows/ optional mosquito nets, roll-up door/optional mosquito net that afford breathtaking sea views which seem to go on forever.
Ending the day with an invigorating walk in the forest or a delightful culinary feast, you will enjoy relaxing in the tranquility of your tent and look forward to waking up after a refreshing night's sleep.
Visit: Island Lodge
Pacific Domes Inc. USA is a Leading Global Builder of Geodesic-engineered Pre-fab Building Systems serving the Eco-Hospitality Industry, Eco-Resorts & Eco-Villages.