---
"A dream you dream alone is only a dream. A dream you dream together is reality." — Yoko Ono
Each year, on April 22, people across the globe join together to raise awareness about environmental stewardship, biodiversity and climate change issues facing our planet. This global event is known as Earth day. Earth Day was first celebrated in the United States on April 22, 1970. Today the movement has expanded to 193 countries with an estimated more than one-billion people taking part in Earth Day activities.
The theme for Earth Day 2023 is "Invest in our Planet". On Earth Day, April 22, Sadhguru draws on the wisdom of the yogic sciences to remind us to connect to the Earth – this can lead to greater health & wellbeing and help us hasten our personal growth.
This Earth Day Join the "Save Soil" Movement

The Save Soil global movement is initiated by Sadhguru – a yogi, mystic and visionary."
Why Save Soil?
A journey to help save the soil on Mother Gaia, Sadhguru launched Save Soil to address the immediate soil crisis. Save Soil unites people from around the world to stand up for Soil Health – supporting leaders of all nations to institute national policies and actions toward increasing the organic content in cultivable land and soil.
Whole Earth Festival
The Whole Earth Festival is an annual event that takes place on Mother's Day Weekend on the University of California Davis Quad. Approximate attendance at the festival is upwards of 30,000 people for this three-day event (Friday, Sat. and Sunday).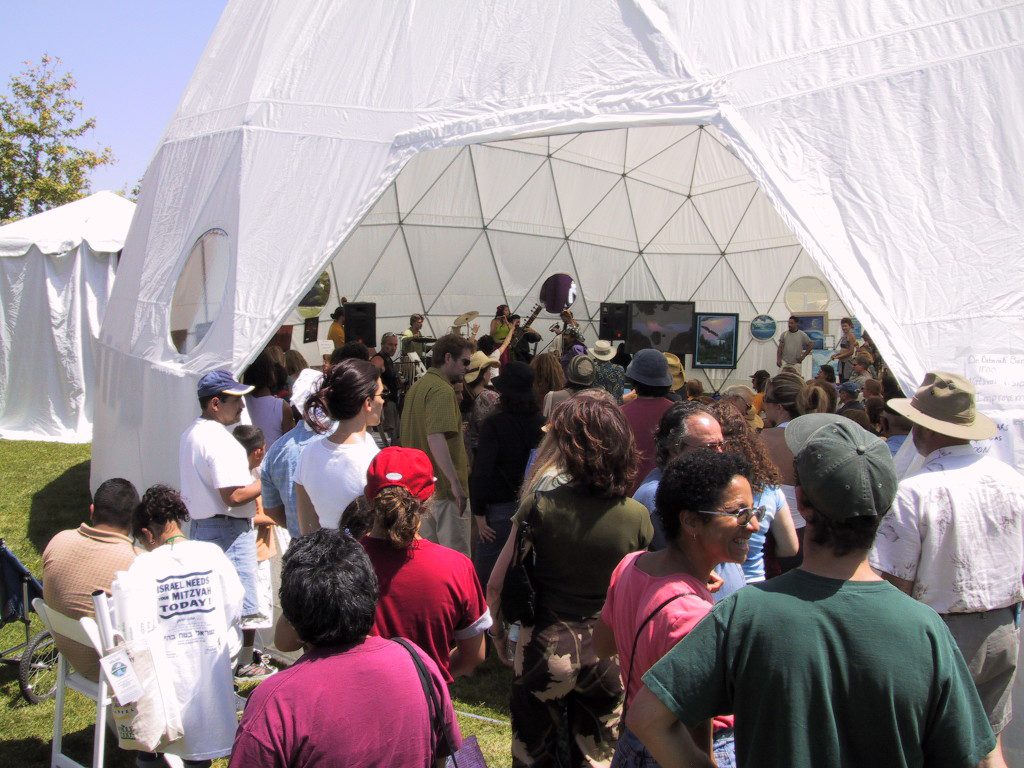 The Whole Earth Festival brings together music, vegetarian food, healing technology and holistic education for an immersive and interactive festival experience. The event is planned and coordinated by volunteer staff – primarily, UC Davis students with support from the Davis community.
Experiential Space
The Whole Earth Festival experiential space is designed with the festival attendee in mind. Each year's showcase is completely unique, ranging from interactive speakers, music, art, and more. Each year, an Experiential Space Coordinator personally designs this interactive experience – inviting festival goers to come and participate in what this experience has to offer.
Celebrate Earth Day weekend with Yoga in the Dome
The powerful message of Earth Day Yoga is an invitation to take an inner journey and imagine a world that you would want to live in and leave behind for future generations to inherit. Join us this Earth Day in reimagining a peaceful world that we would all love to live in.
As Pacific Domes celebrates 40+ years in business, it looks back over how domes have helped shape the growth of yoga communities around the world. The founder of Pacific Domes, Asha Deliverance, taught yoga as her first career − she believes that Yoga has finally found its perfect home. To celebrate how domes have impacted the world of yoga, we put together a list of Earth Day weekend retreats that you might enjoy – hosted of course, by a few of Pacific Domes clients.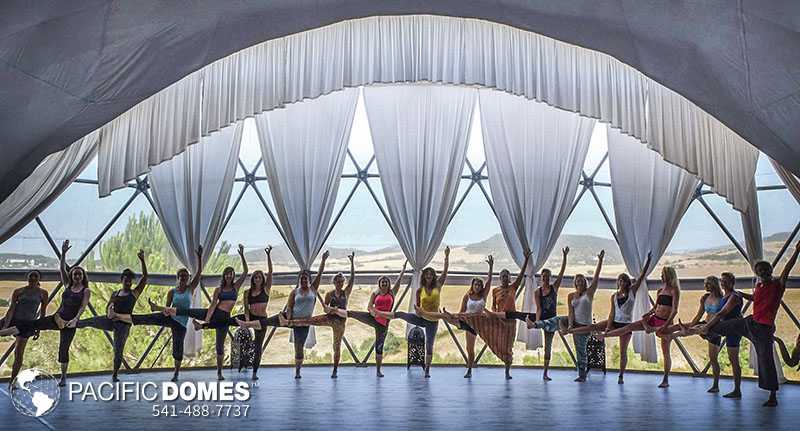 ChoZen Dome Village ‒ Florida
Among the services and activities to be found at a ChoZen Dome Village stay are Yoga and meditation, sound healing, massage, watsu water therapy − as well as, other healing modalities. Four custom-designed, climatized and beautifully furnished geodesic domes based on Buckminster Fuller's design principles and sacred geometry allow guests to fully embrace their lush, tropical surroundings. Each dome has its own unique spirit and sleeping configuration.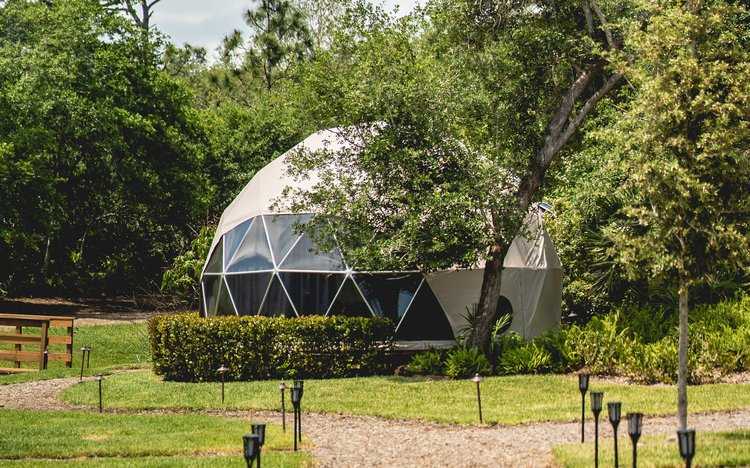 ---
The Legend of Greater Things
The Legend of Greater Things Dome is located near Hot Springs, Akansas. It is surrounded by a beautiful forest and rests on a crystal quartz grid.
The Yoga Dome hosts weekly yoga classes, monthly workshops, seasonal retreats, farm-to-table dinners, weddings, and other sacred events to help you understand the legend of greater things through learning powerful transformational tools – that is transformation through truth, art, and science.
The Legend of Greater Things Yoga Dome is an invitation to join them on a lifelong journey into the art of living intuitively. Deeply rooted in the ancient sciences, their retreats provide tools to help you communicate your best life – to help you uncover power packed bundles of truth that can guide you through the darkest of times and brighten the most light-filled days.
---
The Chi Center ‒ New Mexico
"Consciously unlock the blockages and open the flow of energy throughout the physical and emotional body." ― Master Mingtong Gu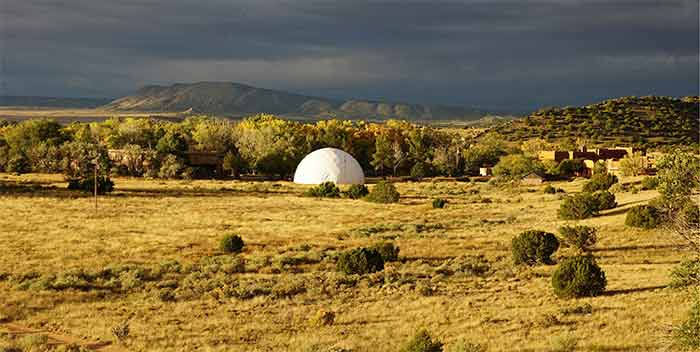 Based on his success, working in healing people's many physical and emotional life challenges, Master Mingtong Gu founded the Chi Center to benefit individuals of all ages. Sound healing is one of the fastest ways to see results and is a core principle − practice of Wisdom Healing Qigong.
---
Geode Yoga Fitness ‒ Chillicothe, Ohio
Geode is a contemporary hot yoga studio offering professional instruction to those seeking to rebalance mind and body. Their beautiful yoga dome is tucked in the wooded area of Sugar Loaf Mountain, Ohio, surrounded by the breathtaking areas of Great Seal State Park where they host classes in their spacious, sunlit, and open-aired dome.
Experience the Dome for Yourself
The Geode Dome was designed to shift individual consciousness into a deeper connection and sense of purpose for longevity and a stress-free journey through life. One experiences this shift through decreased mind chatter, anxiety, depression – opening up one's energy centers for change and transmutation.
---
Heaven on Earth Retreat ‒ Arizona
Sited majestically atop giant bolders, Heaven on Earth Retreat Yoga Dome brings people together in a healing and learning space. The dome is comfortable year-round: it's insulated and ventilated from the scorching Arizona sun and heated to withstand cool desert nights.
---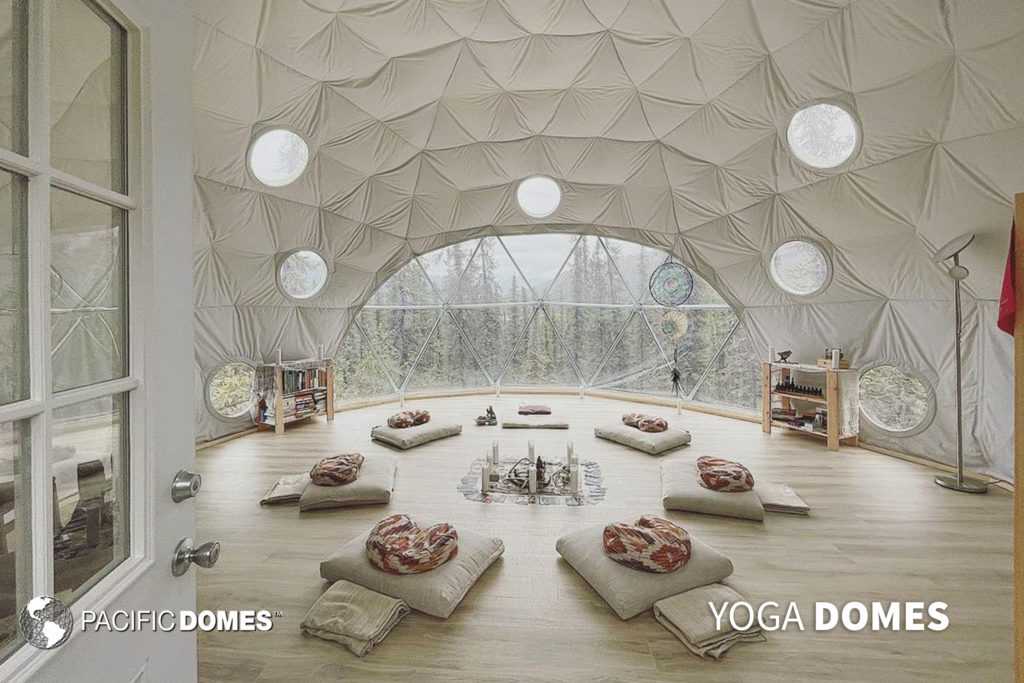 We hope this Earth Day Events post has inspired you to dream a brighter future. When exploring opportunities to create your own retreat we invite you to visit Pacific Domes to learn more about yoga and other holistic modalities –such as festivals and Hot Yoga.
---