The Unifying Power of the Dome
Our Geodesic Festival Domes are a model of unity and provide the ideal space for people and ideas to come together and actualize their full potential. Embodying the genius of nature's design, the dome is an iconic nexus of interactivity which will serve as a focal point for any festival.
---
Arts & Music Festival Domes
Pacific Domes is the industry leader for event domes and has provided beautiful structures for top festivals all over the world such as Burning Man, Coachella, Outside Lands, Sapporo Jazz Festival, Winter Warp Drive, Boom, and more!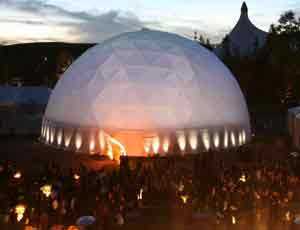 ---
Geodesic Festival Domes of Burning Man
Domes at Burning Man are a hit! They're portable, easy to install and are strong enough to handle the sandstorms and heat of the desert. If you're looking for a suitable dwelling space, maximum shade from the sun and a vibrant way to showcase your artistic side at Burning Man, then a dome is perfect for you!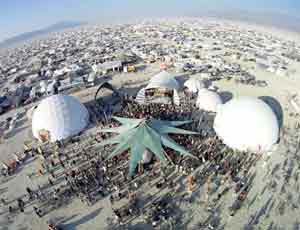 ---
Amphitheater at Shambala Music Festival
Pacific Domes recently provided an amphitheater and custom cover for this year's Shamabala Music Festival in Vancouver, BC. Shambhala aims to bring the best in up & coming electronic music talent from around the globe. Above all, Shambhala is a celebration of music, art and life.