---
The Ultimate Snow Glamping Adventure awaits you!
---
Welcome to the coolest alpine ski resorts ever! Snow glamping geo-domes lead the way in green travel lodging, while offering the best in individual and family ski adventure packages. Demonstrating that hospitality and environmental stewardship walk hand-in-hand, you'll find uncompromising under-canvas resort-style luxury in these award-winning eco pods and igloos that can accommodate individuals, couples or groups to create an extraordinary snow glamping experience.
Snow Glamping Lodging – Staying warm and cozy in Igloo-style geo-dome eco pods.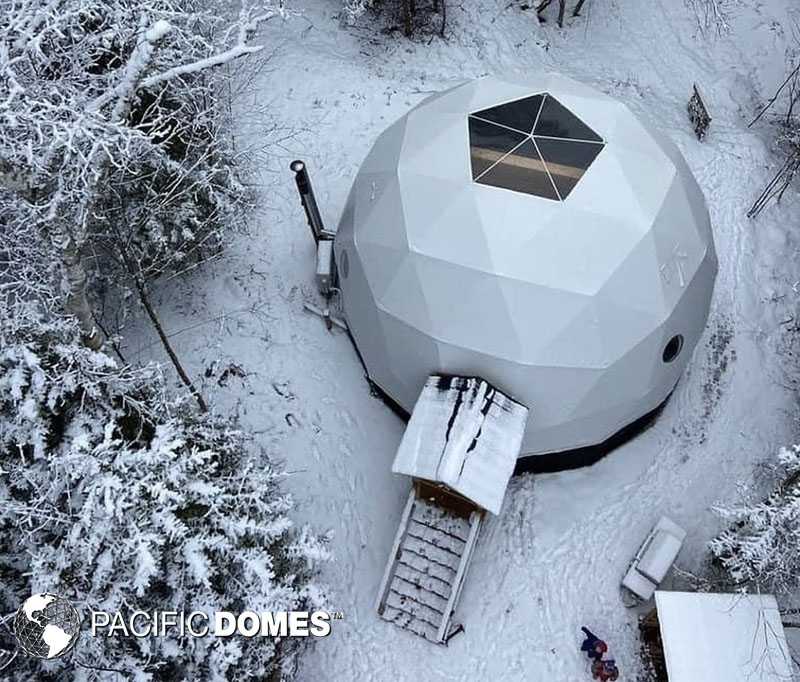 5 Coolest Snow Glamping Resorts at Home and Abroad
1. Arctic Hive – Alaska
Welcome to Arctic Hive a wilderness retreat center, 63-miles north of the Arctic Circle. It sits between two major protected wilderness areas of Alaska's Brooks Range – gates to the Arctic National Park and Arctic National Wildlife Refuge. The entire experience at Arctic Hive is geared at helping you disconnect from life out there, ground you in the natural environment, and help you learn and understand more about these precious ecosystems that are so far away, and yet incredibly important to the survival of the human species.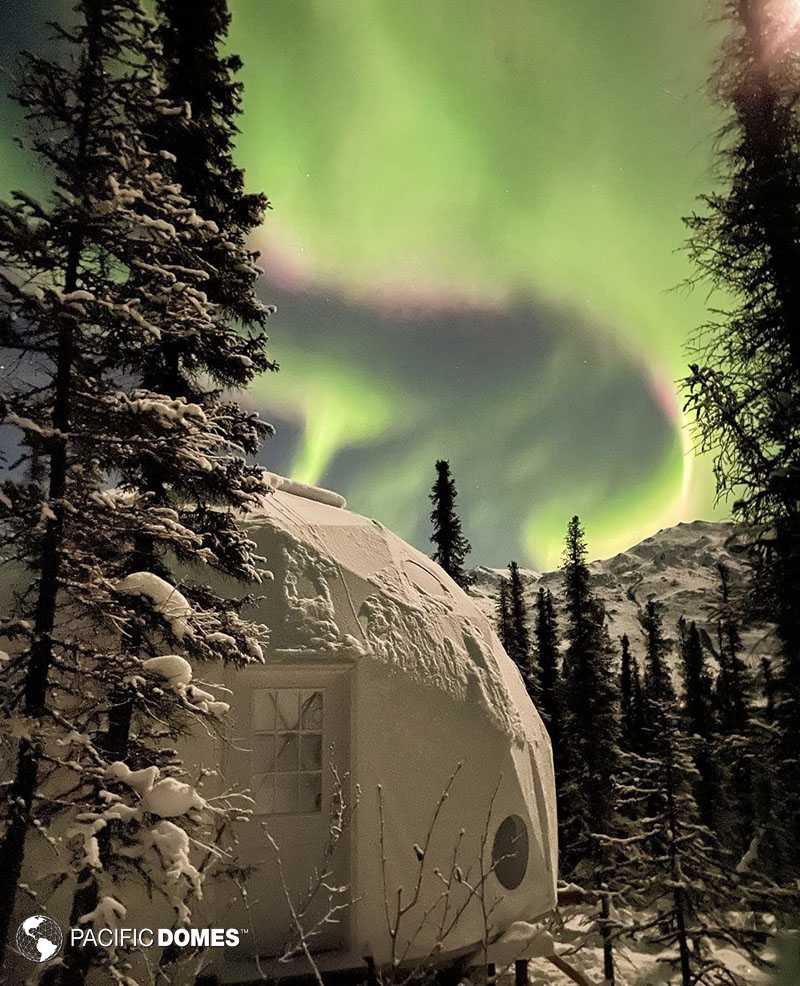 Arctic Hive is a remote off-grid backcountry retreat center with three cozy cabins and a fiberglass igloo common area. The experience embraces remote arctic Alaskan living, offering retreats for those looking to explore the arctic ecosystem through skiing, rafting, hiking, dogsledding – art, yoga and meditation. The entire property can be rented on a daily, nightly or weekly basis and is open year-round. The facility can sleep a maximum of 9-people, depending on your needs.
2. First Tracks Wanaka Geo Dome Heli Camp – New Zealand
Experience New Zealand's mountains like you never have before! Sitting snug against the mountainside of the McKerrow Range, near Wanaka, you'll find New Zealand's newest alpine experience. First Tracks Wanaka's Geo Dome Heli Camp was established as a basecamp for guided ski touring activities during its winter season, with climbing and trekking activities over the summer months. The basecamp offers spectacular views with a variety of sublime ski-touring terrains – and, endless trekking opportunities at its doorstep in the summer.
First Tracks owner, Cotter explains, 'We're really excited to be operating our First Tracks Wanaka adventures from our geodesic dome situated at 1,600 metres in the McKerrow Range between Lakes Wanaka and Hawea.' Pending Covid-related travel restrictions, First Tracks Wanaka adventures is motivated to start offering lodging packages and expeditions again in 2022.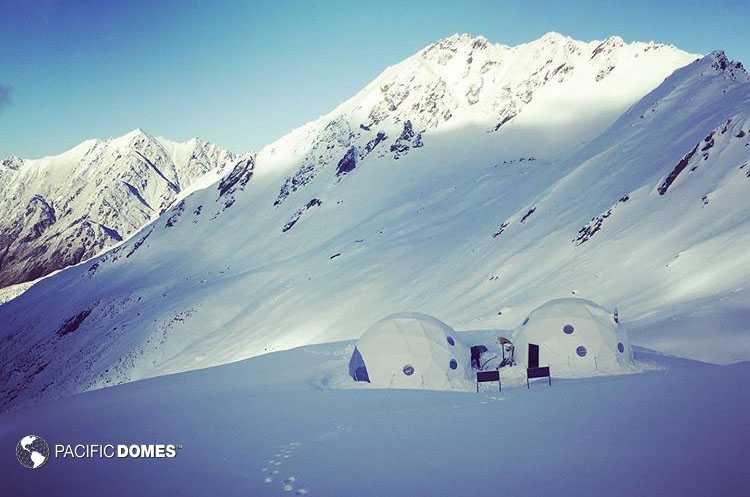 The Geo Dome consists of a steel-framed dome that is covered in a durable PVC with an insulated liner to retain warmth and a wooden floor. The dome is heated by a small wood fire, and creature comforts abound, with dining tables, bunk beds and bean bags, allowing guests to relax in comfort at the end of a long day in the mountains.
3. Bel Air Tremblant Domes and Pods – Canada<
A legendary ski resort, all roads lead to Mont Tremblant. By air, getting to Bel Air Mont Tremblant from anywhere in the world is easy through Montreal's Trudeau International Airport! Skiers can, also, take direct flights from Toronto, Quebec, Canada. By car, you just follow Hwy-15 all the way – Mont Tremblant is only, a 90-minute drive, 120 kilometers (75-miles) from Montreal.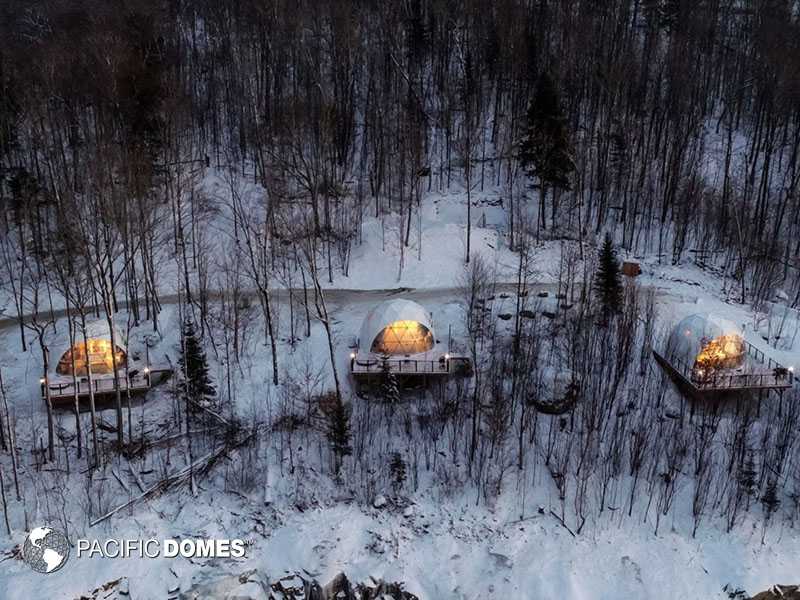 Bel Air's Mont Tremblant offers a selection of domes and pods. With all the comforts of a hotel, it's an unforgettable nature experience. These innovative lodging units create an intimate and cozy romantic getaway – great for individual or private group experiences.
4. Klarhet – Minnesota, USA
Located on Ski Hill Road, Klarhet is an enchanting dome lodging-stay overlooking Lake Superior near the beautiful, vibrant Norwegian-culture town of Tofte, Minnesota. It lies just south of Lutsen ski hill and summer resort where you can walk to the Superior Hiking Trail, North Shore Winery, various bike trails, and more.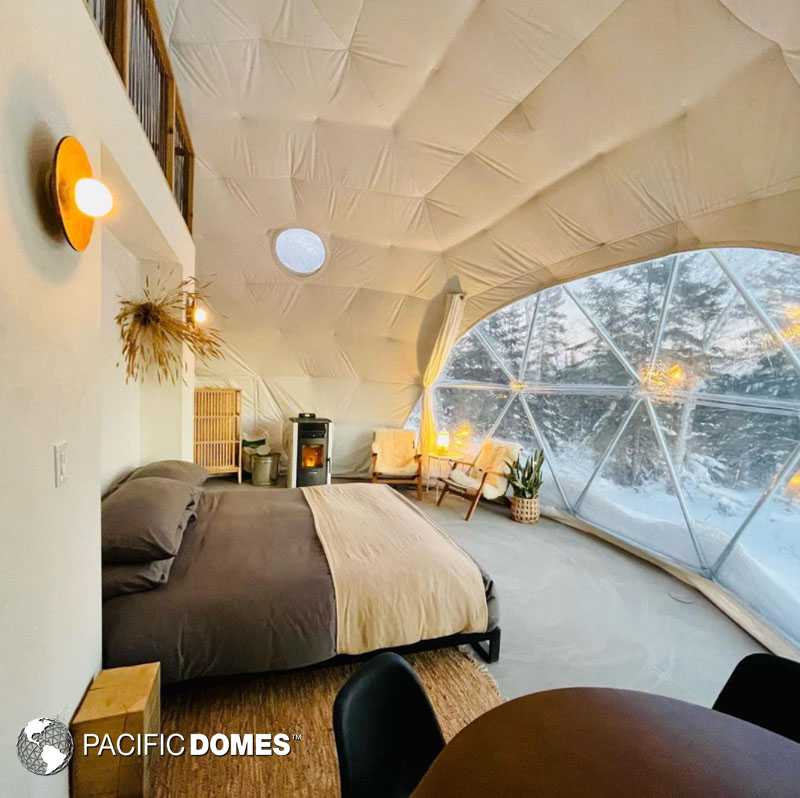 Hosts, Kirk and Nicole say that it was through their own powerful, inspired experience living in a dome that the name "Klarhet" was conceived. "Klarhet, both Swedish and Norwegian for clarity, is that beautiful feeling that encompasses ease, clear thinking, and the knowing within of the wellbeing that resides within us all. Clarity remains at the root of all we create. It's the wild wonder that washes over you as you stare up at the mesmerizing Milky Way while snuggled in close by the fire from the comfort of your dome – or, the self-love that bubbles up as you move through a gentle yoga practice while the sun peeks over the horizon in its full glory."
5. Weber Arctic – Canada
The Canadian Arctic offers great skiing opportunities and Weber Arctic has been offering such experiences since 1993! Basecamp Baffin: Helicopter assisted ski touring is a once-in-a-lifetime experience for many avid skiers!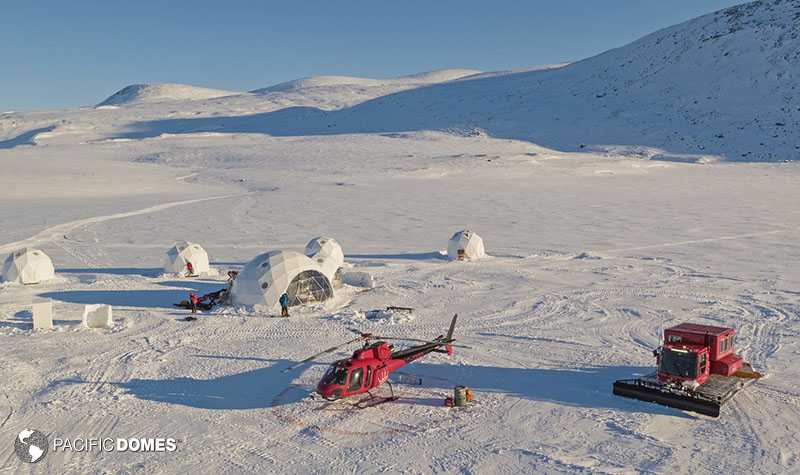 Nestled in the fiords of Baffin Island, on the eastern coastline of Baffin Bay, Basecamp Baffin is located at 70° degrees north. A comfortable basecamp that provides access to ski "from the doorstep" into the mountains of Baffin Island, they're open to private groups with a maximum of 12 guests. Moving forward into 2022, Weber Arctic has found it necessary to conduct business operations according to Covid-related restrictions imposed by regulatory agencies.
---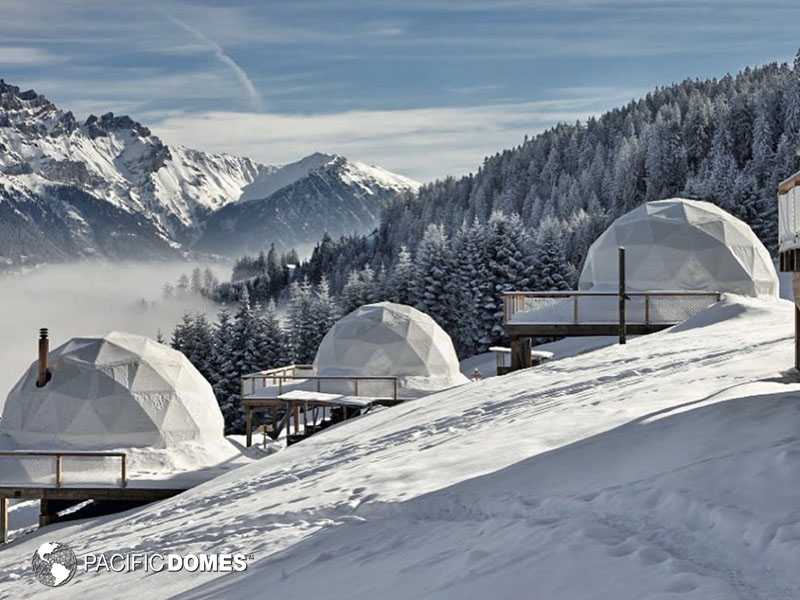 "Leading the way in under canvas eco-tourism glamping" ― Pacific Domes, Inc.
About Geo-Dome Eco Pods
One of the most thrilling nature experiences you'll ever have is to spend time at a ski resort basecamp amidst breath-taking views of the surrounding country-side. To add to this enriching life experience geo-dome eco pods have become quite-the-thing at ski resorts and remote ski destinations.
Ecotourism inspired, a snow glamping resort's ecological mission is geared towards responsible use and protection of the environment through:
Conservation of energy, water and transportation.
Bio-degradable products and waste recycling
Locally employed staffing
Fresh local cuisine and amenities and, much more
Due to their portability, geo-dome eco pods go just about anywhere on the planet ‒ all this, while exerting a light eco-footprint! Domes enclose more space and require less building materials by using the 'doing more with less' principle. The spherical design of a geodesic eco pod derives its structural strength from inter-connected triangles that create a free-standing framework.
The energy required to heat and cool a dome is approximately 30% less than that of a conventional building. There are no corners to obstruct the ambient airflow within the dome's interior ‒ thus, less energy is needed to circulate air and maintain optimal temperatures. ― credit to Buckminster Fuller, father of the modern geodesic dome.