VR Projection Theaters by Pacific Domes Inc.
"We Bring Years of Industry Expertise in Creating Spectacular Immersive Environments for Event Entertainment, Education & Experiential Marketing" — Pacific Domes Inc.
Are you prepared for the future of VR Projection? Are you prepared to tell your story or host your event using the latest technological advancements in the entertainment industry? If your goal is to enhance and elevate your audience's experience, a portable VR dome projection theater needs to be at your next event.
An award-winning leader in VR Projection, you'll find Pacific Domes at such mega events as the Coachella Music Festival and Burning Man, to name just a few. VR Projection and VR Projection Dome Theaters are made for each other — but don't take our word for it. Do your own research to learn more about harnessing the power of VR Projection Domes for your next spectacular event.
Domes have an excellent capacity for projection and lighting innovation, and the spherical design naturally amplifies sound. There's no interference from center beams in the staging arena, and the overhanging truss system becomes the perfect housing for 360⁰ lighting and sound to capture the audience experience.
The spherical design of a Virtual Reality Dome encapsulates the largest volume of interior space with the least amount of surface area and is suited to all types of terrains. When the dome's diameter is doubled it will quadruple its square footage and yield eight times its volume, thus saving on materials and cost.
While ensuring a light eco-footprint, the fetching combination of Pacific Domes geo-engineered 360° VR projection domes and cutting-edge technology transports your viewing audience into a magical IMAX-size experience.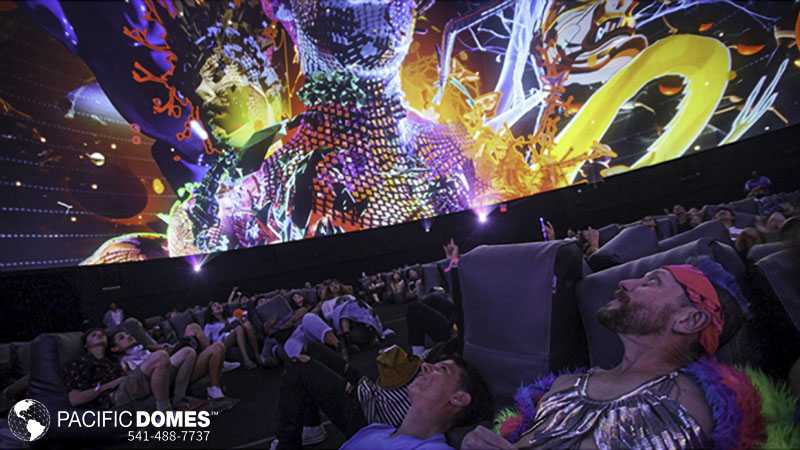 "Where imagination stops, ours begins." — Obscura Digital

Tell your story and thrill your audience with personalized visual adventures that inspire, educate and expand awareness. Harness the power of 360° VR projection to foster organic emotional connections in a VR dome projection theater by Pacific Domes.
The Magic of VR Projection Mapping Domes
VR Projection Domes employ high-powered projectors to full advantage in delivering spectacular scalability. Research shows that domes provide the perfect surface for projection mapping and acoustics.
In concert with team partners, Obscura Digital and Vortex Immersion Media, Pacific Domes believes in bringing you the best in HIVE (Highly Immersive Virtual Environments). The Pacific Domes Design and Project Management Team are experts in their field, and work closely with your renderings to create a multimedia work of art that will have a lasting impact.
Here's just a few examples of how VR projection domes are transforming the digital landscape by means of the rapidly growing media of projection mapping:
Events • Advertising & Image Branding • Live Concerts • Festivals • Gaming
Corporate Events • Trade Shows • Theatrical Productions • Fashion Shows.
To name a few of the custom range of interactive experiences & technologies:
3-D camera driven displays
Live streaming displays
Gesture interactive multi-touch displays
Tablets & Smart phone driven interactive devices
Immersive experiences with technology and media include:
Full-dome Immersive programming
3-D projection mapping
Digital Theming
3-D Holographic Displays
Projection Spheres & Immersive LED Video display technologies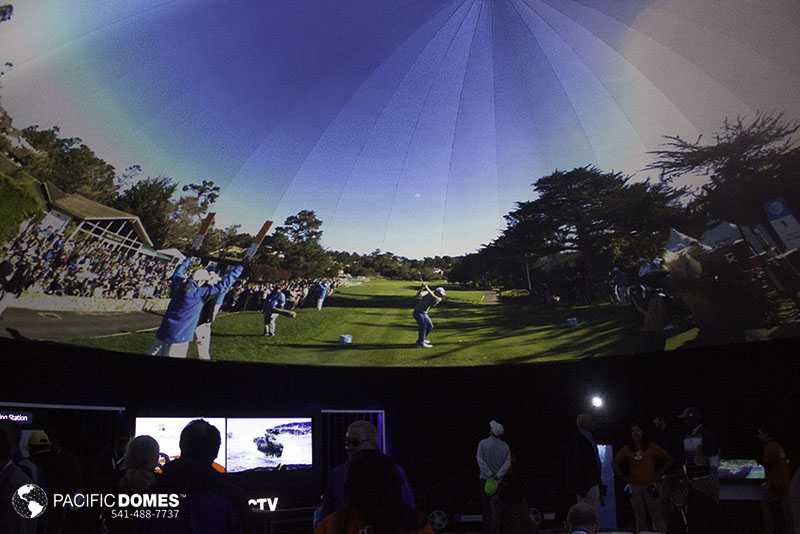 Based in Ashland, Oregon, USA, the original geodesic dome manufacturer offers rapidly deployable Projection Domes, Planetarium Domes and Amphitheater Domes that are a gorgeous work of geodesic engineering. Team partners, Obscura Digital and Vortex Immersion, are recognized leaders in High-tech entertainment, bringing themes & projections to life to wow audiences of all ages. Together, they create multi-sensory immersive environments for interactive learning and entertainment experiences.
Pacific Domes has been blazing the trail since 1980 with over 35 years of industry expertise. When your event depends on a timely delivery, you can sleep easy knowing that quality engineered portable geodesic domes made in the USA by Pacific Domes have an outstanding track record.
Browsing Pacific Domes' gallery of VR Projection Dome Theaters is one of the best ways to spark ideas for your next event.