"A lot of my friends are living in little boxes in the city and they are unhappy. With the COVID-19 it's even worse, they can't go outside, they have no connection to the outdoors, and they are paying rent to live this way every day. A dome is an affordable way to build a home and live close to the Earth. You can have internet, you can have all the creature comforts, but it's not the same commitment and life long process as a giant house. A giant house is what our generation is expected to have, so domes are a good option." – Tino Specht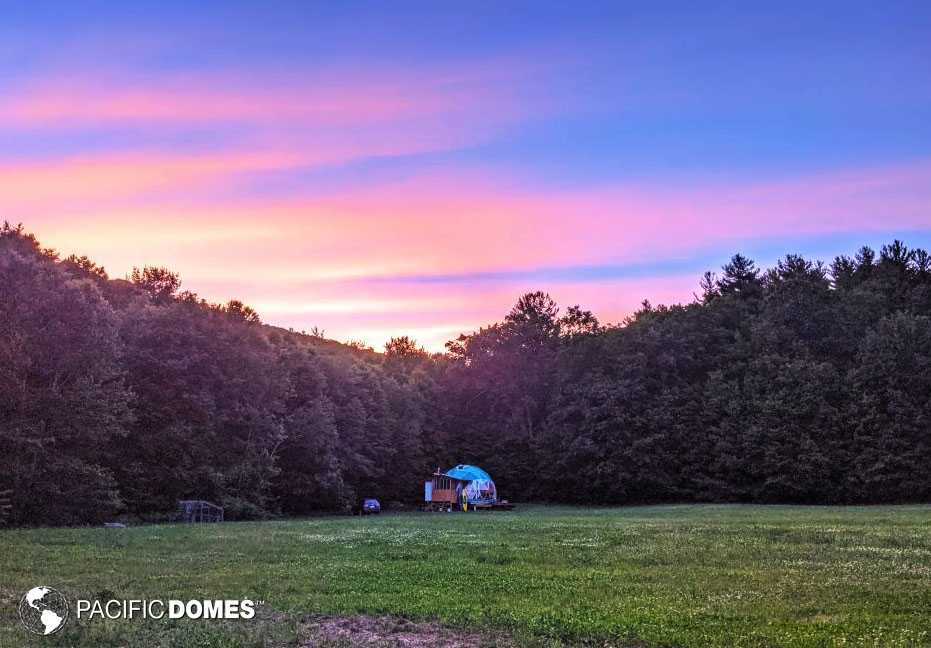 In this interview with Tino Specht, Pacific Domes gets a look into how one adventurous man leaves behind the world of living in traditional housing to living off the land in a dome.
Pacific Domes (PD): Can you tell us a little bit about yourself?
Tino: I work in media productions and marketing and I also run International multi-sport trips. That's my connection to the international world. Right now I work in marketing for Nomad Media and a couple other companies in the area of New England, which is its own little word. I live here in New England seasonally as well as Chile.
PD: How did you first hear about domes?
Tino: I heard about domes years ago from Yerko, one of the founders of Eco-camp (a large eco-dome retreat in Chile). I also saw domes near Santiago in a place called Cascadia de la Animas- Waterfall of the Spirit where they were using domes as an Eco-Hotel as well. A friend of mine in Chile built a dome to live and we also decided to put in 3 domes as hotel rooms on a project I was working on. By then I was totally sold on domes. We built a bunch of dome camps in Chile and when I moved back home to New England; I was like, oh man I don't want to build a whole house again, because I had just built one in Chile. I just really appreciated that with building domes, it's not a million pieces that come together, and it's a simple and elegant design. Now that I have my dome, I'm not constantly up keeping my house, like all my friends who own houses around here that have to worry about every little piece.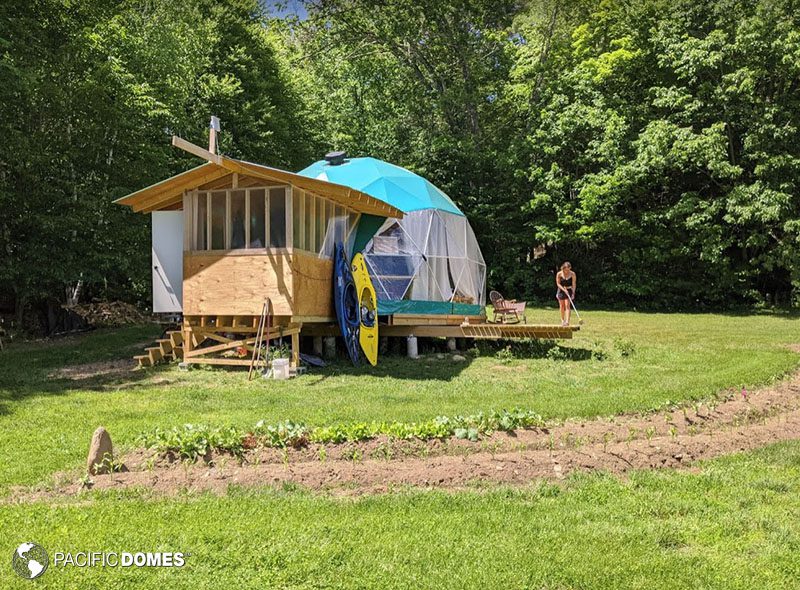 PD: When did you get your own dome?
Tino: I lived in domes a bunch in South America, when I came back to the States-my parents have an organic farm in the hills, and I wasn't looking to live in a town, so I proposed to them that I take a corner up in one of the fields and put a dome up. It took me a while to explain what a dome was and what it would be like, but they love it now. I live there alone, but my girlfriend spends time there with me and its nice to be there with a partner, the space is great for two people.
PD: What size is your dome?
Tino: It's a 24' (7M) dome.
PD: How do you heat and cool your dome?
Tino: We heat it with a soapstone woodstove and it's epic and toasty in the winter. We usually stoke the fire before we go to bed and there are usually still embers in the morning. I don't have any other heat source, but we have the big bay window, so we get hit with passive solar first thing in the morning and it last till about 4 o' clock in the afternoon. We have an exhaust fan, but this is my first summer in the dome, and it's been pretty cool so far. We have been talking about putting in an air conditioning unit. We have been looking at planting fruit trees that will provide shade in summer and when the leaves fall-light in the winter. But it's likely that we may make a geothermal cooler with forced air. So we would put a bunch of piping underground that you push air through and it will cool the dome. We built a bunch of outside hang- out areas; there are two porches, a big fire pit hang out, hammock and tables outside. So from 8 o'clock in the morning until 4 or 5 in the afternoon we are outside. I usually don't even go home until 8 o'clock. I have not really experienced it overheating too much, and we do have an insulative liner.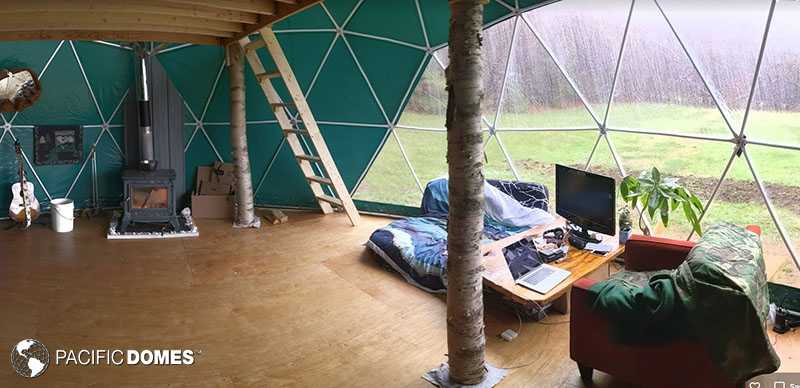 PD: Can you tell me about your kitchen and bathroom?
Tino: We are using a composting toilet that we built for the farm years ago because we had lots of workers. What we are planning on doing is putting in a full sauna and bathroom with a new composting toilet. Basically exactly like the Eco-camp in Patagonia with a sauna connected to it. We have a creek a couple hundred meters behind the dome, we have an outdoor shower, and we would like to keep it that way, but we will close it in by winter. The big thing is that I probably won't be here for the coldest 3 months of the winter. So I don't worry about it too much. We will have our bathroom and shower all connected with the sauna, and it will be outside of the dome, but a 20 second walk away.
PD: What is your favorite thing about your dome?
Tino: I like how uncomplicated things are. There is an Yvonne Chouinard (Patagonia founder) quote, "The hardest thing in the world is to simplify your life. It's so easy to make it complex. What's important is leading an examined life." Dome life is like the essence of that, of living an uncomplicated life style. It's one room, there is a loft. It is really elegant in my opinion.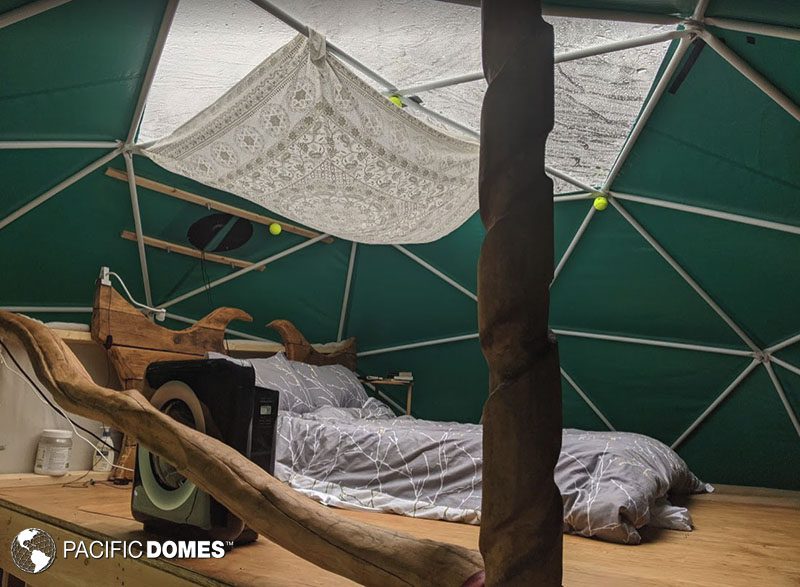 PD: Did you have to get a building permit?
Tino: It took me about 9 months just to get the inspectors out to my land and I had to get an engineer to draw up the plans for the foundation and platform. I had to have a long conversation with the permitters in my area. Everyone who's seen it has been pretty excited about it, that you can live outside of the box.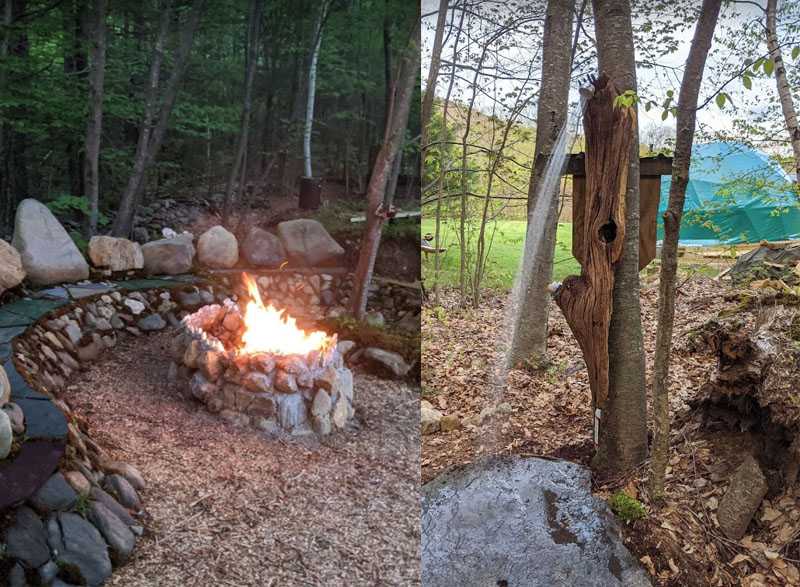 PD: Your dome sounds really cool; do all your friends come over to hang out?
Tino: We started to, but with the COVID-19 thing its' been a little weird, we wanted to have an inauguration party and things like that, and do these celebrations, but no one is comfortable hanging out still. That's fine, it is what it is.
PD: Is there anything else you would like to say about your dome?
Tino: I have gotten to look through the dome offerings that you guys have, and they are really well thought out. I would recommend that if you are thinking about living close to the Earth, for me the dome is the way to go. It will matter to get your systems for heating and cooling down. You are going to want to go with a reputable company that has thought about that, like yours. So to anyone thinking of living in a dome, I would say go for it, and probably do it with Pacific Domes. I would love to see more dome pop-up because of the life style.