Immersive VR Event Domes as Platforms for Communication by Pacific Domes
Pacific Domes featured in TEDx "Brother, can you spare a paradigm?"
— ED LANTZ, VORTEX IMMERSION MEDIA
Two futuristic companies, Vortex Immersion Media and Pacific Domes partnered in a collaborative project to erect a permanent 44ft. Immersive Virtual Reality Dome in Las Angeles, California that has continued to host spectacular 360° events since 2013. A vision of domes received during his teenage years, has shaped Ed Lantz's life path and fueled his passion for VR Domes as communication platforms in many arenas.
Ed Lantz, President/CTO of Vortex Immersion Media and visionary student of consciousness, shared his inspiring story on TEDx…"Brother, can you spare a paradigm?" His vision of domes was one of immersive spaces where performers were projecting their consciousness onto the dome and transporting the audience into deep inner realms… exploring the quantum 'inner space movie'.
Pacific Domes was founded in 1980 by Asha Deliverance, whose life goal has been to create a sustainable future, promote the architectural integrity of the geodesic dome, and continue the legacy of Buckminster Fuller, father of the modern geodesic dome design… "You never change things by fighting the existing reality. To change something, build a new model that makes the existing model obsolete."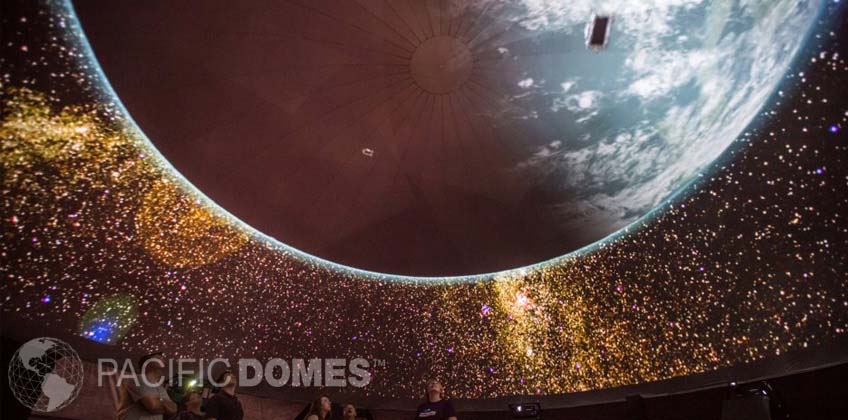 Pacific Domes of Oregon is the original manufacturer of tensile strength fabric covered geodesic dome shelters. Portable geodesic engineered dome structures are prefabricated in the USA and have a global outreach.
Geodesic engineered domes are an image of the future, an aesthetic solution for all kinds of versatile indoor and outdoor shelters. Pacific Domes in-house design and manufacturing team serves many educational and entertainment platforms.
Pacific Domes patented negative air pressure projection lining system is the perfect viewing platform for 360° surround projection. The team at Pacific Domes is committed to bringing everyone the best virtual reality seat in the house.
Vortex Immersion Media creates large-scale 360-degree immersive media experiences for the masses. The company develops immersive 360 theaters, mobile projection domes and live, interactive programming including branded immersive media experiences for numerous Fortune 500 and other companies including EMC2, IBM, Microsoft, Nickelodeon, NBC Universal, Nestle, NFL, Nike, Nokia, Sprint and Turner Broadcast. Their Vortex Dome venue in downtown LA has co-produced and sold out numerous shows including 360 performances by artists Steve Roach, Ha!MAN, James Hood's CEREMONY, Kenji Williams' BELLA GAIA, Aaron Axelrod's MELTING RAINBOWS, Amrita Sen's BOLLYDOLL, and has attracted film studio clients including MTV, 60 Minutes, the ABC series CASTLE, music video client Broken Bells and more. Vortex maintains offices in downtown Los Angeles and Las Vegas, Nevada.
Pacific Domes Inc. USA is a Leading Global Builder of Geodesic engineered Pre-fab Building Systems serving the VR Industry.