"Sustainable Practices in E-commerce and E-democracy promote positive grassroots change." ― Pacific Domes, Inc.
Breaking News: The Epic Future of Vertical Farming
Have you heard the latest news that Jeff Bezos, founder and CEO of Amazon, has again surpassed Bill Gates to become the richest person in the world? But, have you also heard the breaking news about Jeff Bezos' latest venture Plenty, a Vertical Farm in Kent, WA, that's home to a huge Amazon facility?
According to the USDA, Plenty's Vertical Farm will grow 4.5 million pounds of greens annually, feeding well-nigh of a 183,600 Americans. Through SoftBank's pedigree of investors, Plenty recently raised $226 million, making it the largest agriculture-tech funding round in history.
Plenty's Vertical farm is the first of many that the company plans to build around the world as part of its strategy to remain competitive in an increasingly automated marketplace. It goes without saying that the more they can automate the process, the more they can keep costs down.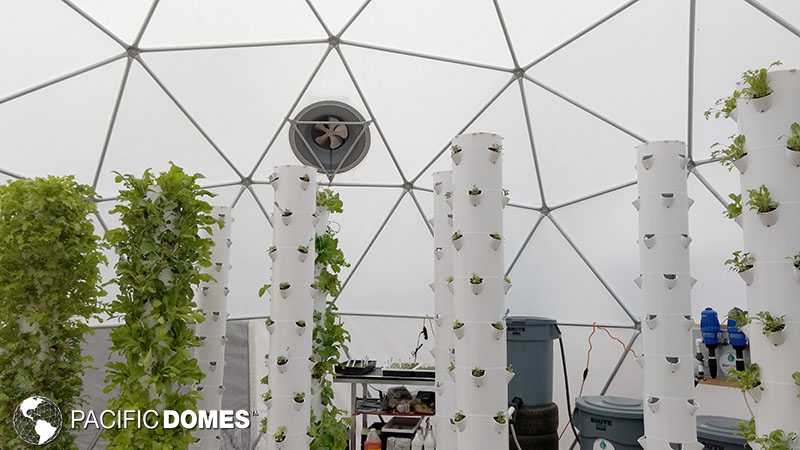 Hats Off to Vertical Farming… Locally Grown Freshness and Quality!
Large metropolitan areas typically import at least 80% of their food, and savvy consumers can taste the difference in freshness and quality. In lieu of big-box supermarkets that pawn-off chemically-enhanced GMO foods and tasteless produce, Farmer's Markets are making waves as go-to sources for urban dwellers to obtain locally produced, fresh tasting organic and non-GMO foods.
Vertical Farming is having a ripple-effect, and is being accepted more and more as a practical solution to resolve consumer demands for fresh, pesticide-free fruits and veggies. There are, however, some vertical farming methods that can be confusing to the newbie, so it pays to educate yourself and learn which growing methods provide the greatest source of nutrient-dense foods.
The good news is that you don't have to be Jeff Bezos to provide your family with fresh, nutritious, pesticide-free produce. Thanks to cutting-edge technologies and earth-based science, you, too, can experience the joy of farm-to-table right in your own backyard with automated self-monitored growing systems that use nutrients derived from the sea and other natural sources, such as aquaponics!
Sharon & Troy Edwards 16' Backyard Greenhouse Dome… an Aeroponic Growing Towers Farm (2:35 min.)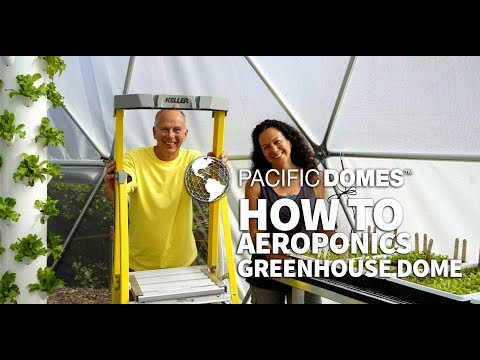 The Benefits of Vertical Farming in an Aquaponic Dome
First, what is an aquaponic dome? Aquaponics refers to farming fish and plants together in a soilless, water-based system.
The benefits are that aquaponic systems eliminate the need for soil and fertilizers. While the fish swim in special tanks, the plants thrive, nourished by the fish waste… in a beneficial ecosystem with the fish.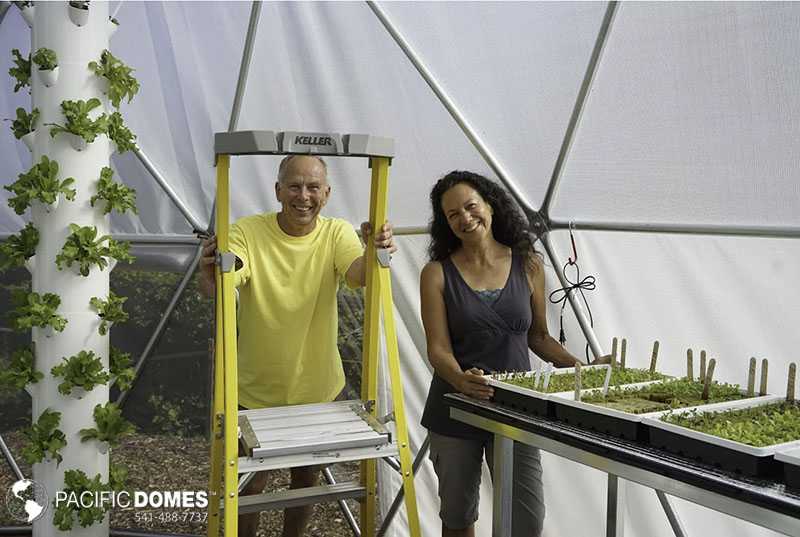 Pacific Domes U.S.A. is excited to provide information to purchase a complete Greenhouse Aquaponic systems, where you can grow enough food for your family and friends, and still share your abundance at a local Farmer's Market! Are you ready to learn more about the exciting opportunities that await you through vertical farming in an aquaponics dome?