Tecnodomes (Italian dealer of Pacific Domes International) installed a 36ft dome downtown Milan during the Christmas holiday
The Dome has been chosen by a major sports magazine as a temporary shop and has become a landmark shopping area for the people of Milan.
The unique cover is completely transparent with custom hoop tunnel doors. The inside of the dome was illuminated with all shades of pink, perfectly in tune with the press campaign of Sports Daily.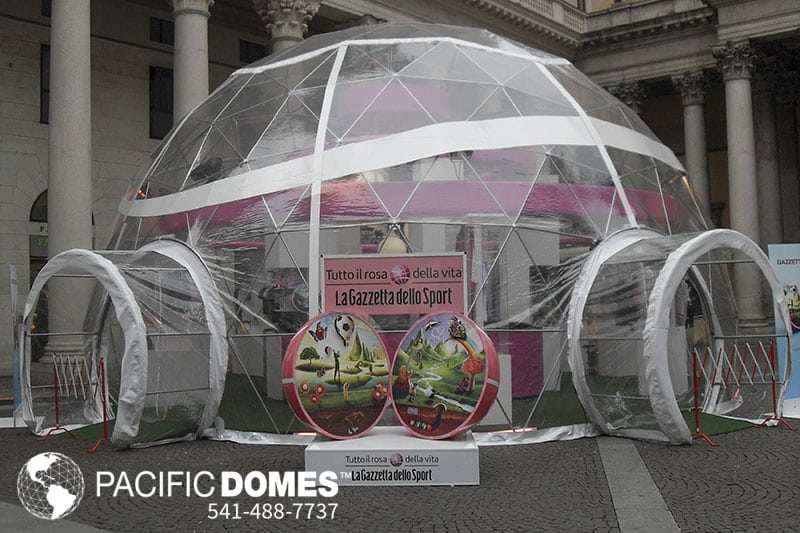 BEST IMMERSIVE HOLIDAY EVENT TENTS FOR SALE OR LEASE…
Geo-engineered Dome Structures for Experiential Marketing by Pacific Domes
"Our Immersive Dome Structures Bring Your Events to Life"
— Pacific Domes Inc.
Looking to make your marketing impact this Holiday Season by scoring in the experiential Events scene? With the countdown to Christmas just around the corner, there's no better venue to gather a crowd around, than in an immersive and interactive Geodome Event Tent, manufactured by Pacific Domes, USA.
Pacific Domes, a leading global manufacturer of experiential event marketing dome structures, was chosen by Sports Daily, to house their seasonal Santa Claus Workshop, amidst the historic medieval epicenter of the Republic of San Marino. Tecnodome, the Italian distributor for Pacific Domes International, brought the world of the miniature snow globe to life in the form of a 36ft. portable geodome, evoking childhood memories of gazing inside the tiny glass swirling snow globe.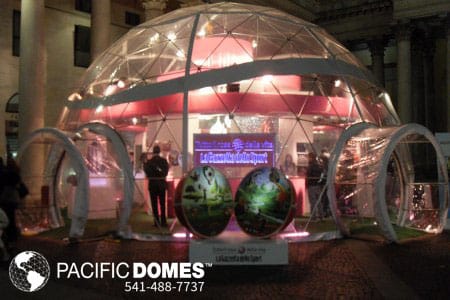 The translucent Geodome Winter Wonderland was illumined by many shades of pink dusted snow that perfectly synchronized with the sports magazines epic Christmas press campaign. Perhaps you might recall childhood musings at how amazing it would be to step inside the enchanted world of the tiny snow globe?
The Geodome's custom hoop tunnel doors opened to a Winter Wonderland that was furnished with magical Christmas decorations and exciting activities to entertain young audiences. Youngsters, accompanied by elves and fairies, had fun in Christmas 'playshops', decorating, playing games or listening to stories.
Inside the snow globe, there was a puppet theater corner, a dance and ice skating arena and simulated snow to slide downhill in an inflatable tube. This is one dome that is now a landmark and has brought the warmth of Christmas to Milan!