Sun City Camp
Domes can be found around the world, on almost all continents, in all types of climates, and with a variety of uses.  Their portability and versatility makes them great options for glamping and eco-resorts. Their unique look and feel adds to their allure. Their design is credited to Buckminster Fuller, the designer of many things geodesic.
We love domes and the many ways they provide affordable shelter across a broad spectrum of environments. In sharing the increased use of domes across the globe, we hope to spread more awareness and adoration, spurring even greater inspiration for infinite creative ideas of not only how to use domes but also where to use domes.
This blog post highlights an inspirational visionary who chose the Wadi Rum desert of Jordan to host an oasis of glamping domes and Bedouin tents. The Mars-like landscape quickly reveals itself as far more diverse than a barren land of sand and stone. The allure appeals to adventurers and glampers alike.
To be clear Pacific Domes did not manufacture these domes, although they look almost identical to our designs. We have chosen to share this blog post because of our love for domes and their growing popularity globally.
The Lost City of Petra, one of the newer 7 Wonders of the World, draws tourists from all over the world to this ancient site, made famous by the Indiana Jones movie. However, a visit to Petra would not be complete without booking a stay at the renowned Sun City Camp, an Eco-Resort situated in the heart of our planet's most awe-inspiring natural wonders, the majestic Wadi Rum Bedouin Valley of the Moon landscape and birthplace of countless legends.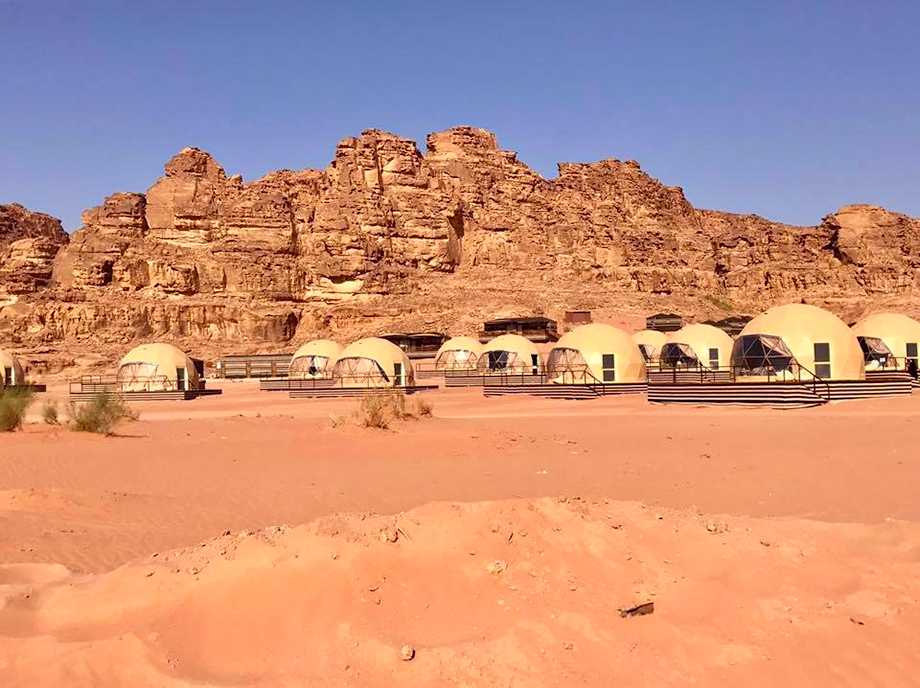 A Mirage, Moonscape or Mars
Nicknamed the Grand Canyon of the Middle East, the Wadi Rum desert has been put on the map as one of the world's most celebrated movie backdrops. First-time visitors to Sun City Camp feast their eyes on an incredible larger-than-life blending of regal Bedouin-style tents, nestled alongside a futuristic-looking Mars dome colony. Arriving guests are welcomed with fresh juice and refreshing scented face towels that initiate them to their amazing desert journey.
Long before Hollywood celebrities and tourists descended on this UNESCO World Heritage site, the red sands of the Wadi Rum desert have been home to nomadic Bedouins. Eco-hospitality is a vital source of income for those living in Jordan's Wadi Rum desert, and sustainable practices are an integral part of the simple Bedouin lifestyle.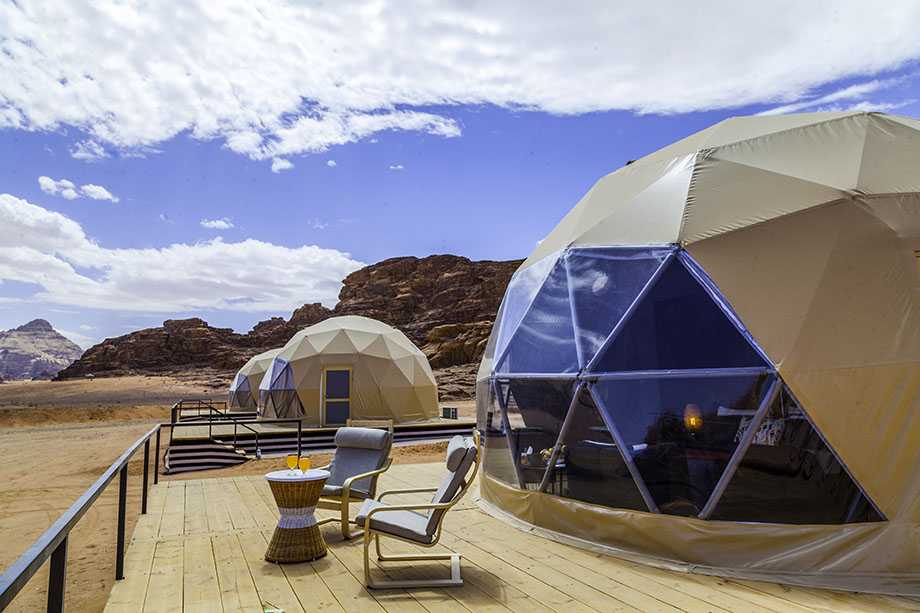 Nomadic Bedouin-style Glamping in the Wadi Rum
The unmatched ecoliving Bedouin experience is highlighted through a variety of high standard accommodation options, amenities and services, as well as a wide range of relaxation or recreational activities. Visitors to Sun City Camp can expect an authentic, serenely soothing experience away from the hustle-n-bustle of modern life, along with the spiritually enriching prospect of re-connecting with the universe thru sunrise or sunset yoga.
Guests can choose from glamping (glamorous camping) in traditional Bedouin tents (30 tents) with panoramic mountain views, the royal tents (8 suites), family suites (2 suites) or Sun City Camp's unique signature Martian Domes (20). The camp is also equipped with a large reception tent complete with Wi-Fi. In the dining area guests are offered freshly prepared buffet-style meals with a variety of dishes to please every palette.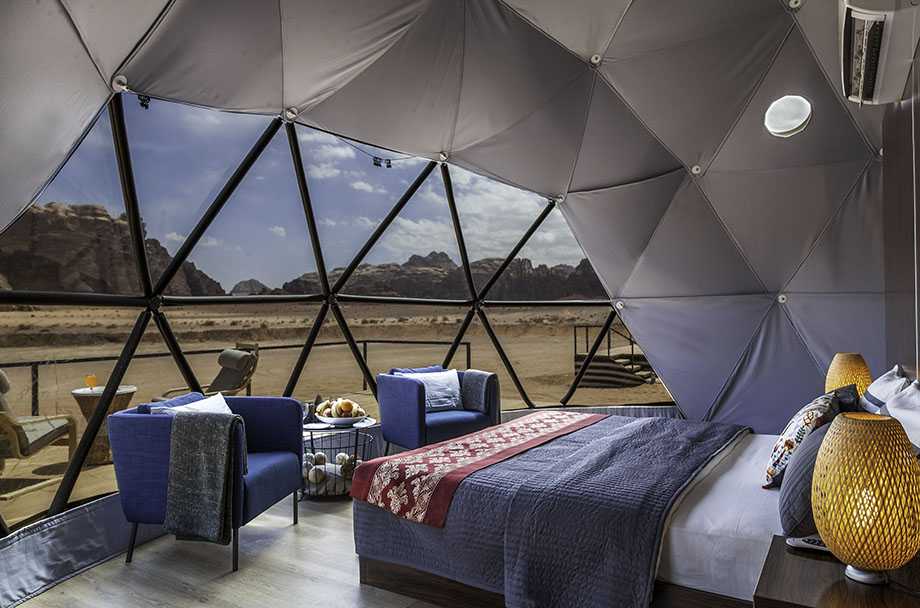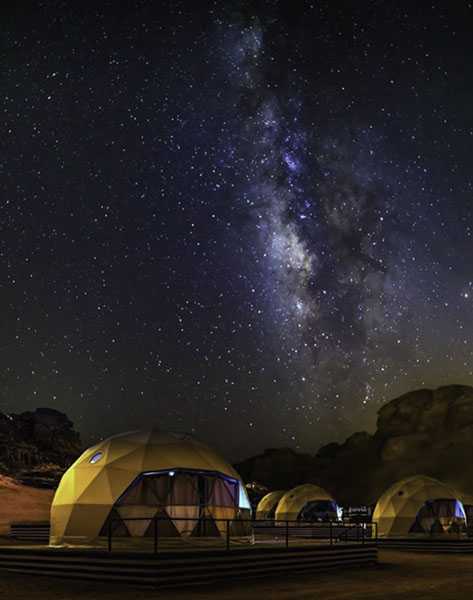 Sun City Camp at Wadi Rum's Desert Resort (2:17 min.)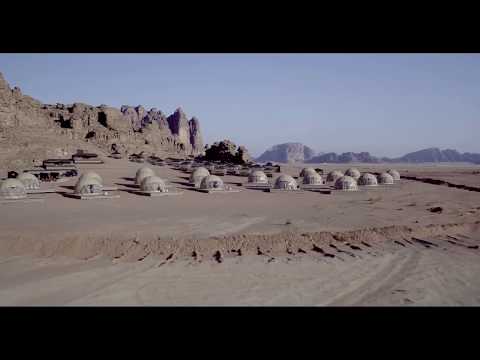 Situated off Kings Highway just a short 2-hour scenic drive from Petra, Sun City Camp is famed for its Bedouin hospitality. Sun City Camp takes pride in offering its guests a generous hospitality, a trait of the indigenous Bedouins.
A perfect complement to your visit to Jordan… In addition to a tantalizing buffet menu, Arabic mezza, of salads and a variety of mildly spiced signature dishes, Sun City Camp offers a couple of exquisite Jordanian dishes, upon request.
After a delicious meal, guests are served their choice of beverages or Wadi Rum mint tea or cardamom coffee. Warmed by the fire under a starry night sky, visitors are in for a short authentic treat, as Bedouin hosts play traditional sounds of the Oud or Rababah (mini violin) along with the rhythm of Arabian folk dances.
"An inner-transformation happens when one steps out of the mundane and embraces Nature." ― Pacific Domes
Ultimately supporting continued sustainability in our planet, Ecotourism is defined as "responsible travel to natural areas that conserve our environment, sustain the well-being of local people, and bridges cultural differences thru education." Wildly successful Eco-Resorts around the globe are utilizing Pacific Domes to facilitate this extraordinary experience, while providing world-class amenities in some of the most pristine and breathtaking locations on earth. Visit our Instagram page.
"E-commerce & E-democracy ― bringing positive social revolution throughout the world-wide web." ― Pacific Domes