Looking for innovative ways to weave magic around your story? Portable geodesic dome tents offer the ease of instant performance theaters that brings your story to life!
Geodesic Dome Tents Go Anywhere
Prefab geodesic dome tent theaters have transformed the entertainment landscape with the magic of 360° full-dome Projection. No matter where your art form takes you, you'll love the dome tent's portability, ease of set-up and capacity to withstand Nature's extremes.
Here's a really unique idea for a remote geodesic dome theater that was installed in Dawson City, located in Canada's Yukon territory! One of our clients purchased a 15 ft. dome frame for an art project where she performs for children and adults from the local area.
The artist erected the tent theater beside the Yukon River and calls it "The River Bride." The concept was to create a storytelling tent that looks like a woman's dress.
Inside the dome tent, the artist has created an unusual atmosphere. The artist made her own fabric cover for the dome and then built a torso to put on top of it.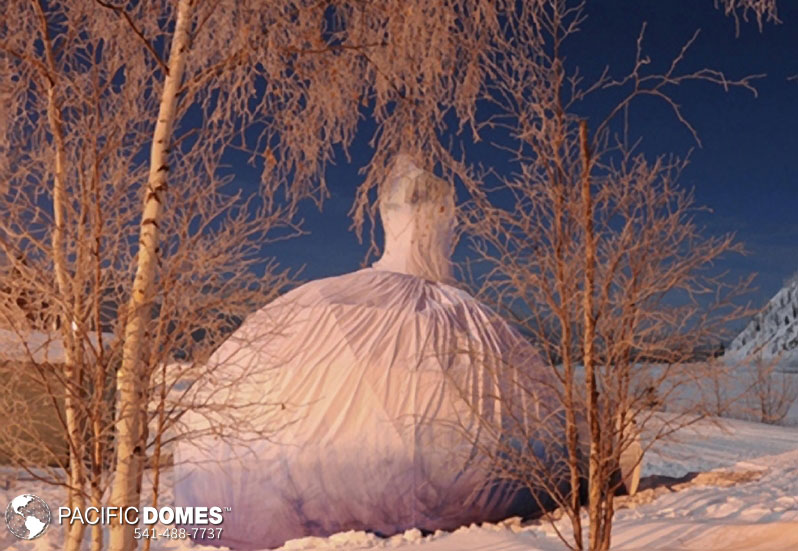 And speaking of glowing…. let's take a look at another kind of dome:

Illumination Domes
Illumination Domes are basically stripped down projection theatre domes without the blackout projection cover (so the projected images can be seen both inside and outside the dome!), making them an affordable option for advertisers and party planners. One cool feature is that when lit from within, the projection dome draws audiences from miles around.
Illumination Dome tents create colorful immersive environments and offer the following features:
Event-Lite architectural fabric is lightweight for ease of setup, and perfect for nighttime digital projections.
Made from breathable 100% tightly woven polyester (7 oz./sq. yard)
Event-Lite is fire retardant and mildew resistant
Event-Lite has a matte finish and is available in a variety of colors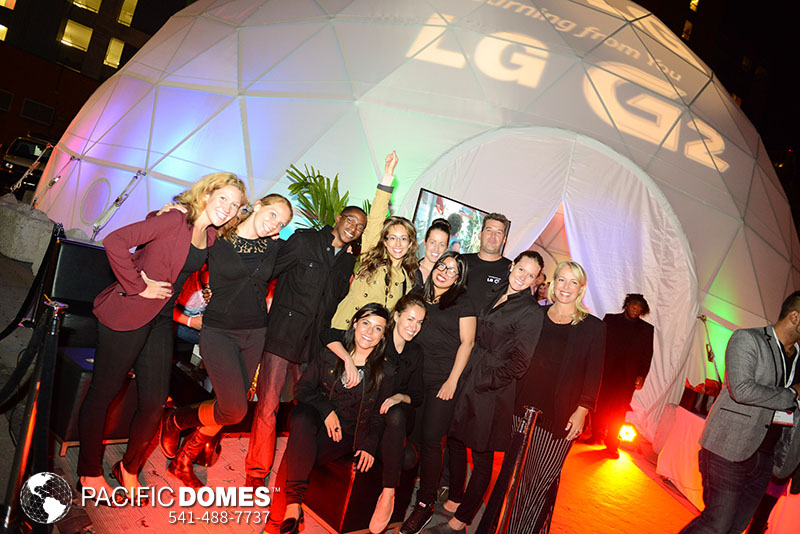 Pacific Domes is an award-winning global manufacturer of mobile Projection Dome theaters, proudly serving the Event Industry for decades. In partnership with respected multimedia entertainment companies such as Obscura Digital, Illumination Domes take the magic of entertainment to new heights with Immersive and Interactive 360° Projection.
You'll find that browsing Pacific Domes gallery of event dome tents is one of the best ways to spark ideas for their next magical storytelling event in a dome tent.
Be sure to visit Pacific Domes Gallery for additional inspiration: