"Event Hosting Solutions are Our Specialty" — Pacific Domes Inc.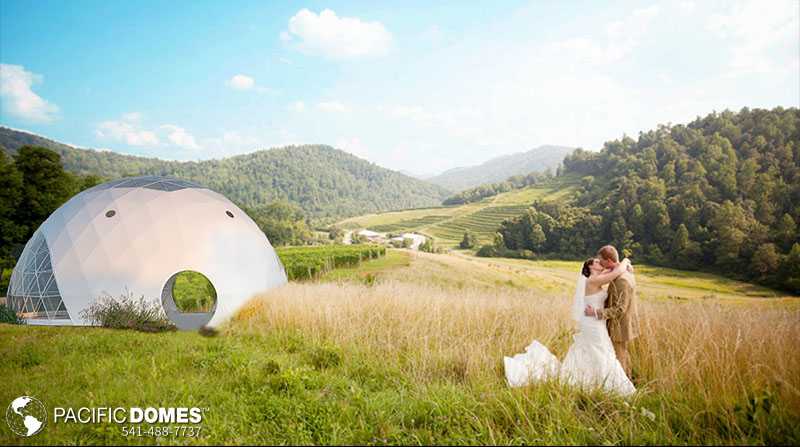 Love in a Dome
Add a touch of elegance to your epic event with dome wedding party tents for sale or rent. With so many wedding details to think about and plan for, one thing that will give you peace of mind, is knowing that your guests are guaranteed a safe haven in the event of inclement weather.
Domes Offer Elegant and Practical Event Solutions
If you're planning on hosting an outdoor wedding, your journey begins with choosing the right portable party tent. Here's a few good reasons why domes are the perfect outdoor event solution:
The principles of geometry used in construction of ecofriendly domes, gives portable party tents superior strength to resist nature's unpredictability.
Un-obstructed ambient air circulates naturally for heating and cooling.
The dome's spherical structure creates an ideal environment for interior décor. The circular floor provides the magical circle to offer prayers and blessings in sacred ceremony.
Modern research has proven that the geodesic dome design vibrates in resonance with cosmic energy. The renowned Martha Stewart even uses Sacred Geometry in wedding décor to create harmonic ambiance.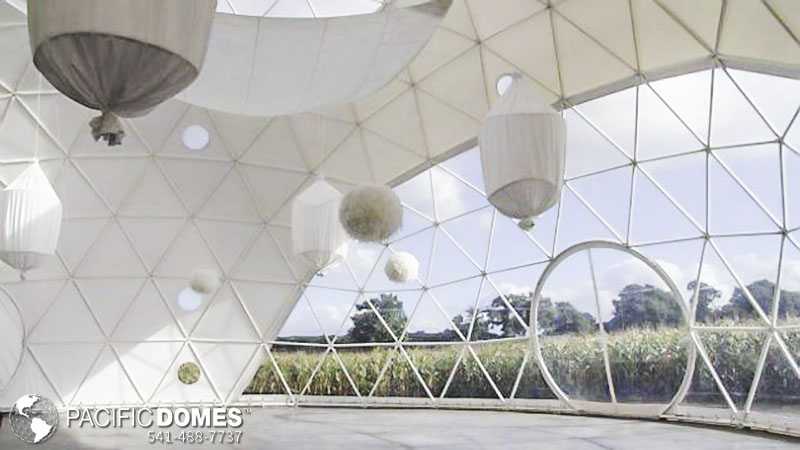 Whether you are inspired by Modern or Vintage, Sacred Geometry Wedding Décor adds nostalgic charm to any décor. However you choose to say "I Do", consider doing it in a dome… a Sacred Geometry wedding dome that is.
Sacred Geometry is Everywhere
In Nature, intricately woven Sacred Geometry patterns are repeated over and over again in biology and physics. Astronomers have used geometry to calculate epic events; and, philosophers have observed the harmony of the universe in the numerical properties of sound and music.
Sacred Geometry has been used by indigenous cultures for thousands of years to create harmonious, resonating environments that nurture the soul. It's well documented in architecture, that temple builders have historically relied on magic numbers to shape sacred spaces.
Sacred Geometry has inspired the greatest works of art, revealing the universal principles that link us to the Infinite. Begin your epic journey through life together by adorning your Sacred Space Wedding venue with the harmonic resonance of earth energy.