Glamping is a lucrative livelihood! As Americans look for new business models, success stories of eco-luxury glamping stays abound on the internet!
An entire geodesic dome glamping complex can be installed in days. It will, not only pay for itself within a few months, but will provide a haven for you and your guests to bask in Nature's beauty and tranquility.
A haven in times of uncertainty, Nature has a way of restoring our sense of balance and connection with ourselves, as well as the world. Navigating the new norm during these unprecedented times of social distancing is giving people pause to explore alternative opportunities.
Once the 2020 stay-at-home mandates are lifted, people will escape to the great outdoors! Outdoor experiences and eco-retreats will see all-time highs ‒ interest in camping-glamping will be hotter than ever!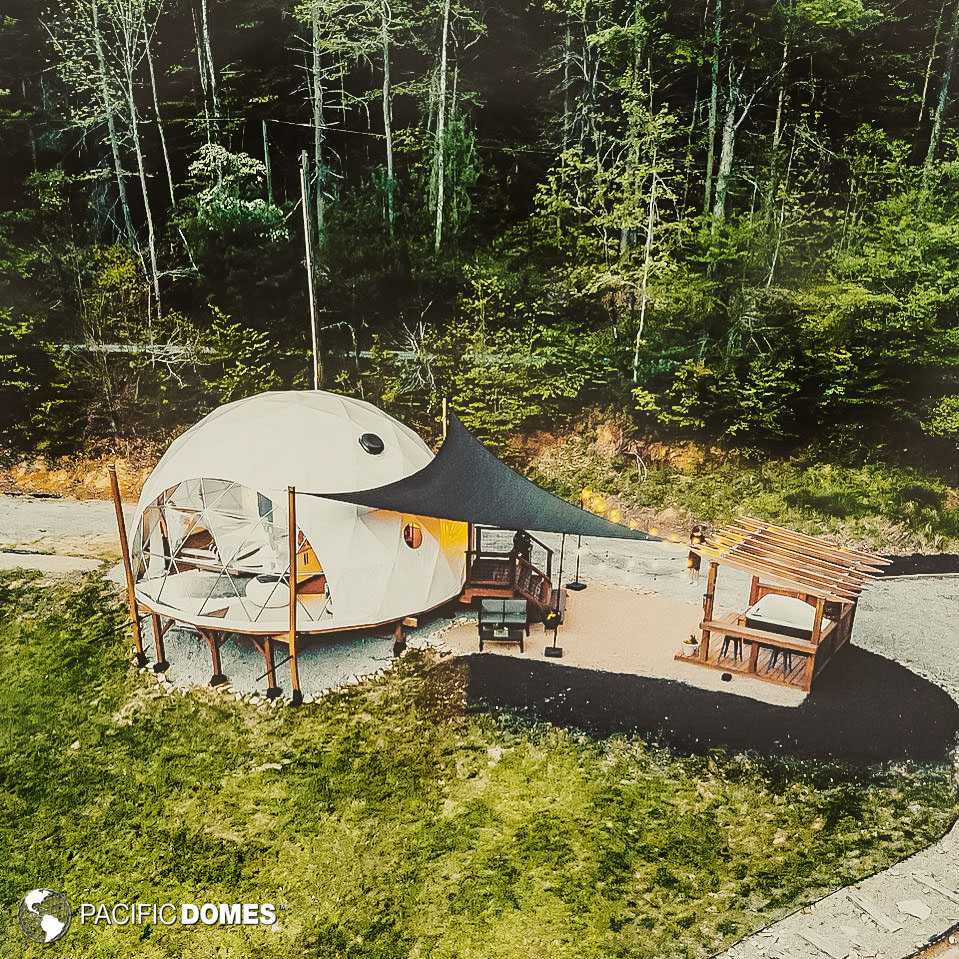 Why a Glamping Dome Retreat?
Offering a unique experience with a warm, Zen-like ambiance, geodesic domes withstand the forces of nature. As the strongest structure known to man, domes are often the only structures standing in the aftermath of hurricanes, tornadoes and earthquakes.
Levi Kelly, creates YouTube reviews of Airbnb's and Tiny houses. Follow along as Levi Kelly takes us on a journey through the steps that one owner took towards building an eco-luxury glamping retreat ‒ and, why he chose prefab geodesic dome kits.
Levi: What made you decide to do a glamping dome?
Blue Ridge (BR): We wanted something unique ‒ something where people could slow down ‒ something that, they'd never done before. After exploring many glamping set-ups, we decided to go down the road of building with a prefab geodesic dome kit from Pacific Domes. You think of what it costs to build ‒ the cost to acquire land and all the costs that go into building. You think of what you can afford ‒ we didn't want to take on a lot of debt ‒ the domes were affordable for us.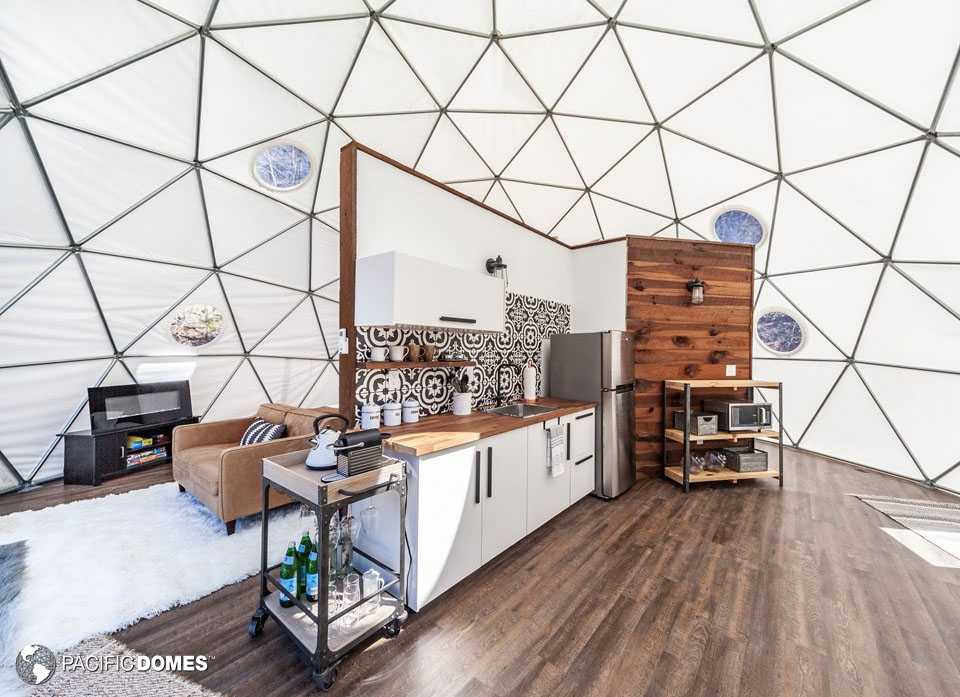 Getting Started
Levi: So, what was your first step?
BR: Well, for us the site selection was huge ‒ we wanted something that was close to town, close to amenities ‒ a place where you could be in Nature, yet, be accessible. The first rule of real-estate is location, location, location, right?
We had a list of what we wanted. Even though some locations were more affordable, when you look at the development costs, you have to look at all the factors. What are people on vacation looking for?
The site will drive the decision as to where to build. You want to be able to sit with your cup of coffee and look out the big bay window at the picturesque natural setting. (Photo)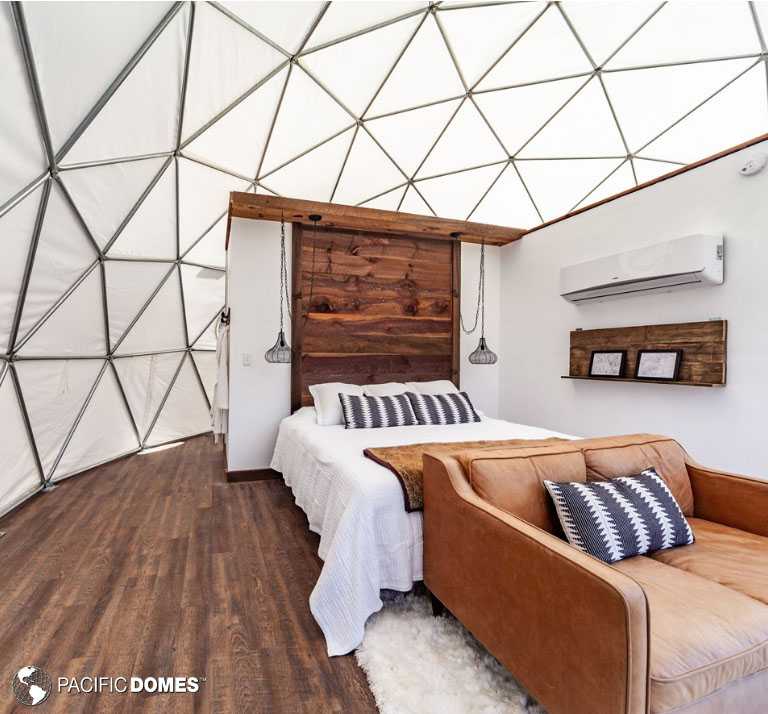 Building Process
Levi: Tell me more about the dome you are building right now. Can you give us an overall idea of the process from beginning to end?
BR: When we decided to do this second dome, we had the experience from building the first one. We had to consider construction costs, set-backs ‒ and, the county requires certain things. These are important things to consider ‒ those factors drive some of the decisions that you make.
When it came to the design, my wife deserves all the credit. We asked the question, "What would people like to have that's like a nice hotel room in the woods?"
So, this dome has everything you need. It has a kitchenette, a bathroom with a shower, you wanna sleep on a nice bed, you wanna some heating and air-conditioning, as back-up. Not sacrificing some of the amenities that you're accustomed to ‒but, still getting to step outdoors to a Nature experience.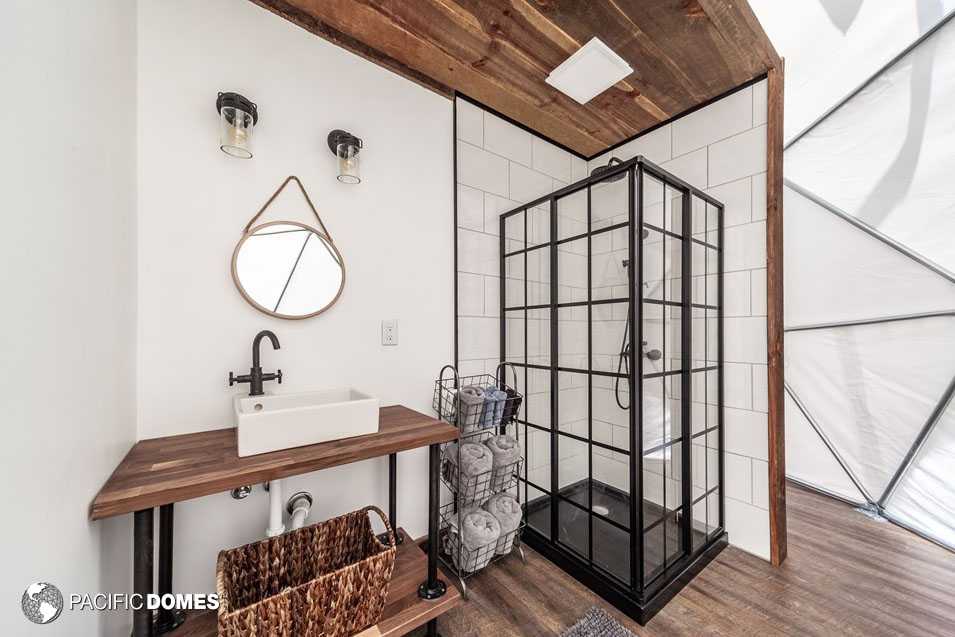 Framing & Deck…
Levi: I know you purchased the dome framing, but you don't get the deck with it. Tell me more about all that.
BR: We bought the dome kit from Pacific Domes.
I highly recommend them ‒ very professional ‒ and, they have a great website with a ton of information to get you started. You get to work with them on the design and engineering. Pacific Domes has the floor and basic deck plans, too.
What I like most, is that Pacific Domes is a small manufacturing company that's been in business for a long time. They work with you ‒ they consult with you throughout the entire process. And, they are the type of company that you can pick up the phone and talk to a live person – they're excellent in that way.
Steps to working with your Local Building Department
Restrictions & Coding…
BR: You want to consult with your building code. I'm a general contractor ‒ we had a site development plan when I sat down with the zoning department.
We had a foundation inspection ‒ we had mechanical, plumbing, electrical inspections. When you initially begin the process, Pacific Domes provide you with a set of blueprints; and, they work with you on architectural drawings and structural engineering to help you with the design that's particular to your site.
Pacific Domes is licensed to provide engineering stamps in all 50 states, so when you're ready to build, they will give you the design ‒ they, actually, give you a lot more than you may need for the actual building process ‒snow-loads, wind-loads, etc. But, because domes fall outside the traditional building code, you have to provide certain things to your local building department to satisfy certain requirements.
Levi: Was there anything that you ran into outside of traditional building that you had to go around?
BR: Sure, these are some of the things that you want to consider…
You may have noticed that when you vent plumbing, heating or any kind of ventilation it has to go through the roof. Pacific Domes works with you on the placement.
Also, orientation of the large bay window placement, doors and other windows. I would recommend that in terms of passive solar, the orientation of the window is really important because you have to think about how the sun is going to affect the heating and cooling. We're going to be upgrading to a winter package later this year – it gives you another layer of R-value insulation.
Levi: Great! Thanks for the tour and I look forward to posting it on YouTube (see below)…
Outdoor Glamping Retreat with video showing the stunning results!
Have you ever thought about building a different type of home? I'm here with the owner of Blue Ridge Glamping as he explains his mindset/process behind building 2 luxury geodesic domes!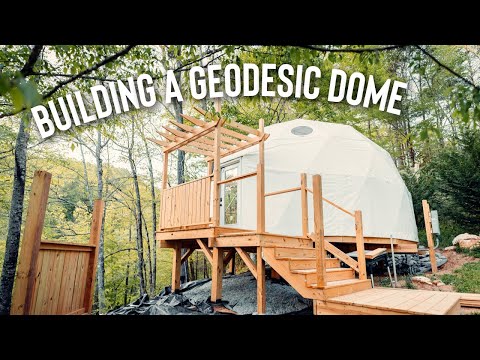 If you'd like to learn more about building your own luxury glamping business feel free to download our Flipbook Brochures: Glamping Domes and Eco-tourism.