Recognized as the cultural heart of the city, the Philadelphia Museum of Art reflects Philadelphia's role as a national cultural leader and is among the largest museums in the United States.  The domes at Philadelphia Museum of Art  are both  inside the museum and in the Thomas Jefferson University's Lubert Plaza and strive to create a safe place and shed light on  complex human realities.
Dome Engineering: the Perfect Venue for Art Installations
Engineered for both internal and external weight loads, domes are adaptable to infinite possibilities, creating a culturally rich and immersive environment for the enjoyment of all types of audiences. Dome geometry mimics the same subtle blueprint found everywhere in Nature, and is visible in the varied geometrical patterns and frequencies of dome design and also explains the "safesanctuary" feeling of being in a dome.
The outdoor dome named "Toward Sanctuary," is encouraging city dwellers to share their thoughts about how Philadelphia can offer sanctuary toward marginalized citizens. This 30′ dome and its interior were designed by artists Mayyadah Alhumssi and Lynda Grace and built with artists from the Traction Company.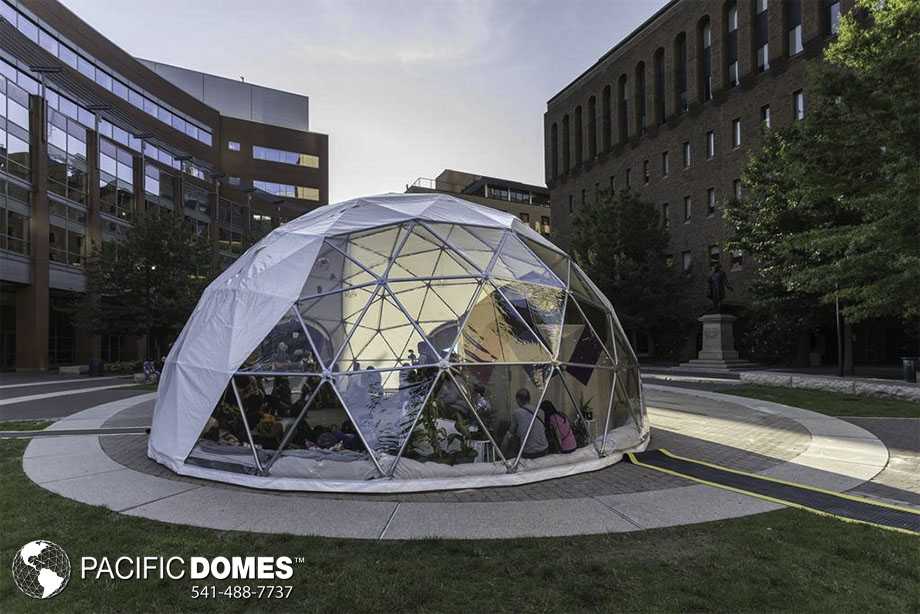 The domes have been used for many projects such as a film screening of Zein Nakhoda's Grounded While Walls Fall. The film profiles practices of resilience and spiritual grounding among organizers, cultural workers, and movement builders in Greater Philadelphia.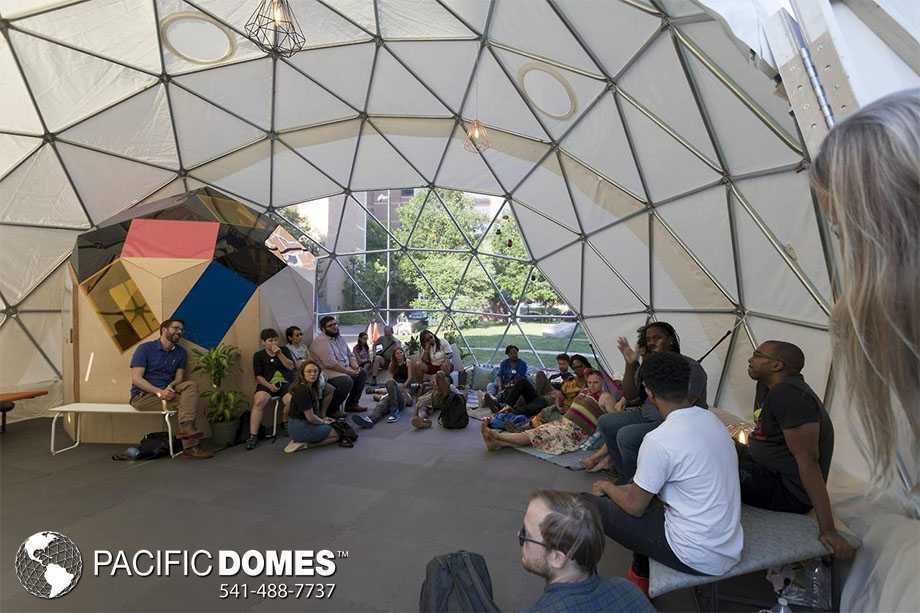 When Philadelphia Assembled collaborators considered the concept of safe spaces and sanctuary, they envisioned this structure, "Towards Sanctuary Dome." Architect Mayada Alhumssi guided the concept, using a geodesic dome structure to reference temporary shelters used to house refugees across the world.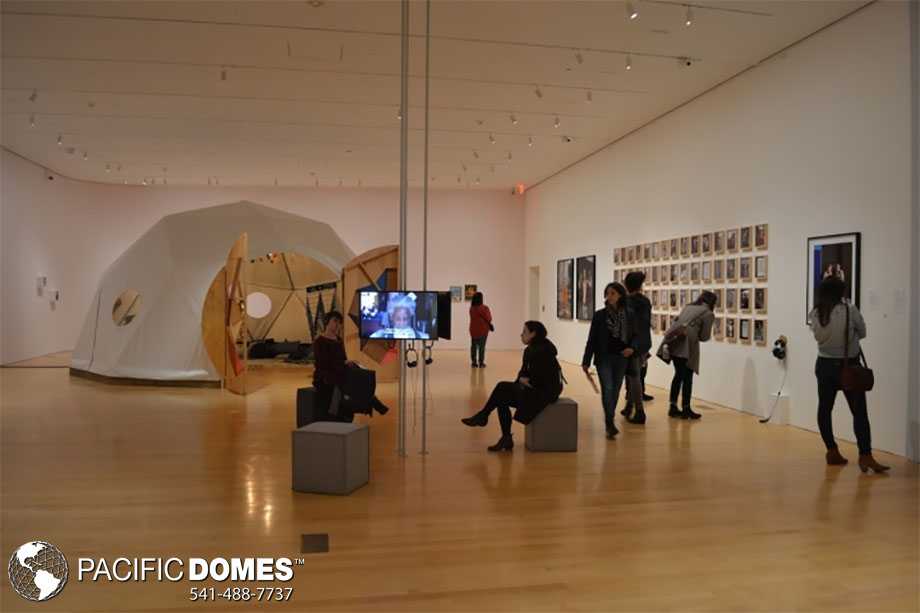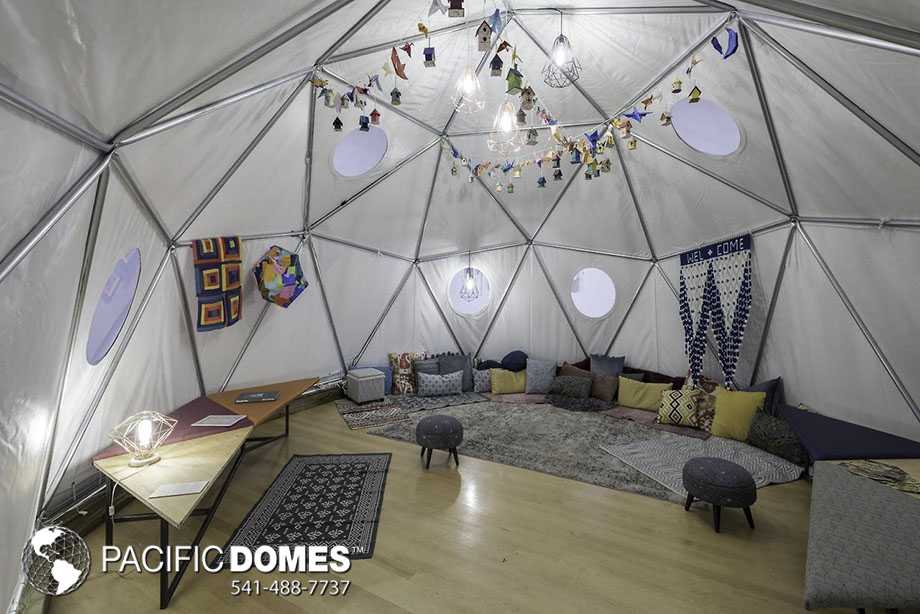 How can Philadelphia become a true Sanctuary City? To connect various forms of sanctuary, including LGBTQ safe-spaces, immigration and migration, youth and adult street homelessness, and harm reduction in drug use and sex work, the group has created a traveling pod, created by Traction Company, that will live with various community partners.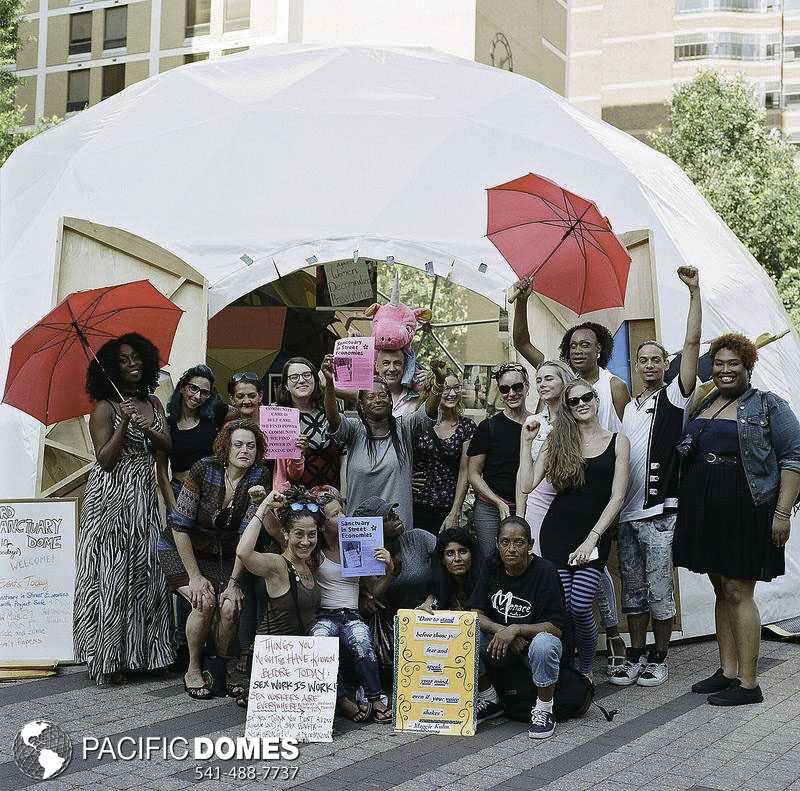 Philadelphia Assembled's focus in their dome  gathering  was on sanctuary in street economies, raising questions about where drug users and sex workers find feelings of peace and belonging. Project SAFE, a grassroots, all-volunteer organization that does outreach with intravenous drug users and sex workers in Kensington, and the Philadelphia Red Umbrella Alliance, a sex workers' collective, visited the dome to share their stories.
While providing a cool, well-lit protective geodesic dome structure for your art installation, a few dome FAQs worth mentioning:
Perfect as temporary or permanent art installations as well as mobile art galleries.
The overhanging truss system of the free-standing dome becomes a seamless housing for lighting and sound. There are no center beams to interfere with the open floor design of your art installation.
Award-winning Pacific Domes has been blazing the trail since 1980 with over 35 years of industry expertise.  Based in Ashland, Oregon, the dome manufacturer offers rapidly deployable Building Systems that are gorgeous works of geodesic engineering.