Pacific Domes of Oregon built this Yoga Dome Tent for LuluLemon at the Wanderlust Festival up in the Sierra mountains of California. We have manufacture high quality Portable Studio Domes in the USA for over 36 years
Pacific Domes helped LuluLemon elevate yogic practices at Wanderlust to a new level within a 44-foot geodesic yoga dome, using the same geometry at the root of heavenly spheres and the molecules of your body.
Many healers use domes because they believe that geometry helps reorganize the cells of the body and hence improve health and creativity. The dome can remove stray electromagnetic waves by grounding the metal structure into the earth.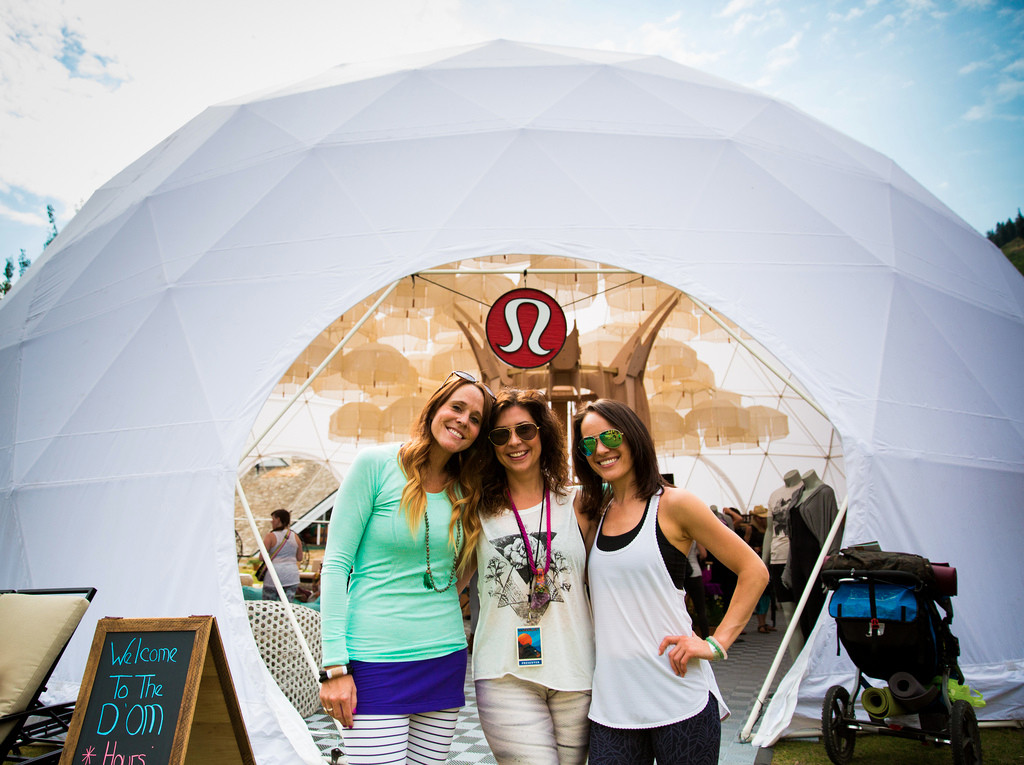 The ultimate geometry of creation is the sphere – atoms, molecules, the earth, sun, stars, moon, etc. All spheres mathematically generate a point of singularity at the center where all waves cancel out to create stillness – the Bindu point of ancient meditation practice. Practicing yoga is a revolutionary act that brings us to a state of inner freedom and peace. Through the practice of yoga, we become healthier, discovering our own source of strength and inspiration within.
The geodesic dome is the lightest, strongest, and most cost-effective structure ever devised. They are able to cover more space without internal supports than any other enclosure known to man.

Within the dome we develop the ability to quickly bring the mind back to a place of love, shifting our perception so that we can see and experience that which unites all of us. When we come together and share in the practices the effects are amplified.
What is Wanderlust?
Wanderlust is a one-of-a-kind festival bringing together the world's leading yoga teachers, top musical acts and DJs, renowned speakers, top chefs and winemakers, and much, much more — all in a setting of breathtaking natural beauty.  We're talking about fun in the sun and dancing under the stars. Hiking on peaceful trails and gettin' your down dog on at the top of the mountain. Sipping poolside cocktails with your friends, and then enjoying a tasty farm-to-table dinner with views of the surrounding mountain peaks. Early morning meditations and all-night chakra spinning musical performances — it's an all-out ecstatic celebration in the most awe-inspiring locations in the world.
Who is LuluLemon?
Founded in Vancouver BC in 1998, the first Lululemon shared its retail space with a yoga studio. We've been growing ever since, and our technical yoga and run clothes are now available in countries all over the world.
Thank you to everyone who was involved.