The principles of geodesic construction were developed by American architect and engineer R. Buckminster Fuller in the mid-nineteenth century as part of his efforts to use science and technology to address universal issues. His vision has inspired successive generations of architects and geodesic designs have played a large role in defining the architectural landscape of the past few decades. Pacific Domes was featured in Architonic magazine which took a look at some recent projects that combine the brilliance of Bucky's ideas with twenty-first century technology, resulting in complex yet efficient structures with a futuristic aesthetic.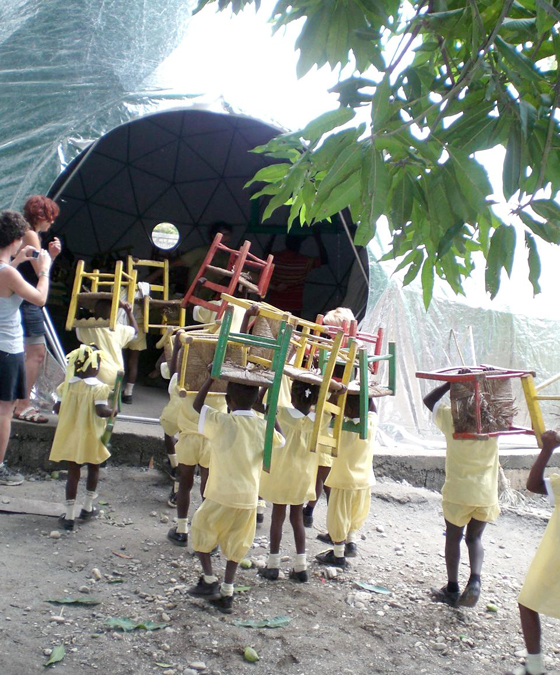 Pacific Domes donated this 40-foot dome to a charity in Haiti following the earthquake in 2010, which now houses a school.
The MyZeil centre in Frankfurt by Massimilano Fuksas shows the complexity of form that can be achieved with modern materials and techniques
Geodesic construction is founded on the principle that the triangle is a very stable form, independent of size and that a triangular framework held together in tension allows for a very strong lightweight construction.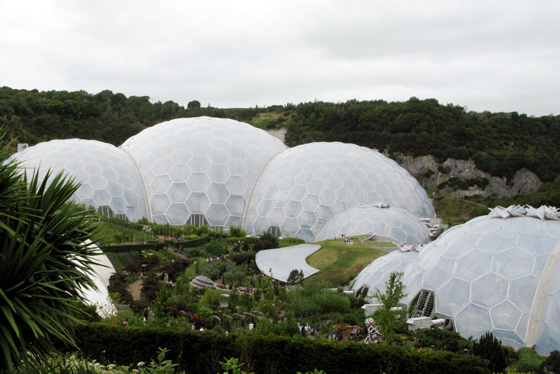 Cornwall, UK.
The Eden Project in Cornwall, England, has become one of the top three charging attractions in the UK and which shows off its sustainable building techniques.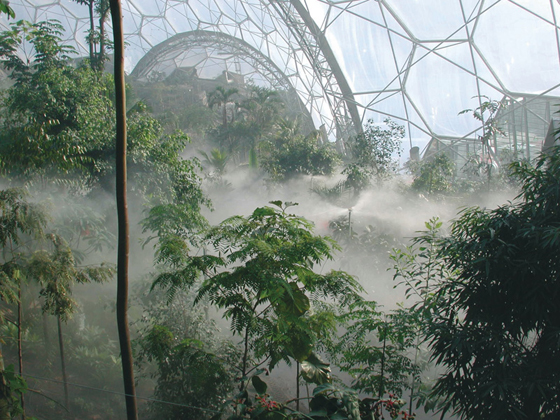 The transparent surface allows plentiful daylight to reach the plants inside the world's largest greenhouse; photo © Grimshaw Architects
Buckminster Fuller claimed that many of his designs were ʻanticipatory,' as they preempted the technology required to implement them to their maximum potential. One large obstacles he faced was finding a suitably robust and weatherproof material to cover complex latticed framework – a problem that was subsequently solved by advanced new plastics. The Eden Project's domes are covered in EFTE foil, which offers good corrosion resistance and excellent performance when exposed to high temperatures and allows daylight to heat the interior spaces and then insulates them, maintaining the stable temperature that the plants inside need.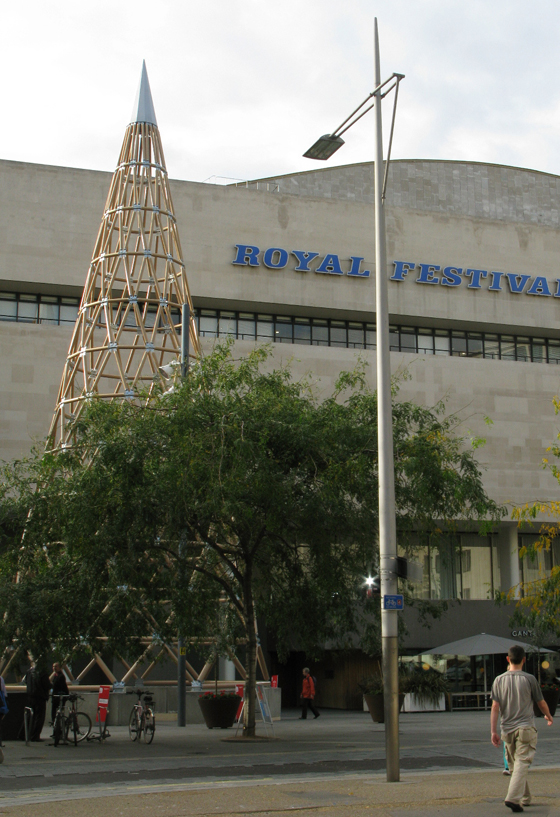 Shigeru Ban's geodesic cardboard tower, sponsored by Sonoco, a global supplier of industrial and consumer packaging, and stood on London's South Bank in 2009 London Design Festival.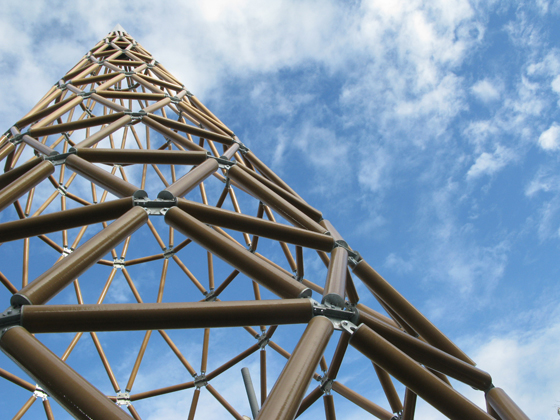 Cast-aluminium joints connected the cardboard tubes. This is a method that Ban has used in various previous cardboard-construction projects.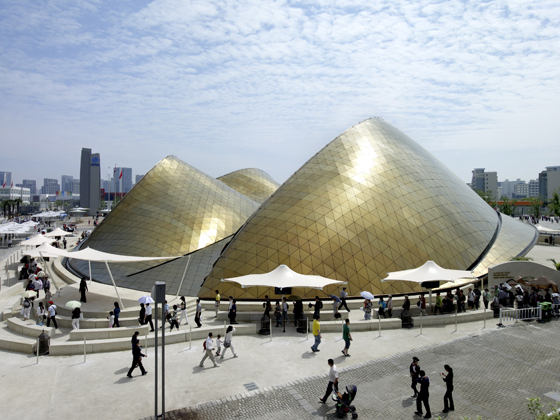 Foster + Partners' UAE Pavilion from Expo 2010- inspirated from a sandbank; photo Nigel Young.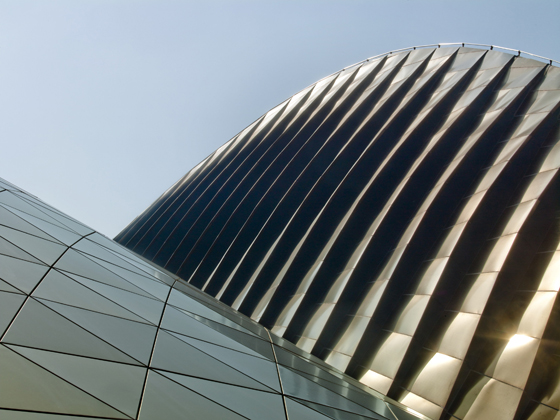 Glazed vertical strips on the northern elevation allow light to penetrate; photo Nigel Young.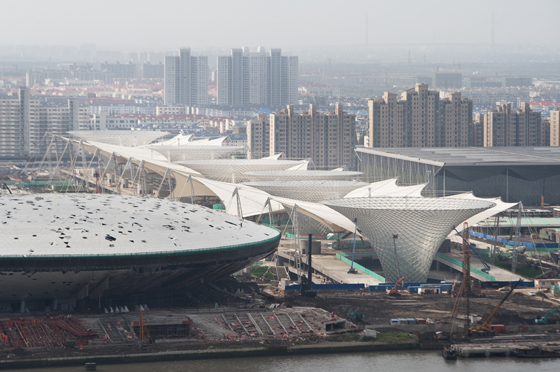 Shanghai, China: the membrane roof that covered the Expo Boulevard created by Knippers Helbig (total surface area of 65,000 square meters) the largest of its kind in the world; photo Thomas Ott.
The diameter of the glass light funnels increases from 16 meters (base) to 80 meters (upper edge); photo Thomas Ott.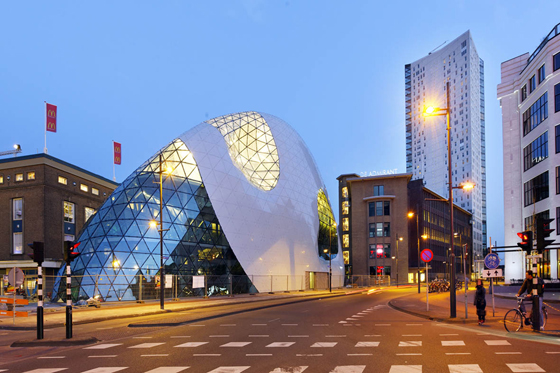 The Admirant entrance building by Massimiliano Fuksas in Eindhoven, Netherlands, fits five floors of commercial and office spaces inside its amorphous form; photo Rob H'art.
The complexity of the surfaces and interior spaces requires detailed planning, which use modelling software to create practical spaces; photo Rob H'art.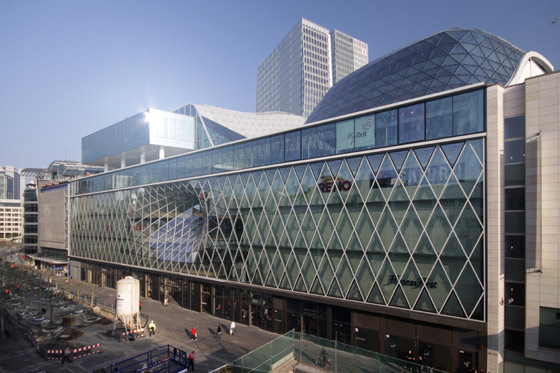 The fluid form of Fuksas' MyZeil complex connects Frankfurt's Zeil, an important shopping street with the historic Thurn and Taxis Palace.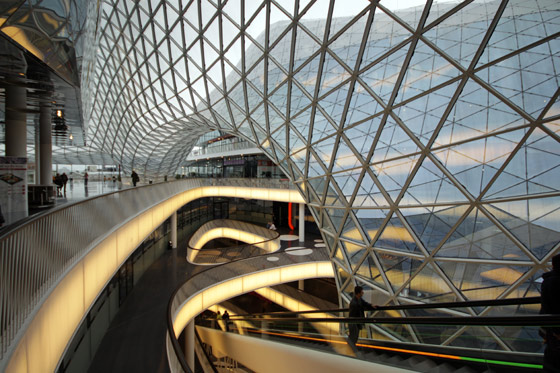 The building houses shops, offices, a sports centre, a cinema and various public spaces with views of the city beyond the twisted glass façade.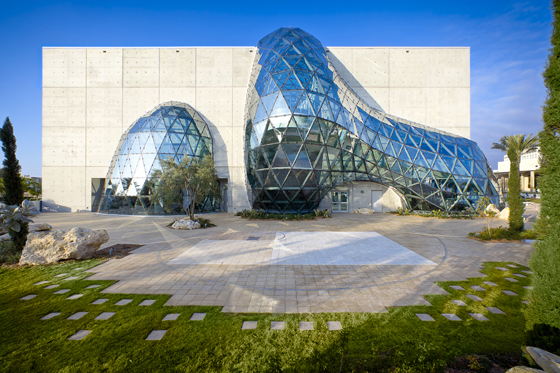 Dalí Museum in Florida; photo © HOK/Moris Moreno.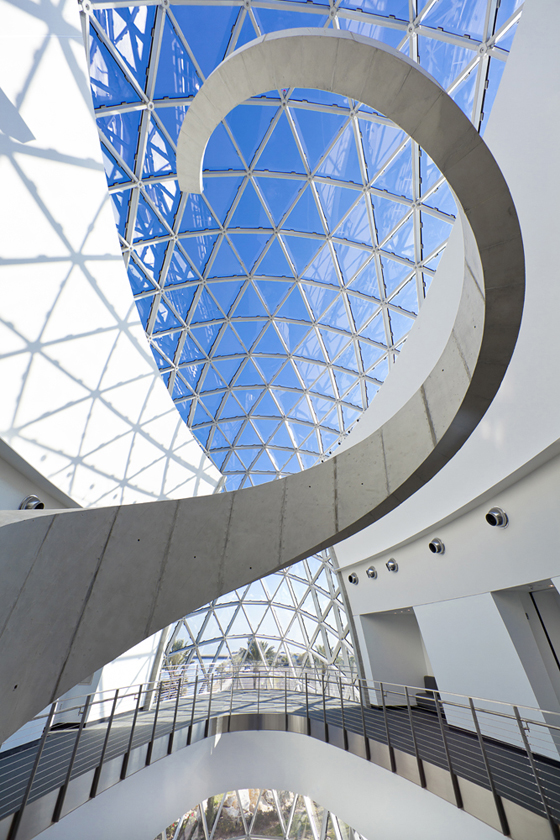 The poured concrete staircase Dali Museum; photo © HOK/Moris Moreno