Update on The Standing Rock Story:
Standing Rock Has Become a Powerful Grassroots People Movement…
A Clarion Call for a Peaceful, Benevolent and Triumphant Outcome!
"Our Hearts are Linked in Solidarity with the Standing Rock Movement."
— Pacific Domes Inc.
They call themselves "The Water Protectors" and they have united in peaceful prayer and ceremony to protest the construction of an oil pipeline fulfilling Native American prophecy… "If the zuzeca sape, the black snake, comes across our land, our world will end. Zuzeca has come… in the form of the Dakota Access Pipeline".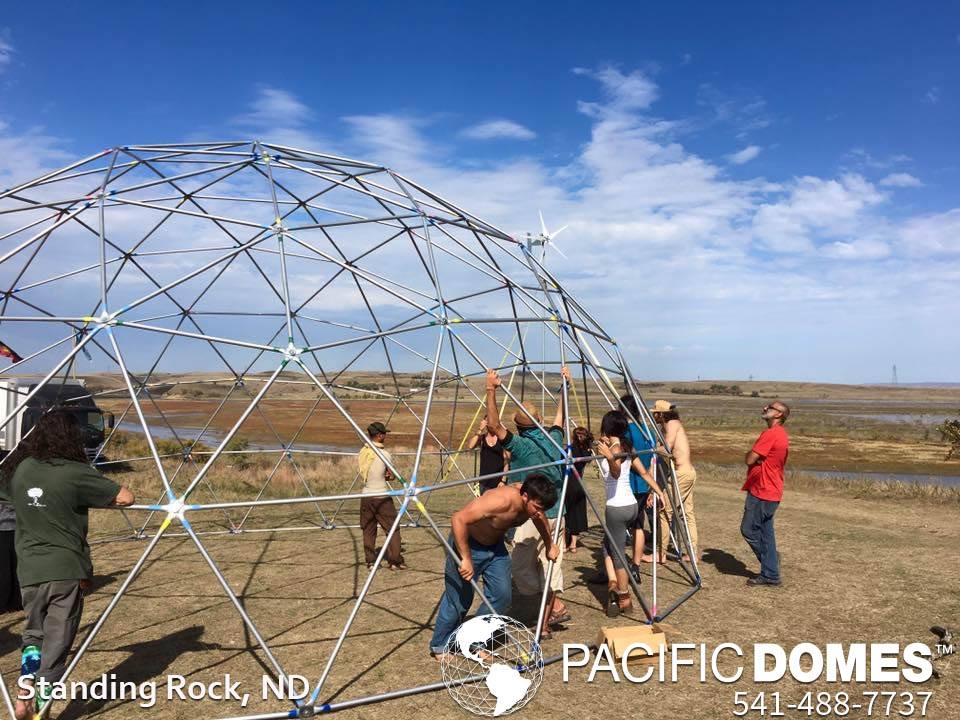 Have we forgotten the devastating consequences of the Gulf Oil Spill?
The Dakota Access Pipeline (DAPL) threatens entire ecosystems; everything from drinking water to wildlife and farm-raised food fed by the waters of the Missouri. This is one of the most polarizing issues facing, not only native cultures, but ALL peoples, as they 'awaken' to what this grassroots movement means to all who care about protecting rights to clean air, drinking water and natural food sources.
The cry for solidarity has rung out all-across the land and reached every corner of the earth. Impassioned Peaceful Warriors from thousands of ethnic cultures and backgrounds are coming together at Standing Rock in nonviolent protest, to protect the water; and, against the unlawful trespass of Sovereign Native Lands.
The Standing Rock Story has been gathering powerful momentum, as supporters in communities throughout the U.S. and all-across this Sacred Earth voice public outrage at the inhumane treatment of unarmed 'Protectors of the Water'. Peaceful prayer warriors find themselves in brutal clashes with fully-armed Dakota Access Pipeline (DAPL) military forces deployed by profit-driven corporate interests, that are clearly motivated by greed and geo-political agendas.
An answered prayer at Standing Rock
On October 28th, while in-the-midst of mass arrests, mace attacks, and beatings from batons, a stampede of bison suddenly appeared near the Standing Rock protest camp. A cry of joy reportedly erupted from the Standing Rock Sioux, as they had been praying for assistance from the Tatanka Oyate (Buffalo Nation), during their standoff with riot police and national guardsmen.
"Sacred Stones Camp was begun by women, as a prayer."
― Elders & Leaders of Sacred Stones Camp
Elections and individuals alone don't create change… movements do!
November 15th, 2016, the movement-led National Day of Action, ignited over 250 Nationwide Protest Actions in 43 States, as peaceful activists united in one of the most courageous stands against a fossil fuel project this country has ever seen. Thanks to all the participant across America, Standing Rock has now become a powerful movement to end injustice… the Standing Rock Movement!
THE PEOPLE ARE UNITED… IT IS TRULY A GATHERING OF THE TRIBES!
Like a swiftly-spreading flame, this movement is empowering earth-keepers around the world, by exposing and dis-mantling the corruption that so many people have grown weary of. There is no worse corruption, than for profit-driven oil conglomerates, supported by multi-national central banks, than the bull-dozing of Sovereign Native Lands, unlawfully ignoring centuries old treaties.
First Nations people have long spoken of honoring humanity's inter-connection (entanglement) with the Earth Mother. As the unwarranted military response to the Sioux Nation's ongoing nonviolent civil disobedience escalates, tribal leaders are calling on state and federal governments to respect the Constitutional Rights of Water Protectors and stop the mistreatment of all the hundreds of indigenous tribes and supporters gathered at the various Standing Rock camps.
(Insert YouTube Video)
Is there something wrong with this picture?
Sunday evening, November 20th, hundreds of water protectors were injured at Standing Rock encampments when (DAPL) enforcements in full-military gear blasted unarmed protectors with volumes of jet-water cannons in below freezing temperatures. The attacks came as water protectors were attempting to remove a semi-truck chained to concrete barriers, burnt weeks prior by (DAPL) forces, that was blocking traffic on Highway 1806, at Standing Rock, Cannon Ball, ND.
Water protectors' efforts to clear the road and improve access to their camp for emergency services were met with tear gas, an LRAD (Long Range Acoustic Device), stinger grenades, rubber bullets, and indiscriminate use of a frigid jet-water cannon. Some flares shot by alleged 'law enforcement' started grass fires which were ignored by the water cannons and had to be extinguished by brave protectors as they were being bombarded by troops.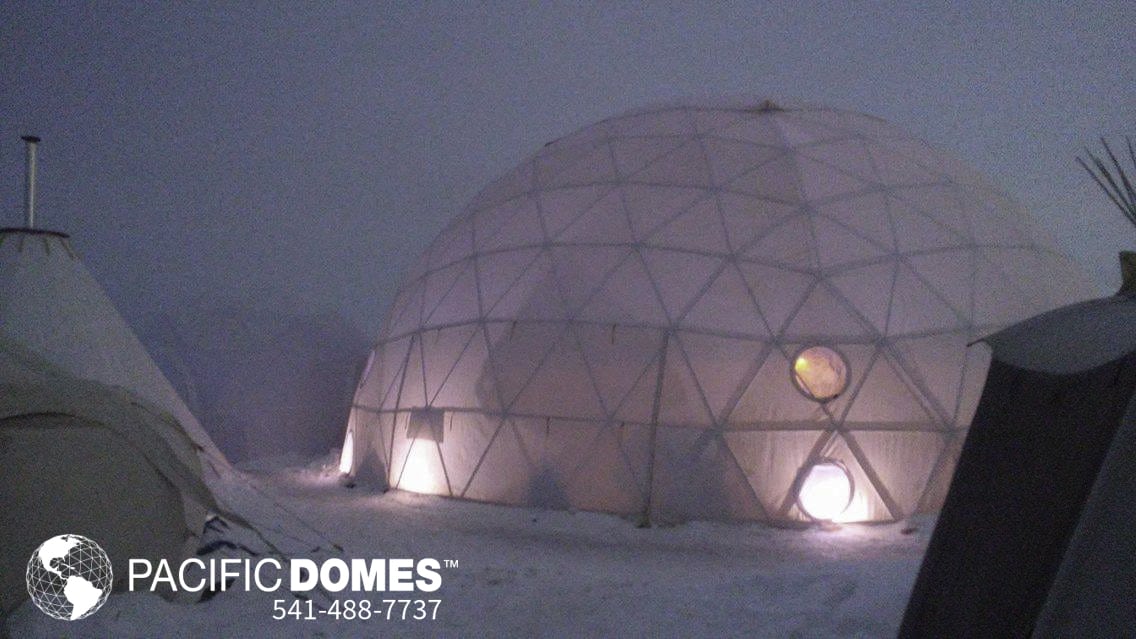 "WE WILL NOT ALLOW THIS PIPELINE TO CROSS OUR LANDS, WATER, AND SACRED SITES. IF YOU VALUE LIFE AND CLEAN WATER, STAND UNITED WITH US!"
The Women of Standing Rock are Midwifing a Global Movement…
Women are leading the way at Standing Rock to protect the waters of North Dakota, and birth a world-wide spiritual and ecological movement, which honors and respects the Earth and her children. Women are leaders when led by their hearts; they stand side-by-side with empowered men, who are their protectors.
In April, 2016, a group of Lakota Sioux women from the Standing Rock Sioux Tribe, established the Sacred Stones Camp located near Cannonball River, ND. In the process, they envisioned a model sustainable village with schools, kitchens, wind turbines, solar panels, health clinics, birthing spaces, ceremonial circles, and space for sharing of sacred wisdom teachings.
Seeing the need with winter fast approaching, Asha Deliverance, owner of Pacific Domes in Ashland, Oregon, donated a 20ft. and 30-foot dome to Standing Rock, a retail value of $60,000. Within less than 3 weeks, the domes were transported and erected by Rogue Valley volunteers "who are in solidarity with the cause," said Pacific Dome account executive Jeffrey Gillespie, adding that "it's quite a passion of hers… Deliverance."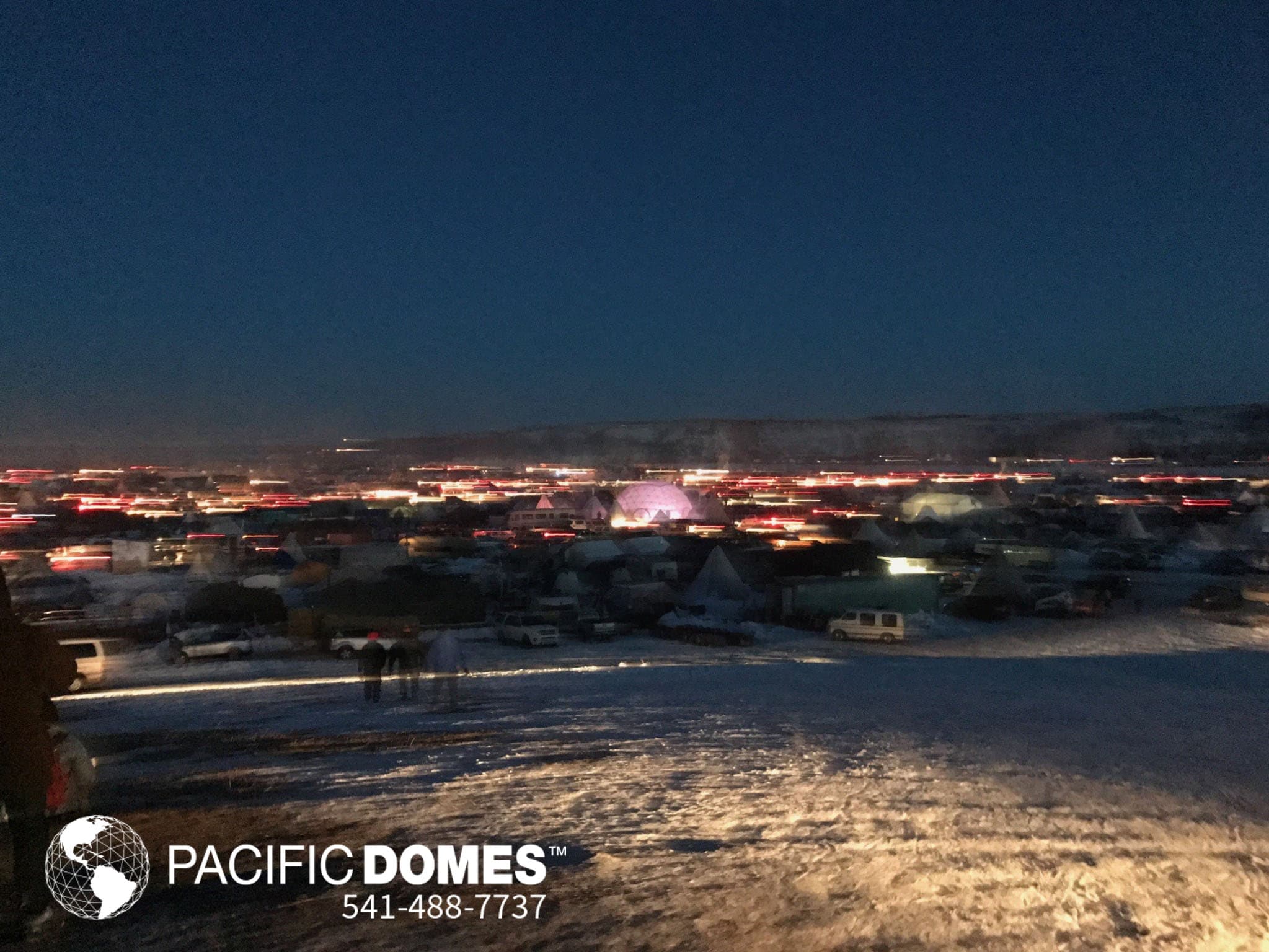 Over the course of this past year, the Standing Rock Story has evolved quickly into the Standing Rock Movement; and, morphed again into the visionary Metatron Project, a Viral Community Blueprint for a sustainable Eco-Village.
(Insert PD Metatron Project link/or photo)
"You never change things by fighting the existing reality. To change something, build a new model that makes the existing model obsolete." —Buckminster Fuller
The Monumental Fire has been Ignited
Celebrities, change leaders and others, too numerous to mention, are rallying in support to raise immediate funds through many sources, such as social media websites, concerts and crowd-funding campaigns.
In response, Dave Matthews, has organized a benefit concert to take place on November 27th in Washington, D.C., the same day that Jackson Browne, Bonnie Raitt and Jason Mraz are staging the Stand in Solidarity with Standing Rock show in Fort Yates, North Dakota, near the pipeline protests. The proceeds will go toward winterizing the protesters' camp and providing legal aid for the dozens of people who've been thrown into crude, makeshift jails by local authorities.
"I've been surprised by the dogs and the rubber bullets," says Bonnie Raitt. "I don't think the people will stand for it."
(Insert Celebrity link/or photo)
For Information on contributing to relief efforts and the Metatron Project visit:
Pacific Domes Inc.
https://www.pacificdomes.com
info@pacificdomes.com
(888) 488-8127
Quotes from the Heart of Sovereign Nations Tribal Elders and Leaders…
"Water is the 'first medicine;' it sustains us in our mother's womb, Spotted Eagle says. It's used in ceremonies to heal people. The steam it gives off in a sweat lodge, for example, purifies. Water can clean a spirit when it's bleeding. It can calm a person and restore balance." ― Faith Spotted Eagle, quoted on CNN
"Our elders have told us that if the zuzeca sape, the black snake, comes across our land, our world will end. Zuzeca has come – in the form of the Dakota Access pipeline – and so I must fight. The Dakota Access pipeline threatens to destroy our sacred ground. I am defending the land and water of my people, as my ancestors did before me." ― Lyuskin American Horse in Canon Ball, North Dakota
"Water is Healing – Water is Life!
Through the protection of our water, we can find a way to bring healing to the earth, to people, and spiritual feminine leadership is bringing light to the way.
― Mni Wiconi
One of the most beautiful things I feel right now, is that you see these amazing, empowered women who are stepping up and really reminding us young men, and men in general, that our role is to let the women lead, and yet, we're their protectors and we stand side-by-side, but the women are supposed to lead with their hearts."
― Nahko Bear, speaking about Winona LaDuke and Indigenous women leaders at Standing Rock.