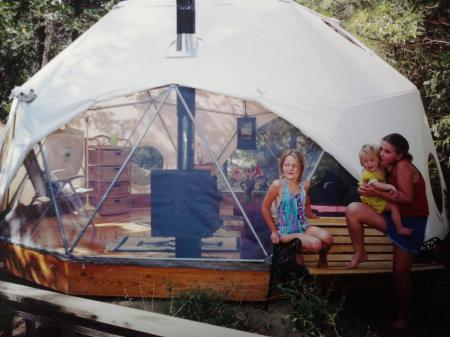 Pacific Domes of Oregon, builders of the Worlds Best Geodesic Domes for use as Dome Homes, Glamping Shelters and those Tiny House fans looking for Affordable Housing Alternatives and off the grid living.
The month of August commemorates the 30th anniversary of Pacific Domes! What began as a simple housing solution for members of a monastery in Southern California has since flourished for three decades as a global symbol for shelter and freedom. I had the pleasure of interviewing the company's president and founder, Asha Deliverance, to find out what has kept her passionate about domes all of these years.
When asked about the genesis of the idea to make domes, Asha gently smiled as she had flashbacks of living in teepees at the monastery. "Of course, when it rained, the big hole at the top became somewhat of a problem and sooner or later you had to move your bed to this side or that side of the teepee" she joked. "The hand-crafted domes offered more space, conserved energy better and they were able to replace the fire pit with a wood burning stove."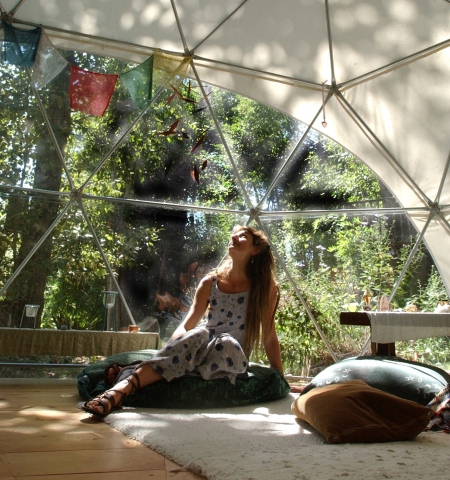 A business was born when Asha moved back to Southern Oregon a year later. The company is a family-oriented business and began with "a global vision to bring progress, and pioneer a futuristic and sustainable shelter that truly serves humanity." The prosperity of the company is proof that a big portion of the rest of the world agrees that it's time for a change.
Pacific Domes has always had much involvement in the community and often appears in local events and the Country Fair. Most notably, in 1999, Pacific Domes had a fire ceremony and received blessings from Paramahamsa "Baba" Hariharananda, a widely recognized Yogi Master. Baba Hariharananda blessed the 36′ dome in which the ceremony was held and all future domes of the company.
When it comes to future goals and plans, Asha acknowledges that, "Nobody knows the future; however, we are each responsible for the progress and effect that we have on this planet, and Pacific Domes would like to continue pioneering that road in terms of habitat domes."
As part of a growing team of scientists and individuals, Pacific Domes is currently working on creating Biospheres. These hard-shell, luminous domes in which to live and grow food are sustainable, economical, can withstand the elements of nature, and offer a valuable solution in terms of sustaining our planet for future generations.
One of Asha's favorite quotes is by the late master of geometry, R. Buckminster Fuller. "The more for whom you seek to serve, the greater effectiveness you will have." Pacific Domes is especially honored to work with the Buckminster Fuller Institute, and finds gladness not just in this geometry, but in Mr. Fuller's Sentiment.
Pacific Domes is humbled by the forty companies around the globe who are inspired by our decisions and have begun for themselves the adventure of building domes. "We plan to continue pioneering in hopes that dome technology will one day find its proper placement in the world of architecture."