Solar Eclipse Festival Dome – Pacific Domes
A truly spectacular week-long celebration, the Oregon Eclipse Festival, held at Ochoco National Forest, drew more than 30,000 free-spirits-n-free-thinkers to one of the most visually advantageous spots along the solar eclipse's narrow North American path of totality. Eclipse chasers from all walks of life converged on the grounds of Big Summit Prairie Ranch, August 17th thru 23rd 2017, to leave the rat-race behind and bear witness to the Eclipse of the Century.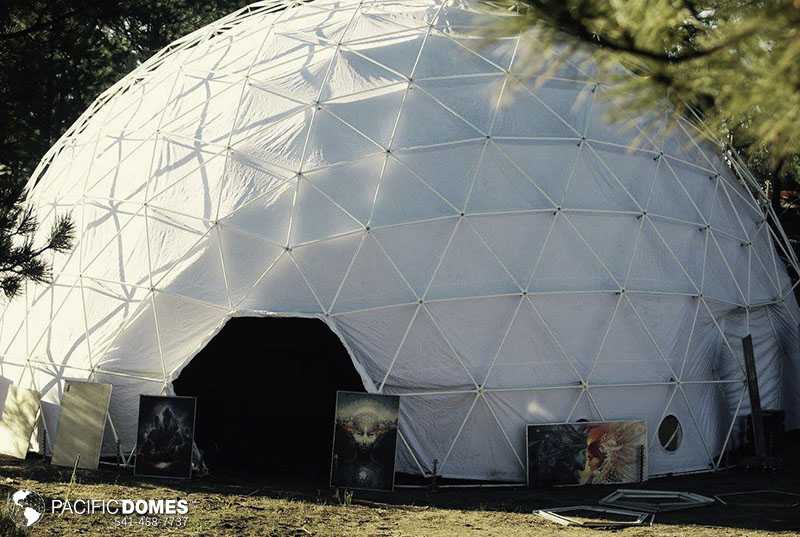 The Oregon Eclipse Gathering brought together 13 festivals from around the world to produce an incredible gathering of people weaving a fluid week of magic with camping, music, dancing, art and swimming… culminating in the once-in-a-lifetime solar eclipse experience, the likes of which had not been witnessed in 99 years.
This Symbiosis Gathering was a sold-out counter-culture event that compared in scope to Woodstock, Burning Man and Coachella. Music and art installations were everywhere, promoting creativity and free self-expression.
Festival attendees enjoyed 7 days of RV/tent camping and dome glamping beneath the stars with a well-blended variety of gifted and talented musicians, bands and artisans for everyone's entertainment. The festival hosted a marketplace bazaar serving up a heavenly banquet of tastefully prepared nutritious-n-delicious food, inspiring workshops with distinguished guest speakers, yoga & movement classes, live painting, art boats, kids camp, circus acts and theatrical performances.
For many, the Oregon Eclipse Festival was a gathering of the tribes to set the intention for a new vibrational time-line based on 'Unification.' The Symbiosis Gathering welcomed the Divine opportunity to collectively transition humanity into a more fluid, accelerated time-line split along earth's crystalline grid.
The Permaculture Dome
The Permaculture Dome made by Emerald Kingdom was overflowing with an abundance of living garden-scapes and edible vital green morsels sprouting in most wondrous and unexpected places!
August 3rd thru 16th, the permaculture dome offered workshops by prominent pioneers and leaders in their respective fields. Some of the activities included sharing circles, compost making, hugelkutur, biofermentation, permaculture, on site analysis, group design projects and certification upon completion.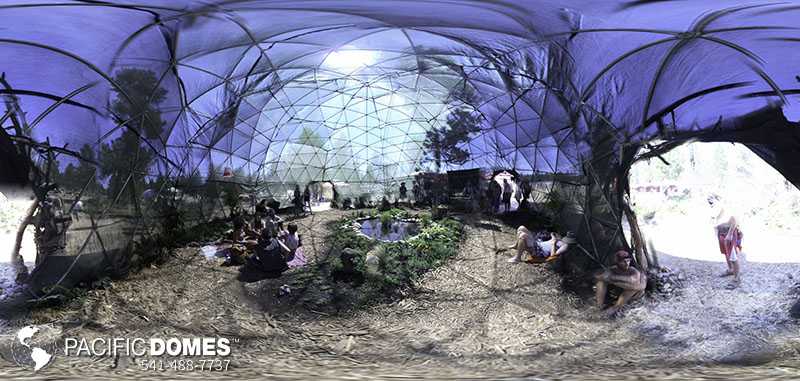 "Permaculture is a multi-disciplinary study, set of principles and ethics that offer a guideline and methodology to conserve and regenerate natural systems, while intentionally designing human settlement to maximize efficiency and use less energy."
Based in Ashland Oregon, Pacific Domes, Inc. is an award-winning family owned manufacturing business. Following in the footsteps of Buckminster Fuller, Pacific Domes has been blazing the dome industry trail since 1980 with over 35 years of industry expertise.
In addition to manufacturing the best geo-engineered structures in the world, finding creative solutions to satisfy your needs and requirements is what Pacific Domes loves to do best!