"Innertainment VR Domes Empower YOUR Story, Your Art!"— Pacific Domes, Inc.
Imagine taking your art to an entirely new level with the power of VR projection mapping technology! It's the blending of virtual space and biological space. The coming together of immersive intelligence technology and biology.
Mobile Fulldome Projection theaters provide the perfect venue to take your audience on an immersive journey into imaginary worlds that change the way senses connect to the environment. From small to large-scale art installations, mobile 360° fulldome immersive intelligence theaters weave your powerful story and impact your audience in unforgettable ways.
Artists find that the dome's spatial arena offers limitless inspiration for innovative multi-sensory art installations. This venue allows artists to explore how consciousness works within the realm of the virtual.
It's Multimedia Immersive Intelligence Work of Art
Perfectly adapted to the venues in which they are held, immersive intelligence exhibitions are based on the virtualization and very high-resolution projection of imaginative works of art on the dome's surface. These immersive and interactive arenas provide audiences opportunities to explore the self and forever change the way they think.
From the moment the first musical note rings out, technology gives way to aesthetic emotion in a poetic flow of imagery. Completely immersed in the images and music, the visitor is taken on a sensorial journey that sheds a new multidimensional light on creative works of art.
A Multi-Sensory Immersive Intelligence Art Installation
VR projection theaters play a key role in the future of experiential multimedia art installations. A 360° visual stimulation, paired with surround sound systems create a lasting organic connection.  An experience that you want to provide for your audience.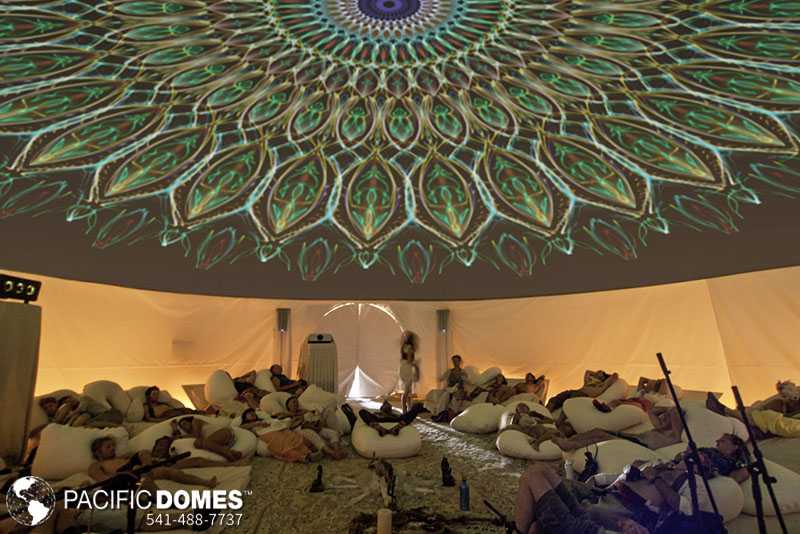 Immersive environments are cornerstones of VR & AR Fulldome Projection Theaters. No matter the scale of your project, Pacific Domes is there to provide expert advice with your immersive intelligence art installation.
Inspiring Moments Under a Fulldome Projection Theater
The Shavasana Dome is a place where you can relax and reflect inside this geodesic audiovisual sculpture installation by Axel Cuevas Santamaría. One's body naturally attunes to the harmonics of the dome's geometry, encouraging deep relaxation and meditation. Inspired by Aguahara meditation, this fulldome experience offers a tranquil moment of decompression in a Shavasana pose. Music by Murcof.