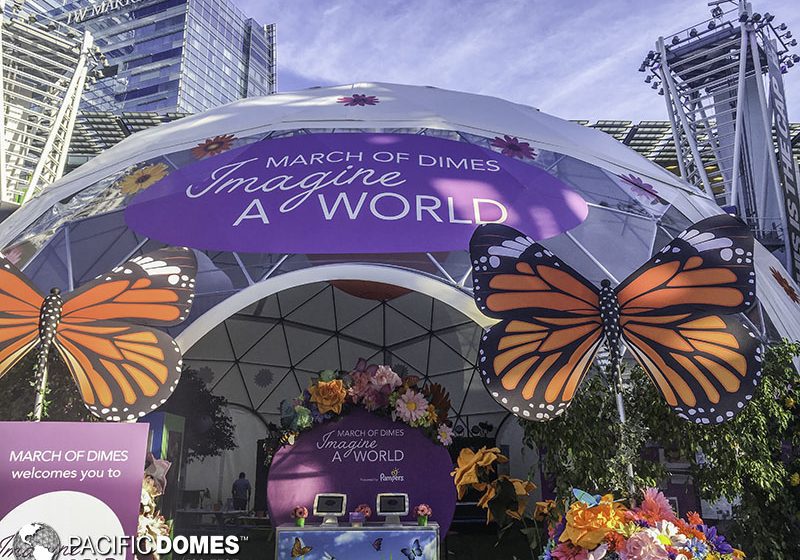 One of the freshest outdoor pop-ups this year was demonstrated at the 2017 March of Dimes and Pampers sponsored Imagine a World, November 2017, in Downtown Los Angeles. A presentation at LA Live, in a whimsical flowered dome created by Pacific Domes, Inc., children and families entered a colorful fanciful realm, full of interactive displays and pure childlike fun.
At the free annual event to highlight November as Prematurity Awareness Month, (the leading cause of death in children under five worldwide), participants were encouraged to share their stories through on-site video, photo booths, and selfie stations as they "imagined a world where every baby has a healthy birth."  Children of all ages engaged freely with interactive displays, embellished themselves with DIY flower crowns, created imaginative works at craft stations, and generally celebrated the magic of childhood. The 60 foot pop-up dome transformed as an enchanted garden party, a safe haven where children and families could together explore arts and crafts, make new friendships, and feel a part of the greater March of Dimes community.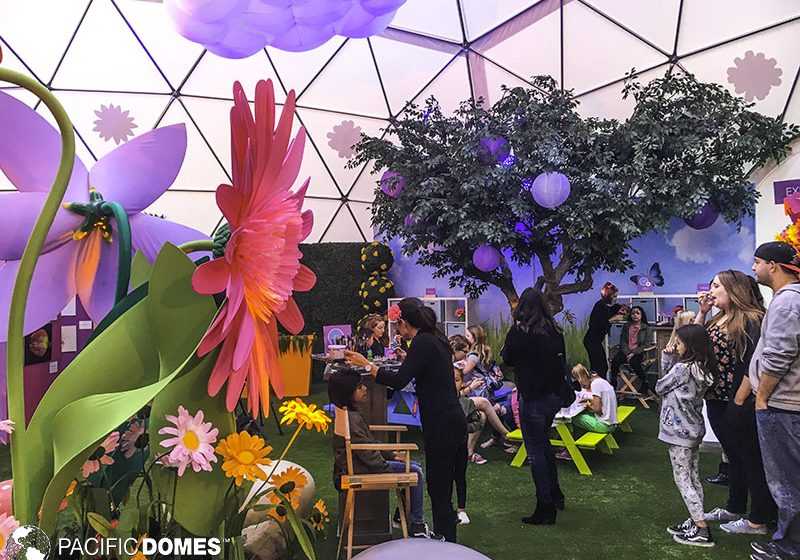 The flower-themed dome featured a photo gallery presented by world-renowned photographer and March of Dimes Ambassador, Anne Geddes. The combined voices and images of its participants, many of whom have been affected by premature birth, transformed the event into a profound, unifying experience. Bravely personal stories of loss and triumph over adversity, highlighted the deeper mission of March of Dimes, leaving participants enriched, inspired and hopeful of a world where each child has the opportunity to realize his/her gifts.
Festival Pop-up Domes On-Demand
Unlike canopy tents, prefab pop-up domes are suited to all types of terrains. Assembling all the elements for a successful on-the-road event, pop-up dome tents are fully deployable to just about any location on the planet; and, can be erected in hours with as little as 2 people, using simple hand ratcheting tools. Larger event domes require a small crew and equipment, such as tall ladders, scaffolding and cranes.
On the leading edge of eclectic outdoor venues, Pacific Domes is an award-winning USA manufacturer of free-standing portable domes.  Visit their gallery to learn how easy it is for you to host your own event.