"We didn't invent the dome… we pioneered it and perfected its design!" ― Pacific Domes, Inc.
Mobile Event Domes Lend Your Event Instant Recognition
Whether it's for business or pleasure, if standing out from the crowd is important to you, you've come to the right place. Indoor-outdoor luxury event tents by Pacific Domes are made for crowd-pleasing celebrations, banquets, trade shows, and just about every occasion, no matter if it's a small or large-scale event. Custom printed event tents have you covered, too!
As an Event Industry Leader with decades of experience, Pacific Domes International takes great pride in designing and deploying the most eco-friendly luxury event tents in the world. Portable and adaptable to all-terrains, easy to setup and time-tested to withstand nature's extremes, geodesic-engineered domes are Nature's perfect structure. Prefab domes are manufactured in event sizes from 16 ft. to 120 ft.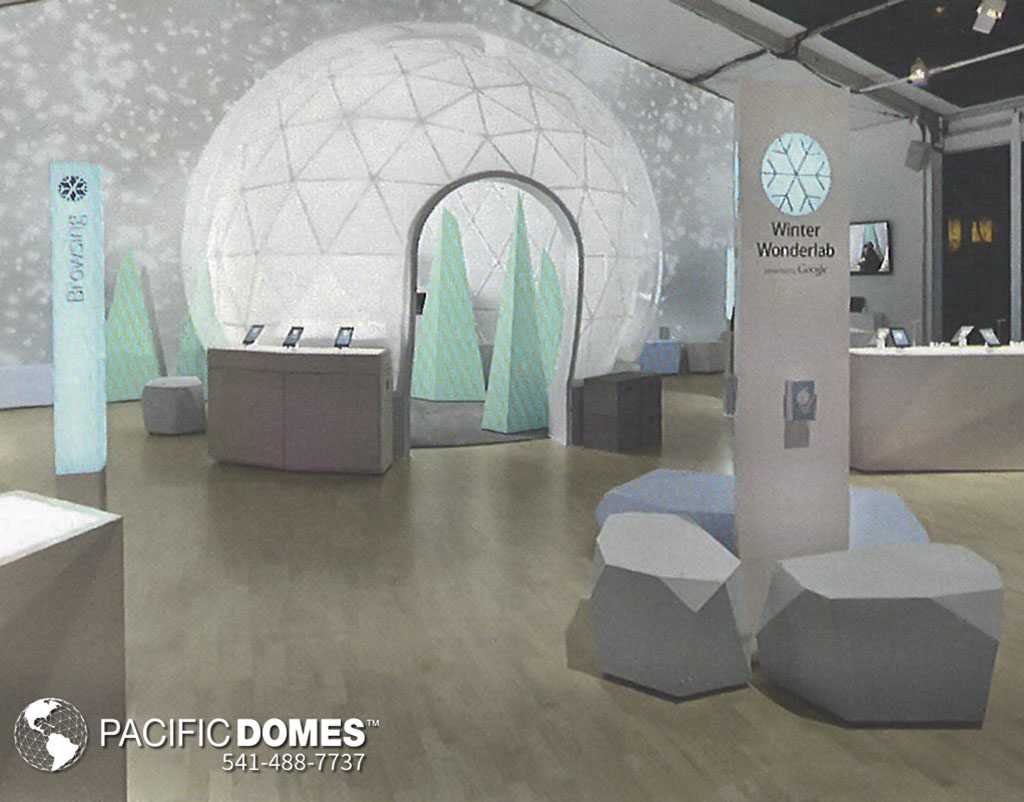 Customized Event Tents for Every Occasion
Luxury Event Domes have many versatile applications from immersive 360° mobile projection theaters to stylish weddings. Here are just a few suggested uses:
Art Installations & Music Festivals • Gaming • Sports • Weddings & Banquets
Trade Shows, Corporate Events & Conventions • Movie Sets & Film Studios
Unlike most luxury event tent companies, Pacific Domes International carefully custom crafts each dome tent to suit our clients' unique and multidimensional needs. Our expert teams help you optimize your vision and then walk with you every step of the way as we bring your vision to life.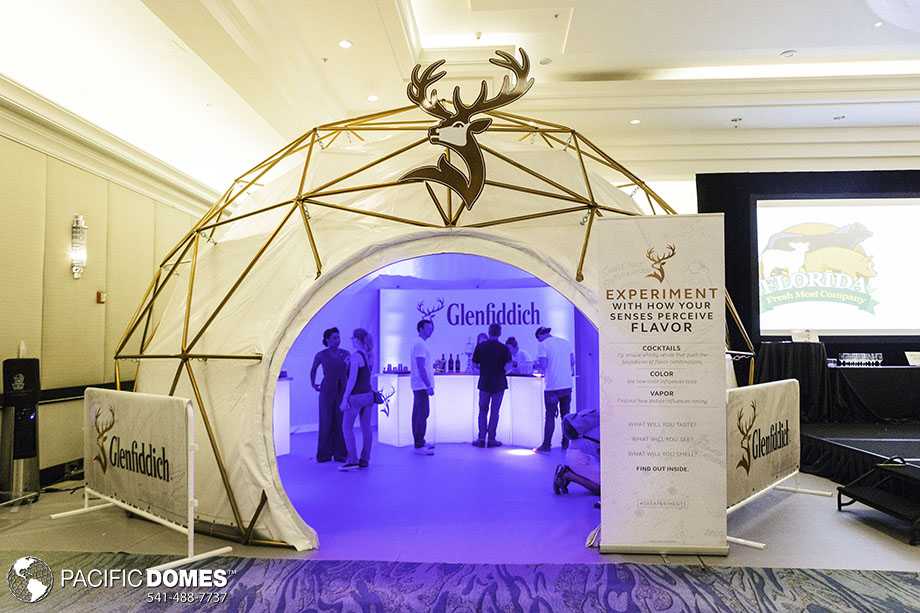 Let the dome cover be your canvas with custom printed event tents. Custom printed covers come in vibrant colors to please any artist's palette. Showcase your image, brand, trademark or logo to the world with printed and projected images that are visually impressive, both inside and out!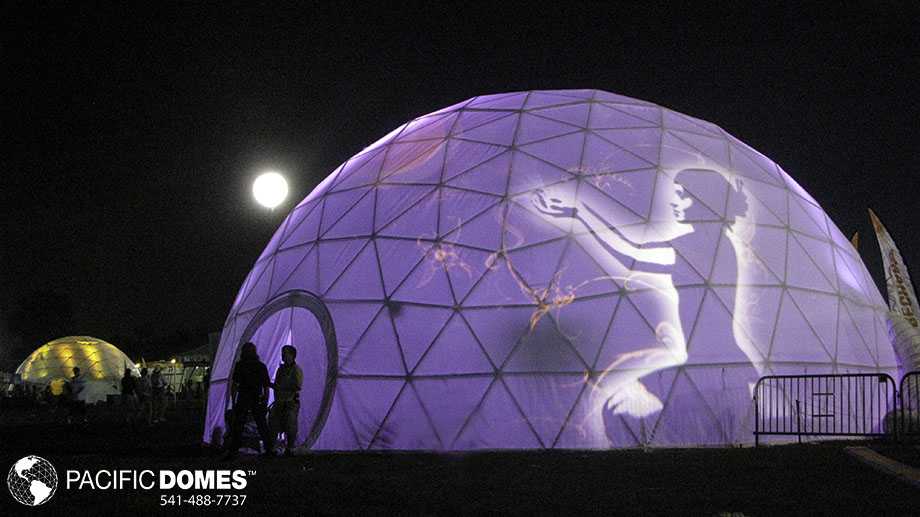 Illumination Domes ― Everyone Deserves Luxury
Affordable luxury event tents, such as the Illumination Dome, add a touch of class to any occasion. Perfect for nighttime digital projections, the translucent fabric allows images to be seen from both inside and outside.
The durable Event-Lite architectural fabric is fire retardant, water-mildew resistant and comes in a variety of colors. A popular choice with Event planners, Event-Lite is lightweight for ease of transportation, setup and storage.
Event Domes are custom designed and manufactured to suit your specific requirements. Download our Event Domes Brochure for additional information, including seating capacities.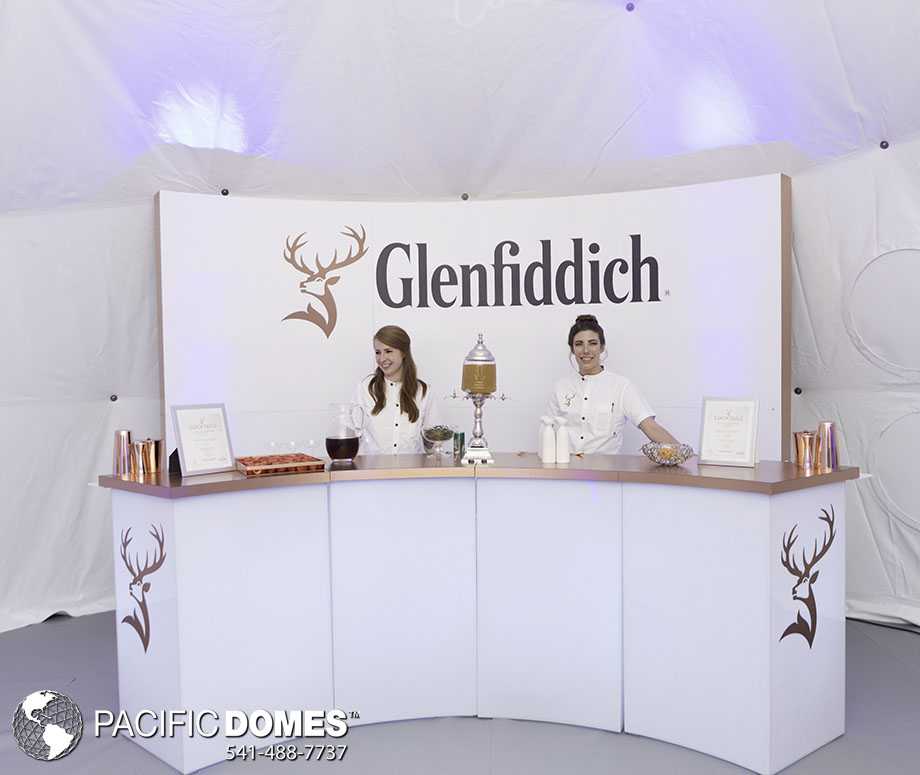 Pacific Domes has been perfecting the function and beauty of their portable geodesic domes since 1980. The expansive unobstructed interior arena becomes inspiration for your innovative layout.
Let's Get Started – We're Here to Help – Talk to a Sales Rep Today
We're proud of our unparalleled customer support! Pacific Domes' expert sales team will help you design the dome of your dreams. We'll walk with you from beginning to end during all stages of production:
3D Renderings • Frame Diagrams • Floor Plans • International Orders • Shipping and Returns… and last but not least • Warranties.