"Our mission is to pioneer a new genuine sustainable & exclusive outdoor experience with focus on Gastronomy, Scandinavian Design and Personal Service."
At the heart of the Island lodge experience is the natural world of the Stockholm Archipelago, a unique a spectacular vast, fan-shaped maritime world of more than 24,000 islands, islets and skerries of which only about a thousand island are inhabitable.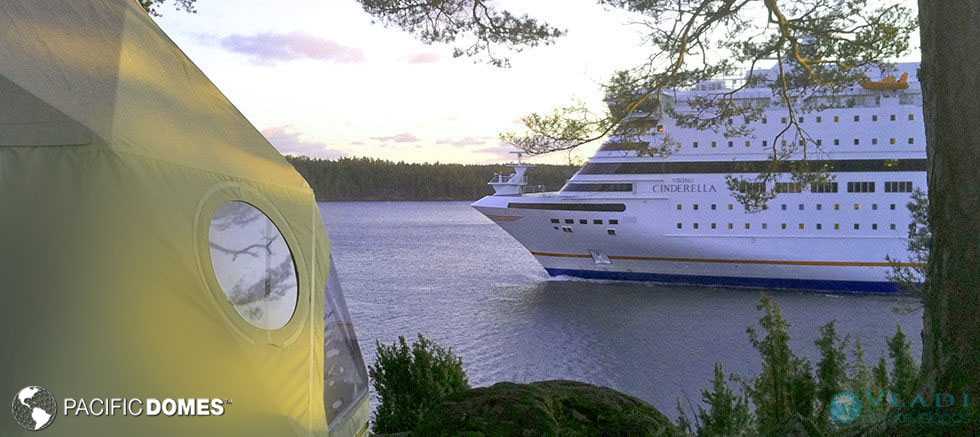 The island that the Lodge occupies is small, beautiful and secluded with primeval forest and beaches overlooking the beautiful Stockholm archipelago. This island is located 40 minutes by boat transfer from Stockholm City Center, the hub for passenger ships.
Sailing with their top class 35 foot trimaran accommodating up tot 10 passengers is a spectacular and adventurous way to go to their island. An experienced skipper can pick you up and provide you with all the gear needed.

Island Lodge offers corporate and leisure groups a highly exclusive archipelago experience, a concept designed to be in harmony with the surrounding environment, a mix of genuine "hardship" but still benefiting from a luxurious and comfortable habitat. We offer you a high quality, sustainable, all inclusive concept based on an outdoor tented accommodation-leaving "green footprints" and memories for a life.
Island Lodge accomodations is a chapter in itself, all of their 7 special geodesic domes combine modern Scandinavian interior design with nature. The domes offer 6, round removable windows with optional mosquito screens, removable bay windows, roll up door and mosquito screen and flame retardant dome covers. All 7 domes are located on selected premium spots on the island with breathtaking views over the archipelago. A wood stove keeps you warm during the chili days, kerosene lamps and candles light up your dome after sunset.
Near the domes are shower and wash basins with hot water, outdoor open fireplaces, seafront dining tent, wood fired hot tub that fits 10 people, floating sauna that fits 14 people, private island beach, outdoor meeting or relaxin on reindeer skin under open air or in a tent, indoor meetings space in a former rock shelter ropedo workshop now renovated, facilities include wi-fi. Massages are also available.
After a walk in the forest or a delicious meal you will enjoy relaxing in your dome, you will look forward to waking up after a good night's sleep.