"If you want to stand out from the crowd, give people a reason not to forget you." ― Richard Branson
In this highly competitive world, standing out from the crowd can be a challenge. Grow love for your event and your brand with an instant impact promo tent, a crowd catching geodesic dome, manufactured in the USA by Pacific Domes, an industry leader since 1980.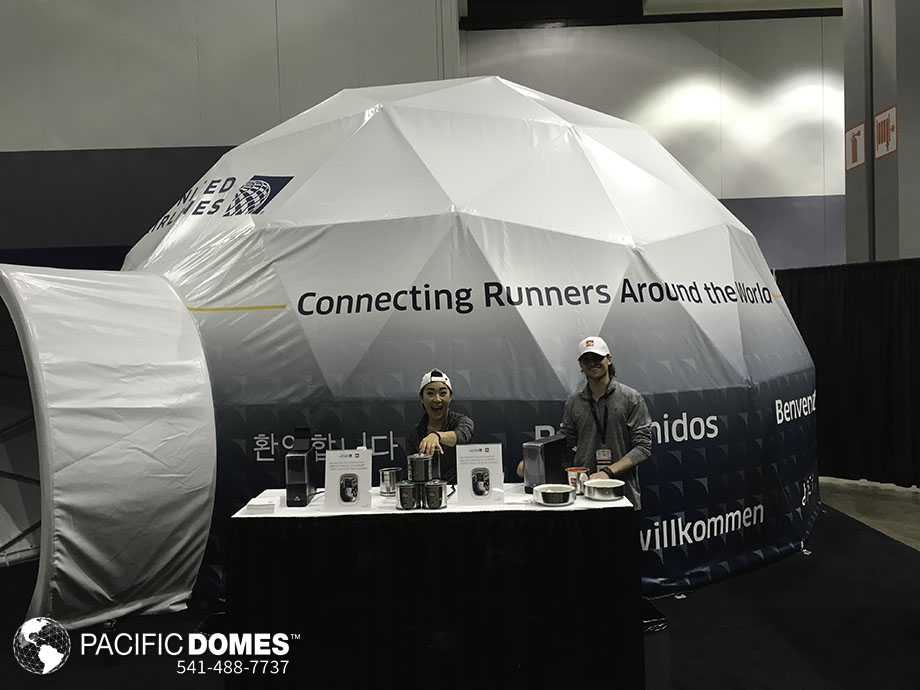 Try Something New and Extraordinary!
Suited to all types of terrains and offering limitless event design options for image branding, dome tents occupy a unique market niche and truly distinguish you from the crowd. Additional value-added benefits are portability, ease of set-up, versatility and functionality, making portable dome tents very cost-effective. And let's not forget that they look awesome and become the hub at any event!
Seasoned event veterans know that the success of your outdoor event depends on your tent's ability to withstand Nature's extremes. The geodesic-engineered strength of steel frames is an insurance policy in itself, affording you peace of mind − so you can focus on what matters most, planning and promoting your event!
The spherical arena of an event dome encapsulates the largest volume of interior space with the least amount of surface area, thus ensuring a light eco-footprint. Custom printed dome covers are available in a variety of colorful indoor and outdoor fabrics with accessories and options to choose from.
Illumination Domes
"Our Illumination Domes are perfect for outdoor festivals, events and parties."  — Pacific Domes, Inc.
Let the Show Begin with Illumination Domes! Captivating attendees thru the magic of 360° fulldome projection, Illumination Domes light up night skies for miles around.
One unique feature event planners love about Illumination Domes is the translucent Event-Lite fabric that's capable of projecting images both inside and outside. An affordable option, Illumination Domes are Projection Domes without a projection liner.
Event-Lite architectural fabric is lightweight for ease of setup, and perfect for nighttime digital projections. Made from breathable 100% tightly woven polyester (7 oz./sq. yard), Event-Lite is fire retardant and mildew resistant. Event-Lite has a matte finish and is available in a variety of colors.
Branding Matters: Connect – Engage – Convert
Custom Printed Event Tents have a new address! Translucent covers may be customized with your logo or event tent design for instant promo recognition.
Tensile strength outdoor covers constructed with durable UV resistant, flame-proof and waterproof materials naturally illuminate the spacious interior atmosphere. Various types of floorings may be installed in domes to provide a comfortable environment for every function.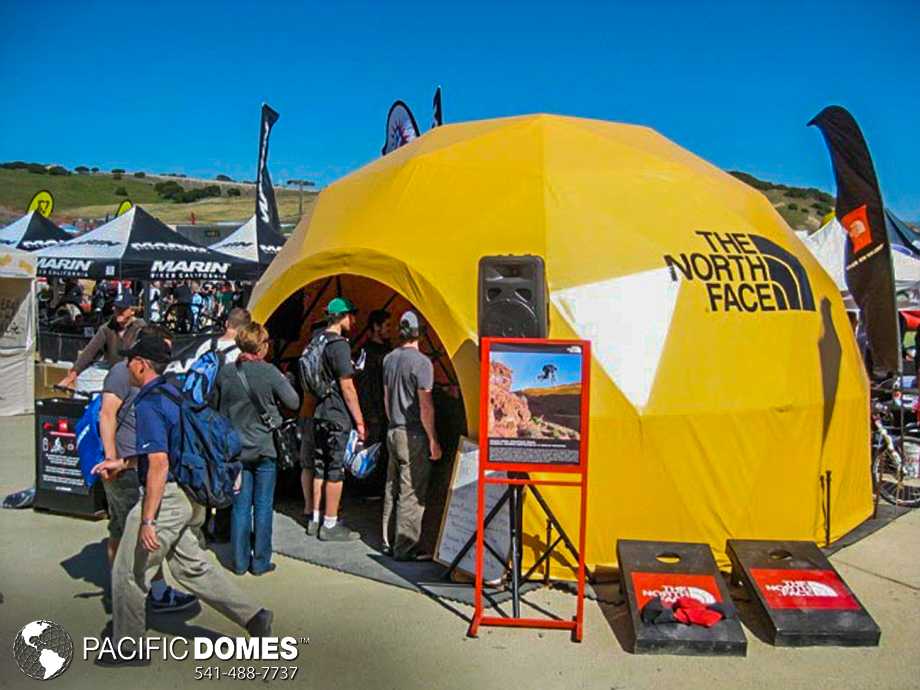 From customization, to efficient and cost-effective execution, to manufacturing and finally, for immediate tear-down once the event is over, you can count on Pacific Domes to deliver a seamless experience. 
Download our Event Domes Brochure