---
"Event Hosting Solutions are Our Specialty" — Pacific Domes, Inc.
On your wedding day, you want everything to be perfect. When exploring the pros and cons of hosting an outdoor wedding you don't want to leave anything to chance.
Not sure where to begin? Planning an epic outdoor wedding begins by imagining an ideal setting at your chosen venue – this may include, choosing an elegant tent shelter to host your special occasion.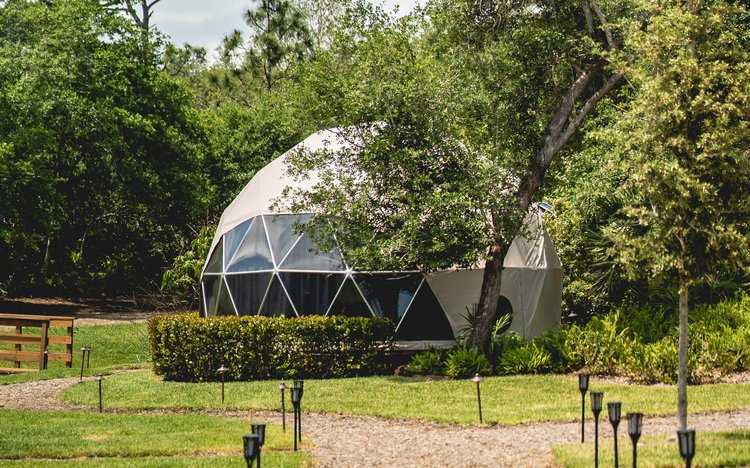 An iconic wedding dome set amidst scenic landscapes lends a chic elegance to your special day.
Let's Get Started!
As you begin your journey, you'll enjoy learning why more and more folks are discovering Pacific Domes' wedding tents – they, not only look amazing, they serve a functional use as outdoor shelters – meanwhile, affording your guests an opportunity to spread out and mingle surrounded by nature's gorgeous landscape.
Pacific Domes is proud of our customer support. Our expert sales and support teams will help you design the dome of your dreams.
Pacific Domes is here to walk with you from beginning to end with • 3D Renderings • Frame Diagrams • Floor Plans • International Orders • Shipping and Warranties.
Dome tents come in several sizes to accommodate large and small events. Shipping to any location on the planet, the portability, ease of set-up and take-down gives wedding dome tents an added edge – no matter, the terrain or climate.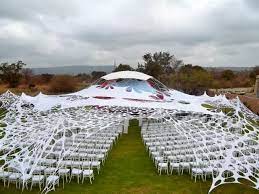 With a little pre-planning, you can scratch one less worry off your list – the American Institute of Architects calls the geodesic dome the strongest structure known to man.
---
What if it Rains on My Wedding Day?
As you might have guessed, we get asked this question all the time. Although you'd like to imagine heavenly weather during your special occasion, you want to be prepared for the unexpected – especially, if you live in regions where seasonal rain is part of the landscape.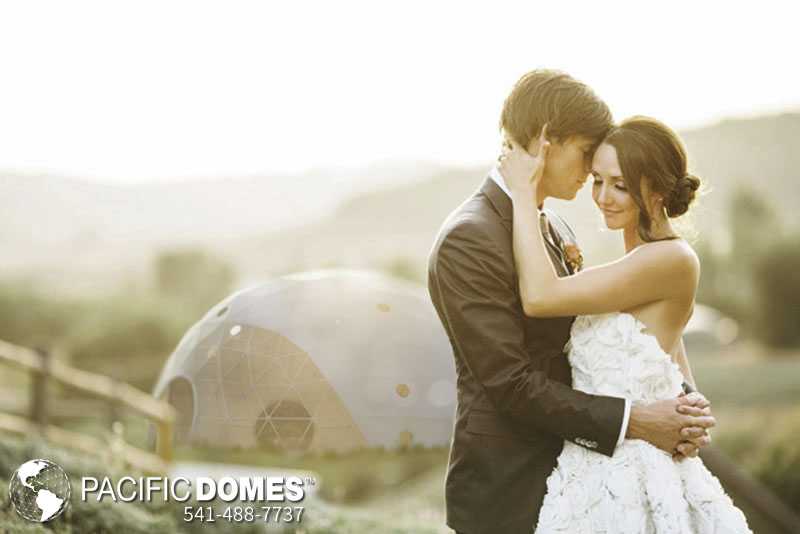 Dome tents are inherently designed to be energy-efficient and withstand extreme weather conditions − rain run-off happens naturally. With a little pre-planning, you and your guests will stay safe and dry, no matter what Mother Nature brings to your wedding party.
That being said, here's some helpful tips that will help you with pre-planning:
• Strategically position your dome tent with easy access to walkways and nearby facilities
• Have umbrellas available so guests can stay dry while walking to their vehicles.
• Stretch Décor adds a touch of swooping elegance – it's easy to create covered walk-ways and drop-down sidewalls that serve a dual purpose.
• Secure plastic rain gutters or dig unobtrusive shallow trenches around the perimeter of the dome tent and along walk-ways to prevent rain from pooling.
• Lay flooring to keep the soft ground from becoming a weather-related issue.
• Have portable heating and cooling to maintain comfort levels.
Why the Popularity of Wedding Dome Tent Sales and Rentals?
Domed wedding tent sales and rentals have become a popular alternative to confined, oftentimes, stuffy indoor spaces that dull the romantic ambiance of this special nuptial occasion.
The durable Event-Lite architectural fabric is fire retardant, water-mildew resistant and comes in a variety of colors. A popular choice with Event planners, Event Lite is lightweight for ease of transportation, setup and storage.

Quality and Craftsmanship… A picture is worth a thousand words! Pacific Domes has been perfecting the function and beauty of their portable geodesic domes since 1980. The unobstructed circular arena becomes inspiration for your innovative layout.
In Summary
If you haven't already, you'll want to read Pacific Domes "Guide to Planning Your Epic Outdoor Wedding". This is where we dive into the nuts-n-bolts of everything you'll want to know about hosting an outdoor wedding event – specifically, a Pacific Domes wedding tent.
Pacific Domes is Here to Help
Wedding domes are custom designed and manufactured in the USA to suit your specific requirements. We invite you to chat with a friendly Pacific Domes Sales Rep today.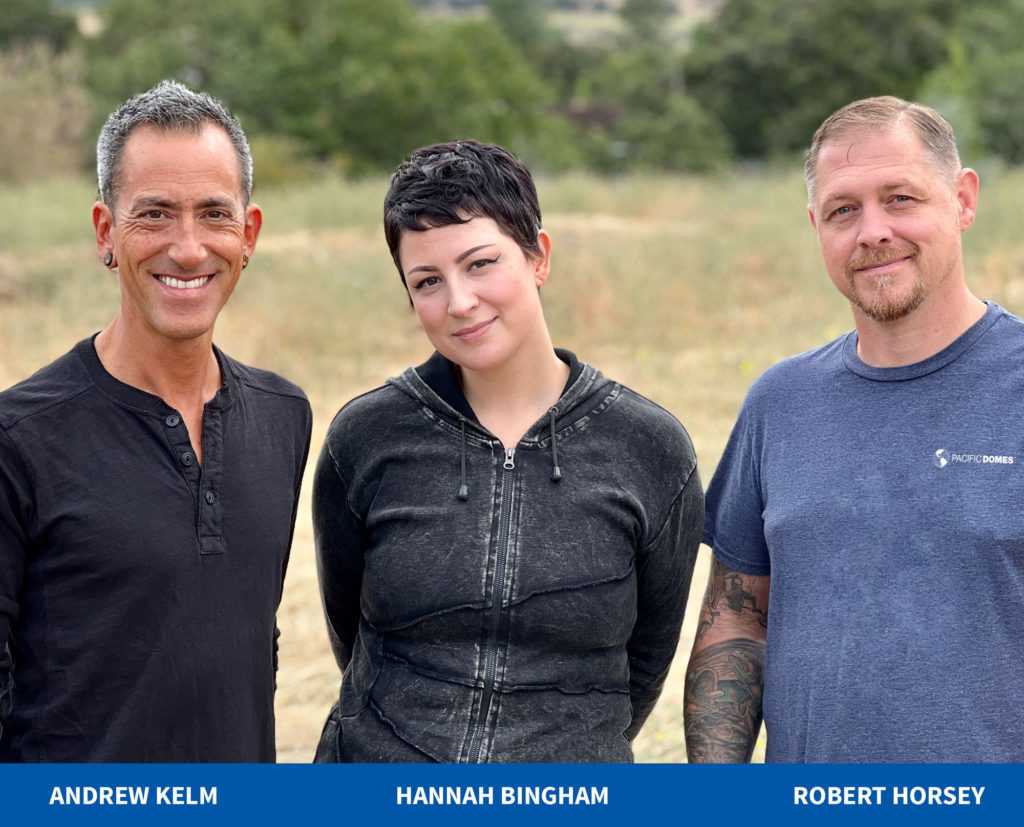 ---